"What's the best project management solution for marketing teams?" It's a simple question. However our research found the answer is a bit more nuanced than just choosing between two options. Instead, buyers should dial in what their teams' specific needs are, then evaluate each option. Happily, we've done a lot of the work for you.
I've reviewed more than 30 different options to create buyers' guide. Here are 10 top marketing project management solutions you should consider.
Our Picks
| Our Picks | Best For | Plans Start At |
| --- | --- | --- |
| | Best Overall | Free plan available • $8/user/month • Read More |
| | Best for Smaller Marketing Teams | Free plan available • $7/user/month • Read More |
| | Best for Marketing and Communication Integrations | Free plan available • $10.99/user/month • Read More |
| | Best for Client-Facing Project Teams | Free plan available • $5.99/user/month • Read More |
| | Best for Simple Automated Workflows | Free plan available • $12/user/month • Read More |
| | Best for Affordability | Free trial available • $20/user/month • Read More |
| | Best for Project Portfolio Management | Free plan available • $9.80/user/month • Read More |
| | Best for Ease of Use | Free plan available • $5/user/month • Read More |
| | Best for Internal Collaboration & Communication | Free plan available • $15/user/month • Read More |
| | Best for Customer Support | Trial available • $39.97/month • Read More |


monday: Best Overall
monday's project management platform includes all of the best elements of a project management solution, especially when it comes to customization capabilities and overall user experience. Users can incorporate custom fields and data into their workspaces, while also relying on monday's prebuilt project templates and reporting and dashboard widgets.
monday.com's templates are a true standout feature for marketing professionals. From the time you sign up for the platform, you're immediately asked what industry sector you're in and receive template and setup recommendations based on that industry. Some of monday.com's best templates for marketing teams include the following:
Marketing SWOT Analysis template
Social Media Calendar template
Editorial Calendar template
Marketing Calendar template
A/B Tests template
Quarterly Objectives template
Competitors Analysis template
Campaign Tracking template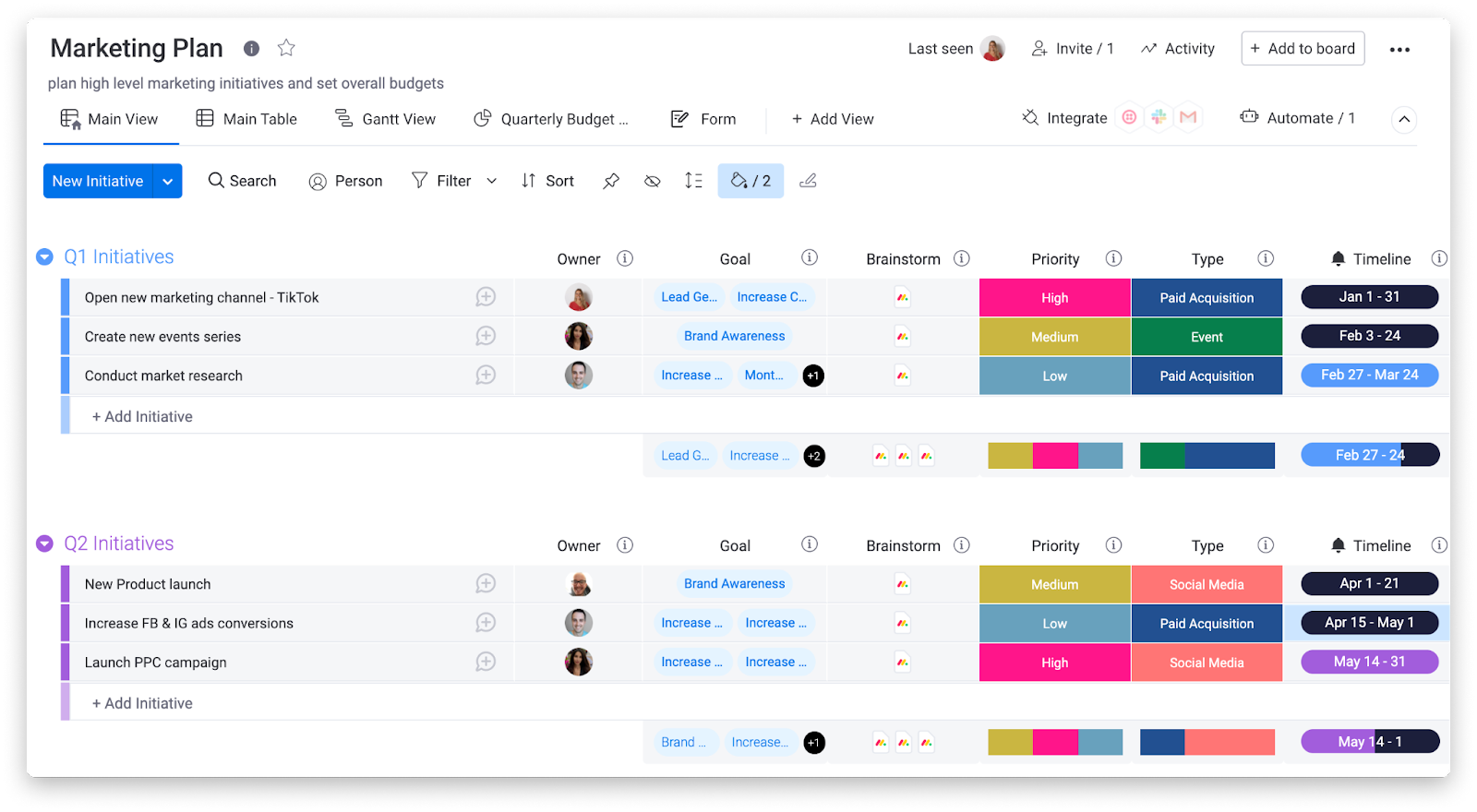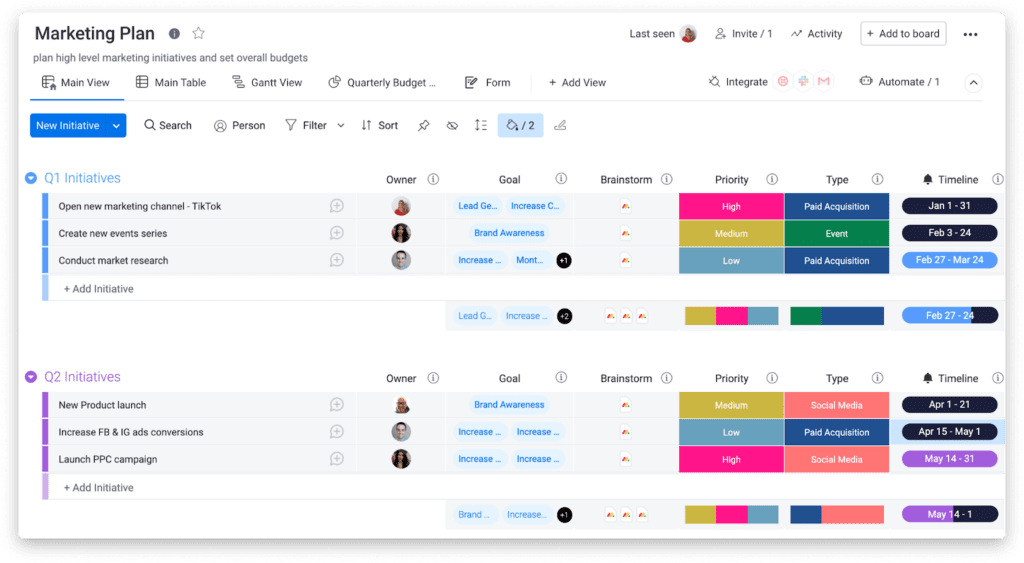 monday.com's Marketing Plan board can be used to plan high-level annual goals and marketing initiatives.
Key Features
Customizable project templates
Low-code/no-code customizations
Advanced dashboard and reporting widgets
Time and task tracking
Resource management
My Work for individual task management
Workload management
Extensive, easy-to-use automation
Slack
Google Drive
Trello
Dropbox
Microsoft Teams
Outlook
Salesforce
Zoom
Gmail
Zapier
---
---


ClickUp: Best For Smaller Marketing Teams
ClickUp has long been used by advertising and marketing agencies to manage their project tasks and client relationships. For the number and variety of features the software offers at a reasonable price, ClickUp is a great deal for smaller organizations that need big marketing functionality.
The platform offers a variety of project views and extensive reporting and dashboarding capabilities. Most notably, ClickUp provides workload management features in all pricing tiers, whereas many other competitors, such as monday.com, only include this level of user management in higher pricing tiers.


ClickUp is a great option for marketing companies that have multiple project portfolios to manage.
Key Features
Marketing campaign development with Gantt and other project views
Custom forms and requests
Document management
Marketing-friendly project templates for A/B testing, campaign tracking, SEO management, and more
Integrations and ClickApps for workflow management
Whiteboards for team collaboration
Real-time chat
Real-time reporting and dashboarding
Relevant Integrations
Calendly
Discord
HubSpot
Slack
Zendesk
Box
Microsoft Teams
Zoom
Vimeo
Google Drive
---
---


Asana: Best For Marketing and Communication Integrations
Asana is an advanced project management platform that offers one of the largest native and integrated portfolios of marketing solutions. Its many project views, administrative controls, and reporting and analytics features make it a top contender for larger marketing teams. Most notably, Asana offers a large number of marketing-specific integrations with third-party software, such as Adobe Creative Cloud, Wistia, Canva, YouTube, Mailchimp, HubSpot, and HipSocial.
Although this platform is sometimes considered less user-friendly and more overwhelming than its competitors, it has many strengths when it comes to individual user and task management, regardless of your team size. For example, the personalized "My Tasks" dashboard is an easy-to-use tool that is available for each user to more closely monitor their performance across tasks assigned to them.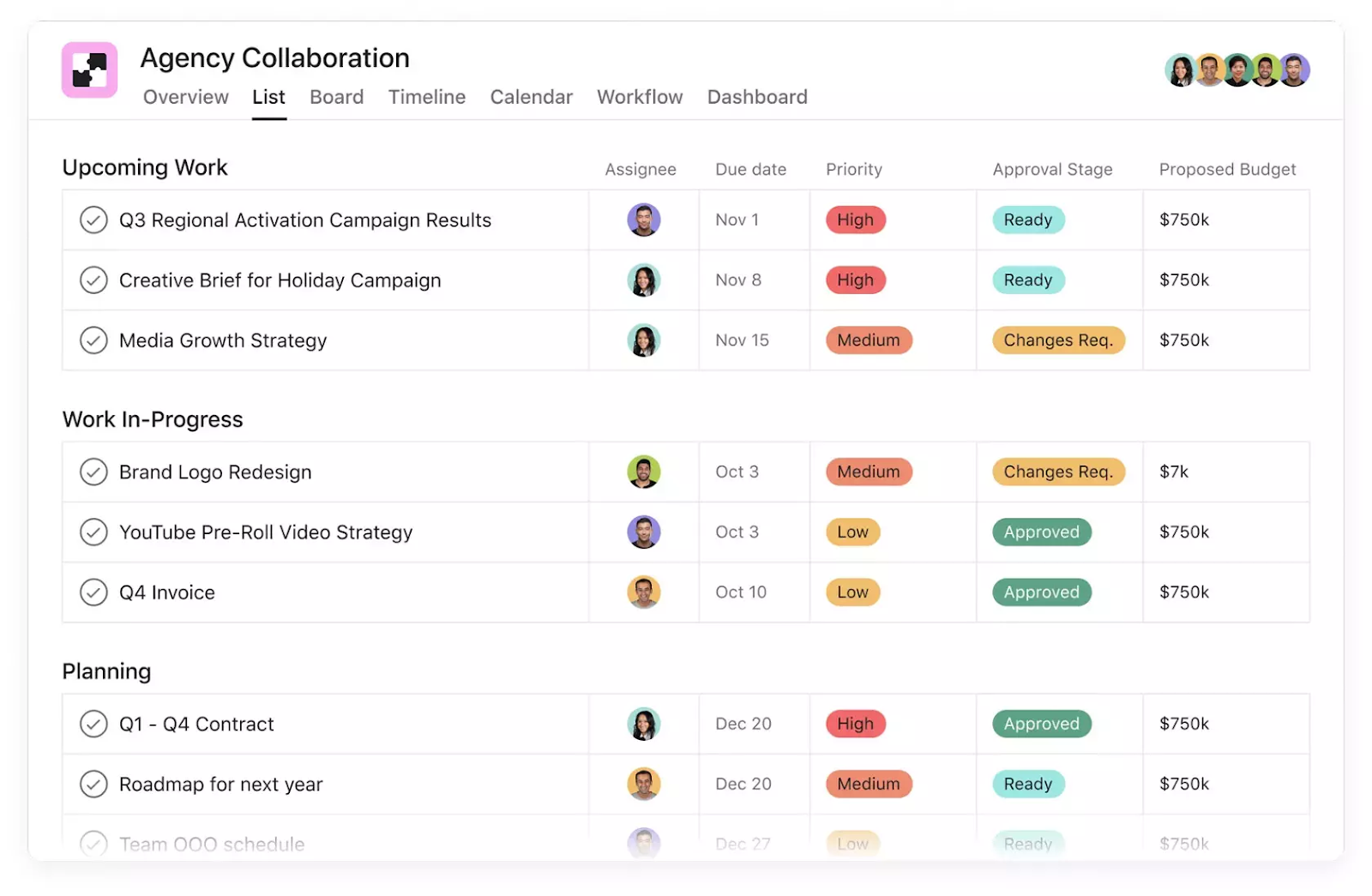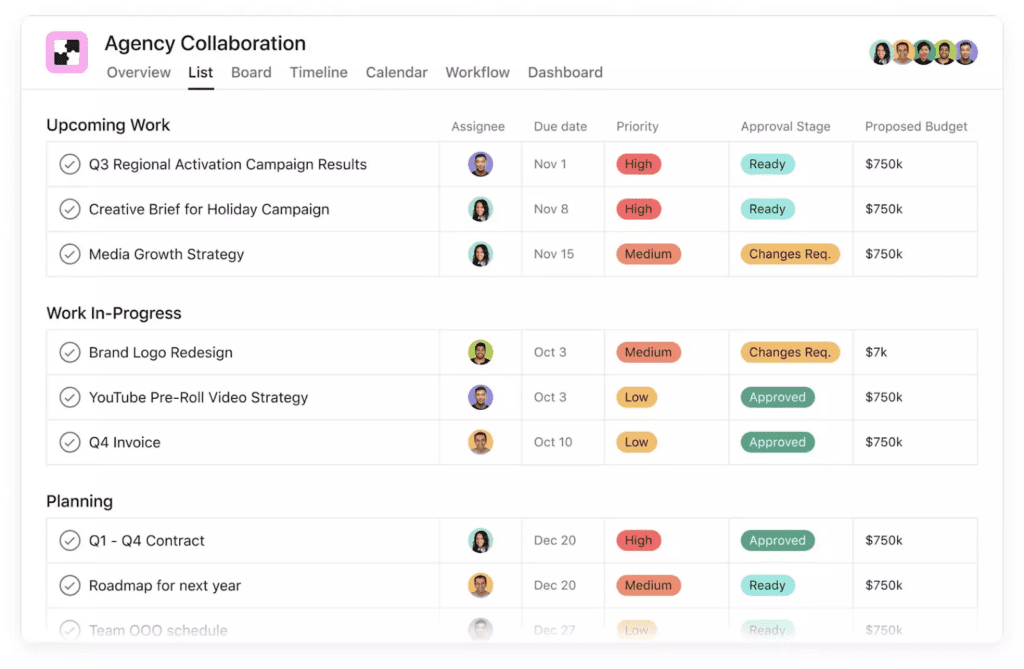 This is an example of how Asana's agency collaboration template can be used to manage existing and upcoming projects.
Key Features
Time and milestones tracking
Marketing-specific project templates
Rules-based automation
Built-in approvals and request tracking processes
Project task-syncing across multiple projects
Workload management
Accessibility features
Administrative controls for user access and data security
Relevant Integrations
Salesforce
Jira Cloud
Power BI
Adobe Creative Cloud
Mailchimp
HubSpot
Microsoft Teams
Slack
Microsoft 365
Gmail
---
---


Teamwork: Best For Client-Facing Project Teams
Teamwork is one of the best project management solutions available for balancing the needs of the project manager, employees, and clients. With Teamwork, you can grant access to as many client users as you want, giving them the levels of visibility and permissions that make the most sense. With client-level access to your platform, customers can see how your marketing team is tracking toward project goals and deliverables at any time.
Teamwork is most often lauded for its advanced workforce and performance management features. It has one of the clearest and most consistent workload management feature sets on the market, also offering accountability management, time tracking, task management, invoicing, and communication tools to make the user experience better for everyone.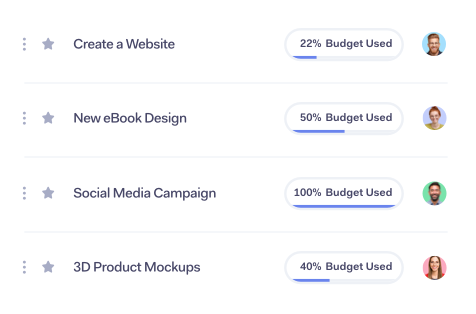 Teamwork's highly intuitive interface and workload management capabilities make it easier for marketing managers to track employee bandwidth across roles and projects.
Key Features
Task list and project templates for frequently used processes
Tasks, subtasks, and recurring tasks
Workflow and approvals automation
Client user access management and team collaboration tools
Easy-to-use mobile app
Time tracking and invoicing
Simple data visualization and reporting
Time budgeting for individual users and overall projects
Relevant Integrations
HubSpot
Mailchimp
Stripe
Slack
Microsoft Teams
Microsoft Outlook
Basecamp
Asana
Trello
Wrike
---
---


Hive: Best for Simple Automated Workflows
Hive has made a splash in the project management space by offering a platform and product roadmap that is primarily driven by user input. It's an easy-to-use, comprehensive project management solution that allows users to automate project tasks and campaigns, track time and workloads, and manage assets with unlimited storage. Hive Automate and Hive's library of workflow recipes are some of the most straightforward automation tools available for PM software today.
One of the newest and most exciting features offered by Hive is HiveMind, an AI assistant that supports market research, content creation, and project task planning. For marketing teams, HiveMind is especially helpful for outlining or drafting blog content and other types of strategic marketing content.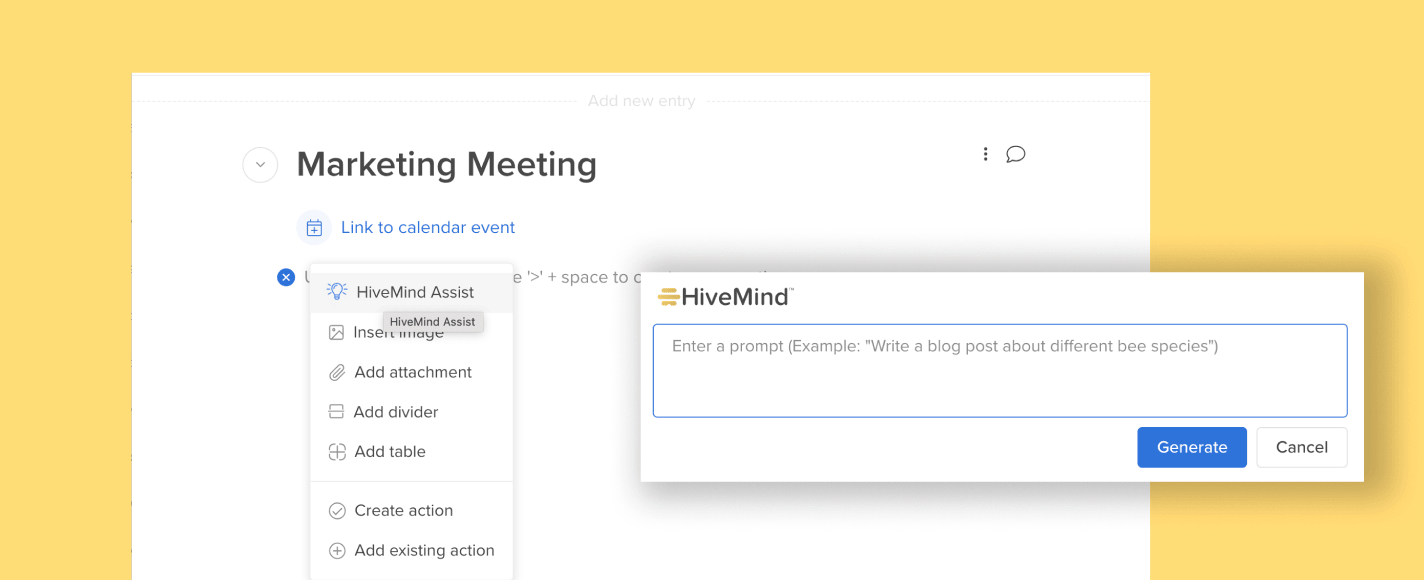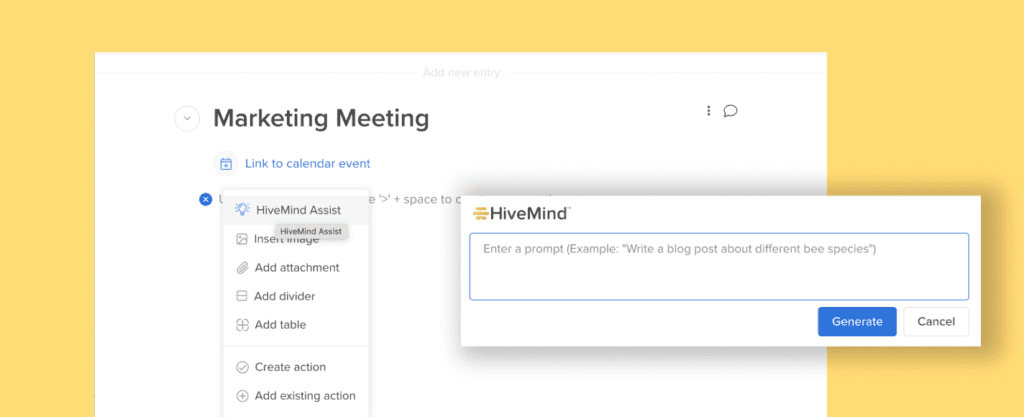 Hive's latest AI feature, HiveMind, makes it possible to create project tasks based on AI-prompted suggestions for tasks.
Key Features
Document, video, and other approvals workflows
Customizable project templates
Goal and subgoal tracking
Time tracking
Workload and team resourcing management
Customizable dashboards
Team-level and project-level analytics and reporting
My Actions personal to-do list view
Relevant Integrations
Google Drive
Dropbox
Salesforce
Jira
Slack
Zoom
Microsoft Teams
Microsoft Outlook
Box
HubSpot
---
---


Zoho Projects: Best For Affordability
Zoho Projects is one of the best-value project management options on the market, offering a full-featured deck for resource and time management, project customization, team collaboration, and automation. It is one of the most affordable project management solutions, with even its highest-tier Enterprise package coming in at $9 to $10, the approximate price of most competitors' lower-tier, limited packages.
Although Zoho Projects users have reported limitations with reporting and mobile app functionality, the platform makes up for it with many of its other features. Significantly, Zoho Projects has many third-party integrations, as well as integrations with the following Zoho ecosystem tools that could be helpful for marketing agencies in particular:
Zoho CRM
Zoho People
Zoho Desk
Zoho Invoice
Zoho Analytics
WorkDrive
Zoho Assist
Zoho Books
Zoho Mail
Zoho Meeting
Zoho Cliq
Zoho Sprints
Zoho Expense
Zoho Forms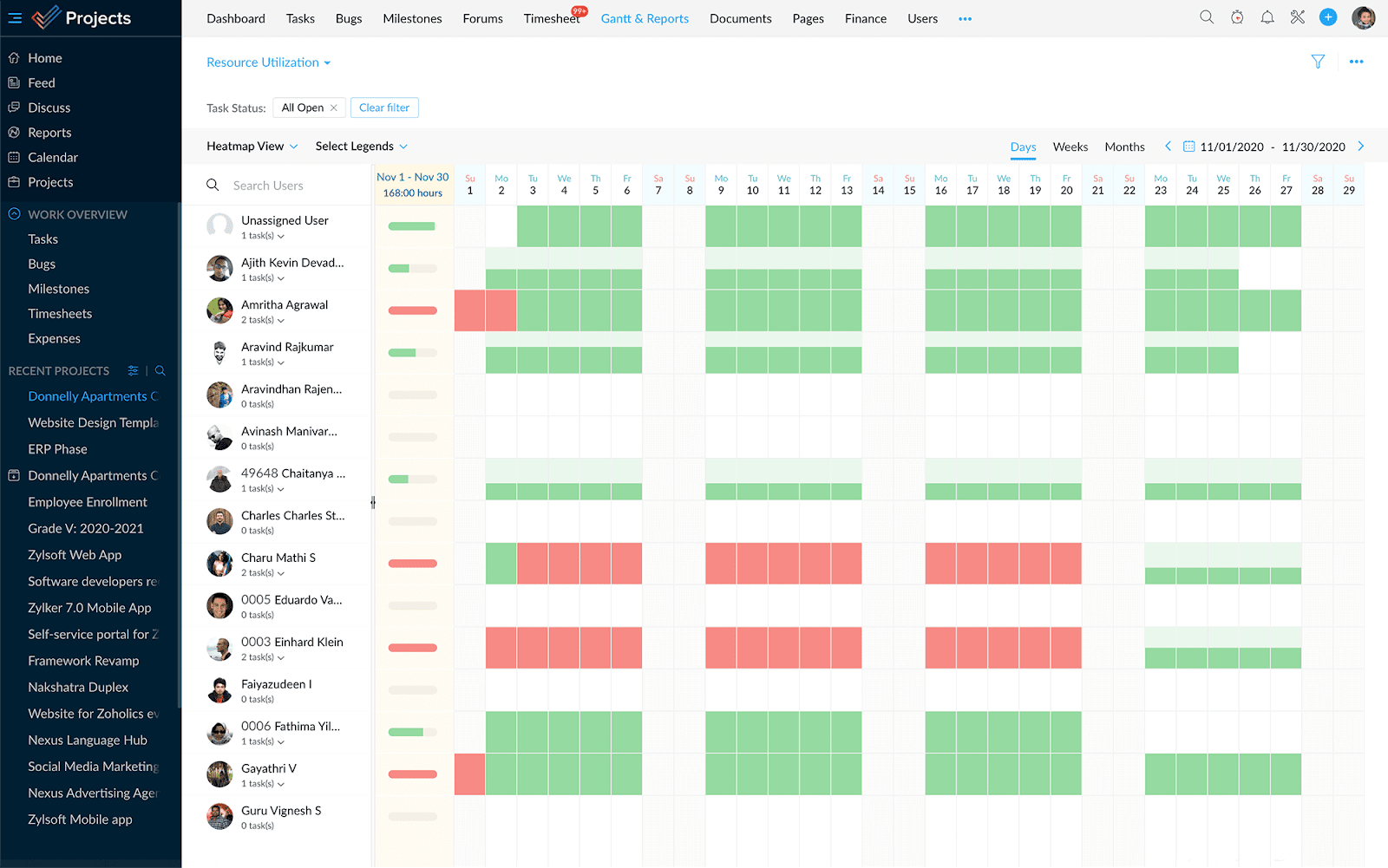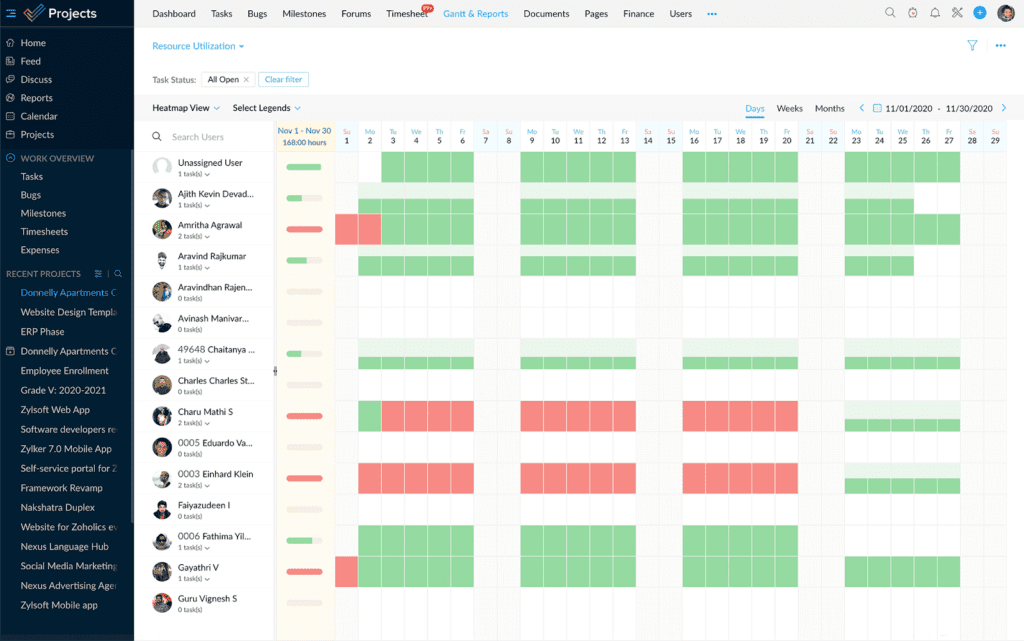 Zoho Projects offers a Resource Utilization chart visualization, making it easier to see which employees have been overburdened with project tasks.
Key Features
Tasks, subtasks, recurring tasks, task lists, and milestones
Critical tasks and path identification
Project baselines for goal progress tracking
Portfolio dashboard view
Custom fields, views, and templates
Business and workflow rules
Time tracking and budgeting features
Ability to add client users
Relevant Integrations
Gmail
Microsoft 365
Slack
Zendesk
Google Drive
Microsoft Projects
Dropbox
Box
Microsoft Teams
Other Zoho products
---
Learn more: Zoho Projects Software Review
---


Wrike: Best for Project Portfolio Management
Wrike's project management platform includes a number of task management features, automations, dashboards, and integrations that make it a top solution for marketers. It is a tool that focuses heavily on individual user experience, especially with some of the new UX and analytics advances that have accompanied Wrike's Lightspeed release.
But where Wrike really stands out is in its approach to project portfolio management (PPM). Wrike offers users a number of resource management and allocation features, change-focused roadmaps, time tracking, and OKR templates that make it possible for marketing agencies and other marketing teams to juggle multiple projects, clients, and competing priorities.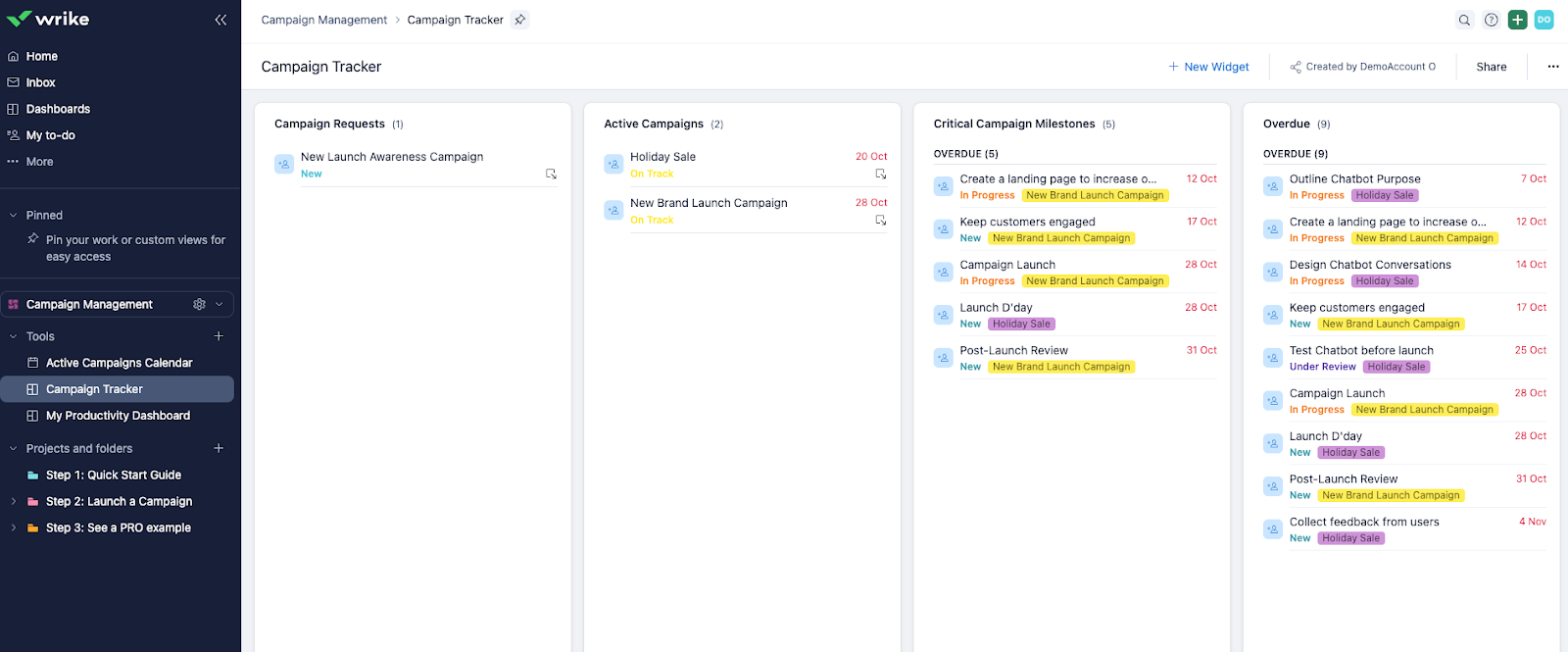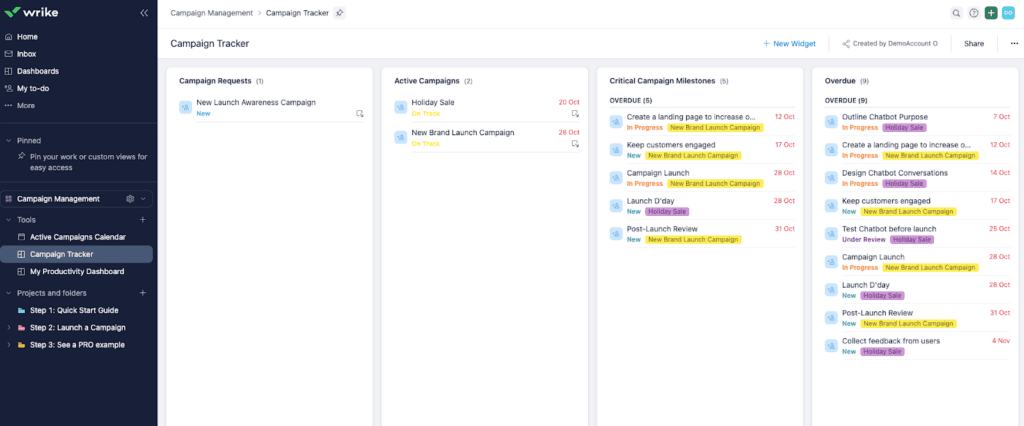 Wrike's Campaign Tracker dashboard allows users to look at active and proposed marketing campaigns, drilling down into overdue tasks and important campaign milestones.
Key Features
Work request forms for intake workflow
Integration with Adobe Creative Cloud
File and asset collaboration and in-platform proofing
Wrike Publish for creative team asset management
Customizable and templated project workflows
Resource and workload management
Campaign-focused analytics
Various marketing templates
Relevant Integrations
Salesforce
Gmail
Outlook
Microsoft Project
Google Drive
MediaValet
Dropbox
Microsoft Teams
Zoom
Slack
---
Learn more: Wrike for Marketers: Software Review
---


Trello: Best For Ease of Use
Trello is one of the easiest to use and best value project management solutions available, even providing unlimited user access and numerous useful features in its free tier. The software operates with an intuitive and highly visual interface that focuses on drag-and-drop functionality in a project card layout.
Although the software itself is somewhat limited when it comes to storage and customization, Trello is a great solution for teams that want to smoothly transition into using project management software. Trello offers many relevant marketing integrations and power-ups as well, making it a strategic option for teams that want to better manage social media, customer journeys, and other marketing workflows.


Trello cards can be used to manage a variety of marketing tasks, including marketing campaigns, in a more visual way.
Key Features
Workflow and task automation with Butler
Trello Power-Ups and plugins
Community-created project templates
Third-party integrations
Drag-and-drop functionality
Custom fields
OKR template
Task and resource management
Relevant Integrations
Slack
Jira Cloud
Gmail
Hootsuite
Salesforce
Mailchimp
Autopilot
Google Drive
Confluence Cloud
Toggl
---
Learn more: Trello Software Review
---


Basecamp: Best For Internal Collaboration and Communication
Basecamp emphasizes effective internal communication and collaboration that isn't one size fits all. For real-time chat, user groups can use the Campfire feature. If your marketing team wants to collaborate on documents and files, Basecamp makes it possible to attach discussions directly to those assets. Automatic polls and check-ins, straightforward dashboards, and the Messages feature all work differently but serve the purpose of creating constant communication and performance checkpoints. Basecamp also makes it possible to add clients and track their feedback in the system.
Although Basecamp doesn't have as many integration opportunities as a lot of its competitors, its existing integrations are great for internal team management and time tracking, such as Earned Value App, BrightGauge Software, Toggl, and Everhour. For teams that need more transparency and granular performance measurement, Basecamp is a great option.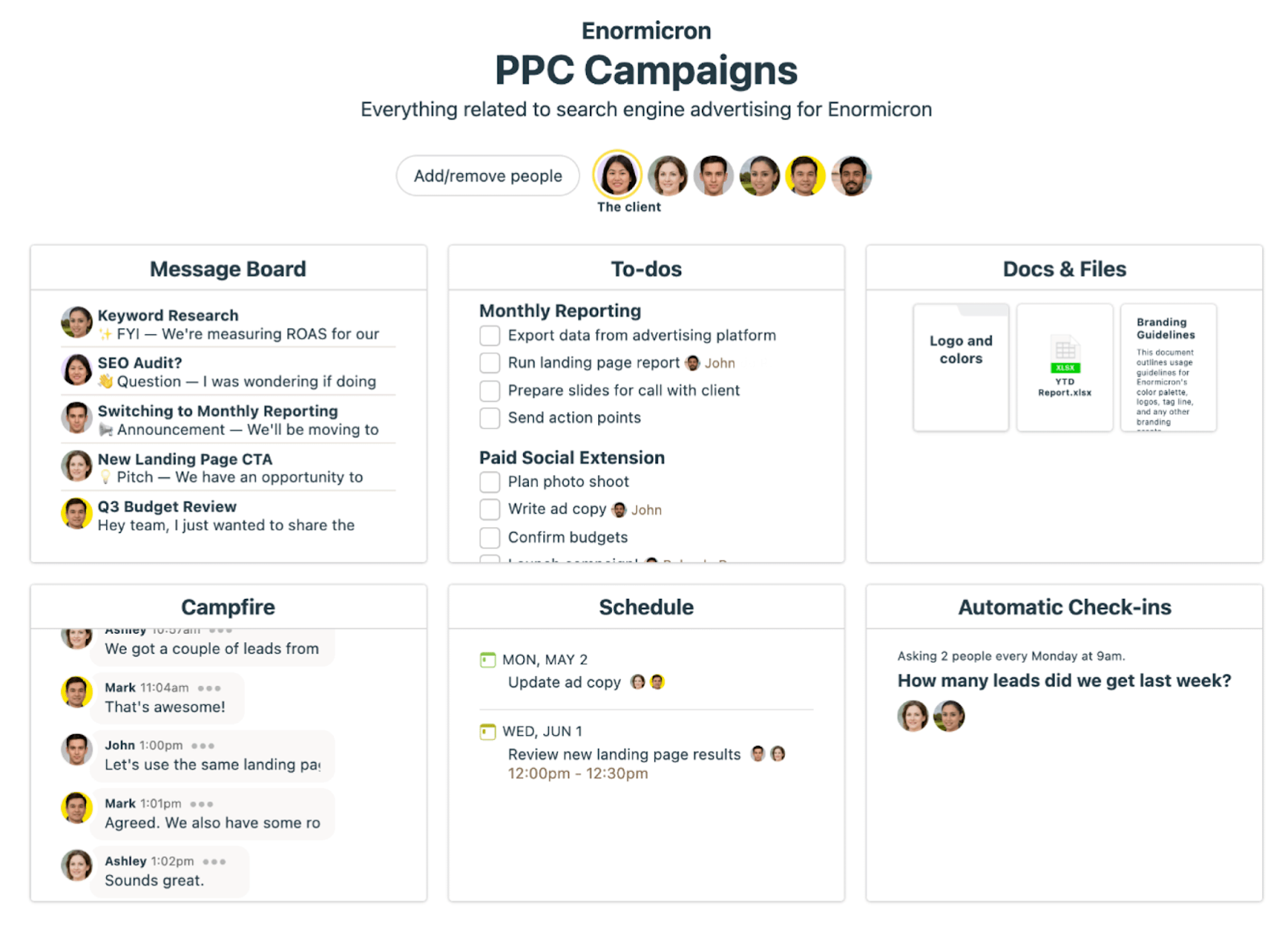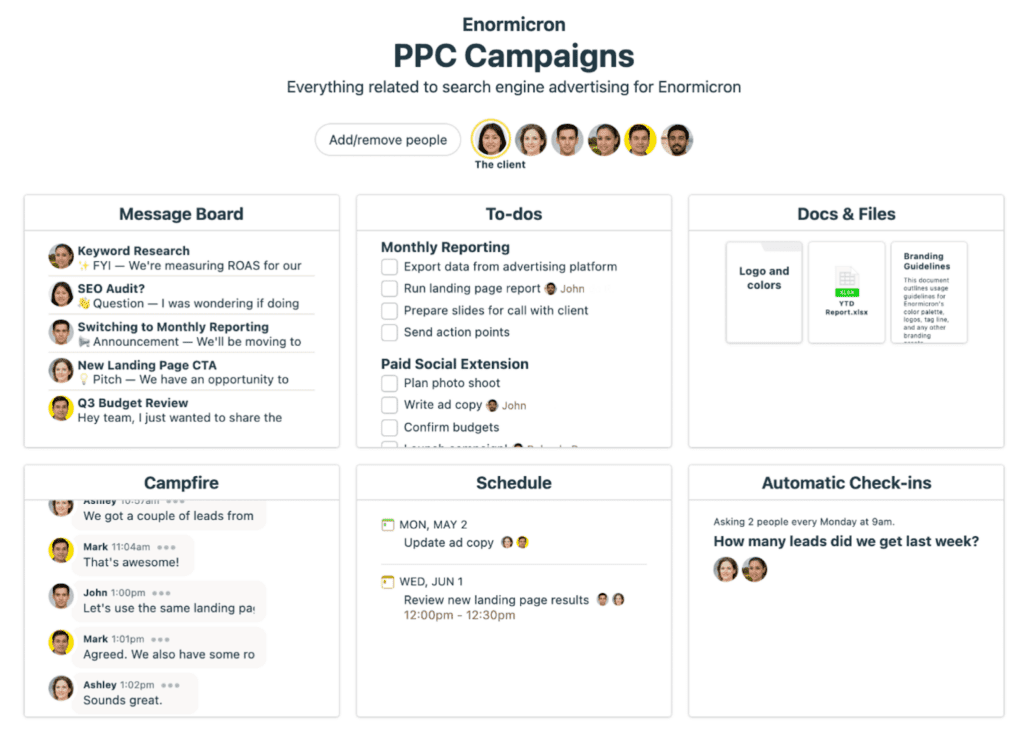 Basecamp's dashboard format makes it easy to track conversations, tasks, assets, and deadlines for marketing campaigns in one place.
Key Features
Team management and time-tracking integrations
Client access and client feedback management
Campfire for real-time group chatting
Automatic team polls and check-ins
Cloud file and storage support
Hill Charts for project progress tracking
Hey! menu for aggregated notifications
Project deadline and milestone scheduling
Relevant Integrations
Project Buddy
Zoho Flow
Everhour
Toggl
Klipfolio
Slickplan
Zapier
Ziflow
Akita
Proposify
---
Learn more: Basecamp Software Review
---


ProProfs Project: Best For Customer Support
ProProfs Project is a simple but effective project management solution that wins over its customers with excellent user support. Customers can contact the team through traditional avenues, such as phone calls and ticket submissions, but they can also chat live with customer support, visit the help center, submit ideas to the suggestion box, and review FAQs in the ProProfs Project Help Center. Every new customer also receives a dedicated onboarding manager to improve the onboarding process.
Although ProProfs Project does not come with a free-tier pricing option, it is still one of the most affordable project management platforms available. The company does not follow a per-user pricing model and supports unlimited users, so larger marketing teams that want simple PM functionality can particularly benefit from investing in this software.
ProProfs Project offers a simple tool with time tracking, task management, and workload management all included.
Key Features
Unlimited projects and tasks
Task and milestone management
File sharing and collaboration
Kanban board and Gantt view options
Workflow customization and automation
Client management, with time tracking, invoicing, and billing
Custom roles and permissions
@mention communication capabilities
Relevant Integrations
It's important to note that ProProfs Project has only limited integration opportunities. Some of the following integrations have been developed by third-party companies and will require interested buyers to contact them directly for pricing information:
VivifyScrum
Salesforce
ProProfs Help Desk
Zapier
Dropbox
Box
Marketing Project Management FAQs
Additional Top Marketing PM Solutions to Consider for Your Business
Dozens of project management solutions can be customized and fitted to marketing team requirements. If our top 10 selections for marketing project management software don't suit your specific wants and needs, consider adding one or more of these solutions:
Smartsheet
Jira
nTask
Adobe Workfront
Toggl Plan
Airtable
Confluence
Microsoft Project
Workamajig
ProofHub
FunctionFox
Paymo
---
Read our comprehensive Top 10 Project Management Software Buyers' Guide
---