A RACI matrix is a document that clarifies which individuals or groups are responsible for a project's successful completion, and the roles that each will play throughout the project. The acronym RACI stands for the different responsibility types: Responsible, Accountable, Consulted, and Informed.
Successful project management depends on a team-wide understanding of roles and responsibilities. Using a RACI matrix to assign and define each role is a great way to keep a project on track and positioned for success. When designed correctly, the RACI matrix is a way for a project manager to help ensure the success of the project before it's even begun.
---
---
How Does a RACI Chart Help Project Managers?
Project managers use RACI charts to keep track of team roles and relay those responsibilities to the larger team. The matrix defines clear roles and responsibilities for individual team members across the various phases of the project, breaking each role down into four types of designation: those who are Responsible and Accountable for project deliverables, those who should be Consulted as work begins, and stakeholders who need to be Informed of ongoing progress, roadblocks, and updates.
---
Read more about project phases
---
RACI Matrix Definitions
Responsible
The individual(s) with responsibility for the task or deliverable is typically responsible for developing and completing the project deliverables themselves. The responsible parties are typically hands-on team members that make direct contributions toward the completion of the project. The responsible team is comprised of the project's "doers", working hands-on to ensure that each deliverable is completed.
Some examples of responsible parties are:
Project Managers
Business Analysts
Developers
Graphic Designers
Copywriters
Accountable
Accountable parties ensure accountability to project deadlines, and ultimately, accountability to project completion. This group frequently also falls under the informed category.
Some examples of accountable parties are:
Product Owners
Signature Authorities
Business Owners
Sponsors
Key Stakeholders
Consulted
Consulted individuals' opinions are crucial, and their feedback needs to be considered at every step of the game. These individuals provide guidance that is often a prerequisite to other project tasks, for example, providing legal guidance on a project throughout the process. If you are working on new product development or expansion, this could essentially be the entire organization.
Some examples of consulted parties are:
Legal Experts
Information Security and Cybersecurity Experts
Compliance Consultants
Informed
Informed persons are those that need to stay in the loop of communication throughout the project. These individuals do not have to be consulted or be a part of the decision-making, but they should be made aware of all project updates. Typically, this party are business owners or stakeholders that are more interested in viewing the project at a 30,000-foot view. Keep this group on your cc list for awareness of topics, decisions, and progress – that includes making them part of the initial project kickoff and project demos as optional attendees. This group often also falls under the accountable group.
Some examples of informed parties are:
Project Committee Members
External Stakeholders
Business Owners
Why Are RACI Roles Important?
RACI roles provide a sense of organization and clarity for teams that are looking to divide roles and keep team members accountable for their contributions. Considering that 27% of projects go over budget, for reasons like scope creep and lack of defined roles, RACI roles help position a project for success and avoid common pitfalls.
Moreover, RACI roles help ensure that communication between all roles is ongoing. When you consider that nearly half of all project spending is at risk of being wasted due to a lack of effective team-based communication, it becomes all that more important to prioritize. Ultimately, teams who prioritize communication and well-defined roles are better off, and RACI roles help teams achieve that goal faster – while providing accountability for each team member's unique contributions to the success of the project.
---
Read More: Top 10 Main Causes of Project Failure
---
How to Create a RACI Matrix
If you're looking to implement a RACI matrix as part of your team's project planning process, take these steps to create a RACI matrix.
Plan ahead before taking action.

Ensure that you have a thorough understanding of the project and its demands before outlining any further steps by communicating with key stakeholders and decision-makers.

Determine the scope of the project.

Determine the list of key activities and deliverables from the director of program management or other leadership. 

Determine who the involved parties are.

Determine who is needed to be a part of the project or initiative.

Outline each project role.

Determine the project roles and responsible job titles and persons for each activity and deliverable.

Gather as a group.

Hold review sessions with key members of the team for alignment, and if you haven't already, host a kickoff meeting with the entirety of the team and key stakeholders to unveil the matrix, address questions, and more. 
If the project has already started, it's not too late to implement a RACI matrix.
Outline the story. Using research from multiple sources, do a, b, c, and d.
Utilize steps 2 and 3 (shown above). Ensure the right groups are assigned and engaged.
Hold a review session. Ensure that the team acknowledges and discusses the plan and the roles assigned.
---
Featured Partners: Project Management Software
---
Examples of a RACI Matrix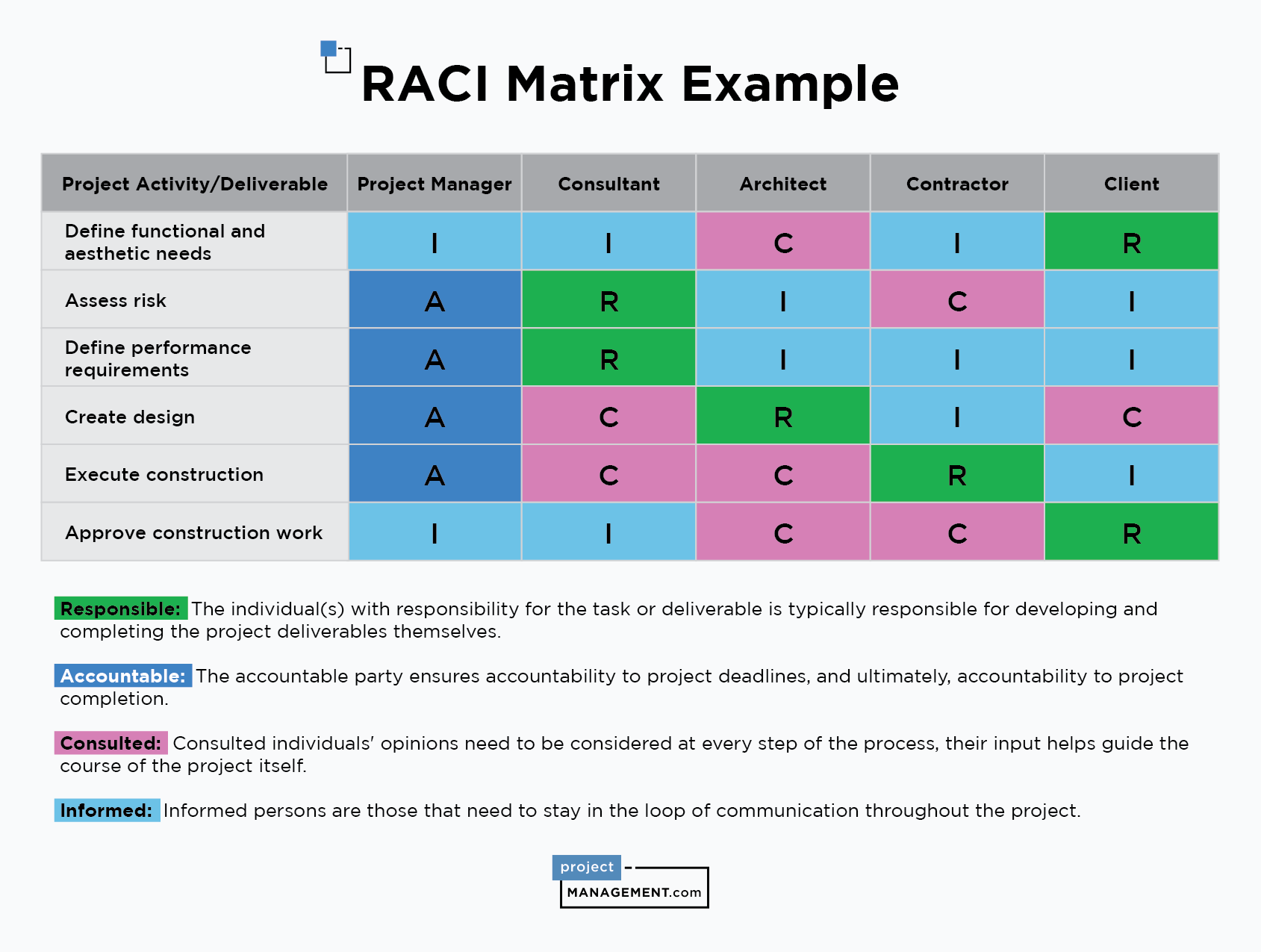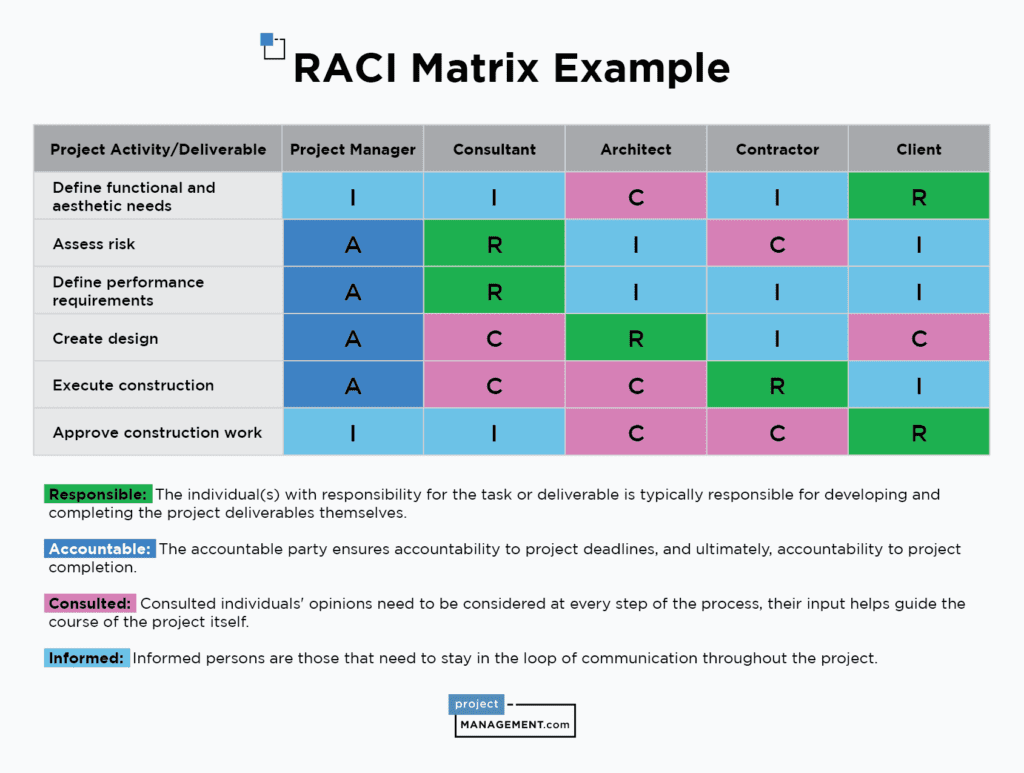 Our FREE Downloadable RACI Matrix Template
Who Creates the RACI Matrix?
The RACI matrix — sometimes called RACI model, RACI diagram, or simply just RAC — is created by the project manager at the start of the project as a key part of establishing the initial human resources planning for the project. Because miscommunication is a common threat to any project, RACI charts are a great asset to teams dealing with any type of project, from very simple projects to extremely complex ones.
FAQ: How do I Implement a RACI matrix?
Implementing a RACI matrix takes more than just a few emails and sporadic conversations – it takes consistent communication and planning. You should host a kickoff meeting to introduce the matrix to the team and make a plan to continue meeting at predetermined times throughout the project lifecycle.
Here are a few more tips to keep in mind as you implement your RACI matrix within the team dynamic:
Get everyone prepared. Send the document around to the meeting distribution as read-ahead material, requesting feedback if there are any major concerns.
Roll out each role for the team. During the meeting, conduct a review of the tasks and responsible parties. Do not rush through this review, but rather ensure enough time in your project kickoff for this important aspect. (Be certain to clarify the definitions of RACI to avoid ambiguity.)
Consider changes and update accordingly. After the meeting, send out the notes documenting acceptance or updates to the RACI. In addition to sending out the notes, request any corrections within a reasonable yet defined timeframe. Clarify that if no changes are requested, each person is acknowledging their role and committing to the project tasks as outlined.
Stay in touch. Consider a quick review with the entire team each quarter or every six months for longer projects to ensure it remains up-to-date and not simply another document in the repository but a relied-upon artifact.
FAQ: What are RACI matrix best practices?
As you implement the RACI matrix…
Encourage teamwork and foster collaboration whenever possible.
Don't fear updates – make changes and adjustments as needed (but be sure to communicate those changes clearly to all parties).
Earlier is better. Roll out your matrix plan to the team BEFORE you plan to implement it for the best results.
Have a clear-cut understanding of the project scope and how each role connects to the overall project goal.
For "Responsible" Parties:
Make sure your project's definition of Responsible is clear on who holds the "decider" role for the project or project phase's completion, and what the dimensions of that responsibility will be.
Ensure that all parties are aware of their role and responsibilities within the matrix.
For "Accountable" Parties:
When multiple Accountable team members must exist, use your definitions to make clear which individual is accountable for a given project element, and how that individual needs to interact with other Accountable team members.
Ensure that there is only one "Accountable" party assigned per task.
Be sure that the Accountable party has the authority and power to oversee the task as the accountable party.
For Consulted and Informed Parties:
Consulted parties are often high-level decision-makers with heavy schedules. Make sure you're clear on their availability ahead of time.
Similar to Consulted parties, Informed parties are often less hands-on and have less understanding of day-to-day project operations. As the project goes on, make sure to keep detailed notes to keep the Informed party up-to-date on key information.
Understand the ways that these parties like to communicate and create a plan to reach them early – whether that's over phone calls, emails, video calls, or from within your project management system's collaboration tools.
Knowing the difference between who needs to be consulted versus informed can be a challenge if there is ambiguity about project roles. Consider what aspects of the project different team members need to know to do their jobs, and then bake those into your definitions.
RACI Matrix Pros & Cons
Pros:
Cons:
Increased Engagement:
RACI helps engage project participants in the project lifecycle.
Limitations on Role Scope:
The RACI model does not provide details on role scope, especially for responsible parties. These gaps in detail also affect other team roles, for example, another gap in a RACI is the determination of who is responsible for verifier and signatory.
Enhanced Project Planning:
Project managers make project planning more organized, efficient, and detailed.
Limits on Task Details and Scope:
While a RACI matrix can provide an overview of who is responsible for different tasks, it will not state what needs to be done.
Identifiable Improvement Opportunities:
Areas of improvement are more easily identified.
Not Aligned to the Agile Methodology:
Project managers using an agile methodology like scrum may find it redundant since accountability, ownership, and ongoing communication is built into the scrum framework (i.e., product owner, scrum master, and daily standups with the team). Additionally, agile focuses on team-based delivery and accountability, while the RACI framework and alternatives focus on individual responsibility and autonomous accountability.
Easier Collaboration:
Use of a RACI matrix creates a clear path for leadership to sign off on project steps, as project documentation in the RACI model is heavily emphasized.
Better Communication:
Improves overall group communication as a whole
Group Accountability:
Assists groups, especially larger project teams, stay connected and accountable to their roles and project goals
Free RACI Matrix Templates
A number of project management software solutions include a native RACI matrix template. Here are just a few we've found:
Colorful RACI Chart Template
We love this template from Smartsheet because it's colorful, thorough, and includes room for every party involved in the project.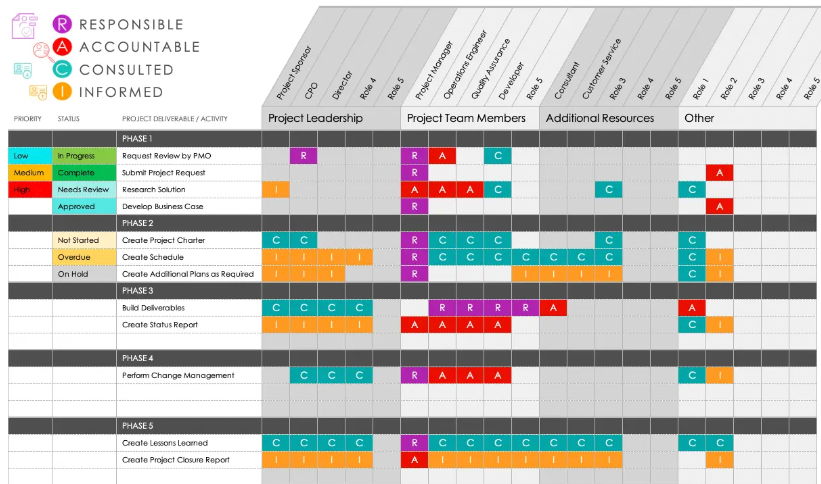 Pastel Colored RACI Matrix Template
This template from the Academy to Innovate HR is a great choice for project managers who want to organize their team roles with an easy-on-the-eyes chart that evolves beyond the simple spreadsheet.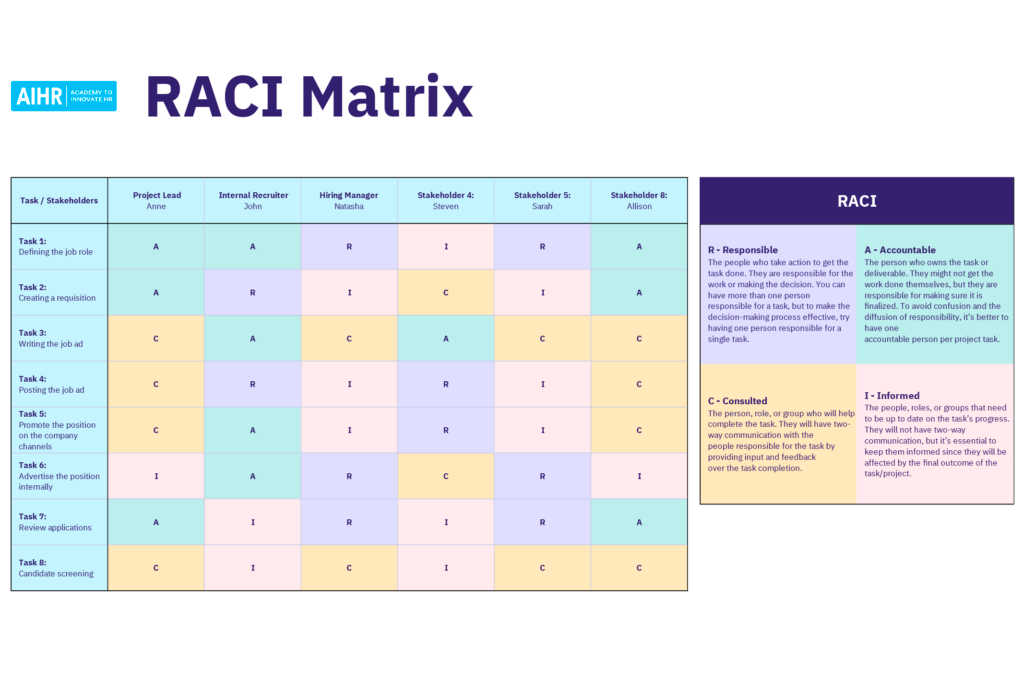 Simple RACI Chart from Clickup
These RACI templates from Clickup have enough variety to fit any of your project needs, but are simple enough for even beginner PMs to use.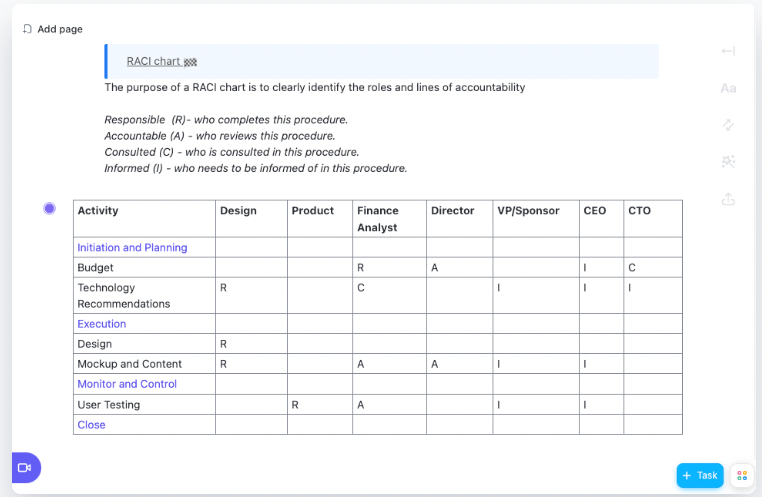 Detailed RACI Matrix Template
This template is a great starter template for anyone looking to explore RACI charts in their project management strategy. As an added bonus – it comes with the RACI definitions already built in!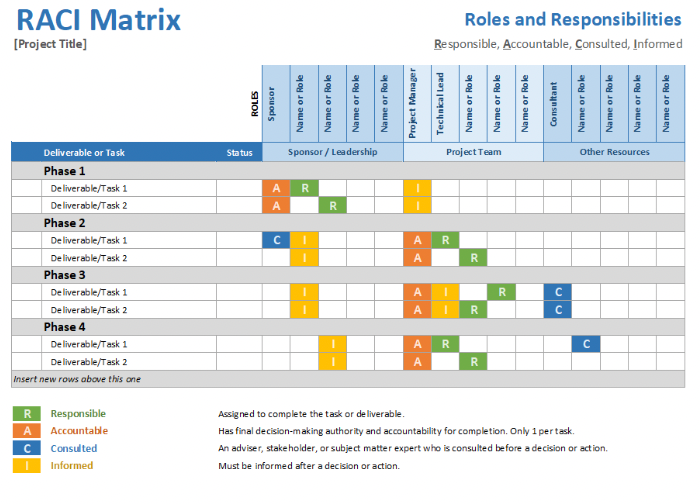 Excel-Based RACI Chart Template
Are you an Excel or Google Sheets user looking to take advantage of the RACI matrix? An Excel-formatted template from Project Management Docs can be just the solution for you. This template is a great template for users who want a chart that comes in a pre-formatted structure.