We've written the ultimate project management software buyers guide which includes a look at some of the top project management systems available.
In a hurry? These are our picks for the best project management software on the market, recently updated with more useful info and expert insights to help you choose the best project management tool for your team. These are project-management.com's editorially independent picks, based on the research and hands-on experience of our staff.
Featured Partners: Project Management Software
Our Picks

monday work management: Best All-Around Performer
monday.com's monday work management is customizable for scalable teams, workflows, and use cases. The highly visual project management platform provides an intuitive centralized workspace for users across the organization. Easy-to-implement automations, notifications, and team collaboration simplify the assignment, tracking, and reporting of any kind of work.
---
Read our complete monday.com review
---
monday.com allows users to modify views and create dashboards to display important project information to decision-makers. monday work management offers a free plan for up to two user seats and several paid plans for teams with different work requirements. It has ready-to-use templates, unlimited project boards, interactive documents, and custom fields. The software is mobile-friendly and includes features for file and project portfolio management, email integration, calendar sync, and in-depth analytics and reporting.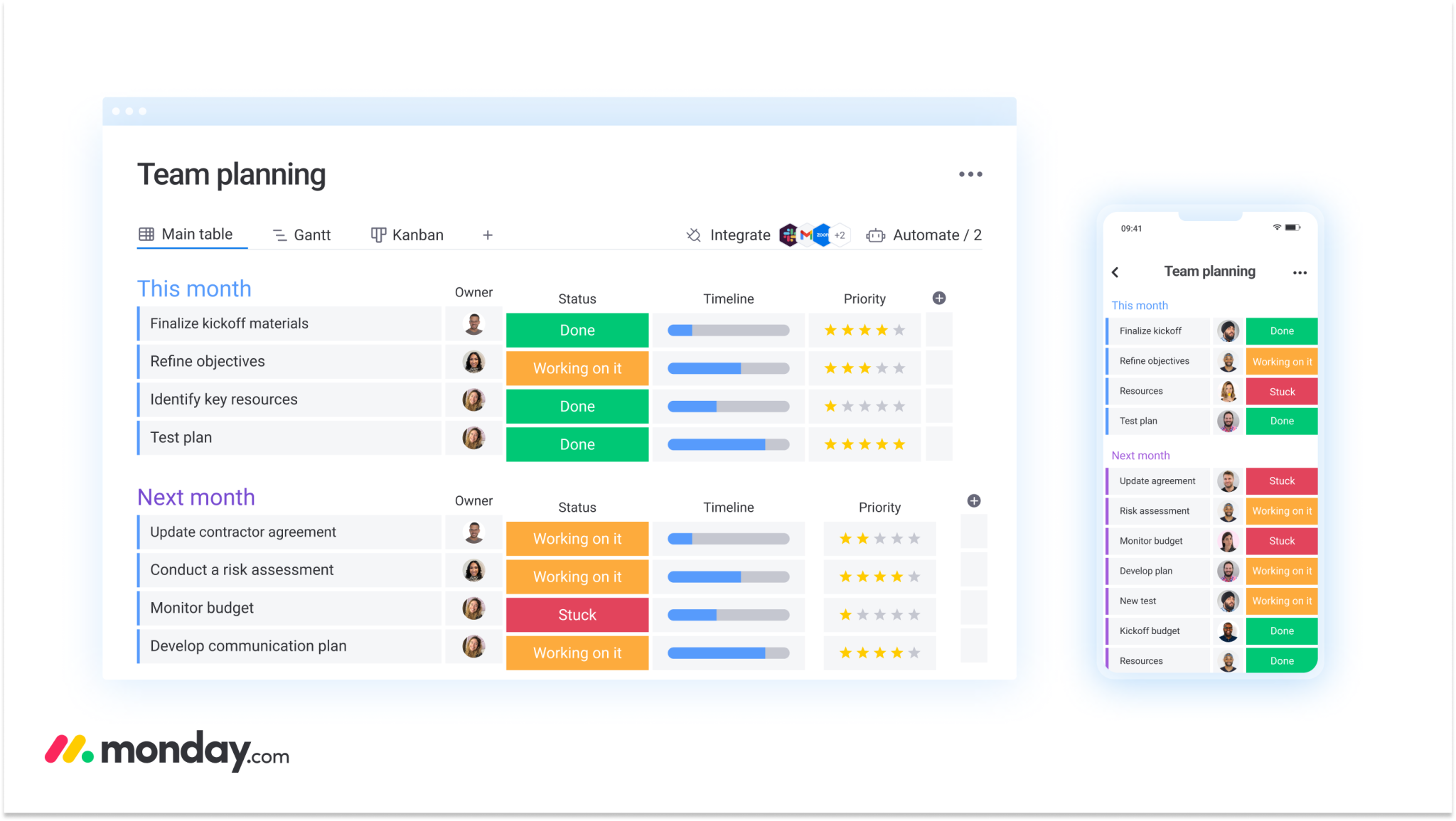 Standout Features
Why We Picked monday
In working with monday, I found that this option stands out due to its remarkable flexibility and visual clarity. This tool's flexibility allows users to customize their workflows to match the unique needs of their team and adapt to a wide range of industry-specific projects and use cases.
In addition, monday's highly visual interface simplifies project management by providing an intuitive and centralized workspace. The visual representation of tasks and progress allows teams to quickly grasp project status and collaborate well. My overall positive user experience in reviews made choosing monday as the Best All-Around Performer an easy decision.

Best for Fast-Growing Teams Seeking a Secure, Scalable Solution
Smartsheet is a leading work execution platform with strong real-time work management features, advanced dashboard reporting, collaboration, and automation tools. Organizations dynamically plan, execute, and report on work at scale for any type of project. The tool allows different views of real-time data laid out in instant Gantt, card, grid, and calendar views to accommodate different types of works and teams.
Smartsheet also has automatic update requests and can be used for waterfall and Agile-based projects, product launches, sprint planning, and more. Its resource management feature provides real-time visibility into who is busy and who is available.
---
Read our complete Smartsheet review
---
Smartsheet is a mature, feature-rich option that works well for a range of project types and processes. It is an excellent addition to project management offices, especially for teams with multiple project leaders who are responsible for providing management with detailed insights in larger cross-functional environments.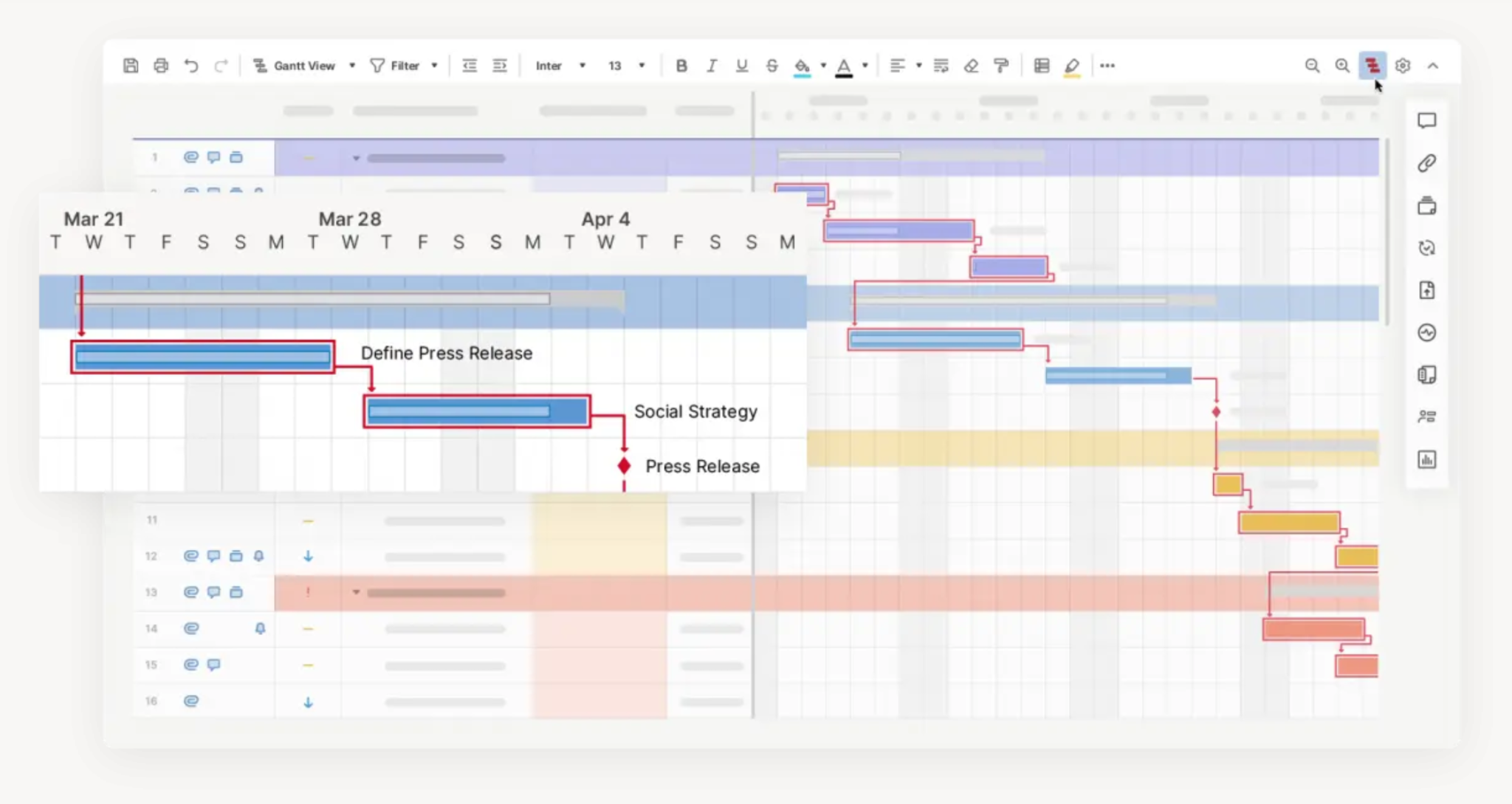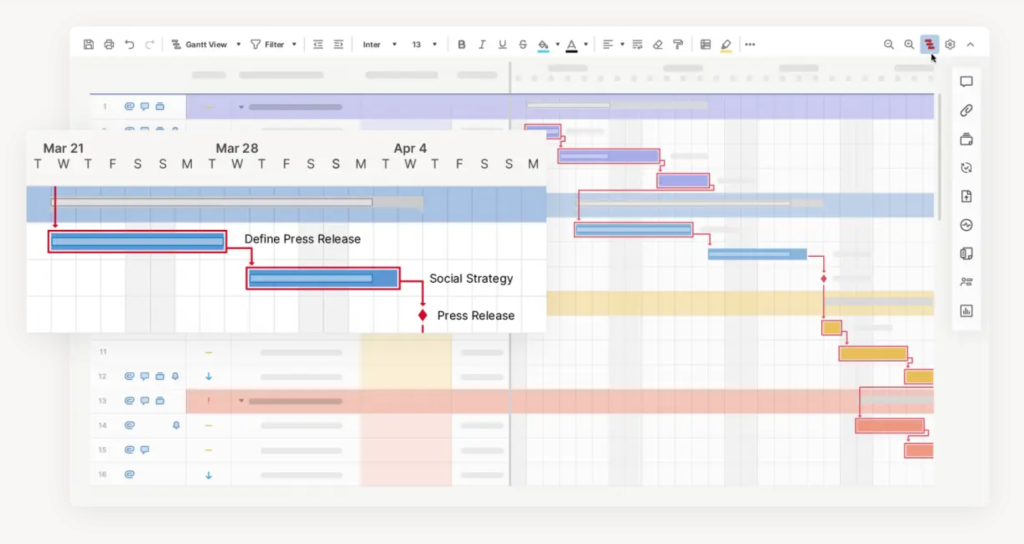 Standout Features
Why We Picked Smartsheet
Fast-growing teams may outgrow the one-size-fits-most capabilities of other PM systems. Smartsheet delivers for teams that need the ability to customize and build more complex functions.
Extensive use of this fast-evolving solution makes it a must-have on our list of top software because Smartsheet's developers have delivered a comprehensive set of tools needed to operate, from a basic set up all the way to a very robust and complex system of managing programs with multiple projects and with a lot of data pulling from multiple sources and tools.

Wrike: Best for Customization
Wrike is considered by some to be one of the most powerful project management platforms available, designed to help teams adapt to new ways of working. I've found Wrike to be flexible enough to meet the disparate needs of just about any team, including marketing, design, professional services, product management, and business operations teams. The project management app can easily adapt to a variety of business needs, whether for managing Agile teams, clients, or remote workers.
---
Read our complete Wrike review
---
Wrike offers a free plan to unlimited users with basic functionality that is sufficient for simple projects. Paid plans include more advanced features, such as shareable dashboards, interactive Gantt charts, time tracking, cross-tagging, custom fields and workflows, automation, and productivity integrations. Enterprise plans have additional security features like single sign-on (SSO), two-factor authentication (2FA), password policies, custom roles, and audit reports that are suitable for hybrid workspaces.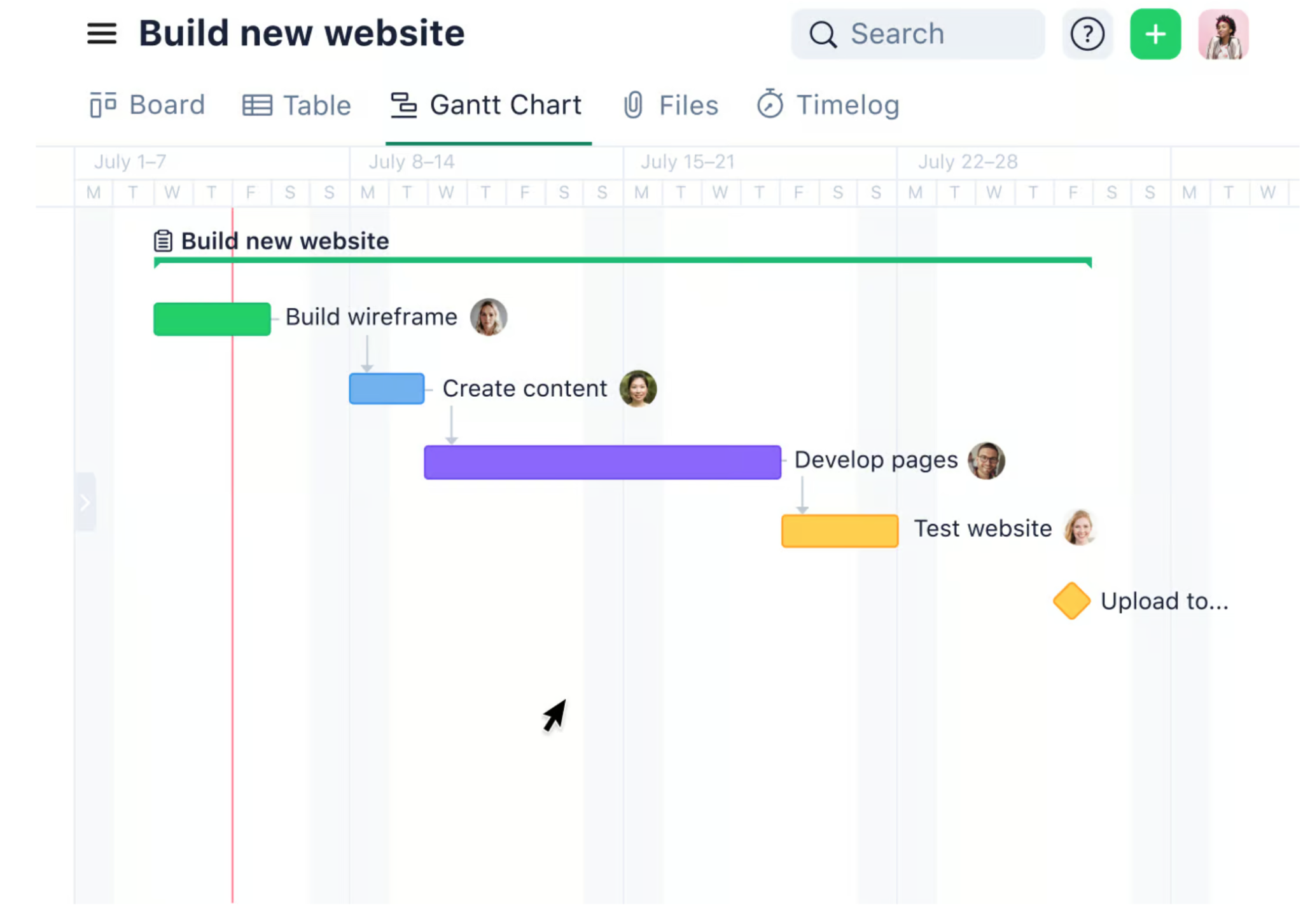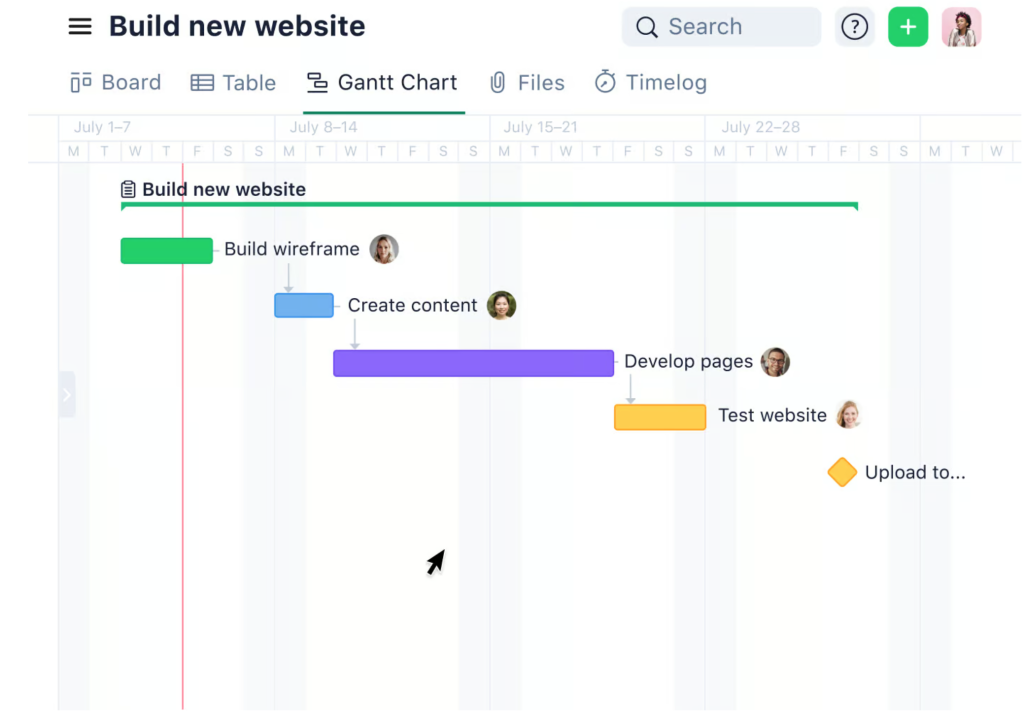 Standout Features
Why We Picked Wrike
I tested the free version of this tool and picked Wrike to add to this list because of its robust and user-friendly features. Wrike's built-in customizability means a single platform can meet the needs of most, if not all, of your various teams' needs. Wrike is adaptable to the unique needs of different types of project teams and industries, making it an excellent choice.

ClickUp: Best for Freelancers
ClickUp positions itself as a project management hub where teams come together to plan, organize, and collaborate on work using tasks, documents, chat, whiteboards, and more, all in one tool. But it's not just for traditional departments and teams — freelancers can connect with vendors, clients, and peers to work as a virtual team.
---
Read our complete ClickUp review
---
In addition to scheduling, task management, and reporting functions that are the core of any project management system, ClickUp shines in its ability to automate multistep processes that require action by multiple users. Administrators can write custom rules to define when and which user needs to complete a task. It also includes notifications telling users when action is required.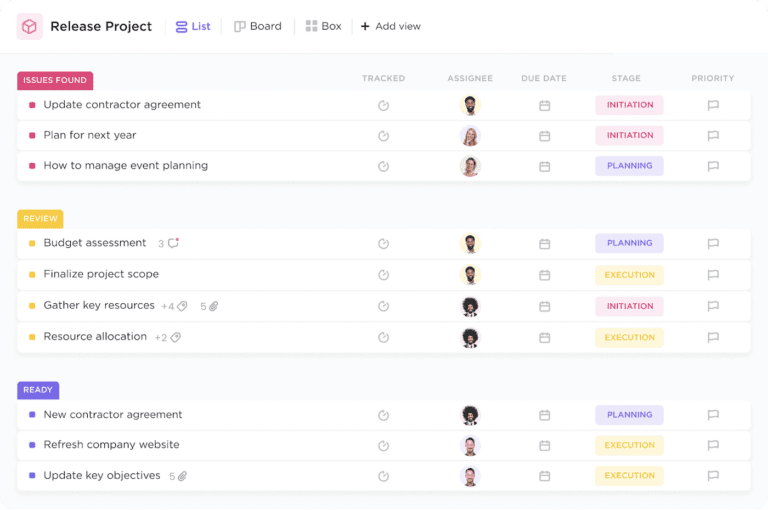 Standout Features
Why We Picked ClickUp
Long-term success as a freelancer requires close management of your time and deliverables. With an investment of a few hours in tutorial videos, ClickUp's ease of use and accessible feature set will lessen the workload for you and/or your team.
I found ClickUp to be a great tool for keeping track of details, giving you more time to focus on the work that delivers your clients the most value. If working together and collaborating frequently with modern teams and structures is a need, ClickUp's creative canvas format bridges the gap so teams of any makeup can work smarter.

Jira Software: Best for Agile Teams
Jira Software is a development work collaboration tool that's part of the Atlassian suite of products. As such, its strength lies in its robust project and issue-tracking features for technical and development teams. Task management features in this project management app enable users across the organization to plan, track, manage, and complete tasks, including repeat tasks. It is free for up to 10 users with scalable paid plans for bigger teams.
Jira allows users to create and manage unlimited tasks and projects. Users can access multiple views, such as lists, timelines, calendars, and boards, for different perspectives. A drag-and-drop builder lets users create forms to standardize work, and automation rules offer multiple actions to choose from. Thousands of integrations with apps, plug-ins, and add-ons make this a customizable app to fit many different project scenarios.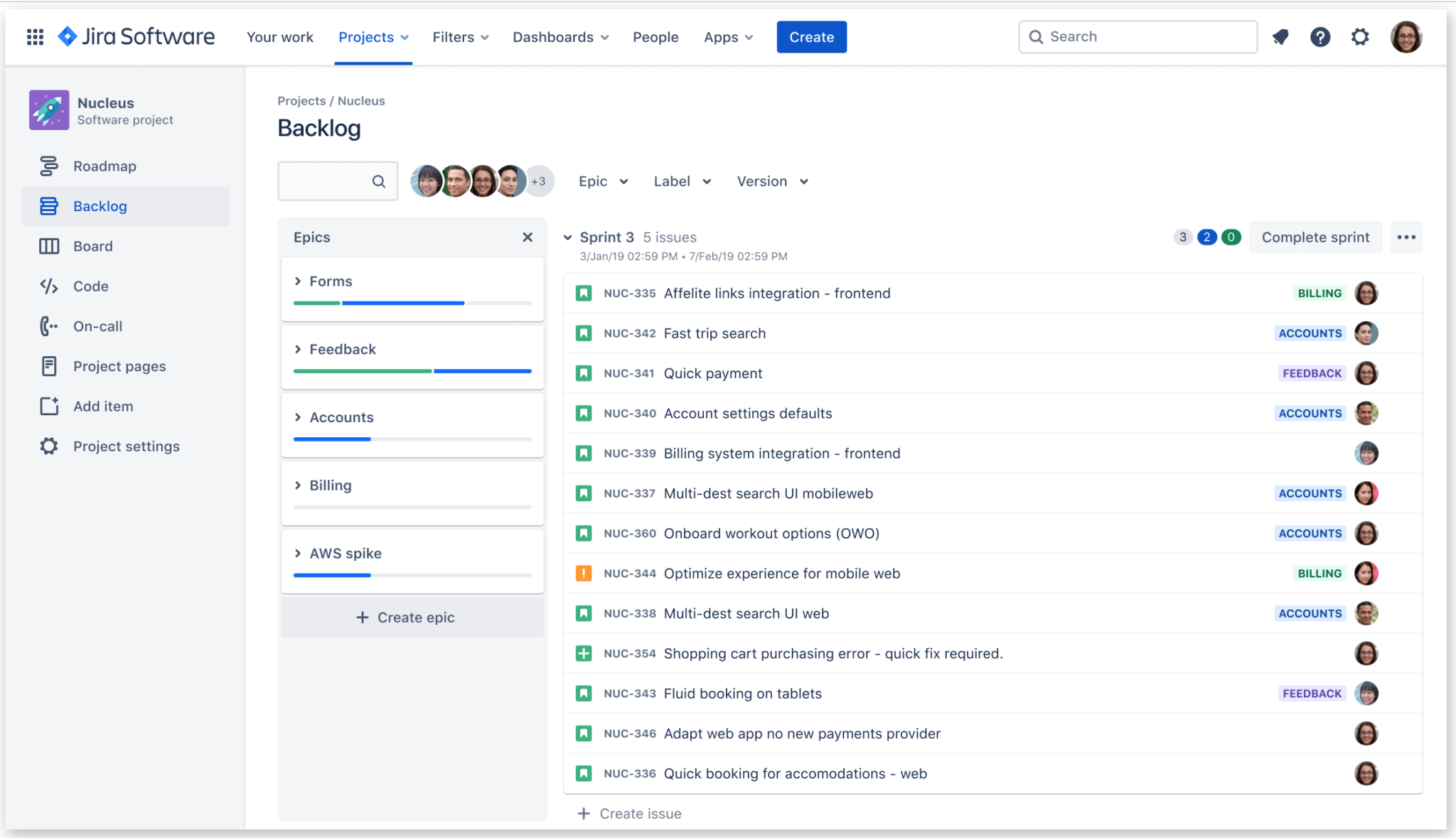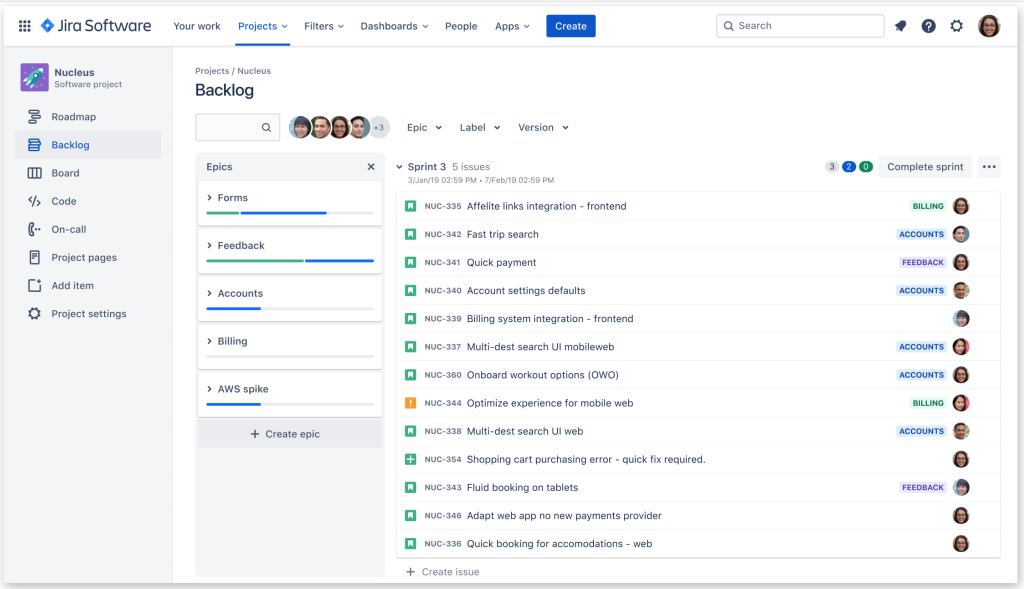 Standout Features
Why We Picked Jira Software
If your team works in iterative software development, engineering, or a similar field, Atlassian's numerous solutions are likely already part of your tech stack. Seamless integration with Confluence, Slack, Microsoft Teams, HubSpot, and more than 500 other available integrations puts Jira Software on numerous shortlists.
We love it because it is a part of the Atlassian suite of products and teams that use one of their products are likely to use a few others and seamlessly use them together.

Asana: Best for Remote Teams
Asana enables more effective project and task management across the organization in one interface. It provides an organized workspace where users can look at project data using different work views, such as lists, timelines, and boards. Users can create and assign tasks, build plans, customize workflows, and track project progress over time.
---
Read our complete Asana review
---
Asana offers one of the best free plans available, with feature-rich access for teams of up to 15 people for an unlimited time. With Asana, users can easily track bugs, manage sprints, and plan and run campaigns, events, and product launches. The project management app includes built-in messaging, file storage, a workflow builder, unlimited dashboards, custom fields, forms, automation, mobile apps, portfolios, workload management, approvals, and proofing.
Asana has one of the most robust feature sets available, but we found its inability to assign tasks to more than one user created occasional speed bumps in more complex workflows. As a workaround, other individuals can be tagged in a task. This wasn't a dealbreaker, but we'd welcome the addition of multi-user assignments.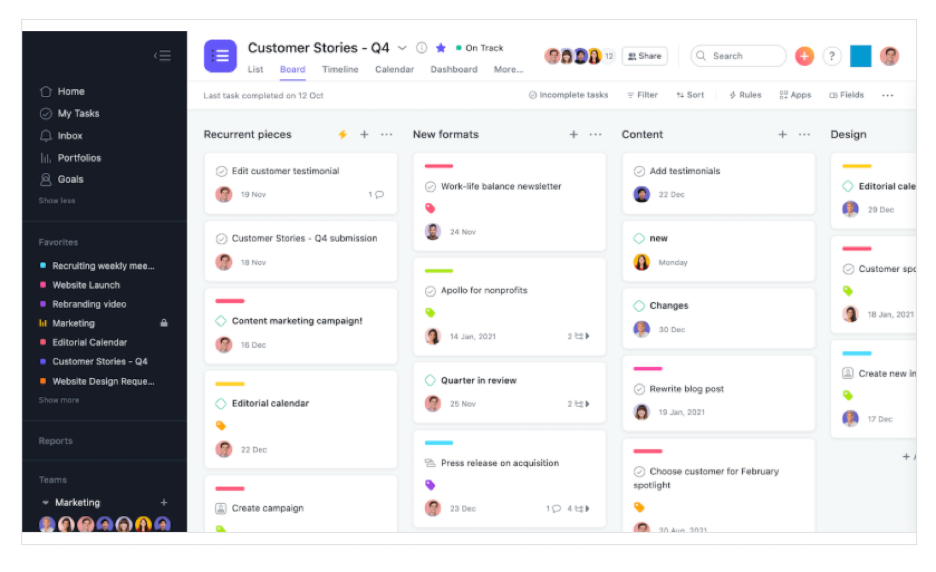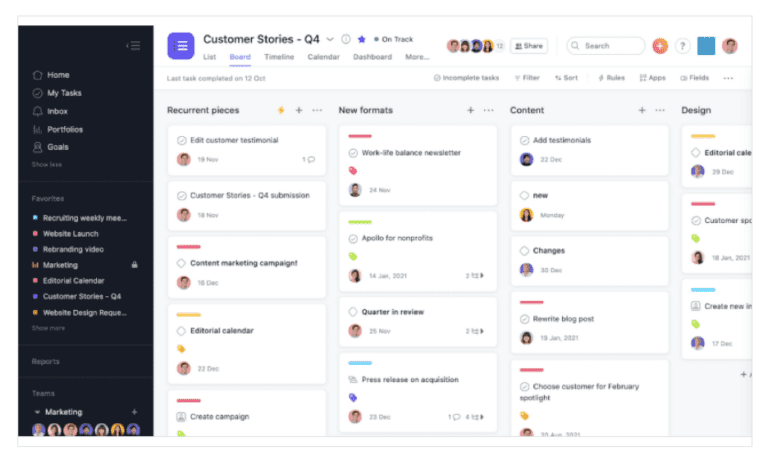 Standout Features
Why We Picked Asana
Asana is a familiar favorite that I've put to the test both professionally and personally to manage and track tasks and workflows, from the simple to-do list to full project and team functionality. A full-featured free-forever plan makes it easy to try Asana on for size. Then, as your team grows, Asana easily scales with your company through a range of pricing plans, varied permissions and access controls, and flexible workspace designs and hierarchies.

Trello: Best for Smaller Projects and Teams
Trello's kanban-style list-making application is a web-based and highly visual tool for organizing projects and phases into cards and boards. With a single glance, Trello tells you exactly what's being worked on, who's working on it, and where certain tasks and subtasks are in progress.
---
Read our complete Trello review
---
Trello can be thought of as digital sticky notes (cards) on a whiteboard divided into project phases. This kanban design makes it quick and easy to add details as tasks or lists, and then organize, move around, and prioritize those tasks or lists. Trello is great for when your team is starting with a list of tasks and deadlines that needs to be built into an immediate action plan.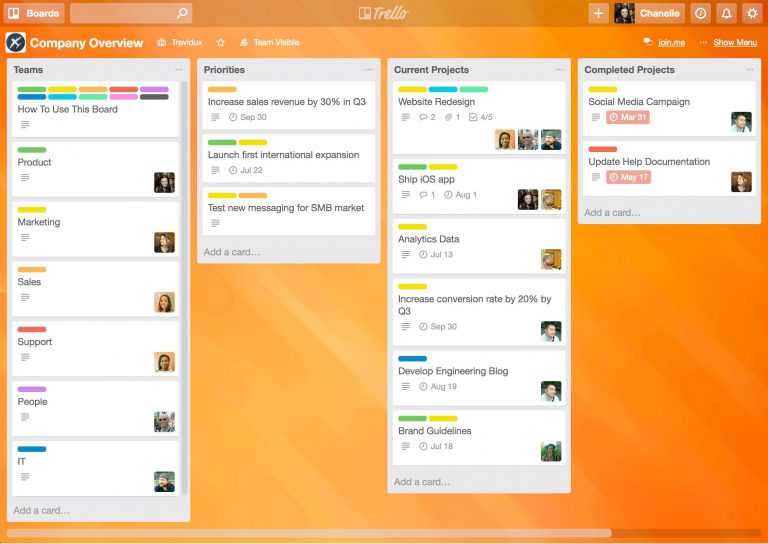 Standout Features
Why We Picked Trello
Making sweeping generalizations is dangerous, but we'd hazard a guess that nearly every project manager has used Trello at some point in their career. While it may be best suited for smaller-scale projects, Trello's nearly non-existent learning curve makes it an attractive option for teams of all backgrounds. It's especially helpful for those who don't have the operational advantages of a trained project manager and who need a PM solution that's ready to use out of the box.
Based on my experience using Trello for many agency-level technical projects, this is a stand-out option for smaller teams needing to see what is coming up next and stay connected and up to date with the click of a button.

Airtable: Best for Teams that Need Custom Applications
Airtable is a complete project management software solution that has evolved and been adapted for many business types. The software works like an Excel spreadsheet, which is familiar to most users. Features like file attachments, drop-down options, and checkboxes make it simple to set up and track projects from scratch or to use a template.
---
Read our complete Airtable review
---
Airtable allows teams to work together seamlessly through a centralized database for efficiency and speed. Users can access data and migrate datasets to other databases without error. They can also easily transition from a basic spreadsheet system to one that includes useful features like file attachments, kanban card stacks, revision history, calendars, and reporting.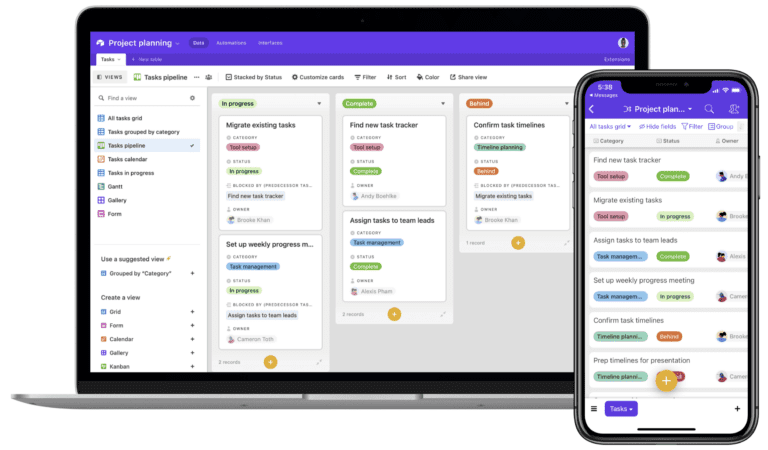 Standout Features
Why We Picked Airtable
No matter how comprehensive a PM solution is, some teams have unique project management requirements that more boilerplate, robust solutions don't meet. For those cases, Airtable's no-code approach to building and customizing project planning software will give teams the exact solution they need.
Having used this in a creative custom app and project agency setting and in larger technical environments, I find Airtable to be a unique option that works well for teams ingrained in the creative and heads-down development worlds with minimal time for distractions and to tinker with and learn a new tool.

Workfront: Best for Enterprise Adobe Users
Adobe Workfront's intuitive tools and project templates help teams launch projects faster. The solution includes built-in tracking, automated approvals, and analytics to help teams manage resource use for projects, programs, and project portfolios.
---
---
Workfront's demand management feature creates request queues with auto-routing to automate work intake, assignment, and tracking. Users can create custom forms and automate approvals to further streamline work. Workfront empowers teams to easily incorporate existing Agile processes into their workflows. It supports Scrum and Kanban methodologies, as well as waterfall and hybrid work approaches.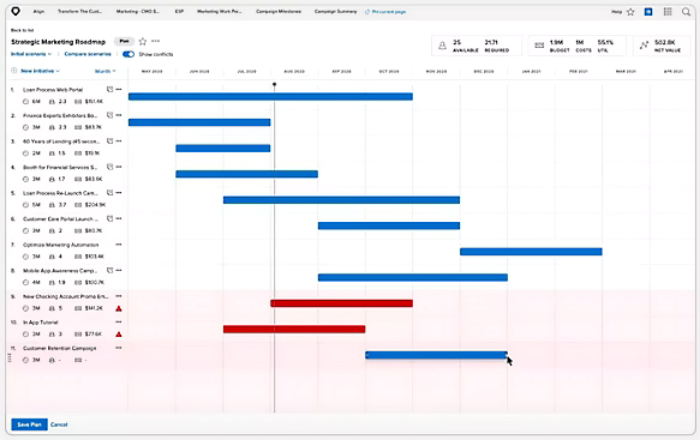 Standout Features
Why We Picked Adobe Workfront
Workfront's focus on automating repetitive but mission-critical workflows allows teams to dedicate more time and energy to high-value work.
Having worked with Adobe to create a custom instance of this program for a highly regulated industry organization, we can vouch that no stone is left unturned when planning for the best project and work management implementation to take an enterprise to the next level of efficiency.

Basecamp: Best for Collaboration
Basecamp is a project management tool with integrated team communication that's suitable for all types of work environments, especially remote work. It helps companies, teams, and individuals organize tasks, find the information they need quickly, and get real-time project progress updates. Everyone involved can collaborate with dedicated tools for planning projects, sharing files, and discussing ideas.
---
Read our complete Basecamp Review
---
After a 30-day free trial, Basecamp's lower-tier plan is available for $15 per user per month and includes all features for unlimited users and projects. The solution also includes a to-do list, scheduling, docs and files, charts, and automated reports. Users can choose to communicate with message boards, group chats, and/or direct messages.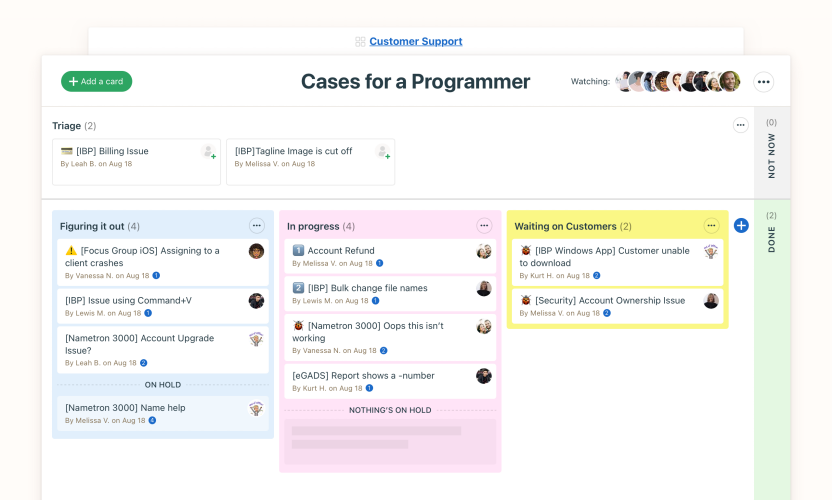 Standout Features
Why We Chose Basecamp
While we wish Basecamp's free trial lasted longer than 30 days, the fact that Basecamp makes all of its features and capabilities available with that trial should give teams more than enough opportunity to put the system through its paces.
My experience using this software in a creative agency setting proved that instant and easy collaboration between the in-house team, external freelancers and vendors, and the client can be accomplished seamlessly in an all-in-one multi-level yet intuitive project management solution.
Methodology
What Is Project Management Software?
Project management software is used to plan, schedule, track, collaborate and report on projects. More specifically, these essential tools project managers, teams, and other contributors complete tasks; record and track requirements; streamline resources; and manage time, budget, and scope constraints. Whether used as a stand-alone tool or as a suite of solutions, project management software — often shortened to PM software — is a must for any organization looking to maximize time and money while minimizing human error.
---
---
What Are the Different Types of Project Management Software?
There are many types of project management solutions to consider. Desktop project management applications offer advanced features, scalability, and security to support multiple users and groups over an internal network. Cloud-based project management tools have made it possible for vendors to offer sophisticated, subscription-based solutions to businesses of all sizes, making it so users can access the tool from any location.
When selecting project management software for your business, these are the main types and formats you'll need to consider:
What Are the Most Important Features of Project Management Software?
Choosing the right features for your team will depend on the size of your team, the complexity of the projects you run, and the project types and use cases you work with. Prospective PM software buyers should look for the following features:
What Are the Most Important Purchase Considerations for Project Management Software?
Implementing the Right Project Management Software for Your Business
Companies should carefully plan how they roll out new project management software. The responsible project manager will need to first get the support of major stakeholders—from C-level executives to end users on the project team. From there, project managers should create a schedule that allocates time for learning how to use the software before taking on a major project. That way, each and every project will be set up properly.
Finally, be ready with training materials, support documentation, and (ideally) onboarding teams to ensure individuals don't have to spend too much time learning about these project management programs and can quickly pivot back to their normal workloads.