ready-to-download project management templates
that are essential tools to a project manager's success.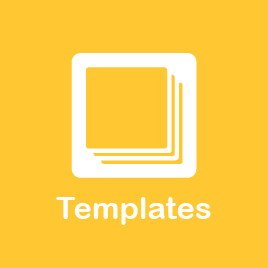 A business that is growing or actively developing would usually have a high level of project management activity. Sometimes, the job of a project manager is compared to someone spinning multiple plates at the end of a pole, ready to catch any plate before it falls. Among their responsibilities are making sure that process is followed, progress is tracked, and status is communicated. Project management templates are precious time-savers.
50 Downloadable PM Templates
In this
package/curriculum
, 50 project management templates designed by industry experts can be used to initiate, execute, monitor, control and report projects. It also includes a lecture and recommendation on how best to use these templates. The following 50 templates can be easily downloaded in a zip file:

Block #1
Project Charter Template
Assumption Log Template
Change Management Plan Template
Configuration Management Plan Template
Decision Log Template
Issue Log Template
Change Request Template
Lessons Learned Register Template
Variance Analysis Template
Work Performance Report Template
Block #2
Project Management Plan Template
Final Report Template
Scope Management Plan Template
Requirements Management Plan Template
Requirements Documentation Template
Requirements Traceability Matrix Template
Project Scope Statement Template
Scope Baseline Template
WBS Dictionary Template
Block #3
Work Breakdown Structure (WBS) Template
Schedule Management Plan Template
Activity List Template
Milestones List Template
Network Diagram Template
Duration Estimates Template
Project Schedule Template
Cost Management Plan Template
Cost Estimates Template
Cost Baseline Template
Block #4
Quality Management Plan Template
Quality Metrics Template
Quality Audit Template
Responsibility Assignment Matrix (RACI) Template
Resources Management Plan Template
Team Charter Template
Team Directory Template
Resource Requirements Template
Resource Breakdown Structure Template
Individual Assessment Template
Block #5
Team Performance Assessments Template
Communications Management Plan Template
Risk Management Plan Template
Risk Register Template
Risk Report Template
Risk Probability and Impact Matrix Template
Procurement Management Plan Template
Stakeholder Analysis Matrix Template
Stakeholder Register Template
Stakeholder Engagement Plan Template

Aside from getting these ready-to-use templates and instruction in utilizing them, users who purchase them will get future updates to any and all templates at no additional cost. They are accessible online, ready to be filled in, grouped by knowledge area, and come with 24/7 support. The templates come with a structure and sections. Users can see sample project data, so they can easily follow the process and fill them in with their own data. These high-quality Excel (xlsx) and Word (doc) file format templates are ideal for project management professionals fulfilling the roles of Project Managers, Associate/Assistant Managers of Projects, Team Leads/Managers, Project Executives, Project Engineers, Software Developers, and any professional aspiring to be a project manager.
Pricing
Master of Project Academy offers these 50 downloadable project management templates and their updates in several plans. As of September 2022, Master of Project Academy's Monthly plan is priced at $77 per month, the Annual plan is at $137 per year, and the Lifetime Access plan is at $277.
Testimonials
Project professionals in various roles, businesses, and industries have found several great benefits from this template package. Jacqueline Bowman is a freelance project management consultant. She stated that her clients expected her to report on the project's progress. In order to provide professional and accurate reporting, she used Master of Project Academy's templates, and it saved her a great amount of time. Louis Matthews recalled that when he started his PM career, he did not have a lot of experience creating project files. The project management templates helped him build a foundation of how he should keep and use project files, and use them to create reports.
Other details
The
50 Project Management Templates
are generic PM files that can be used in managing projects in any industry. They have been prepared by experts and experienced professionals who have themselves led large projects in various industries, including some Fortune 500 companies. Depending on the plan purchased, they can access these templates and their updates for as long as they need them, until the time they cancel. To learn more about other offers and courses available, follow Master of Project Academy on
Facebook
,
Twitter
, or
LinkedIn
.
Featured Partners: Project Management Software
If you're interested in learning more about top-rated project management software, the editors at Project-Management.com actively recommend the following:

Master of Project Academy, an online e-learning company, offers a package of