Scrum is one of the leading Agile methodologies used in a wide range of projects, including software development. It allows teams to iteratively release products and services while simultaneously adapting them to solve ever-emerging problems.
The Scrum approach to product development never takes results for granted, supporting product teams on their quest to quickly and continuously deliver high-quality products to customers. In short, the Scrum methodology balances adaptability and quality in product development.
Table of Contents
What Is Scrum Software?
Scrum software is project management software that supports teams as they work on complex projects in small iterations over the course of multiple sprints. Supporting features include:
Collaboration tools for daily Scrum meetings held in person or remotely
backlogs
Status and progress reports
Change request/accept tools for project modifications
Dashboards for team performance metrics
Video Recap: Best Scrum Software and Tools
The Scrum software solutions below help manage and track sprints and have been selected based on ease of use, integrations, organization, customizability, automation functionality, and security. Though many of these tools are scalable and thus suitable for organizations of any size, they tend to be favored among particular market segments.
Asana
Great for: Small businesses that prioritize organization as they grow
Most popular among small businesses, Asana helps keep teams organized around Agile project management practices, and is set up to work in sprints.
For planning purposes, Asana allows you to set up Agile sprint plans that include project milestones, launch dates, and a product backlog of tasks. Agile sprint plans make it clear to the team how far they've come in the project and what is left to accomplish. Asana collaboration tools integrate customers' feedback to identify product issues and generate relevant tasks for your team to tackle.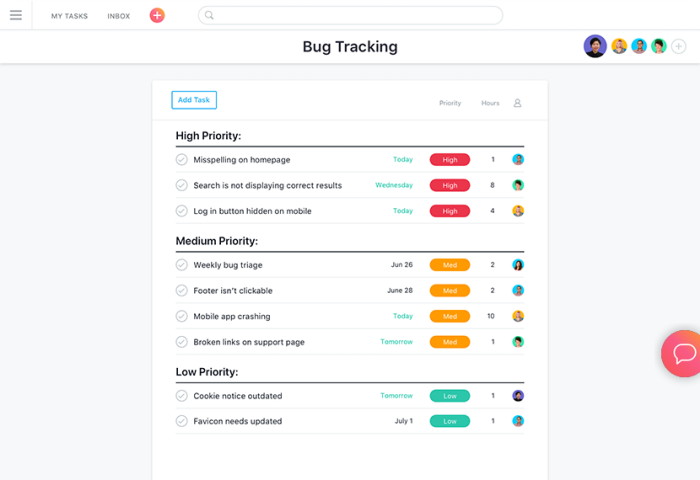 Useful features for organizations include boards, timelines, custom fields, dependencies, and Agile product roadmap templates. Kanban boards on Asana, for example, keep all project tasks in one place, updated in real time, and visible to all team members.
For hybrid Scrum models, it's easy to zoom out and toggle from a Kanban board to a Gantt chart timeline. However, current and previous users mention a lack of flexibility in Asana's structure. For instance, sub-tasks do not visibly nest into larger tasks and projects.
monday.com Work OS
Great for: Businesses seeking a flexible project management solution
monday.com Work OS is a platform that provides flexibility for different teams, including those who operate on Scrum methodology. It allows you to plan, track, and execute projects of any size, making it versatile for small, medium, or large organizations.
With monday.com, project managers can prioritize the most pressing tasks, delegate them to members of the project team, and assign a deadline.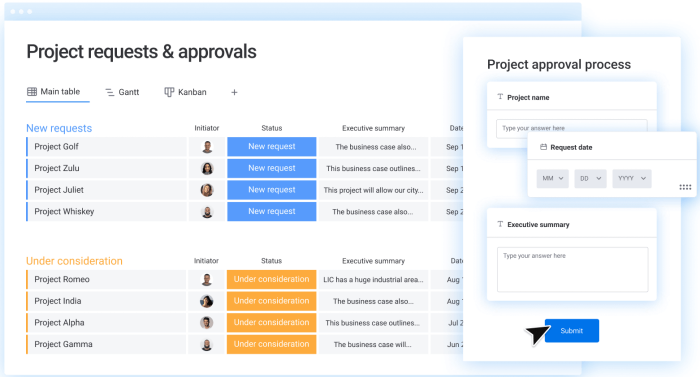 For the bigger picture, project managers can set a project timeline, designate key project milestones, and set up task dependencies to help the entire time oversee the project in one place. For added visibility, monday.com's project management functionality offers more than 200 customizable workflows for individual projects, project portfolio management, and project requests and approvals.
Its various integrations may be a blessing for users looking to customize how information is shared and synced. However, the flexibility offered via integration possibilities may be a curse for other organizations, as some users report that integrations lead to notification overload/duplication.
Read more on TechnologyAdvice: Asana vs Monday: Comparing Two of the Biggest Names in Project Management
Wrike
Great for: Growing businesses desiring a high level of customizability
Targeting the midsize business segment, Wrike is highly customizable project management software that includes Agile tools to help teams deliver early and fast. To properly plan projects, Wrike features customizable calendars and dashboards, Kanban boards, Gantt charts, and project analytics. Wrike also facilitates collaboration through document proofing and approvals, version control, and dynamic request forms.
This collection of tools gives project managers an overview of tasks, timelines, and portfolio analytics. User reviews, however, frequently mention the need for improved, more intuitive visuals.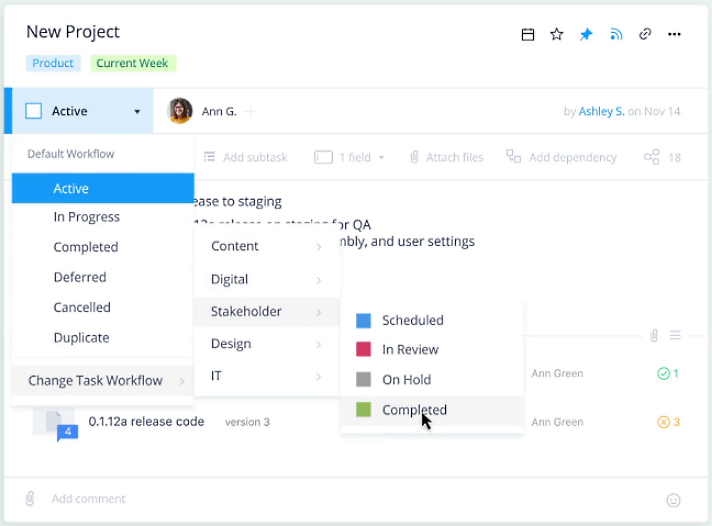 With Wrike, you can also track time, costs, and resources to ensure that your project is running at or under budget. To keep clients informed, Wrike allows you to share project reports; for aspects of the project that need to be kept confidential, Wrike Lock is a built-in access control feature. For added support, Wrike provides ready-to-use sprint templates for a variety of verticals and project types.
Read more on TechnologyAdvice: Wrike vs Asana
Jira Software
Great for: Development teams, or those that prioritize automation
Jira Software supports Scrum and other Agile project management methodologies, with particular support for software development and ITSM.
Across all product tiers, Jira Software has customizable Kanban boards to plan sprints, product backlogs, estimate stories, adjust scope, check velocity, and re-prioritize issues. Keep the entire team on track with native roadmaps that give the big picture, track dependencies, and display priorities.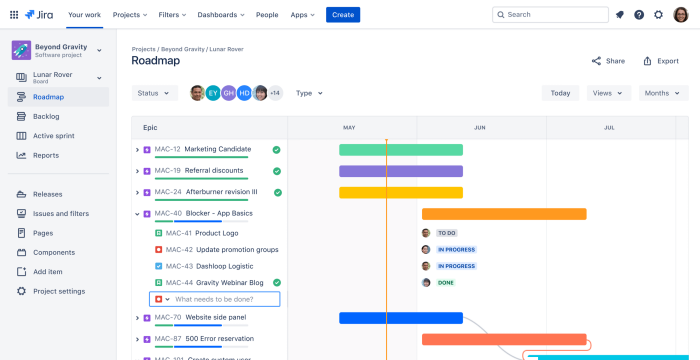 Jira Software allows those with little or no coding expertise to build automated tasks for processes, builds, integrations, and projects. Though this speaks to user friendliness, many users say Jira Software requires some getting used to. Taking some time to get familiar with this scrum software, teams can create custom workflows and issue types to better track and manage sprints.
Jira Software also generates more than a dozen out-of-the-box reports to easily share project progress with stakeholders. It also supports other Agile frameworks, such as SAFe and LeSS.
Favro
Great for: Businesses that value organizational transparency and conduct cross-team projects across a relatively flat hierarchy
Favro is an all-in-one cloud platform that breaks down silos and brings Agile to all teams in an organization. It serves as a digital office space, which empowers all teams to work autonomously — whether new to or experienced in the Agile framework. In fact, Favro offers customizable training courses on Agile, though the platform requires no prior knowledge of Agile methodology.
Favro is designed for organizational transparency. Favro Cards are electronic documents that facilitate collaborative writing, content creation, work goals, and more. Cards can be cross-listed to various Favro Boards to foster cross-functional collaboration.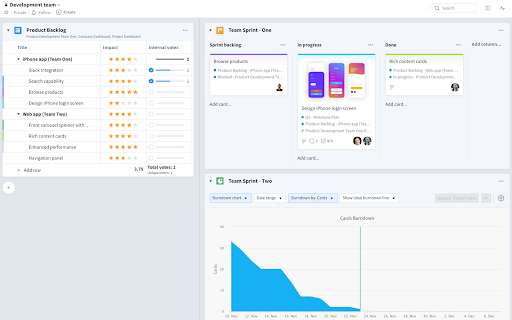 Favro Boards roll up into Favro Collections that provide an overview of multiple boards at once. Favro Relations is an organization chart that ties all elements together, visually displaying how teams contribute to an overarching business goal.
Favro provides visibility at various levels of granularity, so teams and leaders can see an overview of tasks and projects and proactively identify and address issues. At the same time, users wish that Favro had more customizability and a less clunky interface. As a relatively new product on the market, Favro is likely to keep introducing useful features to remain competitive.
Microsoft Azure Boards
Great for: Enterprises in the Azure ecosystem seeking customizability and scalability
Serving mainly enterprise customers, Azure Boards is part of Microsoft Azure's DevOps services. Azure Boards enables software development teams to interactively track projects with a set of native capabilities that support Agile and Scrum processes.
Specific tools included in Azure Boards are Kanban boards, product backlogs, team dashboards, and custom reporting. The Kanban board is one of several tools that allows users to add, update, and filter user stories, bugs, features, and epics.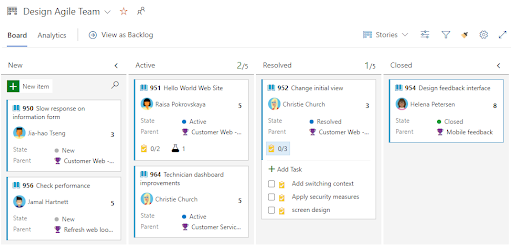 Azure Boards also has built-in planning tools so team members can work collaboratively during sprints, standups, and reviews. A drag-and-drop interface makes it easy to plan sprints, and item tracking allows teams to have transparency and traceability into who is currently working on what.
Teams can use Azure Boards' out-of-the-box workflows or customize them to fit their project management needs, though beware of feature creep getting in the way of usability, as some users have noted.
Azure Boards also has built-in communication tools, but it also integrates with popular communication tools, such as Microsoft Teams, Slack, and others to enable real-time communication. It also features more than 1,000 extensions, or you can create your own.
Zoho Sprints
Great for: Businesses that prioritize small-team collaboration
Zoho Sprints is online Agile project management software that promotes transparency and accountability through its Scrum boards, reporting functionality and collaboration tools. Zoho Sprints' customizable Scrum board helps teams in multiple ways:
Visualize the sprint backlog
Drag and drop backlog items towards completion
Get an overview project progress
Customize workflows with Scrum, Kanban, or Scrumban methods
Toggle between swimlane views
With the Scrum board you can drill deep; for a bird's eye-view, Zoho Sprints' dashboard displays various charts to get an overall grasp of a project's progress, track user summaries, and visualize workflows during sprints.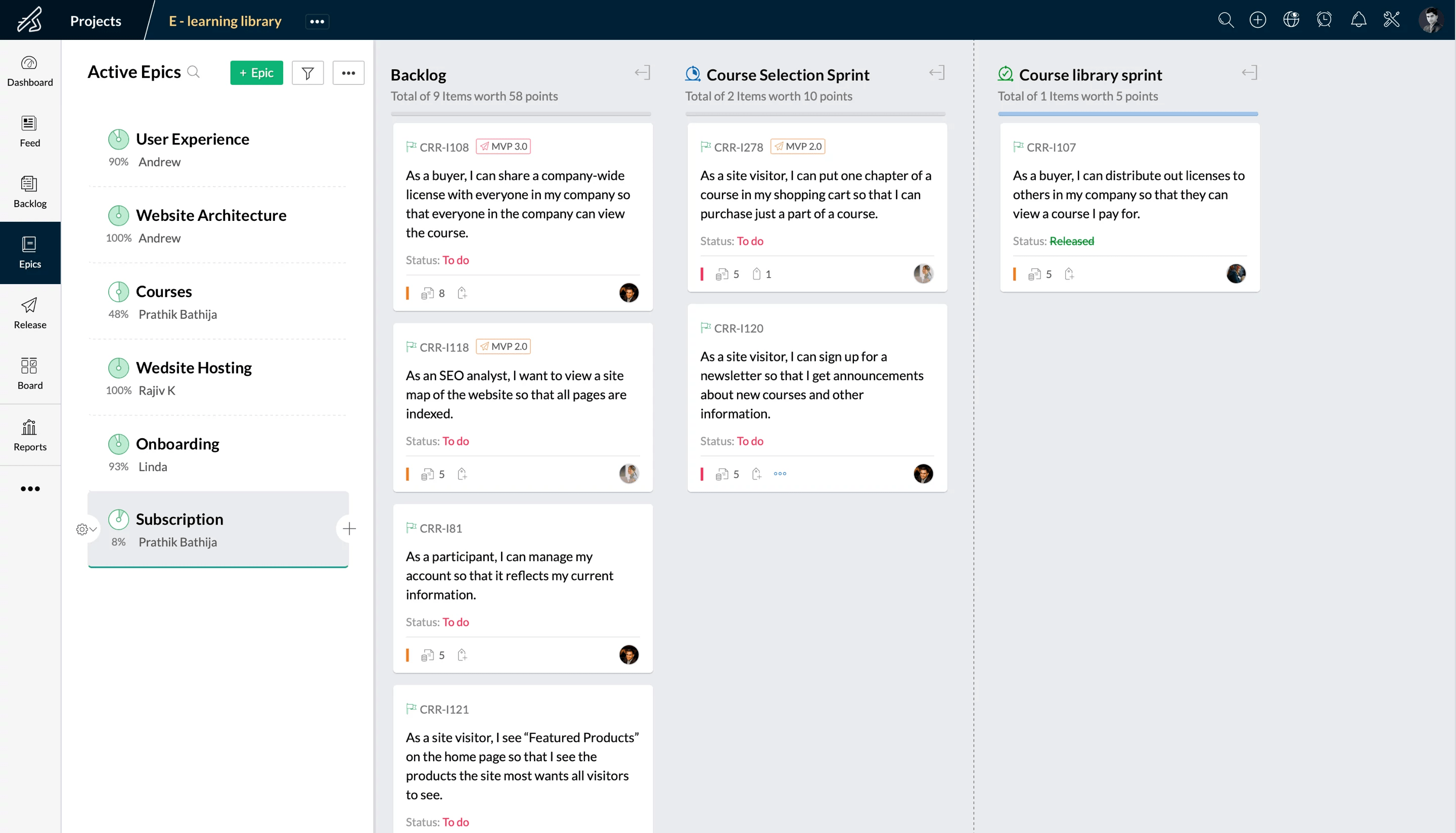 It features a variety of automatically generated reports that are configured to Agile and include velocity, burndown and burnup charts, cumulative flow diagrams, epic progress, software release notes, and timesheet information.
Feed is a collaboration hub in Zoho Sprints where team members can bounce ideas off one another, receive updates, reminders, and notifications, as well as post comments. However, users report that they receive too many notifications and have cited issues with Zoho Mail integration.
ProjectManager
Great for: Small businesses that prioritize continuous improvement in project management across a distributed workforce
ProjectManager is online project management software that is ideal for Scrum teams. It offers an impressive selection of easy-to-use templates for sprint planning, project tracking, and reporting.
ProjectManager also features Kanban boards designed to manage tasks in Agile and Scrum sprints. Team members can pick and choose their tasks from a backlog, and the project manager can easily oversee sprint progress without interfering with the team's work. However, user reviews cite a lack of project task dependencies and a clunky user interface.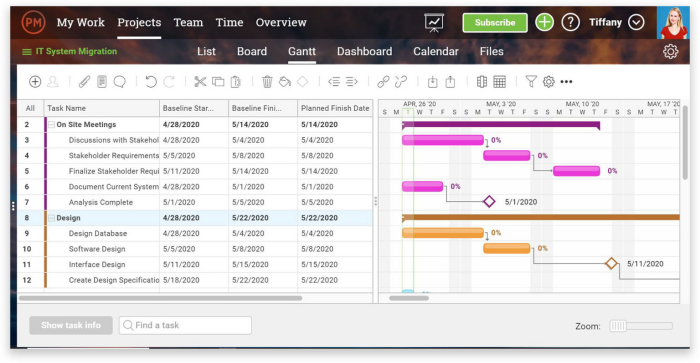 Projects are color coded for at-a-glance insights on project status. Plus, the dashboard displays planned effort versus actual results. This sets Scrum teams up to perform project retrospectives to assess resource allocation and improve their workflows for the next project.
Built-in communication tools allow users to tag each other in comments, share feedback, and receive notifications in real time, making ProjectManager a great choice for a distributed, remote workforce.
Hansoft
Great for: Enterprises that desire flexibility in how they conduct project management
Hansoft is an enterprise project management tool that enables dynamic backlog management and flexible management of an organization's projects, programs, and portfolios.
Hansoft supports an array of project management methods and has the ability to combine more than one, whether Agile, Kanban, Scrum, Waterfall, or hybrid models. It features backlog management to help teams quickly deliver better products. Hansoft is designed for transparency by providing one backlog that's accessible to team members, managers, and executives.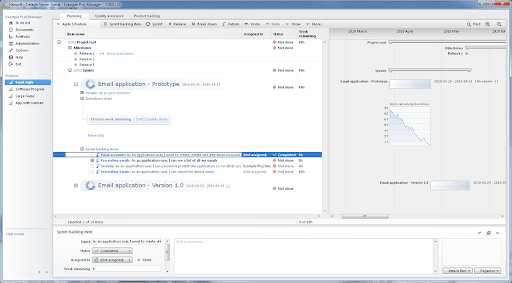 Its backlog management allows companies to leverage data about their products at scale to drive product innovation. With Hansoft, teams can manage context, business value, and custom attributes of product backlog databases to make data-driven decisions about how to improve products.
Hansoft differentiates itself by offering a flexible platform that adapts to a company's project management approach, not the other way around. This releases the company from the need to rigidly adhere to any particular project management framework.
Users praise Hansoft for its user-friendly interface and the range of features. However, they recommend customization at the beginning to avoid overwhelming feature creep.
Planview Clarizen Go
Great for: Midsize businesses and enterprises looking for enhanced automation
Planview Clarizen Go is an Agile task management tool that allows Scrum teams to plan and track projects easily, helping teams deliver software faster and with better results.
Planview Clarizen Go has a customizable user interface at every level of granularity for every workflow process, though users note it has a high learning curve. Its centralized view improves transparency, consolidating statuses of all workflow stages. It includes dashboards that provide a clear overview across your organization's project portfolio.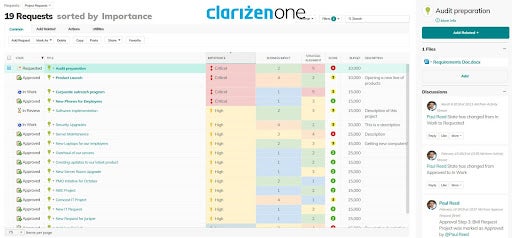 Collaboration and file sharing are easy with Planview Clarizen Go's robust file management functionality. Internal and external stakeholders can stay apprised of project developments in connected discussions, emails, and links. Planview Clarizen Go also centralizes digital proofing and approvals to keep all team members on the same page.
This scrum software also helps teams with its automation capabilities. Repeatable processes, alerts, and workflows can be set to autopilot to minimize project risk and reduce time spent on repetitive tasks. Slide Publisher is a useful feature that saves time by automatically generating real-time status reports in a branded PowerPoint template.
Axosoft
Great for: Continuous delivery teams
Axosoft is Agile project management software that provides powerful and comprehensive Scrum features, allowing teams to effectively plan and track sprints and manage product backlogs.
Its release planner helps you arrive at accurate time or story point estimates during rolling planning. In execution, Axosoft's fully interactive and customizable dashboards help you track sprints in progress, as they provide an overview of the workload, team velocity, and projected ship dates.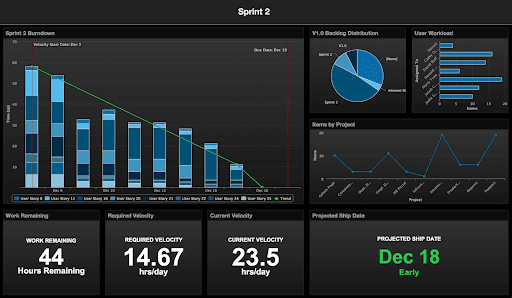 Axosoft allows teams to manage product backlogs that incorporate feature requests. In the backlog, Axosoft's Rank Mode enables simplified task prioritization.
With its automated burndown charts, customizable workflows, and release planning capabilities, your team is able to practice Scrum more efficiently. If combined with other Axosoft tools, such as ticketing and the help desk, the platform will help your team associate defects with releases and turn feature requests into backlog items.
Users report that Axosoft takes time to become familiar with, so be sure to introduce a trial or training phase to your team before implementing it fully.
Finding the Best Scrum Tool
These Scrum tools represent a small portion of what is available in the market, but our list is a good starting point to find the best Agile project management tool for your team and organization. Prioritize the following criteria to guide you in selecting the right scrum software for your needs.
Automation
Automation spells efficiency in taking care of repetitive, otherwise manual tasks. If automation is the most important feature for you, then check out Jira and Planview Clarizen Go.
Collaboration
With many workforces operating remotely these days, collaboration among team members located around the world may be at the top of your list. Favro, Zoho Sprints, and ProjectManager are all great choices for remote team collaboration.
Customizability
Agile and Scrum project management are not one-size-fits-all approaches. For smaller organizations or those who serve a niche market, customizability is key. Wrike and Azure Boards are worth investigating further if your team has specific needs.
Integration
A core function of Scrum is adaptability, so your Agile project management tool should be flexible and extensible to accommodate your needs. Azure Boards is a good starting point among solutions that are integratable with your current and future tools. Alternatively, Hansoft is a flexible platform that accommodates various frameworks and critical Agile principles.
Organization
Especially for bigger companies that handle more complex projects, organizational tools with easy snapshots of project progress are a must-have. Choose Asana and Axosoft to keep your team organized and your customers happy. Asana accommodates hybrid Scrum models to avoid too many clicks and too much toggling for developers. Axosoft incorporates user feedback via feature requests. monday.com also offers a variety of features that keep all stages of the project visible to team members and deliverables visible to clients via the Roadmap.
Security
Wrike incorporates access control features for added security and ensures your organization's compliance, so it's ideal for organizations that operate in highly regulated industries.
What Is Scrum?
Scrum is an Agile framework for managing projects. Unlike other project management methodologies, Scrum supports self-organizing teams that iterate on a product over time, continuously releasing features and fixes based on customer feedback.
The benefits of Scrum methodology include:
Transparency
Flexibility
Early and reliable delivery
Quicker and more accurate response to change
The Scrum methodology guides teams to stay focused and effectively collaborate.
Read more on CIO Insight: Tips for Implementing Scrum Best Practices
How Does Scrum Work?
In a Scrum team, the project manager oversees the project, the product owner represents the business and users, and the Scrum Master coaches the team on process and facilitates work.
Scrum teams plan and work in sprints — a defined time typically ranging from two weeks to one month — to accomplish a prioritized task list, called a sprint backlog. The team holds daily standup meetings, where each member shares yesterday's work, what they will work on next, and any issues or blockers that prevent progress.
At the end of the sprint, deliverables are demoed in a sprint review to receive customer feedback, and a sprint retrospective is held so the team can discuss lessons learned. This information and feedback is then incorporated as part of the next sprint planning session.
Read next: Agile Scrum Ceremonies & Meetings
Featured Partners: Project Management Software
If you're interested in learning more about top rated project management software, the editors at project-management.com actively recommend the following.