Project management software can be a valuable tool for teams of all sizes and backgrounds, but if you're not careful in your selection process, you may end up investing time and resources into a tool that's too expensive for your available budget. Even the most affordable project management tools can quickly get expensive, particularly if your team requires any advanced capabilities or industry-specific add-ons.
In this guide, we'll walk you through some of the best free project management software options on the market today. We'll discuss what differentiates each tool; any relevant features, pros, and cons; and what you should generally be looking for if you have your sights set on free project management software.
---
---
Our Picks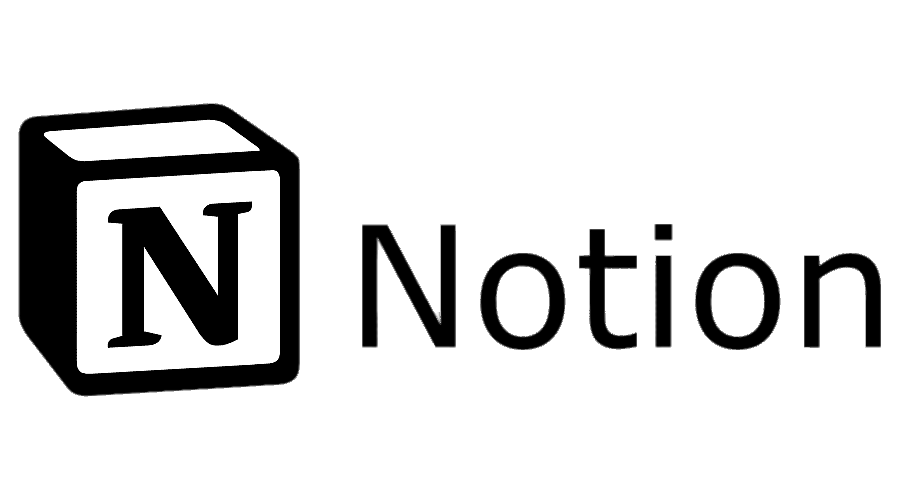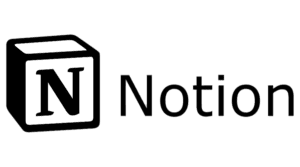 Notion: Best Overall All-in-One Solution
Notion is more than a project management solution – it's also a team wiki, visual design board, notetaking hub, and much more. Designed to give users the ultimate freedom in customization, Notion offers multiple task views, workflow automations, dozens of customizable task fields, and 10,000 ready-to-use templates. What's more, Notion's interface is visually appealing, with simple drag-and-drop navigation, a sole pop-out tab for multi-project navigation, and customizable project covers and icons.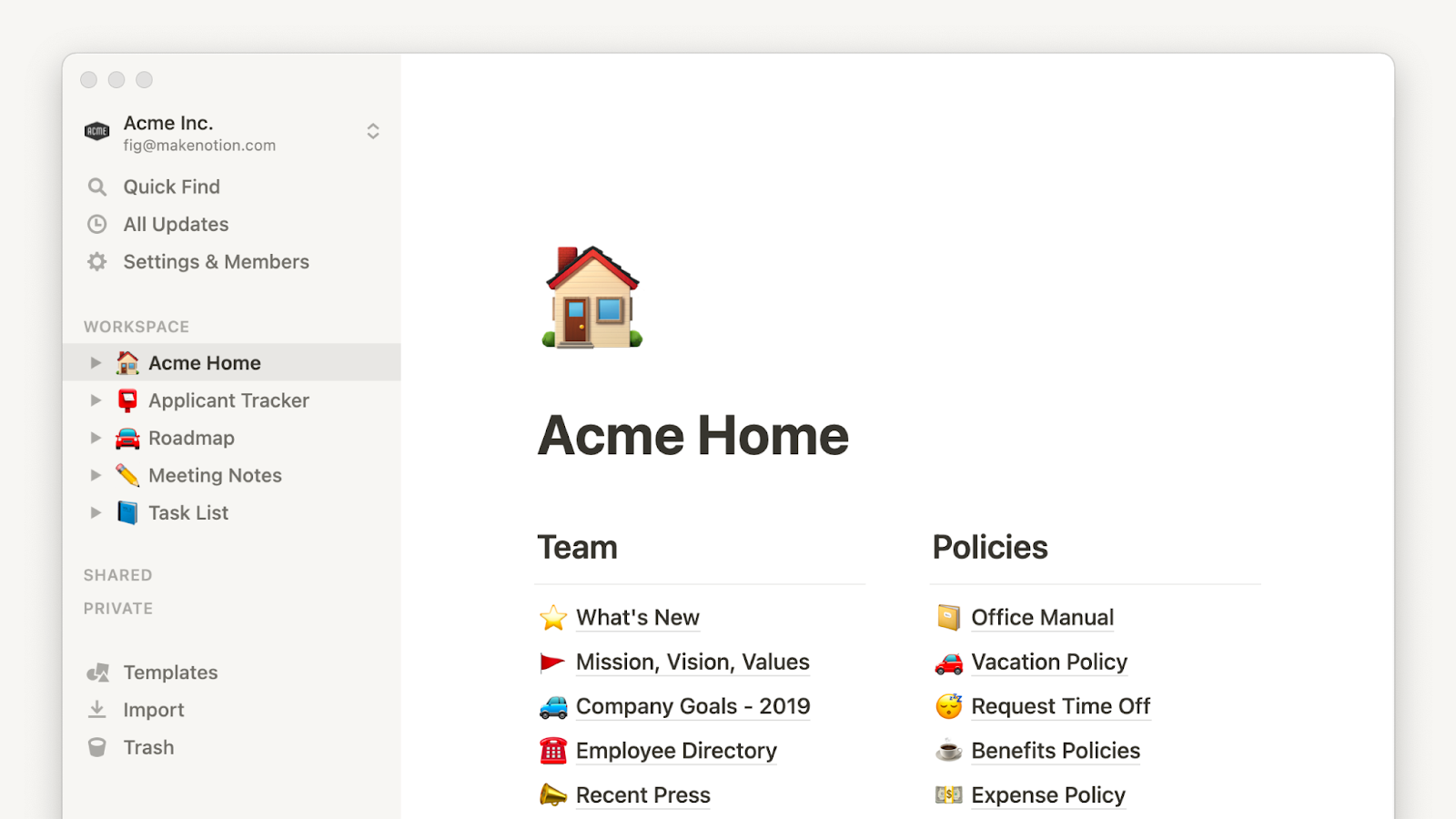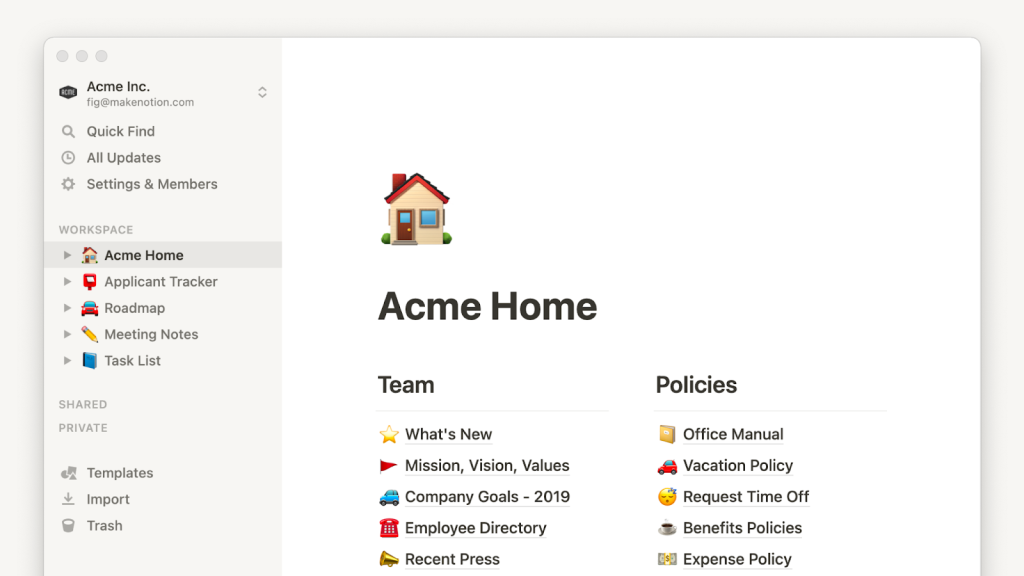 Example of Notion's icon-filled interface, with a multi-space navigation bar. Source: Notion, accessed November 2023.
Key Features
Cross-project linking: Users can create embedded links within any project page for quick navigation to other projects, documents, notes, or roadmaps.
Quick automations: Compared to other top picks, Notion's workflow automations stand out as an easy-to-use option that can be applied to any project in your workspace.
Embedded AI*: Notion's new generative AI capabilities allow users to input commands for instant output, whether it's creating tables, writing a document, or improving existing copy.
*Notion AI does incur an additional charge of $10 per user per month on free plans and is not a built-in capability of Notion's free forever plan.
Pros & Cons
Pros
Cons
•Multi-Use Cases: Notion's diverse features support a wide variety of use cases and it can serve multiple purposes for teams with a limited budget to invest in a tech stack. 

•Highly responsive mobile app: Notion has one of the most responsive mobile apps on the market, with full functionality available on the go. 

•Diverse templates: Rather than only offering project management-focused templates, Notion offers 10,000 templates for personal use, Wiki documentation, vision boards, and more.

•AI pricing: Users who want to explore the AI potential of Notion will incur an additional cost. 

•Budgeting and reporting: Notion does not offer any built-in budgeting or reporting features. 

•OS-focused features: Notion's usability is heavily biased towards Mac OS users and is not a great choice for Windows users.
Why We Picked Notion
Notion's free forever plan is extremely generous, with features that fit endless use cases and quarterly product updates to ensure consistent feature upgrades. It's an easy-to-use solution for those who are easing into project management software for the first time and supports granular customization needs, from individual icons to project fields, and more. Regardless of how you plan to utilize Notion, its' wide variety of features and generous free-forever plan make it a stand-out choice for small businesses and teams that want to save money without compromising functionality.
---
---


ClickUp: Best for Collaboration
Collaboration is one of the most important aspects of project management – and it's an area where ClickUp's free plan shines. ClickUp is the only one of our picks to offer built-in chat capabilities that allow users to relay updates quickly. In addition, ClickUp's free plan offers in-app video recording, 100 uses of email directly from the application, assigned comments, and 100 uses of image and PDF collaborative annotations.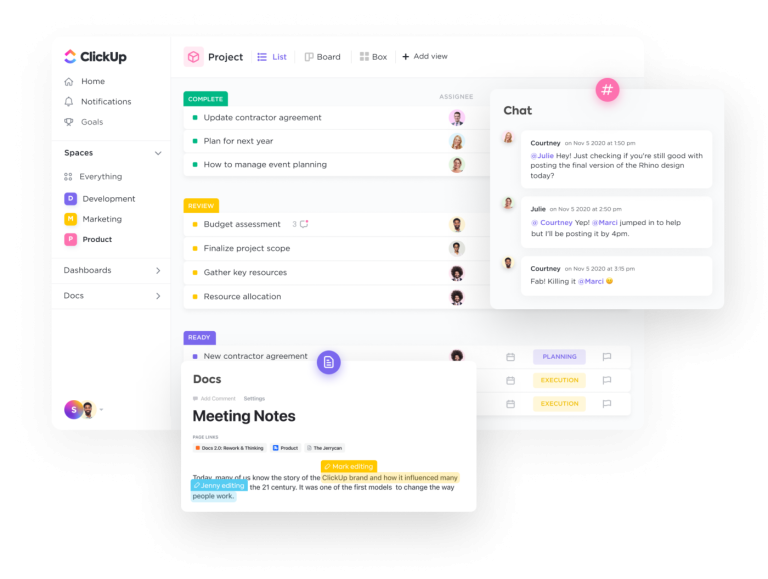 Example of collaborative features within ClickUp. Source: ClickUp, accessed November 2023.
Key Features
Unlimited tasks: ClickUp grants free users unlimited tasks across 5 spaces (projects) for easy project management.
Unlimited custom views: For teams that need a greater level of customization over their project views, ClickUp's free plan offers unlimited custom view options. 

50 native integrations: ClickUp free plan members can expand the functionality of the software by utilizing one of 50 native integration options, such as Slack, Toggl Track, and Google Suite.
Pros & Cons
Pros
Cons
•Sprint support: ClickUp's free plan supports sprint planning needs, as well as limited uses of sprint points and milestones.

•Custom templates: In addition to ClickUp's extensive project template library, users can create as many custom templates as they want.

•Automation and reporting: Though quantities are limited in some areas, ClickUp offers one of the few free plans with built-in automation opportunities and reporting capabilities.
•Guest visibility and team sharing: ClickUp's free plan does not offer team sharing or guest visibility as a collaborative feature. 

•AI Limitations: The new ClickUp AI add-on can only be added to paid plan subscriptions.

•Limited views: Certain view types are restricted (such as timeline and workload) to a maximum number of uses for free plan users.
Why We Picked ClickUp
Finding a project management solution with robust collaboration features can already be a challenge, but in the free project management solution category, few vendors offer more than a handful of (generally limited) options. In comparison, ClickUp's variety of collaborative features shines in addition to an already generous free plan. Both small and large teams can enjoy collaborative functionality without missing out on essential project management features, such as reporting, task management, and workflow automations.
---
---


Trello: Best for Visual Task Management
Trello is a Kanban-style project management tool that is used by a number of teams to manage projects and tasks. Its free plan option includes a variety of features and capabilities for unlimited users, including unlimited tasks, unlimited storage space with a limit of 10 MB per file, and space for 10 boards per Workspace. Among its other best free plan features are unlimited Power-Ups (plug-ins) per board, unlimited automations, command runs, an unlimited activity log, and project templates.
Trello is widely considered one of the most easy-to-use, user-friendly project management tools. Free plan and paid plan users alike benefit from its highly visual approach to task management, which gives users drag-and-drop access to task "cards" that can include text, images, links, and other helpful visualizations for teams wanting to easily check the status of a particular project or task.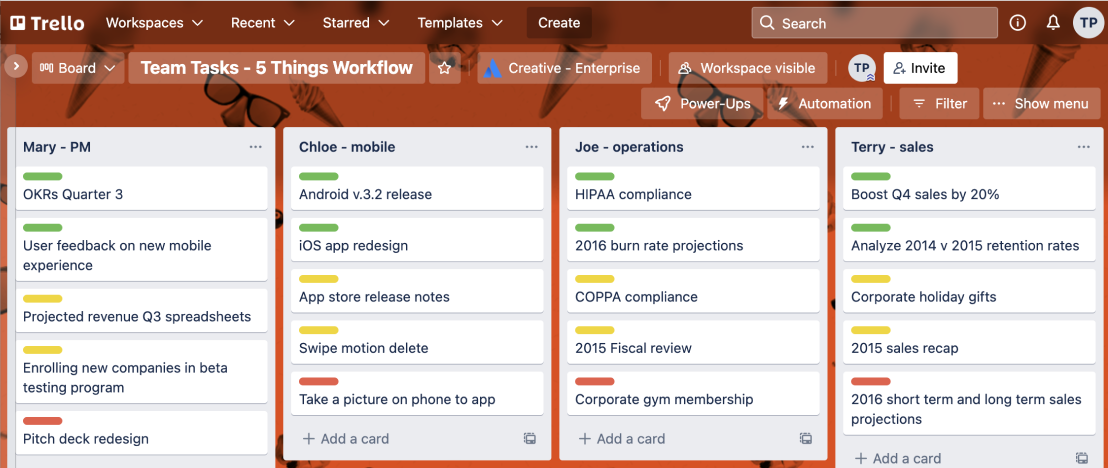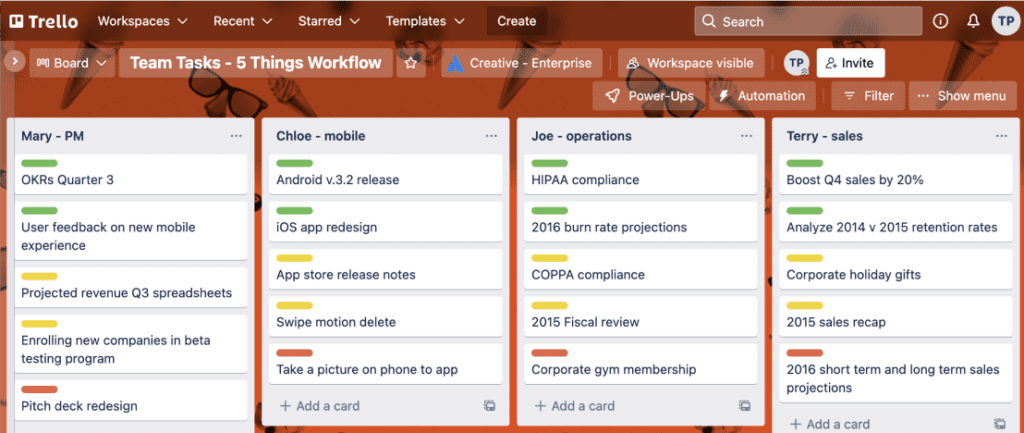 Example of a kanban board. Source: Trello, accessed November 2023.
Key Features
Built-in automation: The Butler automation tool can be used to automate repeated tasks, set triggers, deploy custom card and board buttons, and suggest additional automations that may be helpful.
Power-Ups: Trello's integrations can be used to connect to analytics and reporting, automation, HR, developer, design, and communication tools, among others.
Project templates: Project templates designed by the Trello community cover categories like education, design, engineering, marketing and sales, HR, and product management.
Pros & Cons
Pros
Cons
•Automation options: Trello is one of the few free project management options that include built-in, no-code automation.

•Integration choices: Trello integrates smoothly with other tools in the Atlassian ecosystem, including Jira products.

•Sleek interface: Trello's card-driven, Kanban-like design is easy to use and presents a clean user interface.
•Limited boards: Trello does not provide access to unlimited boards.

•No reporting features: Trello does not natively provide reporting, dashboarding, or analytics capabilities to free plan users.

•View limitations: Several project views, including Calendar, Timeline, Table, Dashboard, and Map, are only available in Trello's top two plan tiers.

Why We Picked Trello
Trello is one of the easiest-to-use project management tools on the market because of its drag-and-drop, low-code design that resembles a Kanban board. While this is not a great option if you're looking for multiple project views, Trello's a great fit for teams that want a simple user interface and a visual way to manage tasks and subtasks. In addition to its user-friendly board-and-card design, Trello's free plan offers advantages like unlimited cards (tasks), unlimited activity logs, unlimited Power-Ups (plug-ins) per board, unlimited storage, and built-in automations. In fact, it is one of the few free project management tools that offer unlimited access to its automation feature.
---
---

Jira Work Management: Best for Data Analytics & Reporting
Atlassian has long been held as one of the premier providers of project management software – and Jira Work Management is a great option for teams who are looking for powerful data reporting options of Jira products without the complexity of Jira Software. Jira Work Management offers a wide range of support features for teams running multiple projects concurrently, including 5 view types, forms, and full access to reporting features and dashboards. Additionally, free teams can enjoy task dependency management functionality as well as the ability to restrict work items under a new approvals feature anticipated to roll out in 2024.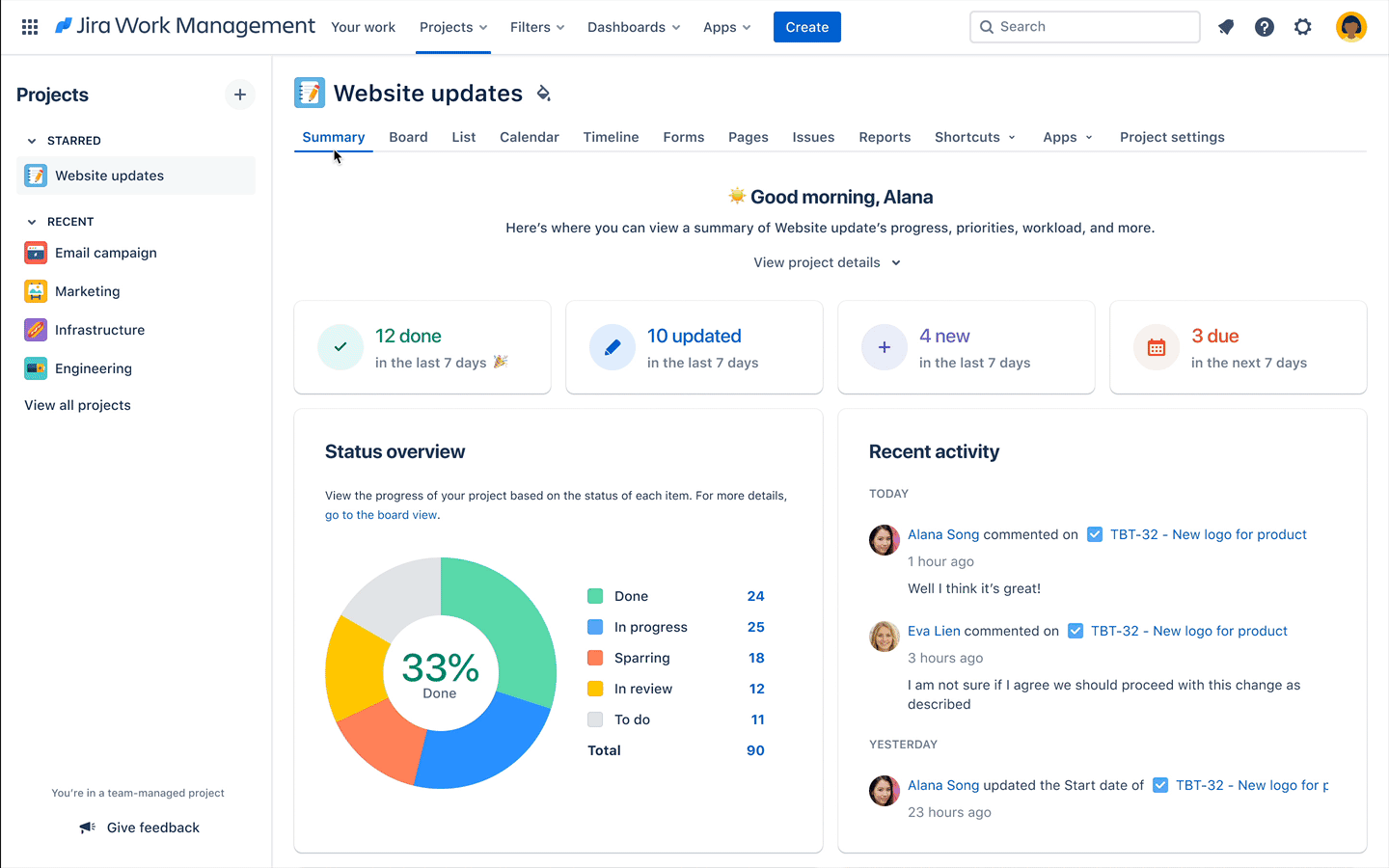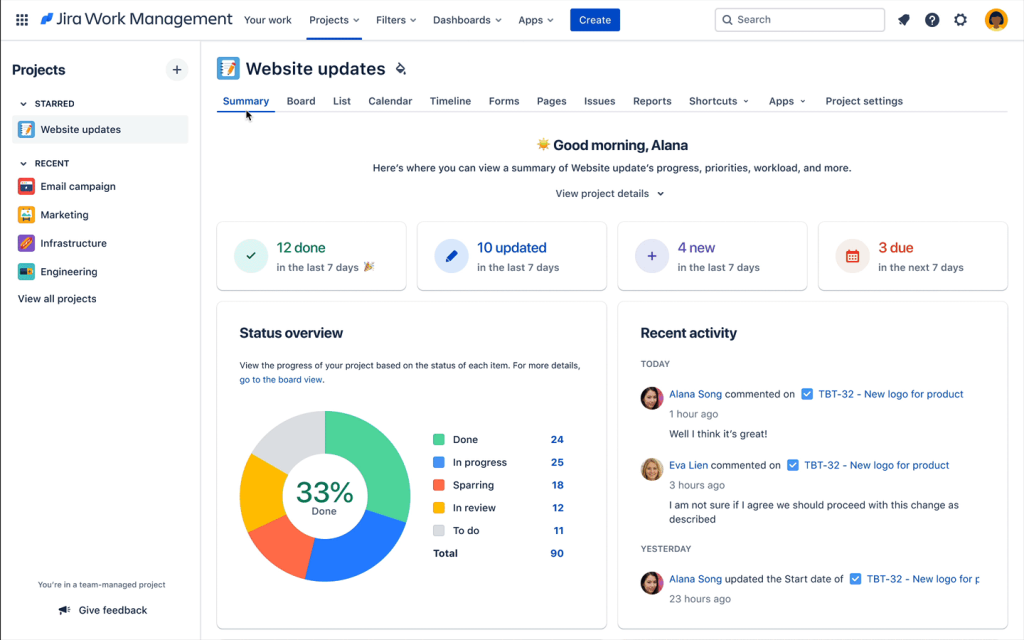 Example of a home page overview with personalized updates. Source: Atlassian, accessed November 2023.
Key Features
Comprehensive dashboards: The dashboards feature within Jira Work Management allows users to monitor essential stats and work overviews across multiple projects at once, including projects and data housed within other Jira products, such as Jira Software, to easily view organization-wide efforts in one spot.
Dependency mapping: Compared to other top picks, Jira Work Management is unique in offering task dependency mapping which allows teams to quickly identify potential blocks in the workflow and plan accordingly. 

Reporting options: In addition to advanced reporting options that allow users greater insights into essential project data, Jira Work Management has 12 types of reports that users can generate instantly for any project, such as user workload reports, time tracking, and pie chart reports.
Pros & Cons
Pros
Cons
•Generated reports: Jira Work Management offers many more report types than most free solutions, with 12 personalized report generation options available out of the box. 

•Dashboard templates: Users who want data insights without long set-up times can utilize dashboard templates to quickly analyze organization-wide project data. 

•Dynamic forms: Compared to other choices, Jira Work Management's form creation functionality is extensive, allowing users to collect data in-app.
•Limited access controls: Jira Work Management's free plan does not offer project role controls, advanced permissions, or admin insights which can be problematic for teams that need significant admin controls. 

•Max users: The maximum number of users allowed on the free plan is 10, which is low compared to other options. 

•Limited support: Customer support resources and availability are limited for free plan users.
Why We Picked Jira Work Management
For data-focused organizations, Jira Work Management's free plan includes all of the powerful reporting and dashboarding features that users have come to expect from Atlassian products. Compared to our other choices, Jira Work Management's free plan is extremely generous, with 5 project view types, 12 report options, and 13 dashboard templates available directly out of the box. The layout is more user-friendly than other Jira products, as Jira Work Management is designed to be the non-technical sister solution to Jira Software – though Jira Work Management easily integrates with other Jira products for teams that need the power of multiple solutions. 
---
---


Wrike: Best for AI-Powered Features
Wrike is a project management platform that particularly excels in providing user-friendly task and subtask management capabilities. With Wrike's free plan option, unlimited users can access custom work views, project templates, account-wide work schedules, and two GB of storage space. It is a particularly effective solution for teams that are new to project management software and want an easy-to-use product.
Wrike is limited in certain areas where other free project management solutions thrive, but it makes a name for itself with its new Work Intelligence (assistive AI) collection of features, one of the only assistive AI solutions available for free project management software. Nearly all Work Intelligence features are available for free plan users, except for AI project risk prediction. Users can benefit from assisted search, smart replies, document processing, and recommended tasks, among other assistive support features.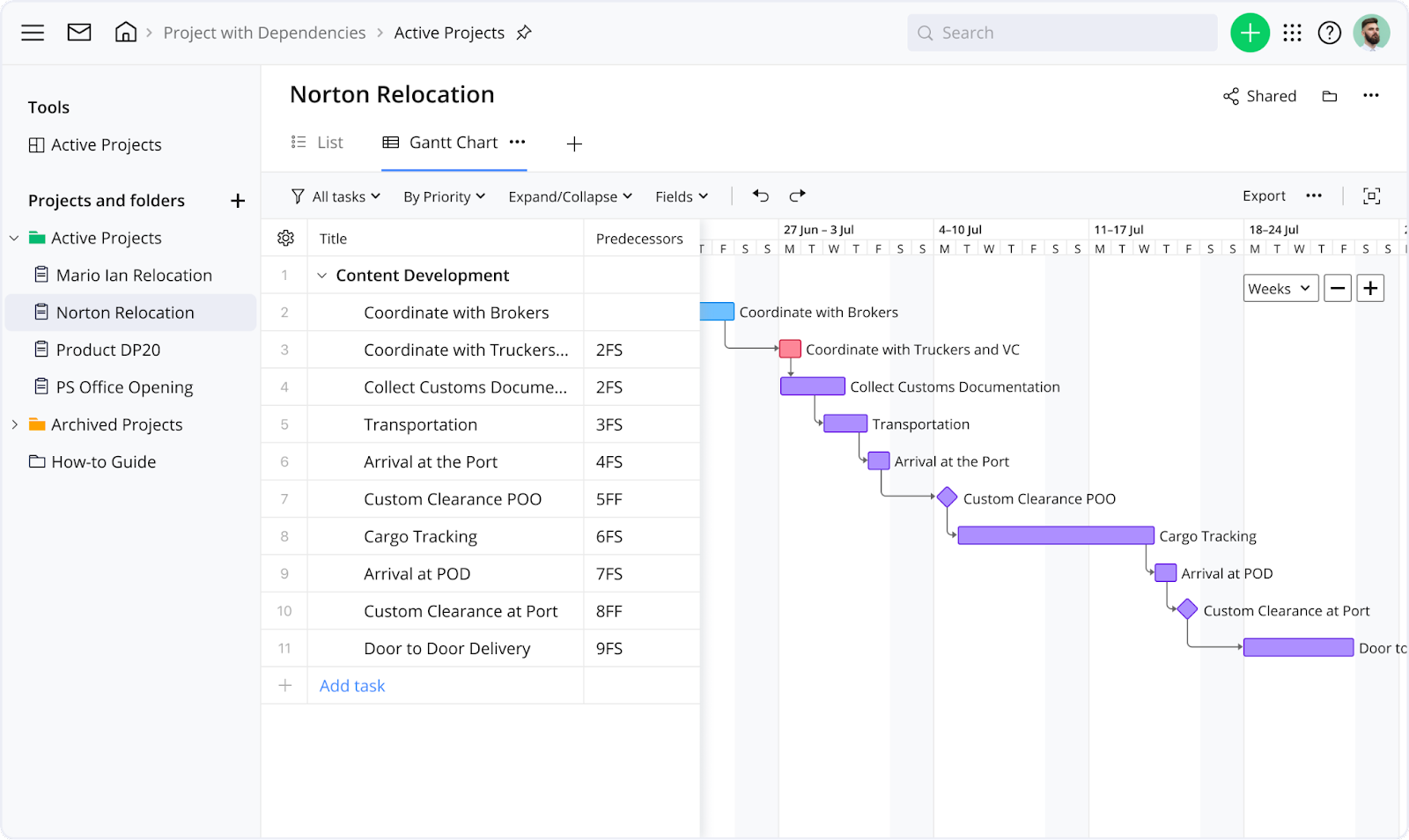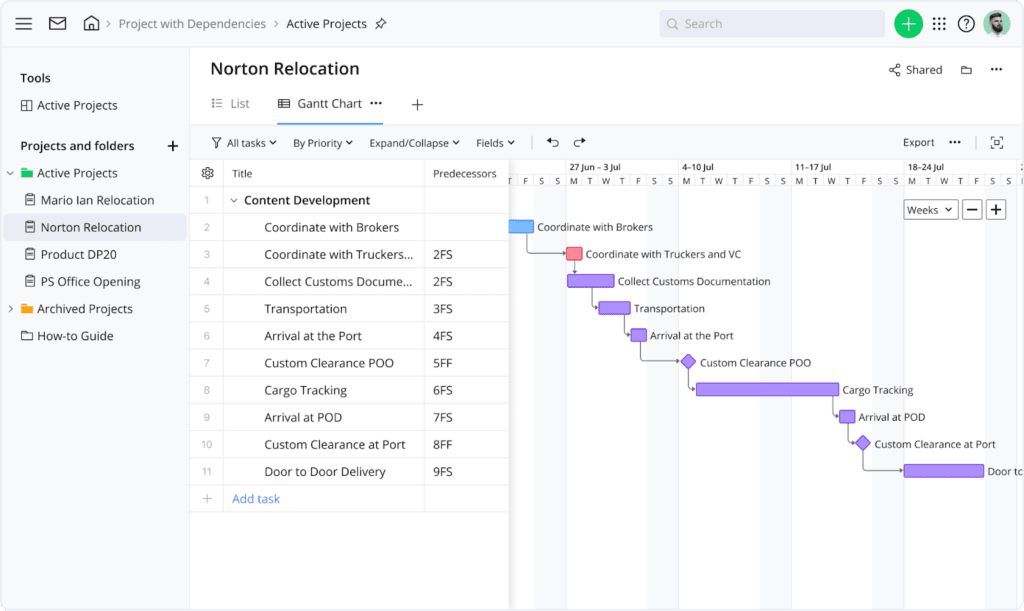 Example of a detailed Gantt chart view. Source: Wrike, accessed November 2023.
Key Features
Task management: Features include tasks, subtasks, and folders; a drag-and-drop interface; task creation via email; and AI-recommended tasks.
Wrike Work Intelligence: AI-powered features include smart search, voice assistance, smart replies, quick reactions, document processing, text recognition, task recommendations, and subitem creation.
Email notifications and integration: Wrike integrates with users' email inboxes, allowing them to create, assign, schedule, and edit tasks directly from their email accounts.
Pros & Cons
Pros
Cons
•Built-in AI: Includes many AI-driven assistive features in the free plan at no additional cost.

•Extensive storage: Two GB of storage space is available per account, which is extensive compared to many competitors' free plans.

•Security management: Wrike includes robust security management features for all users.
•Limited views and reporting: Project views and reporting options are both very limited in the free plan; calendars, Gantt charts, dashboards, and reports are not natively available.

•No automations: Free plan users are not given access to any automation actions.

•Lack of customization: Limited customization is available in the free plan; for example, users cannot create custom templates or blueprints.
Why We Picked Wrike
Wrike is one of the earliest project management pioneers in AI-driven assistance, and they extend that artificial intelligence functionality to their free plan users. AI features include smart search, mobile voice assistance and smart replies, mobile document processing and text recognition, and AI-driven task recommendations and subitem creation. Although the free version of Wrike is limited in some other areas, it is a great fit for teams that primarily need robust storage and user space, advanced security features, AI capabilities, and a straightforward user interface.
---
---


Best for Third-Party Integrations
Asana is a leading project management solution for teams of all backgrounds and focus areas. In its free plan version, Asana gives up to 15 users access to unlimited projects, unlimited tasks, and unlimited storage with 100 MB of storage space per file. Some of its standout free plan features include access to a calendar view, project overviews and briefs, unlimited activity logs, and access to user-friendly mobile apps.
Asana also boasts a deep library of third-party integrations. Though some of these integrations are not available to free plan users, Asana still claims that over 100 integrations are available on this plan, including for time tracking. Asana's integration library covers some of the following areas:
Security and compliance management.
Marketing and sales.
Design.
IT, development, and product management.
HR.
Finance.
Reporting.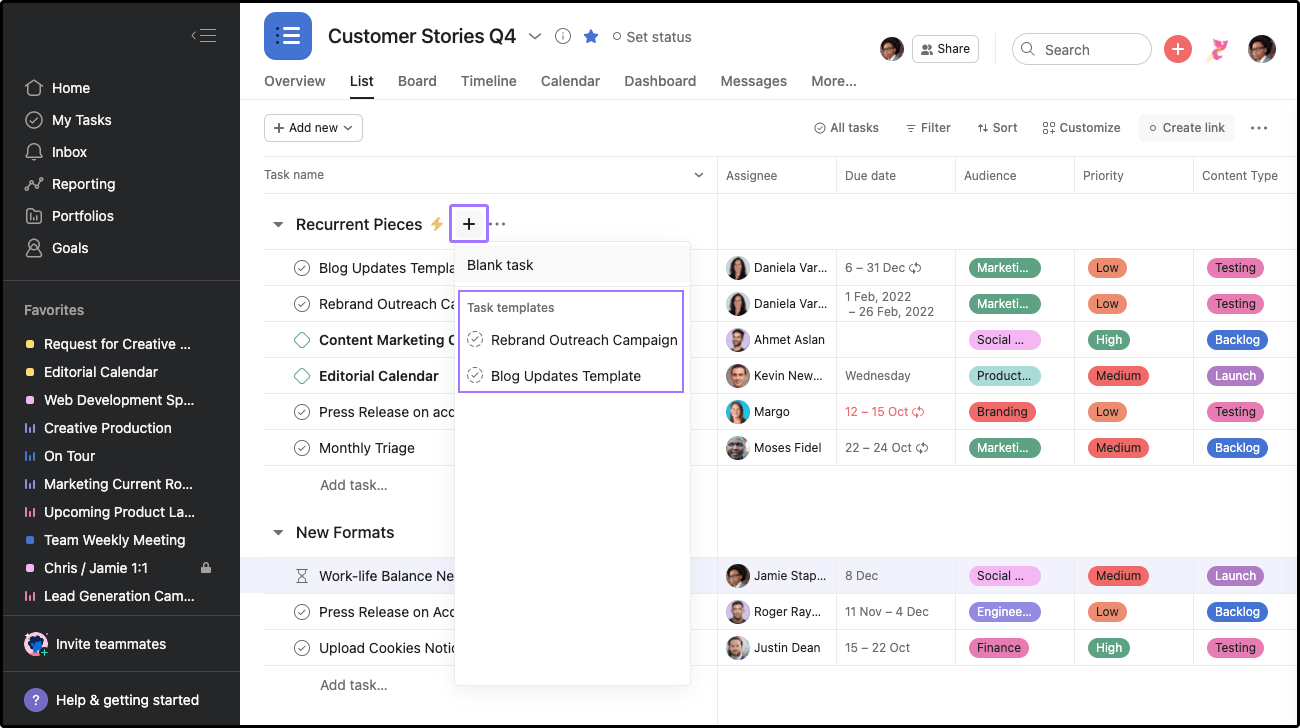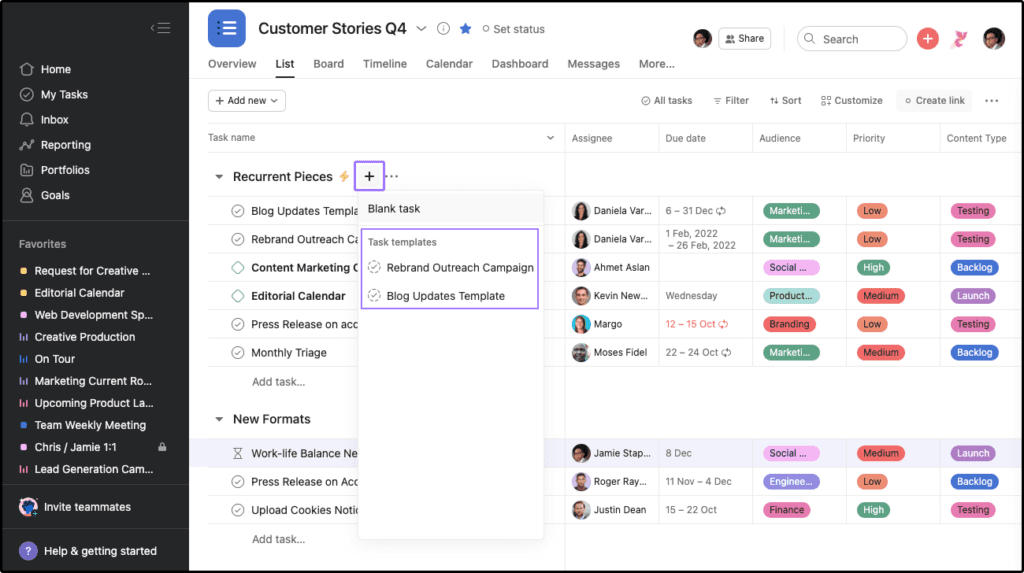 Example of a table view in Asana. Source: Asana, accessed November 2023.
Key Features
Integrations: Free plan users can take advantage of third-party integrations for time tracking, product management, operations, reporting, files, communication, and industry-specific software.
Unlimited tasks: Task features include assignees and due dates, task-level commenting, and file attachments.
Project views: Views available to free plan users include List view, Board view, Calendar view, and a project overview option.
Pros & Cons
Pros
Cons
•Specific features: Asana's free plan gives users access to a variety of industry- and function-specific third-party integrations.

•Time tracking: Unlike many other free plans, Asana makes time tracking possible in its free plan, though most of this functionality requires a third-party integration.

•Scalable options: If you require mostly basic features, this tool is highly scalable, with unlimited tasks, projects, messages, and file storage.
•No reporting or dashboards: Asana does not extend reporting or dashboarding features to free plan users.

•Integration limits: While Asana offers many valuable third-party integrations to free plan users, certain integrations (like Adobe Creative Cloud, Tableau, Power BI, and Salesforce) are only available in paid plans.

•No forms: Forms are not available in the free plan.
Why We Picked Asana
Asana offers over 100 integration opportunities to free plan users, covering categorical areas like finance, HR, IT and development, marketing and design, product management, security and compliance, and operations. The tool is limited in certain areas like reporting and automation, but it makes up for these lacking advanced features with the scalability of its basic features. With a subscription to the free plan, up to 15 users can take advantage of unlimited projects, tasks, messages, activity logs, and file storage. This is a great option for teams that don't need all of the bells and whistles but need to track a lot of moving parts.
---
---
Methodology
Key Features of Free Project Management Software
When searching for a free project management solution for your business, consider examining tools based on how they include or address the following features:
Task Management: Does this tool allow your team to easily assign and manage both tasks and subtasks? In particular, look for free tools with built-in notifications or workflows that assist with more automated, trackable, hands-off task management. For more information, read about the best task management software.

Communication and Collaboration Tools: The best free tools support communication and collaboration through push notifications, tags, built-in or third-party chat, and task-specific or file-specific commenting capabilities.

Customer Support Resources: Many free tools only offer users access to knowledge base articles rather than customer support representatives. Some of the best free tools, however, allow users to submit support tickets and contact their teams by chat, similar to paid plan users.

Reporting and Dashboards: Although many free project management solutions do not natively include reporting or dashboarding capabilities, most at least enable users to integrate third-party analytics and reporting. Look for tools that allow you to easily assess performance both on a per-project and portfolio-wide basis.

Customizations: Although total customization opportunities may be limited, many free project management tools still allow users to create custom workflows, task types, project templates, fields, and more. If high levels of customization are particularly important to your team and you have the in-house skills to build your own customizations, a free open-source project management solution may be your best bet.
---
---
Benefits of Free Project Management Software
Though free project management software usually offers limited features that may put larger, more complex project teams at a disadvantage, this type of PM software also offers distinct benefits for the right users:
Affordability: With the exception of optional add-ons, free project management software is free, often for multiple users. As long as your organization grows within the parameters of a free plan, you will not have to pay more as your team, projects, or task lists grow.

Scalability: Free tools by themselves do not always have all of the features a user may need, but they typically can scale up in a variety of ways. Users have the option to integrate their tool with other PM and industry-specific applications, customize tools and templates to meet their specific requirements, and, if all else fails, upgrade to a paid tier if needed.

Ease of use: Free PM solutions tend to focus on core project management functions and make them easy to use. Instead of getting lost in endless customizations and workflows, users can focus on simple task management, communication, and analytics.
---
---
How to Choose the Best Free Project Management Solution
Free project management solutions run the gamut of included features and capabilities, so it's important to first determine what you want and need most before getting started.
If you're working with a large team but looking to keep project management costs at a minimum, Trello, Wrike, or ClickUp are likely your best options. All three of these free project management solutions offer access to unlimited users, though some other features may be limited.
If you're balancing a lot of projects and tasks and need a tool where you can keep them all straight, GoodDay, Asana, or Jira Work Management are likely your best options. All of these solutions allow for unlimited projects in their free plans. Trello may also be a good option, as the software supports unlimited tasks and 10 boards per workspace.
If you want free project management software but aren't willing to sacrifice built-in reporting and analytics, ClickUp or Jira Work Management are likely your best options. All three of these tools include some amount of native reporting and/or dashboarding capabilities in their free plan, whereas most other free solutions only include these features through third-party integrations.
Other decision-making factors when selecting free project management software may include automation and integration capabilities, customizability, and general ease of use. While setting your top priorities for a free project management solution, be sure to include a variety of stakeholders in the process so you can select the tool that best fits your organization's diverse needs.
---
---
FAQs