Human resource project management software has become a crucial tool for organizations of all sizes in managing their HR functions effectively. This review will provide an in-depth analysis of some of the top HR project management software options, highlighting their features, pros and cons, and pricing plans to help you make an informed decision for your HR department and organization.
| Our Pick | Best For | Pricing Starts At |
| --- | --- | --- |
| Try Gusto | Best All-in-One Solution | Free to try • $40/user/month |
| Try ADP Workforce | Best for Employee Self-Service | Contact vendor |
| Try Rippling | Best for Integrated IT Functions Like Automated Workflows | $8/user/month |
| Try monday.com | Best Overall | Free to try • $8/user/month |
| Try CickUp | Best for Keeping Track Of Multiple Complex Projects | Free to try • $5/user/month and up |
Our Picks: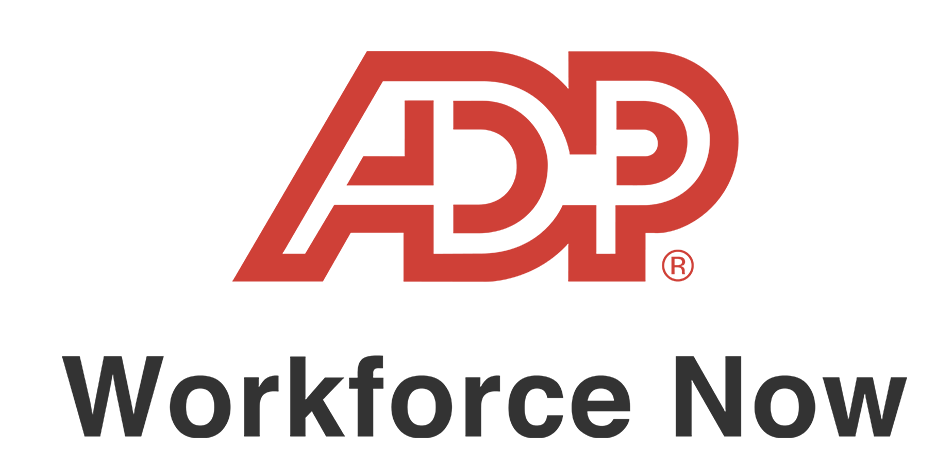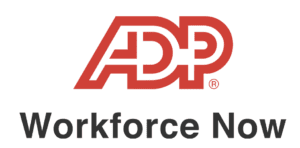 ADP Workforce Now: Best for Employee Self-Service
Workforce Now is a product of ADP, one of the biggest providers of HR software. It is a cloud-based, all-in-one HR management software solution that offers a range of features useful for mid-sized organizations. This cloud-based solution includes payroll, time and attendance tracking, benefits administration, talent management, and HR management.
One of the highlights of ADP Workforce Now is its ability to provide real-time insights and analytics to help businesses make data-driven decisions. The customizable dashboard allows managers to track employee performance, manage benefits enrollment, and monitor time and attendance.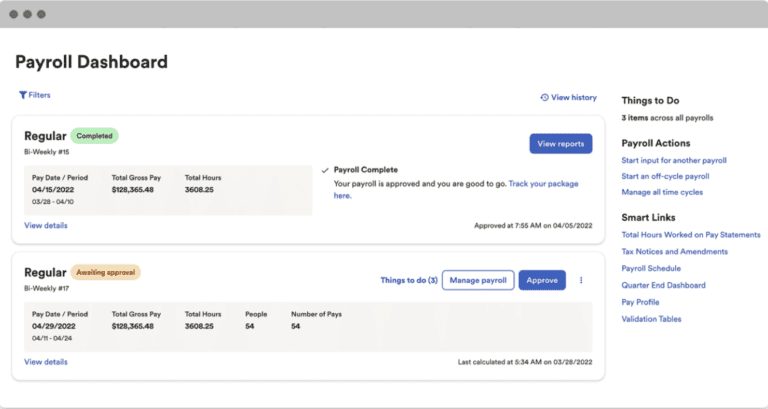 Key Features
Employee Self-Service
ADP Workforce Now includes an employee self-service portal that allows employees to quickly and easily manage their own personal information, view their pay stubs, request time off, and access benefits information. This feature reduces administrative tasks for HR managers and empowers employees to take control of their own HR-related tasks.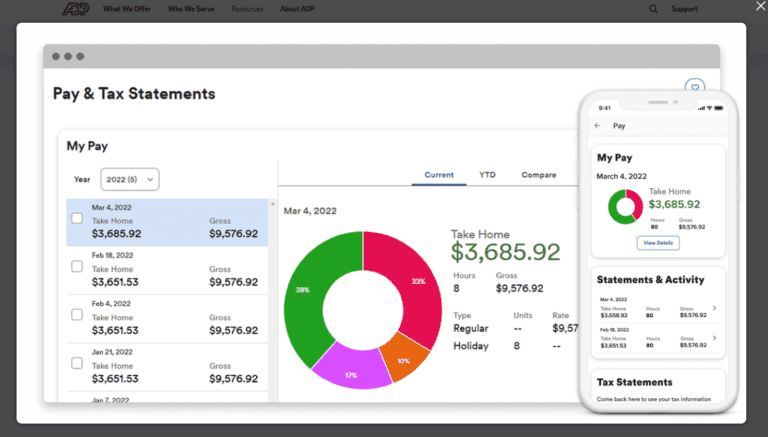 Real-Time Analytics and Reporting: ADP Workforce Now offers real-time analytics and reporting that provide businesses with data-driven insights into their workforce. This feature allows managers to monitor employee performance, track employee time and attendance, and manage benefits enrollment. The analytics and reporting capabilities of ADP Workforce Now are also more advanced than many other HR management solutions, making it easier for businesses to make informed decisions.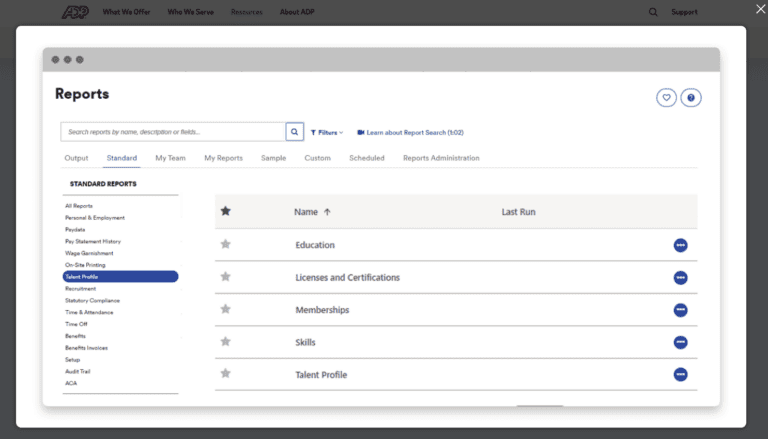 Customizable Dashboard: The customizable dashboard in ADP Workforce Now allows HR managers to tailor the software to their specific needs. They can choose the widgets they want to see on their dashboard and rearrange them as needed. This feature is more flexible than many other HR management solutions, which may have fixed dashboards that cannot be customized.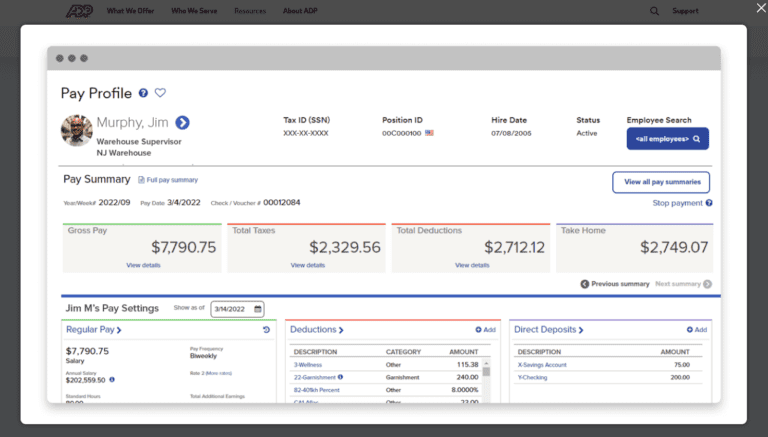 Overall, these three features of ADP Workforce Now – employee self-service, real-time analytics and reporting, and a customizable dashboard – make this a more comprehensive and flexible HR management solution than many other leading options in the marketplace.
Pros & Cons
Pros
Cons
• Comprehensive HR Management Solution reduces the need for multiple tools
• User-friendly interface makes it easy to manage processes
• Real-time analytics and reporting drive performance and data decisions
• Integration with third-party applications to manage multiple functions from a single platform
• Excellent customer support
• High-cost pricing system is not transparent
• Steep learning curve to master features and functionality
• Limited customization ability makes businesses fit within the software framework
• Limited mobile functionality compared to desktop version
Why We Picked ADP Workforce Now
We picked ADP Workforce Now for the buyers' guide because it offers a wide range of features, including payroll, time and attendance tracking, benefits administration, talent management, and compliance management. The software also provides real-time analytics and reporting, allowing businesses to make data-driven decisions.
ADP Workforce Now integrates with third-party applications and provides excellent customer support, including 24/7 phone and email support. While the software's pricing structure can be pricey, the suite of features available to businesses can make it a cost-effective option for those that need to manage multiple HR functions. We see this software as a smart choice for businesses of medium size looking for a reliable and comprehensive HR management solution to help streamline and automate HR processes.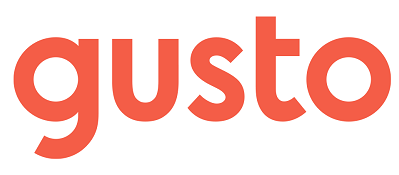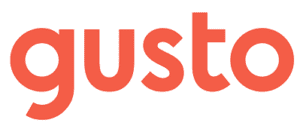 Gusto: Best All-in-One HR Solution
Gusto is a cloud-based HR platform that offers a range of features needed by HR pros, including payroll processing, benefits administration, time and attendance tracking, compliance management, and employee self-service. Gusto also offers features such as onboarding and offboarding tools, an employee directory, and an employee engagement survey tool.
One of the standout features of Gusto is its intuitive and user-friendly interface. The software is designed to be easy to use, with a dashboard that provides a clear overview of key HR metrics. This makes it easy for businesses to manage their HR processes and for employees to access the information they need.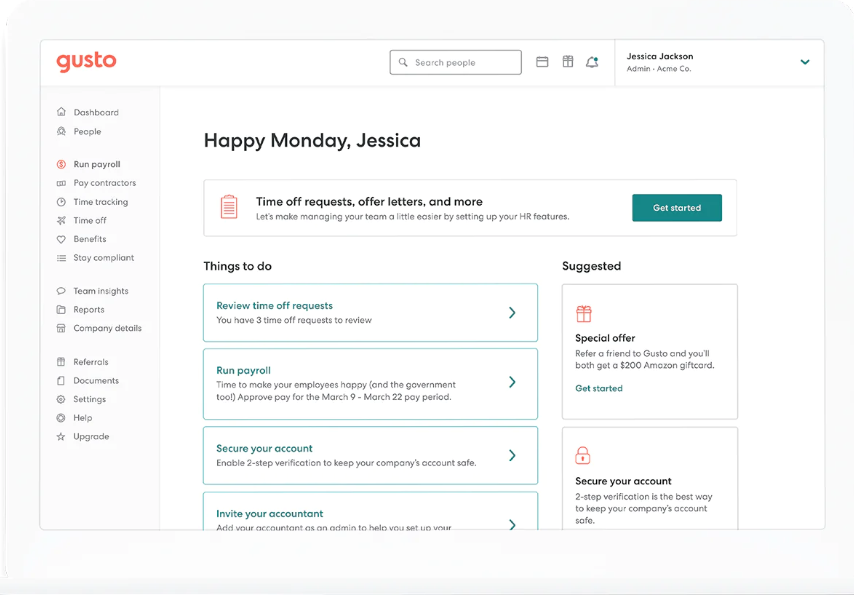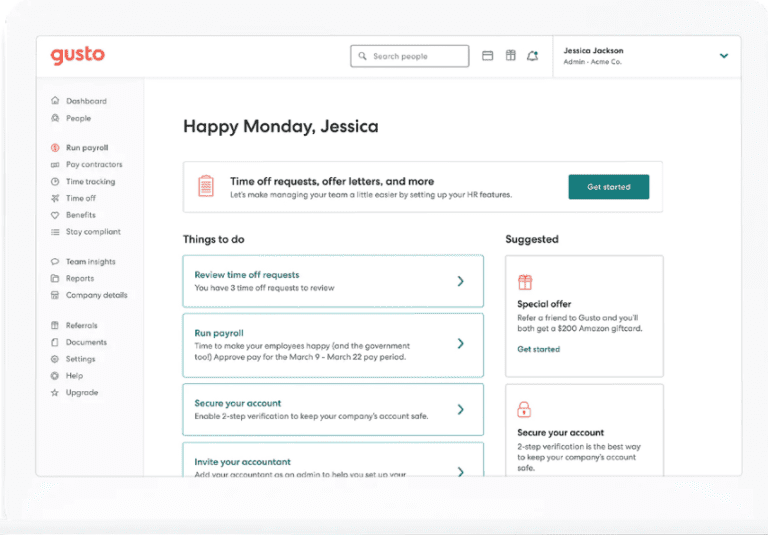 Key Features
These are a few key features of Gusto that make it a powerful and user-friendly software for government project management:
Payroll Processing – This feature offers an intuitive and easy-to-use interface, with straightforward pricing and flexible payment options. Gusto automatically calculates payroll taxes and provides compliance support, reducing the risk of errors and ensuring businesses stay compliant with federal and state regulations.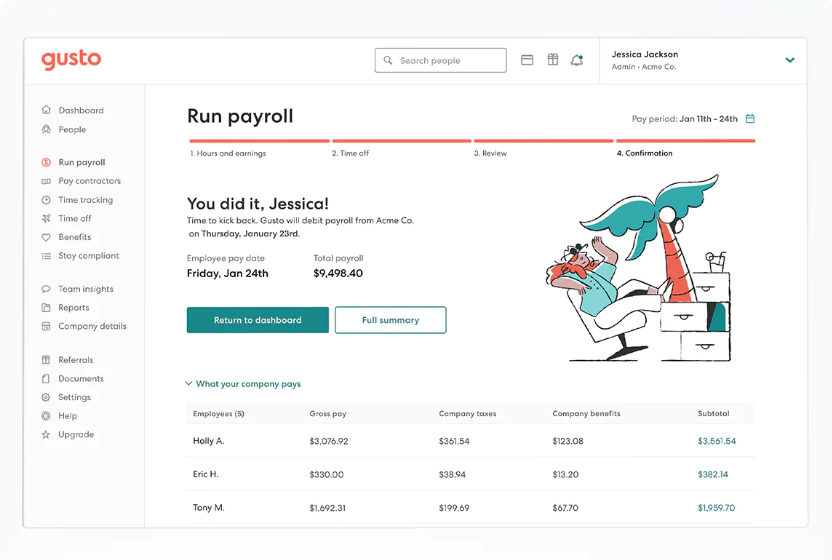 Benefits Administration – This feature provides businesses with a wide range of employee benefits, including health insurance, 401(k), and workers' compensation insurance. Gusto automates the administration of these benefits, reducing administrative overhead and ensuring compliance with regulatory requirements.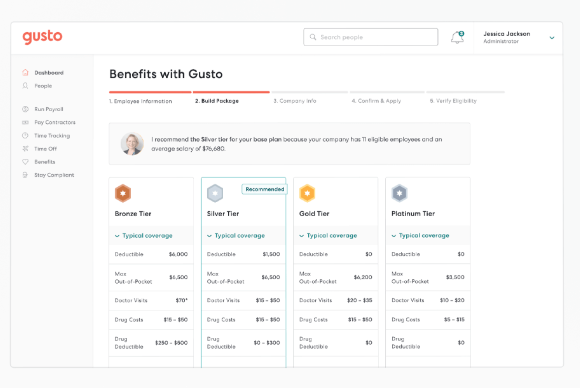 Time and Attendance Tracking – Gusto's time and attendance tracking feature is an intuitive tool that allows employees to clock in and out, request time off, and view their time-off balances. Gusto allows managers to approve time-off requests and track employee hours worked, helping businesses ensure compliance with labor laws and manage employee schedules more efficiently.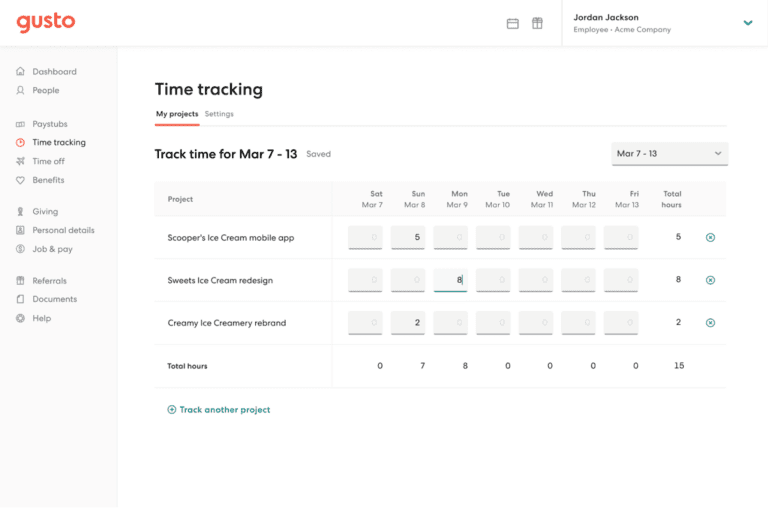 Pros & Cons
Pros
Cons
• User-friendly interface for all levels of users
• Affordable pricing that can be customized for any business
• Comprehensive features list
• Compliance support to help reduce the risk of errors and penalties
• Stellar customer service with multiple options
• Limited HR functionality
• Limited customizations when compared to other platforms
• Limited integrations with third-party software
• Limited and too-basic reporting capabilities
• Lack of global coverage – designed for businesses operating in the U.S
Why We Picked Gusto HR Management Software
We believe Gusto HR Management Software is an excellent choice for businesses that want a comprehensive HR solution at an affordable price. With its user-friendly interface, it is easy to manage payroll, benefits administration, and time and attendance tracking. Gusto also provides excellent customer service and compliance support, making it an ideal solution for small and medium-sized businesses looking to streamline their HR processes and improve their employee experience. Every business realizes how every dollar counts, and for mid-size companies, this is a great place to start and get familiar with the HR management software arena.


Rippling: Best for Integrated IT functions like Automated Workflows
Rippling HR Cloud software is a comprehensive HR solution, streamlining various HR functions in one platform. It allows businesses to manage payroll, benefits administration, time and attendance tracking, and employees in one place. The software includes several standout features, such as automated onboarding and offboarding, compliance support, and an employee directory.
In addition to its HR features, Rippling also offers IT management tools, such as device management and software deployment, making it a comprehensive solution for small and medium-sized businesses. Rippling's user-friendly interface and intuitive design make it easy to navigate and use, and its ability to automate HR tasks can help businesses save time and reduce errors.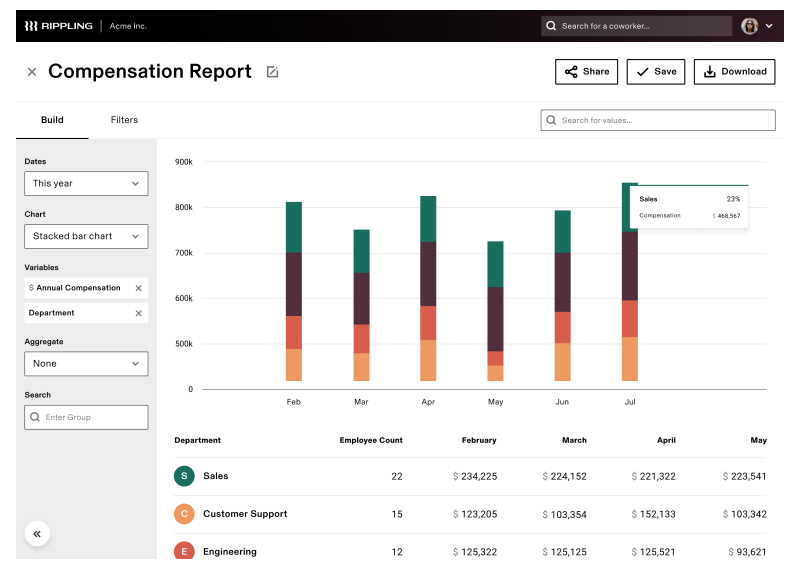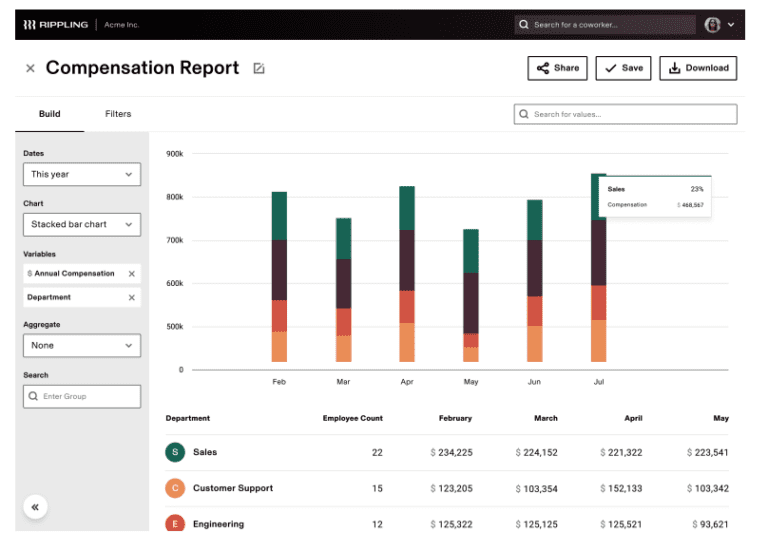 Key Features
Rippling offers a great feature set that HR departments can start using on day one. These are the top features that make Rippling worth your consideration.
Automated onboarding and offboarding – Rippling's automated onboarding and offboarding features simplify the HR process by streamlining tasks such as sending offer letters, collecting employee information, and setting up accounts and permissions. What sets Rippling apart is its ability to integrate with other HR tools and automate tasks such as assigning and revoking access to company resources, making the process even more efficient and reducing the risk of errors.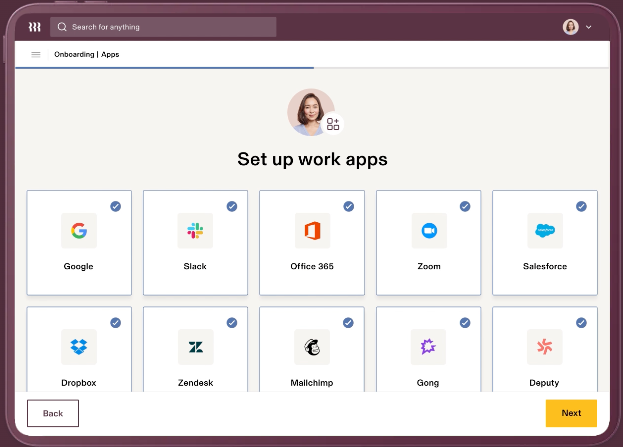 Payroll processing – This feature is comprehensive and includes automatic tax filing, direct deposit, and support for multiple pay schedules. Not only does itintegrate with other HR tools, but you can automate related tasks such as calculating bonuses and commissions, making payroll processing even more efficient and reducing the risk of errors.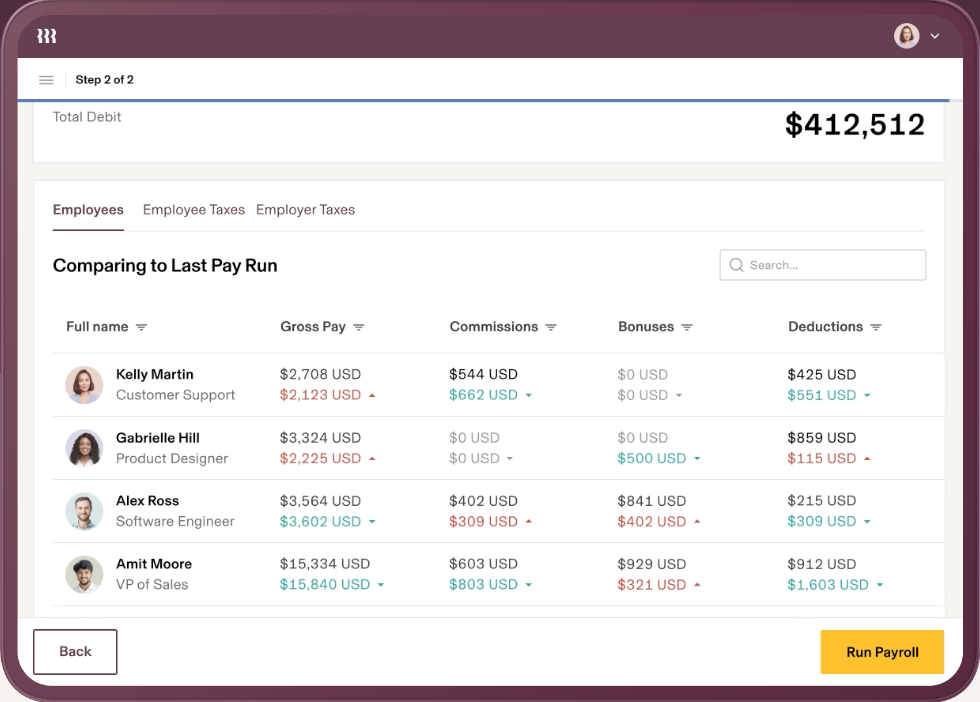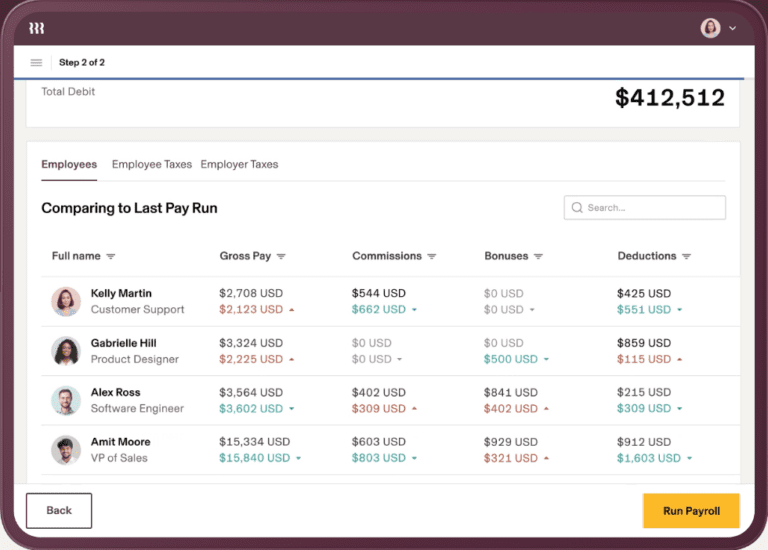 Benefits administration – Rippling's benefits administration feature simplifies the process of managing employee benefits such as health insurance, 401(k), and FSA/HSA accounts. What makes this feature unique is its ability to provide compliance support for ACA reporting and COBRA administration, ensuring that businesses comply with regulations and avoid costly fines.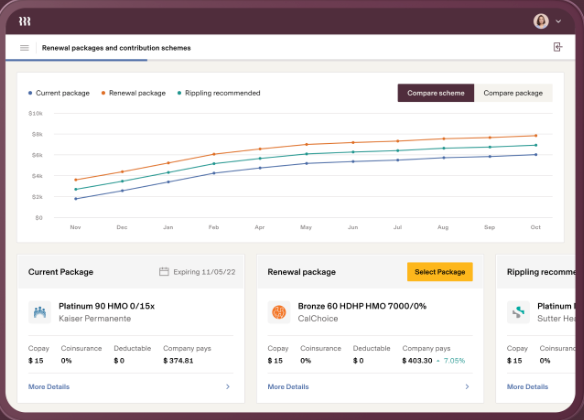 Pros & Cons
Pros
Cons
• User-friendly interface
• Comprehensive features for payroll processing and benefits administration
• Integration with other HR tools such as recruiting software and time tracking tools
• Great customer support with fast response times
• Expensive pricing structure for small businesses with fewer employees
• Occasional glitches or errors in the software's with regard to onboarding and offboarding features
• Comprehensive range of features may be difficult to navigate at first
Why We Picked Rippling HR Cloud
Rippling is a powerful and comprehensive HR Management Software that offers an incredible range of features including payroll processing, benefits administration, and automated onboarding/offboarding. What sets Rippling apart from the competition is its user-friendly interface, extensive integrations, and quick response customer support. While its pricing may be more expensive than some competitors, the platform's scalability and ability to grow with a business make it a worthwhile investment for companies looking for a robust HR solution.


monday: Best Overall HR Software Solution
monday offers a range of features useful for both traditional project management as well as for HR and employee management. Its intuitive interface allows HR teams to easily manage tasks, track time, and collaborate with other departments. Additionally, the platform's customizable templates make it easy to create workflows for onboarding, training, and performance management.
One of the standout features of monday is its ability to automate repetitive HR tasks, such as sending reminders for performance evaluations or sending welcome emails to new hires. The platform also offers robust reporting and analytics capabilities, which can help HR teams identify trends and make data-driven decisions. Overall, monday.com provides an efficient and streamlined solution for HR and employee management.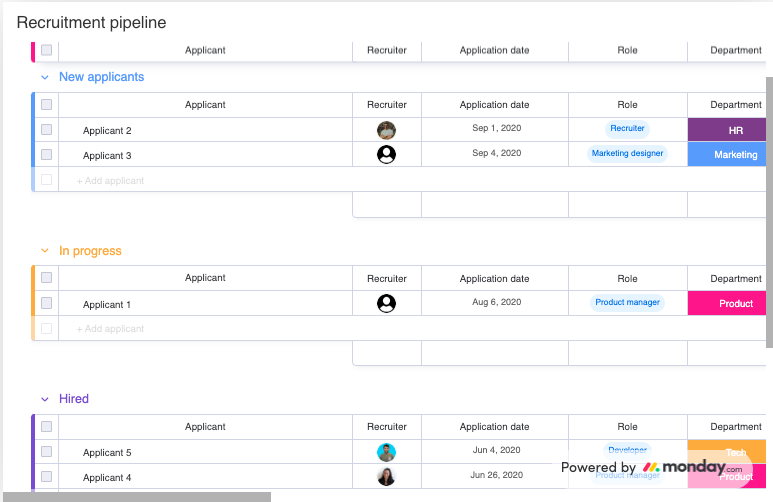 Key Features
monday.com for HR has great features superior to competitors because of its flexibility and customization options. The platform allows HR teams to create their own workflows and processes, which can be tailored to their unique needs and requirements. The platform's automation features help reduce errors and save time, leading to increased efficiency and productivity for HR teams.

Customizable templates – The platform provides a wide range of pre-built templates that can be easily customized to suit the unique needs and requirements of different HR teams. These are often better than what is offered by other software options because they are highly intuitive and user-friendly.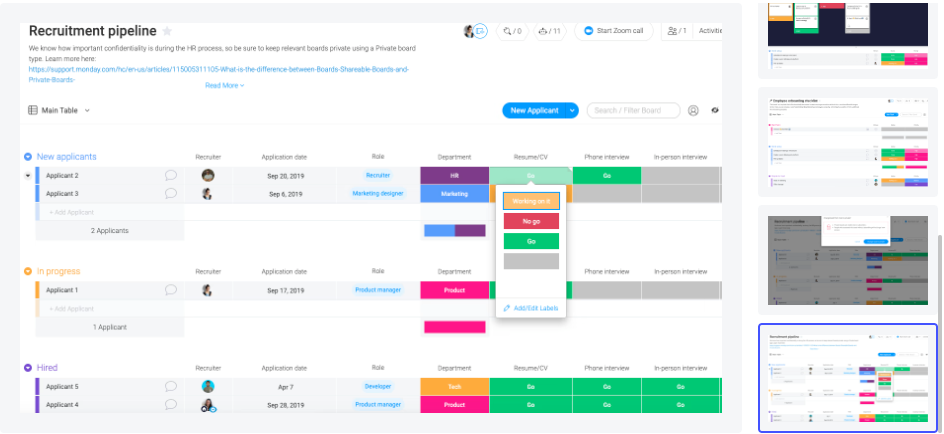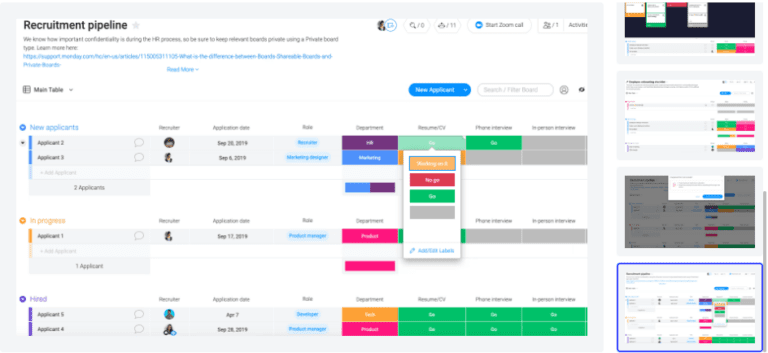 Task management – Monday.com for HR offers task management that allows HR teams to easily track the progress of various tasks and projects, set deadlines, and assign tasks to team members. The platform provides a highly visual interface, making it easy to get a clear overview of the status of different projects at a glance.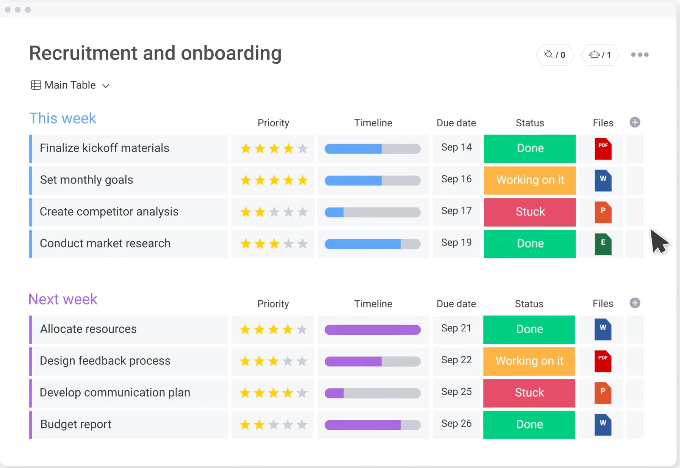 Automation – Unique and robust automation features help to automate repetitive tasks, such as sending reminders and notifications, saving time, and reducing the risk of errors. The platform provides a range of automation options that can be customized to meet the specific needs of each HR team.

Pros & Cons
Pros
Cons
• Customizable templates to create custom workflows
• Robust task management for assigning tasks, setting deadlines, and tracking progress
• Numerous native automations for time-consuming, repetitive tasks
• Comprehensive reporting on HR metrics
• Real-time team collaboration and communication
• Automation for time-consuming, repetitive tasks
• Complex and difficult to navigate for those who are not tech-savvy
• Higher pricing than other HR software
• Longer learning curve for users not previously familiar with project management software
Why We Picked monday
We recommend trying monday.com for HR to help you plan and track recruiting and onboarding progress. You can track roles, application collection, record interview notes, and communicate with candidates through email integration. When hired, track the onboarding of a new employee from preparing for their arrival, introducing them to the team, and scheduling their onboarding tasks and training.


ClickUp: Best For Keeping Track of Multiple Complex Projects
ClickUp offers comprehensive features for human resources teams as just one of its product verticals. With its intuitive interface and robust functionality, ClickUp streamlines HR project management processes and enhances team collaboration. One of the standout features is its task management capabilities, allowing HR professionals to create and assign tasks, set deadlines, and track progress effortlessly.
ClickUp allows the creation of customizable workflows, enabling HR teams to design processes tailored to their specific needs, such as employee onboarding, performance evaluations, and training programs. The platform also provides time tracking, document sharing, and communication tools, facilitating seamless collaboration among HR team members and stakeholders.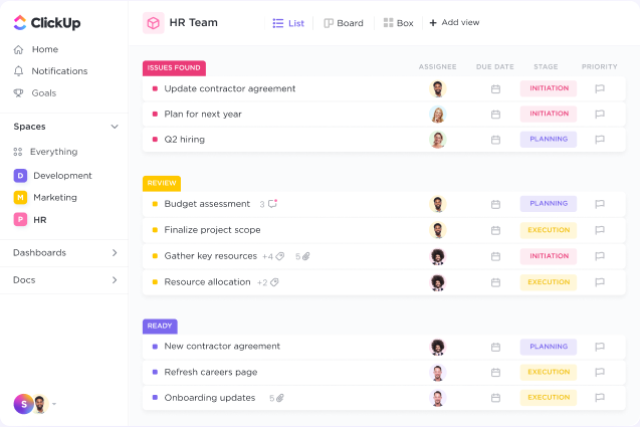 Key Features
ClickUp combines multiple essential HR project management tools in one place, eliminating the need for separate tools and providing a centralized solution for streamlined project execution and improved collaboration.
HR Templates – ClickUp offers a wide range of HR templates that serve as pre-built frameworks to jumpstart HR projects and streamline processes. These templates cover various HR activities and workflows, such as employee onboarding, performance evaluation, training and development, recruitment and hiring, and leave management.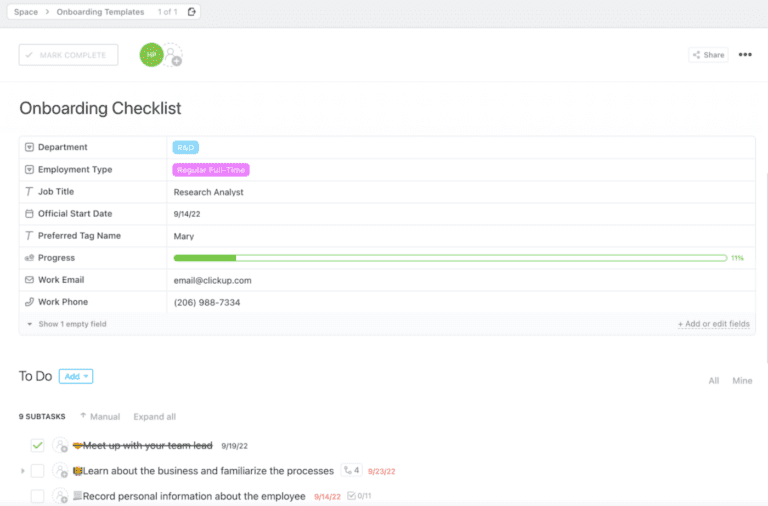 Task Management – ClickUp's task management features surpass other tools by providing a comprehensive and intuitive platform for HR teams. With ClickUp, HR professionals can easily create, assign, and track tasks, set deadlines, and monitor progress in real-time, ensuring efficient project execution. The robustness of ClickUp's task management capabilities, combined with its user-friendly interface offer a seamless and efficient task management experience for HR teams.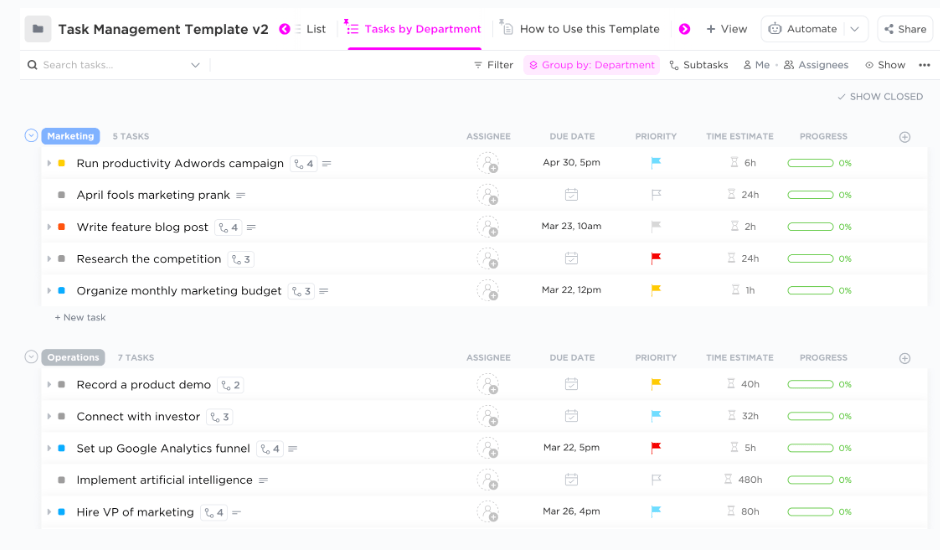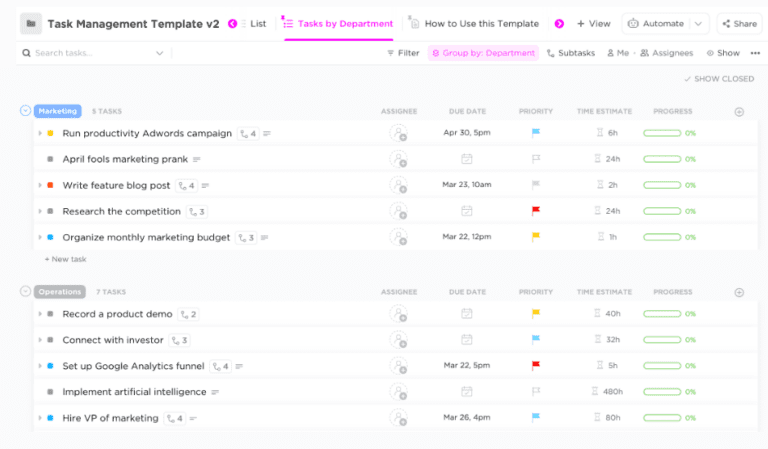 Collaboration Tools – ClickUp's collaboration tools outshine other tools with their extensive features designed to enhance communication and teamwork within HR teams. HR professionals can seamlessly collaborate through features like comments, mentions, and notifications, fostering effective communication and keeping everyone informed about project updates. This centralized platform eliminates the need for separate communication tools, providing a cohesive environment where HR teams can collaborate, share information, and work together more efficiently.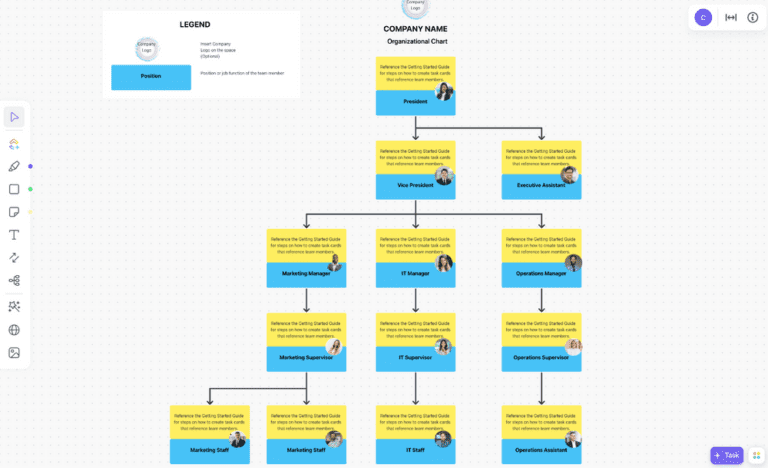 Planner Pros & Cons
Pros
Cons
• Versatile tool with extensive customization
• Seamless collaboration promotes teamwork and reliable communication
• Integration and automation capabilities with many third-party tools
• User-friendly interface is intuitive and minimizes the learning curve
• Scalable and suitable for HR teams of all sizes
• Complexity and extensive features may be overwhelming for simple tasks and minimal requirements
• Paid subscription required for more advanced features
• Limited native HR-specific features, ClickUp is more suited for traditional project management
• Integration limitations with existing HR tools
Why We Picked ClickUp
ClickUp for HR is a powerful project management platform that offers desirable features and benefits for any HR team. It is a great option for mid-sized and larger teams that require support for all their HR needs. This tool covers all the bases and includes everything an HR team might need in just one platform, eliminating the need for using separate tools. If ClickUp doesn't have it, you can most likely integrate a third-party option.
When compared to other leading tools, ClickUp offers a compelling package with its comprehensive feature set, user-friendly interface, and scalable solution suitable for HR teams of all sizes.
Methodology
FAQ: What Are the Key Benefits of HR Project Management Software?
HR teams that use project management software get plenty of help with their human resources planning, HR processes, and day-to-day management. To be more specific, here are five top benefits most HR teams can reap from seeking out software support:
FAQ: What Questions Should I Ask When Evaluating Options?
FAQ: How Do I Choose the Best HR Project Management Solution?
To choose the best human resources (HR) software project management solution for your HR team, consider the following factors:
Assess Your HR Processes and Needs: Evaluate your HR processes and identify the specific requirements you have for project management. Determine which features are essential, such as customizable workflows, collaboration tools, task management, reporting, and integration capabilities.

Research and Compare Software Options: Conduct thorough research on available HR software project management solutions. Compare their features, functionalities, user reviews, and pricing plans. Look for software that aligns closely with your identified needs and offers a user-friendly interface.

Beware of Hidden Costs and Scalability: Pay attention to hidden costs such as additional charges for advanced features, customization, or support. Ensure that the software is scalable and can grow with your HR team's needs, considering factors like the number of users, projects, and potential expansion.

Helpful suggestions:

Request demos or trials: Take advantage of demos or free trials to test the software's usability, interface, and compatibility with your existing systems.
Seek user feedback and references: Connect with HR professionals who have used the software you're considering to get firsthand feedback on its performance, reliability, and customer support.
Consider vendor reputation and support: Research the reputation and customer service of the software vendor. Ensure they provide reliable support, regular updates, and responsive assistance.

Buyer beware:
Avoid feature overload: While robust features are appealing, ensure that you don't end up with unnecessary complexity. Choose a software solution that strikes the right balance between essential features and user-friendliness.
Assess implementation and training requirements: Evaluate the resources and time required for implementing and training your HR team on the software. Factor in the learning curve and consider if the vendor provides adequate training and support materials.

By considering your HR team's specific needs, thoroughly researching software options, and being aware of potential pitfalls, you can choose the best HR software project management solution that empowers your team and optimizes HR project management processes.