Customer relationship management (CRM) software is a specialized type of business operations software that helps marketing and sales teams manage their contacts, pipelines, communication, and more for customers and prospective customers. In this CRM buyer's guide, we'll walk you through 10 of the best CRM software options on the market today, highlighting their strengths and key differentiators, as well as general tips and best practices to follow when investing in this type of software.
Our Picks: Top CRM Software Solutions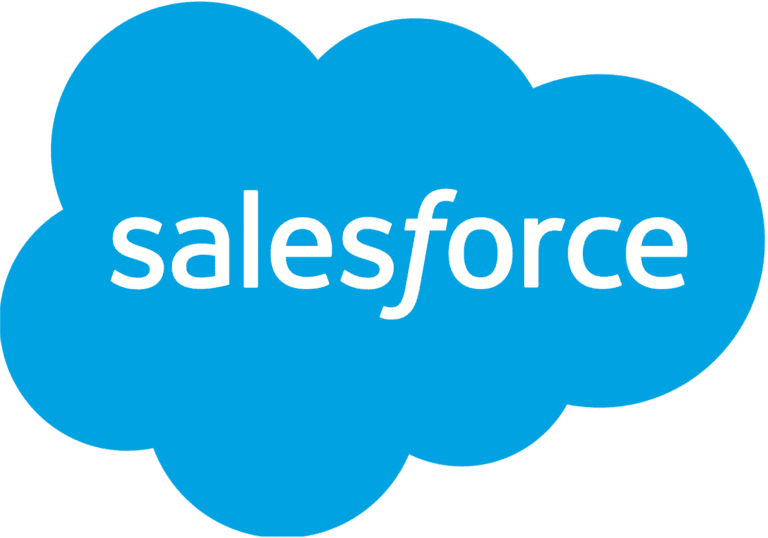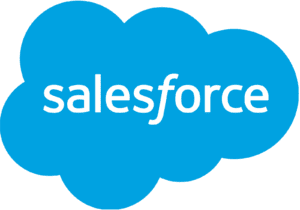 Best Overall: Salesforce Sales Cloud
Salesforce is one of the best-known names in the CRM space and for good reason. The product has established itself as the leading sales-driven CRM platform, offering a dizzying number of native and add-on features to support the entire sales cycle. Some of its key differentiators for sales teams include its business process management features, which include workflow and process automation, quoting and contract approvals, and AI-enhanced pipeline management.
Despite its sales focus, Salesforce offers excellent solutions across the entire relationship management cycle, providing users with modules and products for customer service, marketing, commerce, data analytics, customer success, and artificial intelligence. Salesforce also offers an extensive library of third-party partnerships and integrations.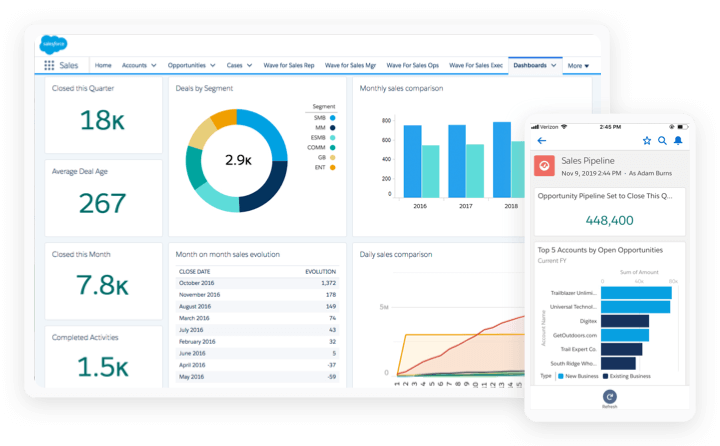 Key Features
Activity, lead, and account management: Features that support activity, lead, and account management include email auto-syncing, cross-channel deal tracking, and business process management support.
Advanced reporting and insights: Features include real-time forecast management, customizable KPIs, pipeline management, embedded charts, AI-driven suggestions, and customizable reports and dashboards.
Easy integration with other Salesforce products: Sales Cloud integrates with many Salesforce products, including Sales AI, Sales Engagement, Sales Analytics, and Partner Relationship Management.
Pros & Cons
| Pros | Cons |
| --- | --- |
| A large library of integrations with various e-commerce, marketing, email marketing, and customer service tools. | Limited customer support access unless you pay for a higher-tier Success Plan. |
| This tool has some of the strongest analytics and dashboarding capabilities among CRM vendors. | Certain advanced functionalities, including Sales Cloud Einstein and Team Productivity, are only available for additional monthly costs tacked onto base subscription cost. |
| Salesforce is highly customizable and scalable. | Can quickly become prohibitively expensive if you require features beyond what's available in the Starter plan; it's also a fairly difficult-to-use tool. |
Why We Picked Salesforce Sales Cloud
Salesforce is one of the most robust sales and marketing software options on the market, and it's well-integrated with Salesforce's other solutions for service, commerce, and more. The platform offers users some of the most advanced analytics and AI capabilities out there, through Tableau and Einstein, respectively. Although high-tier plans and add-ons can get expensive, the lowest-tier plan is relatively affordable and offers many helpful features to get started, including lead and campaign management, email templates and mass email capabilities, customizable sales milestones, and task management. Customizable reports and dashboards are also available in all plan options. All in all, Salesforce is one of the best options available for enterprise-level CRM functionality, though the platform works for businesses of all sizes.


Best for Free CRM Software: Hubspot CRM
HubSpot's CRM solution has primarily won over its customers through easy-to-use marketing automation tools. However, the platform is not limited to marketing features and functions; it offers users a variety of "hub" options, including Marketing Hub, Sales Hub, Customer Service Hub, CMS Hub, and Operations Hub. HubSpot's built-in digital marketing tools are impressive, allowing teams to manage email marketing, websites and landing pages, social media, and ads from one platform and in direct correlation with contact and campaign management goals.
With its freemium approach to CRM pricing, HubSpot is a great option for SMBs in particular. Its Free Tools package offers limited access to each of HubSpot's five product hubs, giving users the opportunity to use the tool affordably or test out features before committing to a paid subscription.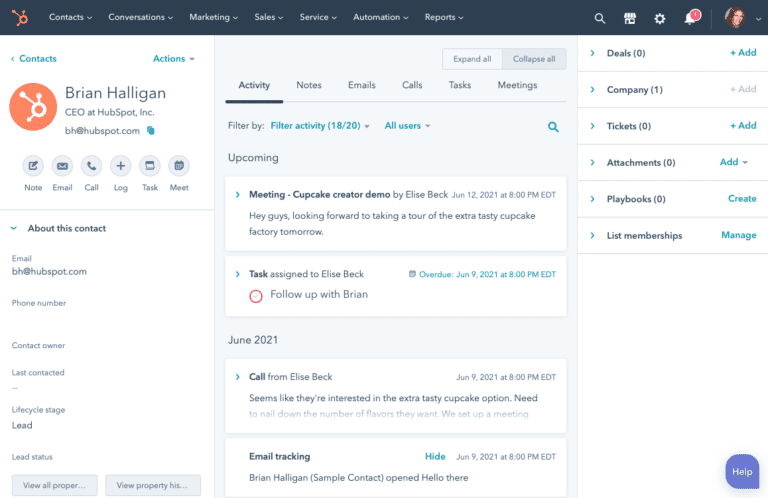 Key Features
Hub-driven software packaging: Users can either select one of HubSpot's specialized hubs (Marketing, Sales, Customer Service, CMS, and Operations) or bundle any combination of these tools to get the right fit.
Comprehensive digital marketing tools: Digital marketing tools include built-in SEO analytics, A/B testing, marketing analytics, email and web templates, marketing automation, and social media management.
Campaign management: Users can set campaign priorities and track campaign progress from start to finish; campaigns can be customized to include email, landing page, social media, and other kinds of customer engagement.
Pros & Cons
| Pros | Cons |
| --- | --- |
| Product bundling and hubs make it easy to combine sales, marketing, customer service, CMS, and operations in one well-integrated platform. | Pricing structure can get very confusing, especially if you're not sure what marketing, sales, and service capabilities your team will require. |
| Nicely balances a robust feature set with ease of use. | Advanced HubSpot plans are some of the most expensive CRM options in the market. |
| HubSpot's Free Tools option offers users a variety of advanced CRM capabilities in limited quantities. | Works best when integrated primarily with other HubSpot tools; third-party integrations are somewhat limited and difficult to set up. |
Why We Picked HubSpot CRM
HubSpot offers one of the most well-rounded and full-featured free CRM options on the market, along with limited access to important advanced features from its paid tiers, like list segmentation, chatbots, SEO recommendations, landing pages, web traffic analytics, ad management, forms, and reporting dashboards.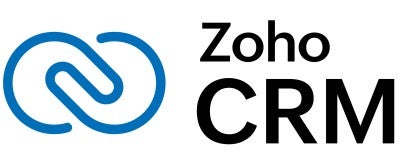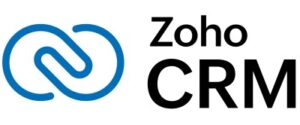 Best for Dashboards and Visualizations: Zoho CRM
Zoho CRM is an enterprise-level CRM and sales automation solution from a vendor that prides itself in easy-to-use and quick-to-deploy software. Some of the highlights of this tool include comprehensive omnichannel digital marketing, journey orchestration, and advanced process management capabilities.
However, where Zoho really shines is in the reporting and data visualization space. Users can choose from a variety of dashboard types, including lead, deal, campaign, product, inventory, territory, sales trend, and other types of dashboards that are relevant to marketing and sales teams. These dashboards can be filtered down to granular customer and transactional data, but regardless of how specific you want to get, the visuals remain clean and easy to interpret. Some of Zoho CRM's other standout analytics and visual features include cohorts, quadrants, zones, funnels, target meters, anomalies, and detailed charts.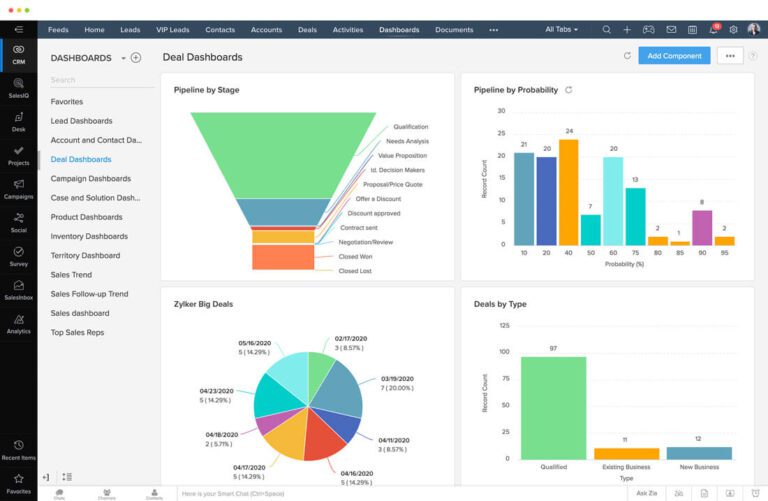 Key Features
Canvas CRM Design Studio: Interested users can use built-in design tools to create custom canvas views of important data and project goals.
Predictive sales management: Predictive sales management features include lead and deal predictions, anomaly detection, AI assistance, data enrichment, a prediction builder, and competitor alerts.
Marketing automation: Features include customer segmentation, lead nurturing, event management, marketing attribution, and an integration with Google Ads.
Pros & Cons
| Pros | Cons |
| --- | --- |
| Strong built-in compliance support for GDPR and HIPAA in particular. | Lower-tier plans have very limited customer support options. |
| This CRM is generally considered easy to use and deploy. | AI assistance is only available for Enterprise and Ultimate users. |
| Zoho does a great job of illustrating how its CRM can be used across a variety of specialized industries, including automotive, insurance, and real estate. | It's unclear which app(s) users can access if they select traditional products and plans over Zoho CRM bundle options. |
Why We Picked Zoho CRM
Zoho CRM offers a diverse variety of visuals, dashboards, and charts for tracking sales and marketing performance KPIs. The tool also comes in flexible packaging options, and a comprehensive free plan is available for up to three users; in general, Zoho CRM pricing is reasonable. Regardless of the subscription users select, they'll benefit from Zoho's commitment to data privacy and security, especially with features like GDPR compliance support available in all plans. If that's not enough, users will appreciate how well Zoho CRM integrates with the rest of the Zoho ecosystem of tools.
---
Learn more in this Zoho CRM review.
---


Best for Sales Pipeline Management: Pipedrive
Pipedrive is a top sales CRM solution that provides users with an intuitive, project-management-software-like interface for managing sales pipelines, leads, and deals. The platform offers a number of native sales enablement and automation capabilities, and compared to many of its competitors, it is affordable and full-featured, regardless of which subscription option you select. Even in the lowest-tier plan, customization options are available, including customizable pipelines and fields.
Many users select Pipedrive not only for its affordability but for its general ease of use. With drag-and-drop functionality and a simple layout, the tool is considered a relatively intuitive CRM solution. For users who need additional support, 24/7 email and chat support is available; self-service support tools are also available and include a learning academy, webinars, the Pipedrive user community, and the Help Center.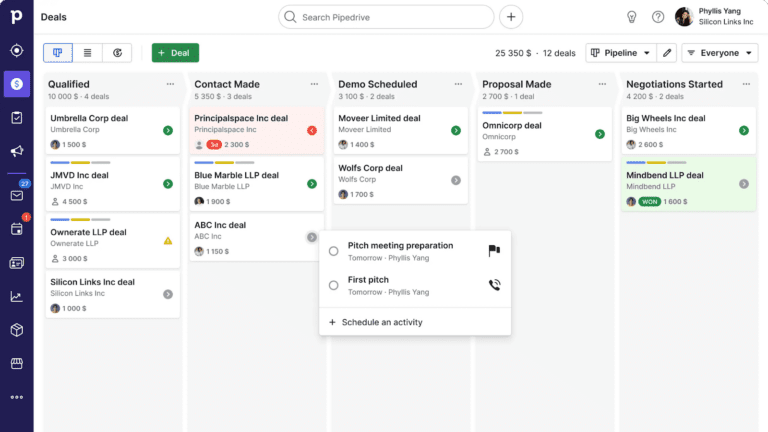 Key Features
Sales pipelines and deal management: Features include a drag-and-drop interface with a kanban-like board, custom fields, pipeline stage tracking, color cues, and team-level filtering.
Email and communication tracking: Features include two-way email sync, email templates, group emailing, an internal chat integration, and in-app invoicing and billing.
Automation: Features include an automated lead generation chatbot, sales call scheduling, email scheduling, and custom triggers and actions.
Pros & Cons
| Pros | Cons |
| --- | --- |
| Highly visual, easy-to-use drag-and-drop functionality for sales pipelines. | Certain features, such as campaigns, are only available through additional paid subscriptions. |
| Highly customizable at all subscription levels. | In general, Pipedrive leans heavily on sales pipeline features and has very few features to support marketing automation. |
| Multiple views are available, including a kanban view for project-driven teams. | Native telephony features are highly limited. |
Why We Picked Pipedrive
Pipedrive has some of the most intuitive pipeline management features in the market, and these pipelines are customizable in all subscription plans. Although Pipedrive does not offer a free plan to users, all of its plans are reasonably affordable compared to many enterprise CRM alternatives and also offer a 14-day free trial. The tool also comes with an optional Projects add-on and a kanban view is included, making it one of the better CRM options for project management. Additionally, strong security features available in all plans, including SAML SSO, 2FA, AES-256 encryption, and a security dashboard.


Best for Lead Generation Support: Freshsales
Freshsales is a CRM solution from Freshworks, the vendor behind other business software solutions like Freshservice, Freshdesk, and Freshmarketer. The platform is a great value for businesses that want to manage deals and leads across a variety of channels and contexts, primarily through intelligent sales processes and AI-driven automation.
While it may be lacking in areas like reporting and hands-on customization opportunities, Freshsales stands out from other CRMs in lead generation capabilities and features. In particular, custom chatbots can be built to generate and then qualify leads directly from chat conversations. The tool also has a number of different views, including table view, kanban view, timeline view, and highlight cards that make this an ideal solution for project-driven marketing and sales teams.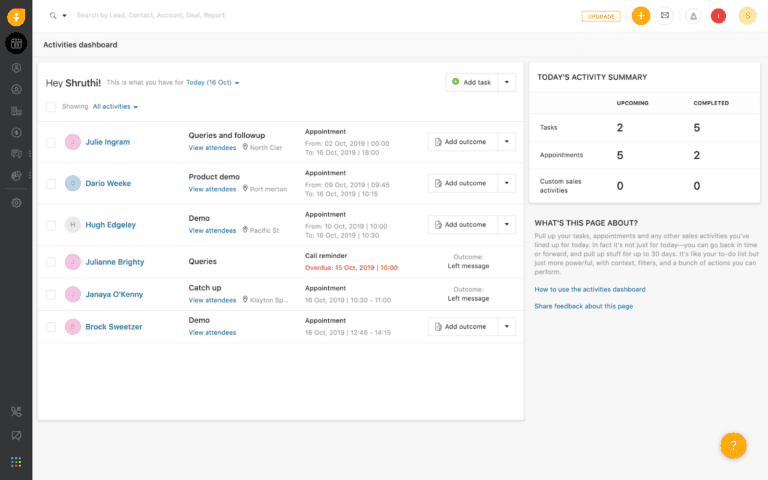 Key Features
Lead generation and lead management: Features include lead tracking, AI-powered contact scoring and qualification, lead segmentation, auto-lead assignment, and web forms.
Telephony: Features include in-app calling, auto-logging, call recording, call routing, and call metrics.
Automation and workflows: Features include event-based and conditional workflows, territory segmentation and management, auto-profile enrichment, intelligent conversation routing, and sales sequences.
Pros & Cons
| Pros | Cons |
| --- | --- |
| Includes native advanced telephony and contact management features. | Not the strongest option for advanced reporting and analytics. |
| In-app customer support bots help users manage their customers' needs more effectively. | Lower-tier plans do not give users access to multiple sales pipelines. |
| Has received some of the best customer reviews for ease of use on aggregate review sites. | Not all users have been impressed with Freshsales' mobile app. |
Why We Picked Freshsales
Freshsales is an incredibly affordable option in the CRM market; it's likely the next-best option for overall value after the HubSpot Free Tools plan. Combined with strong assistive AI capabilities in all subscription plans and multiple tools for lead generation and lead management, Freshsales is a capable tool for businesses of varying sizes and industrial backgrounds.


Best for Easy Scalability: Insightly CRM
Insightly is an affordable, well-integrated CRM solution that can scale from small business to enterprise needs. Much like the other sales and marketing solutions on this list, Insightly offers features for lead and opportunity management, dashboarding and reporting, business process management, and automated workflows.
But where Insightly really sets itself apart is through its focus on intuitive integrations. AppConnect is a low-code/no-code Insightly solution that can be purchased separately from the Insightly CRM or as part of the All-in-one packaging option.
With AppConnect, users can take advantage of both native and easy-to-build third-party integrations. The native integration library covers hundreds of software solutions in areas like HR, operations, finance and accounting, project management, DevOps, customer service, and even AI and machine learning. Through these integration opportunities alone, Insightly sets itself up as one of the most scalable CRM solutions available.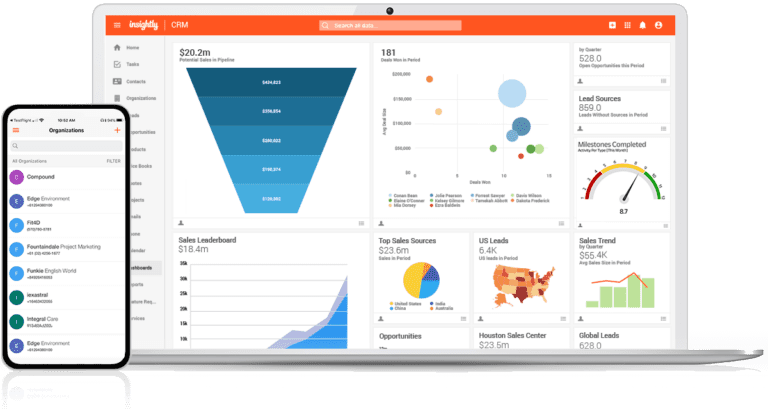 Key Features
Mobility: Features include mobile business card scanning, real-time data synchronization, and mobile voice notes.
Dashboards and reporting: Features include shareable dashboard cards, customizable KPIs, and customizable reports.
Project and task management: Features include native project and task management, automated workflows and project conversions, custom fields and page layouts, and pipelines and milestones.
Pros & Cons
| Pros | Cons |
| --- | --- |
| Initial setup is fairly straightforward. | Does not offer a monthly billing option or a free plan. |
| Unlimited records and file storage available in the Enterprise plan option; reasonable amounts of storage available in all plans. | Aspects of the UI, including search, board views, and customization, are not very intuitive. |
| Some customization options are available in even the lowest-tier plan, including custom emails, sales processes, reports, and fields. | Some users have reported occasional lags in platform performance speed. |
Why We Picked Insightly CRM
Insightly's AppConnect tool supports simple, low-code/no-code integrations to connect Insightly solutions with third-party software, including ERP software, which makes Insightly a strong vendor option for teams that want to scale and integrate their CRM with other databases and workflows across their business operations.
Strong mobile capabilities are also available in all Insightly CRM plans, including mobile voice notes, business card scanning, contact and calendar integrations, and real-time data synchronization. Alongside native project management features, Insightly's sales and marketing features are fairly easy to use and scalable.


Best for Google Workspace Users: Copper
Copper is a purpose-built CRM solution for Google Workspace users, offering native integrations with Google solutions like Gmail, Google Drive, Google Calendar, and more. It's certainly one of the simplest tools in our list and may not offer all of the features a larger business needs from its CRM; however, it is an effective tool for smaller Google-driven businesses and can scale to a certain extent with built-in third-party integrations and Zapier-enabled integrations. For businesses that want to keep things simple and prevent their users from toggling between different business tools all day, Copper is a great solution that causes minimal disruption to existing Google Workspace workflows.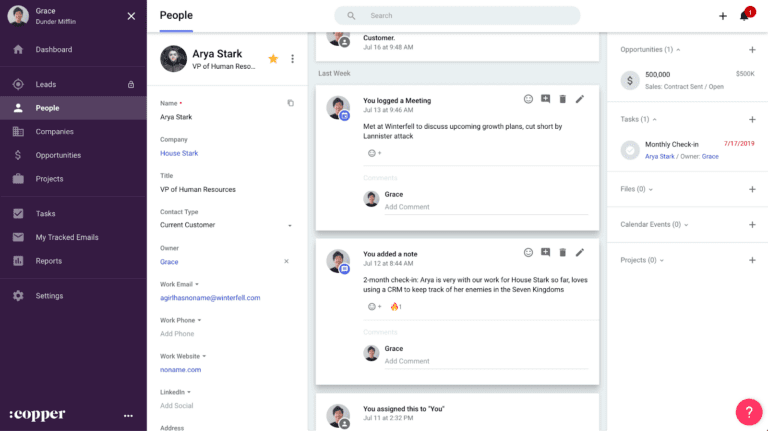 Key Features
Google Workspace integration: Integrations are included for Gmail, Google Calendar, Google Drive, Google Sheets, and Data Studio; connections are also set up for Google Chrome and Google contacts.
Marketing and relationship management: Features include email marketing and campaigns, drip campaigns, lead scoring, customizable pipelines, deal management, and custom fields.
Productivity tools: Features include task management, note taking tools, reminders, activity logging, and team collaboration tools.
Pros & Cons
| Pros | Cons |
| --- | --- |
| Comes with many built-in marketing and collaboration integrations. | No integration or reporting features (beyond the Google Workspace integration) are available in the Basic plan option. |
| Integrates seamlessly with Google Workspace solutions. | Offers only limited useful features for non-Google-Workspace users. |
| No-frills, easy-to-use tool. | Offers fewer integrations than most CRM competitors. |
Why We Picked Copper
Copper provides a unique offering to the CRM market with its native Google Workspace integration; this integration is really helpful for Google users who want a simple, well-integrated software solution to add to their existing tool stack. In general, Copper is easy to use and does a good job of helping users manage their contacts with a relationship-first approach, especially through features like pipelines for deal tracking and simple email marketing tools.


Best for CRM Templates: CickUp
ClickUp is less of a CRM solution and more of a project management solution that users can customize and transform into a CRM setup.
That being said, ClickUp provides advanced marketing, sales, and customer service functionalities to teams that know what they need and how to customize their software for that end goal. Native CRM templates are available in the platform, and users also have the option to save custom templates for easier retrieval and reuse. These are just a handful of the CRM templates ClickUp natively offers to help users get started:
CRM Template.
Simple CRM Template.
Commission Tracking CRM Template.
Sales Pipeline CRM Template.
Google Sheets CRM Template.
Real Estate CRM Template.
Excel CRM Template.
Customer Service Management CRM Template.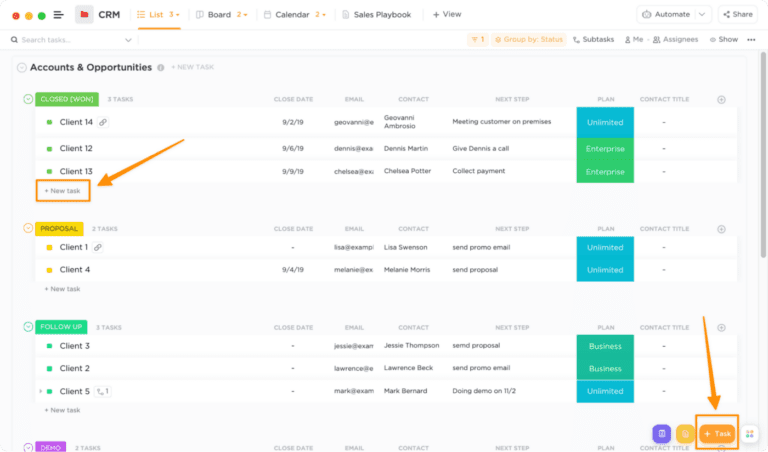 Key Features
CRM and project templates: Relevant templates include the Account Management, Invoices, Patient Management, Customer Service, Hiring Candidates, and Real Estate Agent templates. CRM-specific template options can be found here.
Pipeline management and automation: Features include automatic task assignments for pipeline stages, automated status updates, flexible priority setting, custom status workflows, and relevant templates.
Customer onboarding and account management: Features include an email hub, automatic task creation, custom branded intake forms, and tags and filters.
Pros & Cons
| Pros | Cons |
| --- | --- |
| Designed for high levels of customizability. | Not purpose-built CRM software' will require some customization |
| Offers many advanced features in its free plan; compared to CRM software, all of ClickUp's plans are fairly affordable on a per-user basis. | Can be buggy, with software freezes and occasional data loss. |
| Comes with many pre-designed CRM, marketing, sales, and other types of project templates. | Interface can quickly become overwhelming. |
Why We Picked ClickUp
ClickUp offers unique advantages to users who want to transform it from project management into CRM software. For example, ClickUp (and most project management software suites) are lower-cost across all subscription levels than CRM solutions are. Additionally, ClickUp includes more performance and time management features to help you manage your team, as well as a variety of built-in project views and templates you can customize.
Less Annoying CRM

Best for Small Businesses: Less Annoying CRM
Less Annoying CRM's intent is pretty clear with its branding. The developer provides users with a simple CRM interface that we found to have somewhat limited features and upgrade opportunities. The solution is offered at exactly one price point, a cost that will be affordable for most teams, especially since it's available to unlimited users and can be paid through a monthly rather than an annual subscription.
Although Less Annoying CRM includes fewer advanced features than some of its competitors, it appears to have all of the main features a small business would need from CRM software. Features include searchable contact databases, calendar view and integration with Google Calendar, user access management, one-click exports, daily agenda emails, and simple lead reports.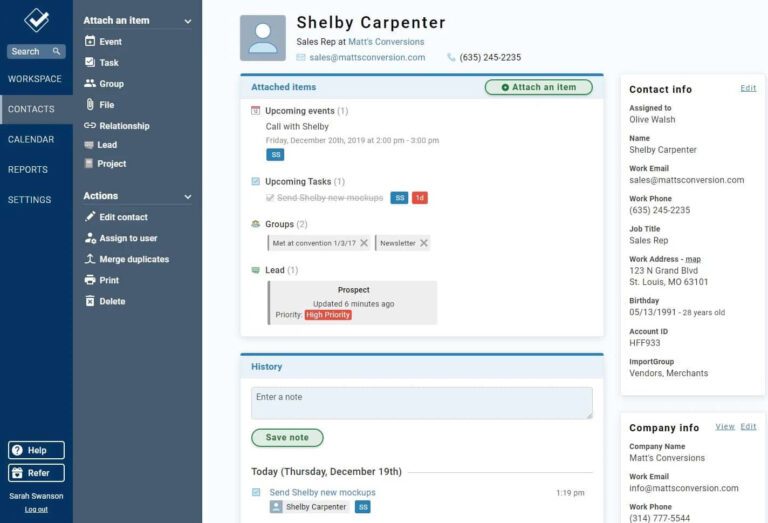 Key Features
Industry-specific templates: Templates are available for business and life coaches, career centers, consultants, financial planners, insurance agents, manufacturers, nonprofit organizations, real estate agents, sales, software specialists, and travel agents.
Task management: Task management is primarily handled through a calendar view; users can share their calendar and task views with other users and sync with Google Calendar.
Lead management: Less Annoying CRM's lead report offers users a quick view of current leads and information like lead priority, contact info, and conversational notes.
Pros & Cons
| Pros | Cons |
| --- | --- |
| Its one plan option is reasonably priced and includes a range of features with no hidden costs. | Only one pricing plan is available, and does not offer a free plan option. |
| Robust built-in training and support resources; many customers comment that they require little training to get started. | Ideally designed for smaller teams; teams with 10 or more users will need to work directly with Less Annoying CRM to make sure the tool will work for their needs. |
| Industry-specific templates are available to help you get started with your specific business case. | Does not include many advanced features, especially when it comes to automation and customization opportunities. |
Why We Picked Less Annoying CRM
"Ease of use" is the operating phrase here. Less Annoying CRM customers frequently comment on how easy this tool is to use, from initial setup to ongoing use. The lack of pricing tiers and upgrades will make this less of a fit for larger and more complex teams, but for teams that need simple CRM functionality and access to great customer support, Less Annoying CRM is a no-frills, intuitive option. Small businesses in particular will benefit from the low price point that still includes a variety of advanced features and no hidden costs or annual commitments.

Best for Marketing Automation Features: monday sales CRM
monday sales CRM, much like monday.com's flagship product monday work management, gives users high levels of customizability, user-friendly automations and integrations, and a variety of visually pleasing view options to make customer relationship management easier. Similar to ClickUp, its project management background sets it up as a strong solution for project-driven marketing and sales teams. The product includes a number of useful CRM templates, including templates for a basic CRM, real estate CRM, customer onboarding, and email marketing.
monday sales CRM is ideally suited to teams that need fewer advanced CRM features but require a number of automations and integrations. Not only does monday include a wide variety of automation and integration options, but its trigger-based, low-code/no-code approach to automation is easy to use.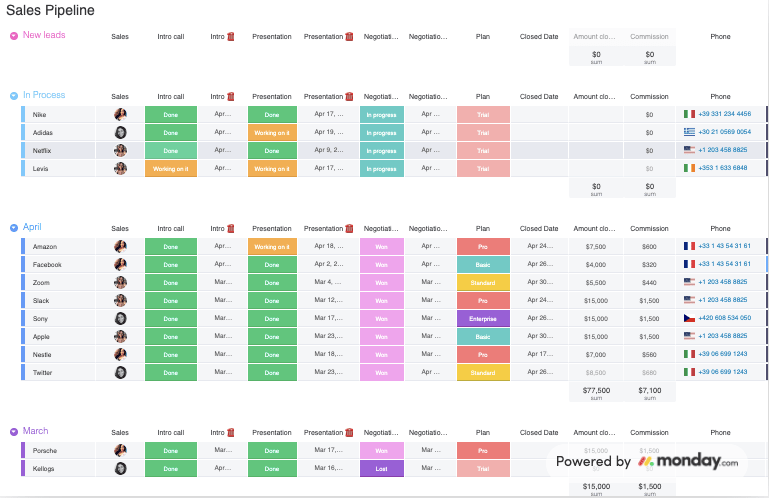 Key Features
Automations: Features include the ability to automatically assign leads to reps, automatic reminders, automatic notifications on lead activities, automated email logs, and automatic lead scoring.
Performance tracking and reporting: Features include dashboards, sales forecasting, activity tracking, and team goals.
Email and communication management: Features include email templates, email tracking, email sync, communication logs, and activity management.
Pros & Cons
| Pros | Cons |
| --- | --- |
| Unlimited pipelines, contacts, and boards are available in all plans. | No free plan is available, and there is a three-seat minimum; this might not be ideal for smaller teams, though most plans are fairly affordable. |
| monday combines powerful automation capabilities with simple-to-use criteria-based triggers for initial setup. | Dashboard and analytics features are limited in lower-tier plans. |
| High levels of customizability are available in all tiers; customizable notifications and pipelines are even available in the cheapest plan. | Limited advanced CRM features are available, including advanced forecasting and territory/location-specific management. |
Why We Picked monday sales CRM
monday sales CRM takes many of the features monday.com is already known for and tailors them to a CRM audience. Trigger-based automations, configurable dashboards, and customizable fields and templates make this a great solution for balancing advanced functionality and ease-of-setup, especially for sales pipelines and deal workflows.
FAQs: Key Features, Benefits, and More
Bottom Line: Choosing the Best CRM Software for Your Business
The CRM market is saturated with recognizable enterprise and small niche players, so it can be difficult to find and select the right solution for your business. To help you narrow your search, we've highlighted some CRM leaders based on the following criteria:
If lower costs are the most important decision-making factor for your business, choose HubSpot CRM, Less Annoying CRM, Zoho CRM, Freshsales, ClickUp, or monday sales CRM. These CRM options either come in a robust free plan option or at a reasonably low price point while still including all of the main features most SMEs need from CRM software.
If you're looking to invest in CRM software that is designed with project management goals and teams in mind, choose Insightly, ClickUp, or monday sales CRM. While several other CRMs include or integrate with project management tools and features, these platforms natively offer advanced project management views, templates, workflows, and other built-in ways to manage leads and deals in a project format.
If you're hoping to find a solution that integrates well with the rest of your business operations software and offers many customization opportunities, choose Salesforce Sales Cloud, Zoho CRM, or Pipedrive. These solutions offer extensive integration libraries, both through their own ecosystems and third parties, and make it so users can customize many features and functions in the sales cycle.
No matter your team's customer relationship management goals, it's important to prioritize the software features you need and take advantage of free trials and free versions before making a final decision. CRM software can be expensive and occasionally difficult to manage, but the right solution will be worth the organizational support it provides.
---
Read Next: 10 Best Project Management Software
---