Information kept in team or departmental silos does not serve well any team in sales, marketing, customer service, project teams, or the whole organization. With the main goal of meeting customer demands, companies are now implementing a single platform with connected business data. Combining CRM, project management, time tracking, and other tools can provide companies a multitude of benefits.
Table of Contents
Featured Partners: Customer Relationship Management Software
What Is CRM Software for Project Management?
Customer relationship management (CRM) software lets users manage customer information and interactions to improve business relationships. A CRM helps companies connect to customers, keep them engaged, and provide them a delightful experience so they buy repeatedly, become loyal customers, and make referrals. On the other hand, project management software provides users with an application that supports best practices and processes to achieve goals efficiently.
Knowing how to use a CRM for project management can help bring together two business applications in a single platform to unify data and achieve the common goal of serving customers and keeping them satisfied. The CRM part keeps the focus on the customer, while the project management part helps define tasks, identify resources, and track efforts through to completion to benefit the customer.
Best CRM Software for Project Management
Here is a list of top CRM project management solutions that allow companies to meet customer experience expectations, scale easily to different levels of growth, and maintain processes with ease of use.
Salesforce
Salesforce is a cloud-based CRM platform for businesses of all sizes. It is an integrated platform that connects sales, service, marketing, e-commerce, and other products to provide users a single source of information. The CRM is scalable and flexible and can provide applications to any company in any industry with speedy implementation.
Salesforce offers a CRM project management approach through its app-builder platform. Low-code builders with point-and-click interfaces let users quickly wbuild modern cloud and mobile solutions. Programmers can use any coding language to build PM apps. The AppExchange marketplace offers ready-to-use components that integrate with Salesforce. The app marketplace includes dozens of project management apps and components both free and paid.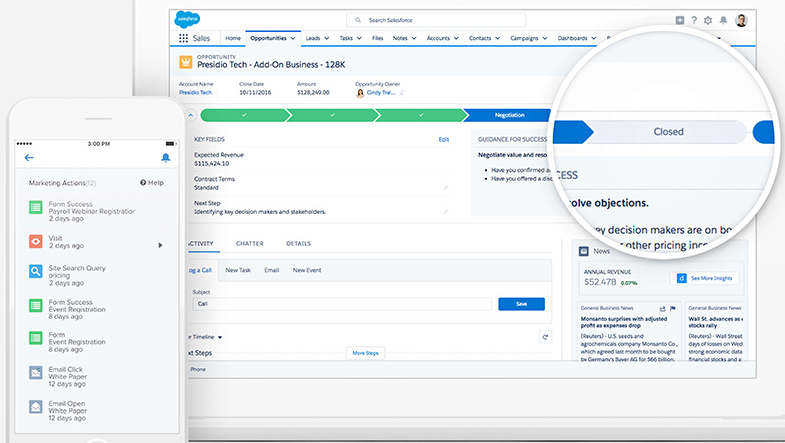 Pros
Plenty of partner applications and integrations
Contact and account management
Intuitive pipeline management
Cons
Bulk/batch actions need improvement
Automation requires training
Asana
Asana is a work management platform with project management features. It has features useful for different teams in marketing, sales, product development, and operations. Sales and account management teams can use the software to define processes and improve efficiency so team members can focus on engaging prospects and winning customer loyalty.
Asana can improve collaboration across teams. Users can turn best practices for closing deals and onboarding clients into templates. Status reports can be created from data into charts and other visual highlights. The PM software also has features to streamline pre-sales requests, automate onboarding of new customers, and monitor real-time status of accounts to always deliver outstanding service.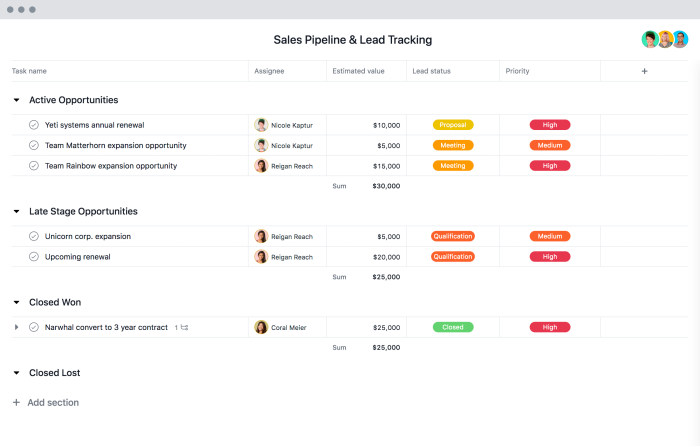 Pros
Task prioritization and management
Project collaboration with internal and external teams
Document management and versioning
Cons
Users wish for smarter alerts and notifications
Needs simpler navigation like Back button options
Wrike
Wrike is a versatile project management application that teams can use as a simple CRM. Users can customize this M solution to help track sales leads and manage projects seamlessly. When configured properly, the software can help businesses acquire, organize, and update leads and contact information.
Wrike provides teams a single platform to keep all contacts, project timelines, and communication. It streamlines the process of determining goals, identifying priorities, organizing customer folders, delegating tasks, setting deadlines, and tracking leads and clients. Useful features are client list views, custom status, automated updates, intake forms, shared calendars, Gantt charts, and various reports.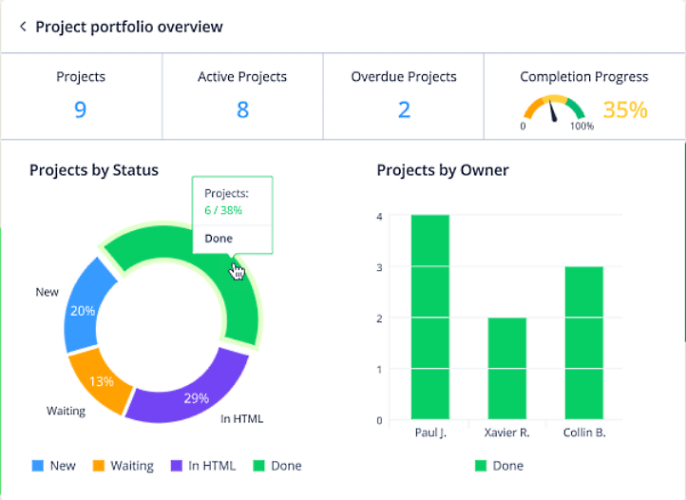 Pros
Documentation and note-taking
Easy project collaboration
Work tracking and reporting
Cons
High learning curve
Customization takes time
monday Sales CRM
monday.com is an online platform that allows teams across the organization to manage and collaborate on work visually. Simple to set up, users quickly get a CRM with tools to capture and manage leads, manage contacts and pipelines, create customer projects, launch marketing campaigns, and track teams and tasks.
monday Sales CRM has a flexible drag-and-drop interface, custom automations, industry-specific templates, and powerful integrations to help teams build an application for their exact needs. Its CRM project management solution creates alignment between project, marketing, sales, and support teams. It also promotes visibility that shows in real-time where a project is within the process.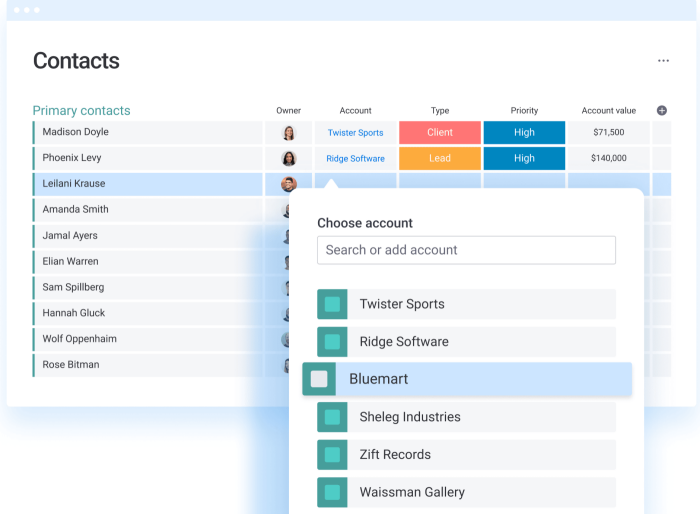 Pros
Task prioritization and management
Scheduling and timeline tracking
Responsive customer support
Cons
Can be overwhelming to new users
Limited online video tutorials
Insightly
Insightly is CRM software with project management features. It helps align teams across the organization by providing unified customer data valuable for marketing, sales, project management, and service activities. This integrated approach gives users all the information they need to build a complete view of the customer across the entire buying lifecycle.
Insightly allows users to customize standard processes of contact, lead, and opportunity management with custom fields, objects, and apps. It also has dynamic page layouts, calculated fields, and lambda functions. Its unified CRM and project management tools enable users to quickly convert closed opportunities to projects, set milestones, clarify order details, check inventories, and assign tasks automatically.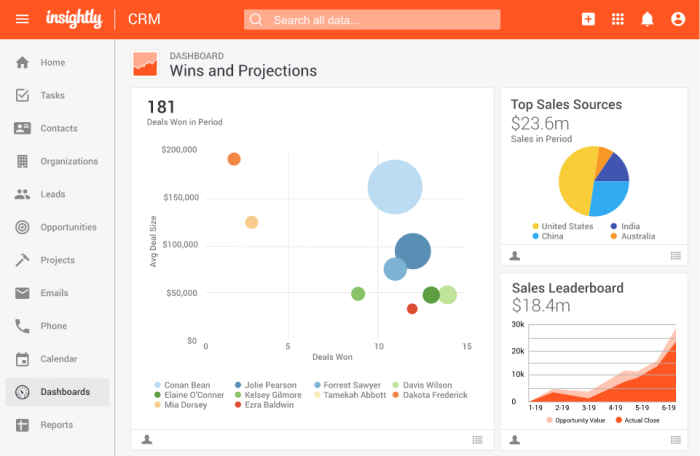 Pros
Dynamic dashboards
Easy customizations
Unified, organized company data
Cons
Takes time for familiarization
Uploading contacts in bulk can be slow
vTiger
vTiger is a CRM solution for SMBs with free and paid online plans as well as open-source downloadable editions. It has an intuitive and fast interface that users can easily adopt. It provides a comprehensive view of the customer and valuable insights through built-in AI tools. The software can also integrate with many popular third-party applications.
vTiger CRM helps streamline operations and enhance the performance of teams across sales, marketing, and the help desk. It has integrated project management tools for quickly building projects related to customers, deals, or cases. It has Gantt and Kanban board views, tasks and subtasks, time tracking, and integrated invoicing.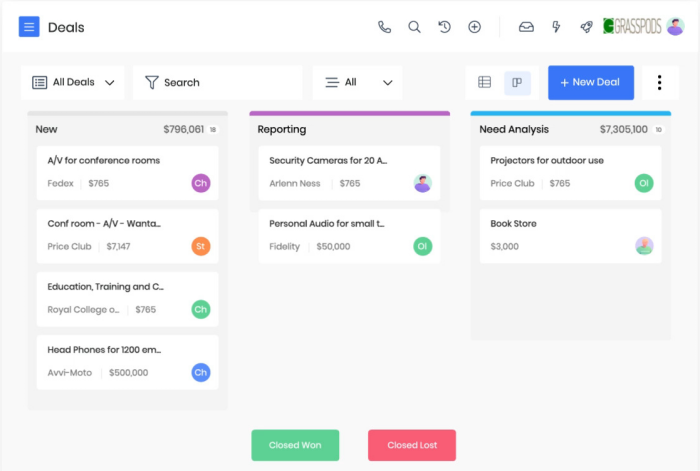 Pros
Contact and account management
Roles and access permissions
Open source customization and integration
Cons
Recent updates include glitches not yet fixed
Lacks time tracking functionality
Accelo
Accelo is a cloud-based CRM for professional services. Its automation helps boost productivity and profitability across service businesses. Sales automation updates the CRM with every client interaction. It helps drive the process and send alerts when things are getting off tracked Other features include team scheduling, client records, team inbox, and automatic tracking and sharing.
Accelo can convert any quote into a project in one click. Built-in project collaboration tools help teams reach deadlines, whether working on sales leads, support issues, or campaign projects. It has drag-and-drop Gantt charts, task management, expense tracking, and client portal. The software also has time tracking, invoicing, and reporting tools.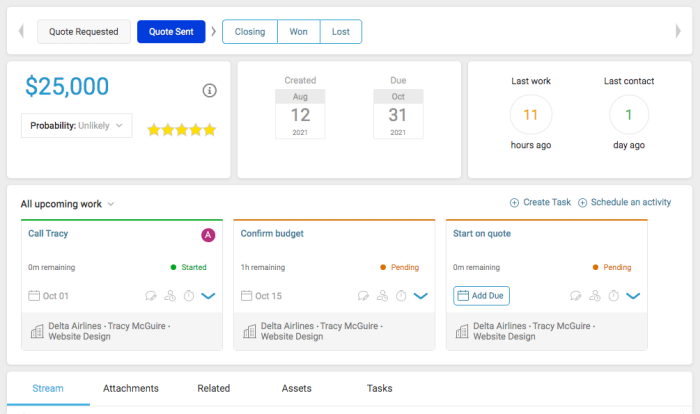 Pros
Shared client and contact database
Mobile access
All-in-one solution and connected workflow
Cons
Lengthy setup time
Missing automated prioritization of task assignments
Bitrix24
Bitrix24 is an all-in-one platform that includes CRM and project management tools. It enables collaboration through group chat, video calls, shared calendars, and an activity feed. The free CRM application help users grow their sales with features like an unlimited customer database, leads and demand generation, sales funnels and pipelines, analytics, automation, social media integration, and email marketing.
Bitrix24 also comes with an integrated project and task management that streamlines task assignment and delegation. It has automatic time tracking, reports, reminders and notifications, and deadline control. Other advanced features include custom roles, filtering by roles, task templates, dependencies, recurring tasks, checklists, and custom fields.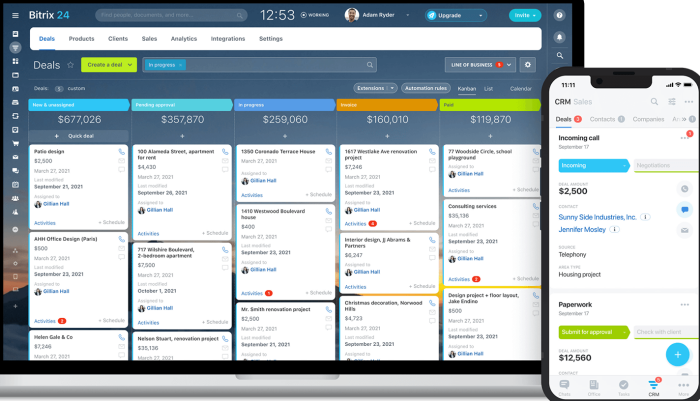 Pros
Integrated solution
Runs across platforms and devices
Smart chatbot/task assistant
Cons
Too complex for simple needs
Customization requires costly professional service team
TeamWave
TeamWave is an integrated CRM, project management, and HR solution. It provides a single platform for companies to manage their sales, projects, teams, and clients. It has a contacts database that provides a clear customer overview, a visual sales pipeline that prompts teams to take action, and a team calendar to schedule and track important dates.
TeamWave replaces several apps and helps users save on per-user charges. It has a user-friendly interface, web and mobile apps, and Google apps integration. Other features include an interactive list view, sales forecasting, task management, project management, HRMS, reports, team collaboration, and customization.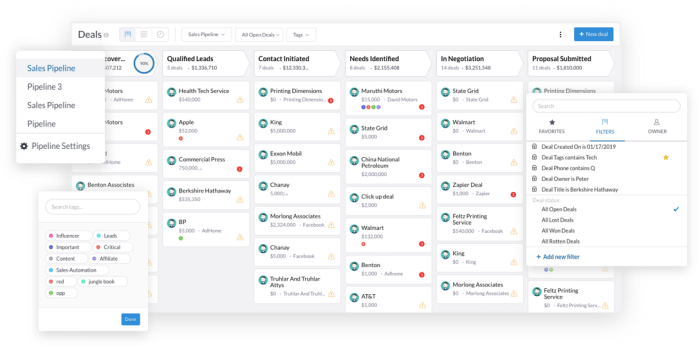 Pros
Integrated business system
Mobile app
Leads and opportunities management
Cons
Needs additional online resources about features for new users
Supports English language only
BigContacts
ProProfs BigContacts is simple CRM software with email, contact, and task management features. It lets small businesses keep customers and prospects organized, automate saless and marketing tasks, and tracks contacts, tasks, and schedules. Users can capture more leads, convert more opportunities, and retain more customers.
BigContacts include tools for tracking sales pipeline, stages, and commissions. It has email marketing automation, data import tools, customization, and 24×7 support. Users can take advantage of ready-to-use reports or create their custom reports for analyzing teams, leads, or campaigns as needed. It also has tools to connect to social media and a mobile-friendly site without the need to download any app.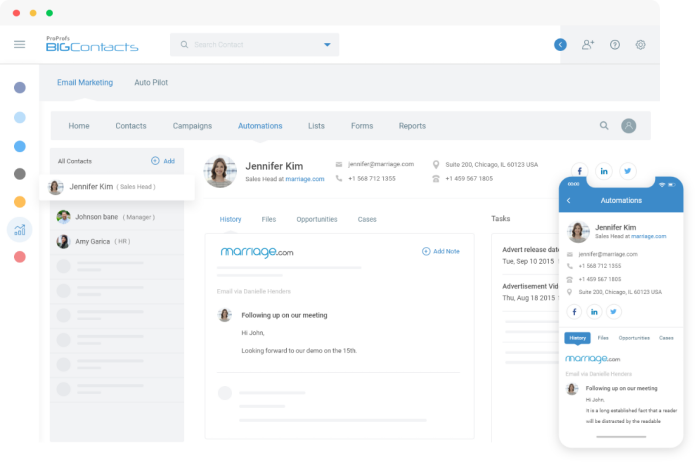 Pros
Task management
Contact and account management
Ease of setup and use
Cons
Search tool needs improvement
Limited integration options
Featured Partners: Customer Relationship Management Software
What are the Types of CRM Software?
CRM software generally falls into three types, and project management functionality contributes significantly to all of them.
Operational
An operational CRM system helps streamline processes so users can better visualize the customer journey. Its tools help the user manage the multiple touchpoints and interactions with the customer. Together with automation, project management features allow operational CRM software to efficiently create tasks that teams perform to identify the leads that are most likely to convert into customers. It can also turn any issue or request into a task or project to ensure customer support and satisfaction.
Analytical
An analytical CRM system uses data analysis to help businesses determine better ways to serve the customer. It gathers customer information, helps set business methodology, and analyzes KPIs to improve the CRM's effectiveness. CRM and project management features can help teams identify the best channels to gather information, create tasks to monitor channel performance, and generate reports to help users decide where to focus their efforts.
Collaborative
A collaborative CRM system facilitates the sharing of customer information across the whole organization in an accessible way. Every department can understand better how they can help acheive the overall goal of fulfilling a customer's need. Client projects that involve cross-functional teams are able to collaborate better with features like comments and file attachments alongside tasks to provide proper context. Task dependencies help identify the location or responsibility causing the delay.
Must-have Features of CRM Software for Project Management
Here are some of the essential features to look for in a CRM project management solution.
Centralized data – Provides teams easy access to comprehensive, up-to-date, and consistent customer information.
Ease of use – Intuitive design and navigation, point-and-click tools, and drag-and-drop builders let users spend more time on customers than on the CRM.
Built-in collaboration – Expedites communication between teams.
Process integration – Facilitates seamless handover from pre-sales to post-sales activities.
Visual tracking – Enables teams to track leads, deals, projects, tasks, communications, and issues.
Customization – Helps improve processes, provide more insights, and deliver improved customer experiences.
Dashboards and reports – Provide on-demand metrics and project information related to marketing, sales, and customer service.
Project templates – Allows teams to quickly set up projects and workflows without the need of project management training.
Automation and integration – Smart alerts and notifications remind users of important activities for their leads and customers. Direct integrations help extend and scale the CRM software.
Read next: CRM Strategy & Uses for Small Business