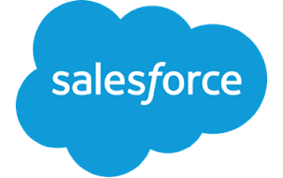 Overview Presentation
Salesforce
is a customer relationship management platform (CRM) offering several cloud-based applications to help companies provide satisfaction to their customers. It offers a comprehensive set of applications, from sales and marketing, to customer service, encompassing all aspects of customer engagement and interface. It leverages cloud computing, which is more affordable than traditionally installed software. Automation and advanced features also helps users streamline their business process, and create faster returns on their investment.
Features, Benefits, Strengths
Comprehensive, Modular Sales Applications – Salesforce has applications for a wide area of customer interface. It has apps for Sales, Service, Marketing, Community, Analytics, Platform and Apps, Internet of Things, and Commerce. Users have more options in every module. For example, under Sales, users can choose SalesforceIQ, which is a small business CRM solution. They can also choose Sales Cloud, which has contact management, opportunity management, personalized sales campaigns,  social network Chatter, and more. They can also select only Quote-to-Cash, which automates configuration, pricing, quoting and billing.
Customer Service, Online Communities – The CRM platform offers call center software, self-service portals, social, mobile and other channels to enhance customer service experience. A unified console enables agents to manage and resolve cases faster. A knowledge base that is easy to search helps agents and customers find relevant answers. Community Cloud enables customers, partners and employees to directly connect for information, tools, and expertise they need. Built-in artificial intelligence empowers agents with recommended solutions, while providing the best offers and content to community members.
Marketing, Analytics, App Building, and more – Salesforce provides the platform for users to create personalized interaction and campaigns across all channels. Users can use email, mobile, social, advertising and web channels to provide their customers with the right content at the right time. Analytic tools help users collect data, drill into them, and find new opportunities. The App Cloud enables companies to build, run, manage and optimize apps to help them provide better services to their customers. The CRM platform also supports IoT connection and commerce solutions.

Pricing
Salesforce is a platform supporting a variety of products that can be used as standalone or together. Each product is priced differently. Users can combine products and subscribe to what they need, such as Sales + Service. Furthermore, it has products specially tailored for specific industries, such as the automotive, communications, financial services, healthcare, high technology, and more. A free trial for 30 days is available.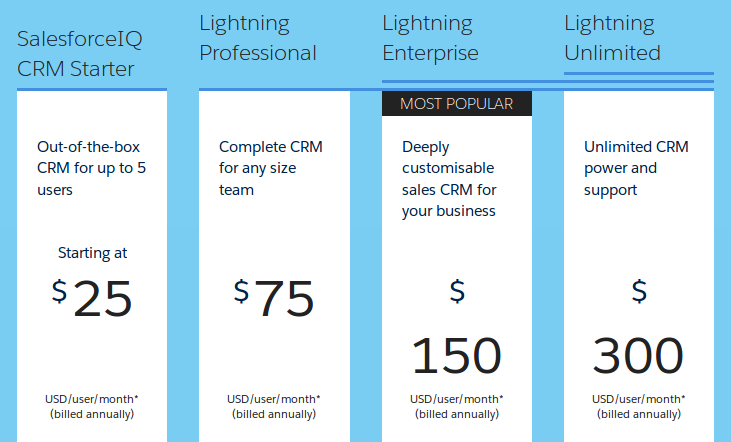 Social Network Presence
Target Market
Salesforce
is for businesses with CRM requirements. The different products can be used by companies of all sizes. Tailored packages are available to specific industries as well.
Supported Languages
Salesforce has 3 levels of language support: fully supported languages, end-user languages, and platform-only languages. Fully supported languages include Chinese (simplified/traditional), Danish, Dutch, English, Finnish, French, German, Italian, Japanese, Korean, Brazilian Portuguese, Russian, Spanish, Swedish, and Thai.
Some of their Clients
Clients include Aston Martin, L'Oreal, Zurich, Changi Airport Group, InMobi, Lazada, Shopline, SmarTone, StarHub, and Telstra.

Testimonials
Ryoma Eguchi of The Executive Centre stated that Salesforce provides the solid platform that the business needs to achieve 100-percent growth. Kannikar Chalitaporn of Siam Commercial Bank stated that the CRM platform allows them to innovate continuously, finding more ways to bring exceptional service to their customers. Catherine Ong of Sony Electronics stated that the automation that the software provides improved efficiency, accuracy and access to information.
Why Salesforce?
Salesforce is a highly ranked CRM platform being used by companies all over the globe. It is a product that leverages cloud computing technology, and therefore, provides users flexibility, scalability, and rapid implementation. It is also known for providing strong customer support and product innovation.
Company Info
Salesforce.com, Inc is is a global IT and services company with headquarters in San Francisco, CA, USA. It has offices in the USA, Canada, Mexico, Brazil, in many countries in Europe, in Israel, in Morocco, in Australia, New Zealand, Singapore, China, Hong Kong, India, Japan and Korea. It was founded in 1999 by Marc Benioff, CEO, and Parker Harris, EVP Technology. The company went public in 2004. It has a total of 44 acquisitions and is investing in more than 10 startup companies. It is a Fortune 500 company, and one of the fastest in rising among the ranks.