You've heard the age-old saying, "teamwork makes the dream work." But how can your organization make frictionless collaboration happen in fully digital, hybrid settings? Full-features collaboration software makes it easier than ever to do just that. So to get your team fully connected and collaborating, read on to learn about our top team collaboration software picks.
Our Picks
Best For
Pricing Starts At



Try Slack


Best for Asynchronous Team Communication

Free to try • Paid plans starting at $7.25 per user/month*

See details


Try 1Password


Best for Secure Password Sharing

Free to try • Business plans starting at $7.99 per user/month*

See details


Try Loom

Best for Video Recording & Screen Sharing
Free to try • Paid plans starting at $12.50 per user/month*

See details


Try Miro

Best for Team Brainstorming
Free to try • Paid plans starting at $8 per user/month*

See details


Try Confluence

Best Wiki Database for Collaboration & Knowledge Sharing
Free to try • Paid plans starting at $5.75 per user/month

See details

Try Google Drive

Best for File Management
Free to try • Paid plans starting at $6 per user/month

See details


Try Zoom

Best for Virtual Meetings
Free to try • Paid plans starting at $149.90 per user/per year

See details
*Reflects pricing when billed yearly
Featured Partners: Project Management Software
Our Picks: Top Collaboration Software

Slack: Best For Asynchronous Team Communication
With over 10 million daily users, Slack has a reputation for helping teams increase productivity and team transparency through asynchronous chat. Regardless of physical location, Slack empowers users to connect with each other through individual chats, multi-user group chats, and personalized channels (organized by unique title following a #).
---
Read our full review of Slack
---
In addition to Slack's chat functionality, it enables users to launch instant audio and video calls (called huddles), send and receive audio notes, and record meeting notes and personal reminders. It integrates over 2,600 apps, such as Google Calendar, monday.com, Salesforce, and Jira, making it convenient for teams to work in applications across their tech stack without navigating away from Slack.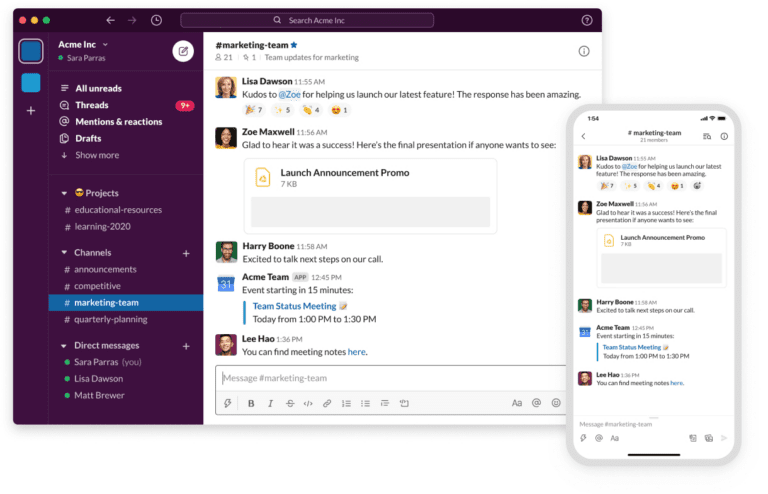 Key Features:
Video and audio calling: Slack makes it convenient for teams to communicate across various mediums. In addition to asynchronous messaging, Slack enables users to start instant audio and video calls for quick communication.
Automation options: Workflow automation options help eliminate repetitive tasks, such as sending scheduled/reoccurring messages, updating team members on your status, and more.
Canvas for planning and note-taking: Slack's Canvas feature allows users to capture notes, project details, embedded files, and updates within a larger space so that updates can be laid out and displayed easily when shared with team members within the Slack interface.
Pros & Cons
Pros
Cons
• Integration options: Numerous integrations help connect your organization's entire tech stack in one place.

• Workflow automations: Slack's Workflow Builder feature streamlines routine tasks and processes through automation.

• Security & Access Settings: Adjustable permissions/access to specific channels.
• Expensive pricing: Business and Enterprise plans can be expensive for larger teams who need to pay for more seats.

• Numerous notifications: Slack's default notification settings include many notifications for users, which can be overwhelming and distracting throughout the day.

• Integration linking: Integrations often need to be relinked over time.
Why We Chose Slack
Slack is an incredibly intuitive and helpful communication tool, especially for remote-based or large teams that often lack the ability to collaborate in person. Additional productivity features, such as workflow automation, on-demand call options, and document-sharing capabilities, give Slack additional value for teams who came for the communication features but stayed for the productivity add-ons.


1Password: Best for Secure Password Sharing
1Password is a password management system that enables teams to securely store and share passwords with just one master password per user. A recent study from LastPass revealed that the average business user has 191 passwords or more—multiply that times the number of employees within your organization, and you've got a plethora of essential, highly critical information to manage.
---
Read more: 10 Best Project Management Software for 2023
---
When users need new password suggestions, 1Password can recommend a secure password and store that login information automatically, keeping it available for instant recall when a user needs to autofill credentials later on.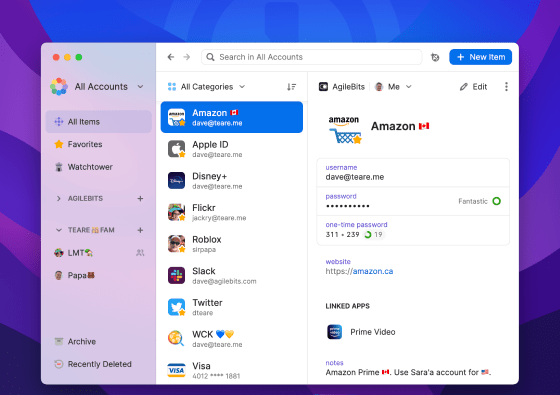 Key Features:
Password autofill: Users accessing any site with a saved password can autofill their credentials without needing to look up individual passcodes in the 1Password vault.
Browser extension: 1Password is available as a built-in extension to browsers such as Chrome, Brave, Firefox, Edge, and Safari, so it's easier to access the vault and prompt password auto-fills.
Data recovery: 1Password automatically recovers your data in the event of a crash or power interruption, so your sensitive information is always safe.
Pros & Cons
Pros
Cons
• Password security: Great security in-app and password suggestions make it easier to maintain secure accounts.

• Convenient and easy to use: Easy to navigate, including convenient features such as color-coded 0's and O's for clarity.

• File storage: 1Password allows users to store other things as well, such as contacts and other data, including attached files within the vault.
• Lack of password prompts: Prompts don't always remind users to save passwords, making it easy to forget to record them within 1Password.

• Limited support options: Currently, there are no live or phone support options for users who need to troubleshoot or get help.

• No free version: 1Password offers a free trial, but no free version.
Why We Chose 1Password
1Password is an excellent choice for secure password and file storage, but more importantly, for enabling teams to share credentials instantly for seamless access to crucial applications. As organizations scale and grow, 1Passwords vault capabilities, keychain management, and secure password suggestions can help ensure your team stays connected securely.


Loom: Best for Video Recording & Screen Sharing
Loom is a video recording and screen-sharing service that allows users to capture screen recordings, with or without showing themselves on camera. Users can capture recordings in three ways: through a Chrome extension, desktop application, or mobile device.
---
Read more: 10 Best Project Management Tools For Remote Teams 2023
---
In addition, users can store video recordings in organized folders, house screenshots, and more, from within Loom's interface.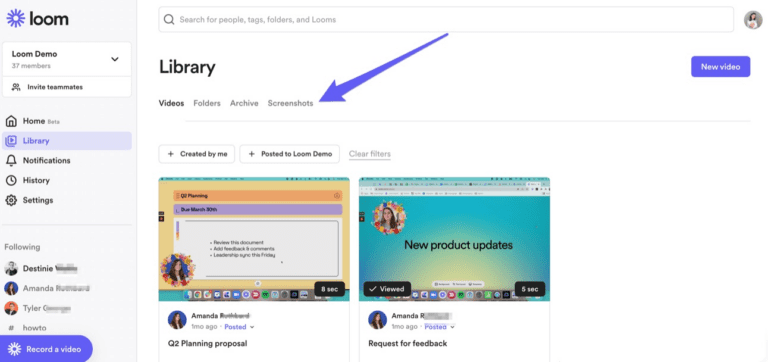 Key Features:
Password protected videos: Business plans and higher can benefit from the ability to password-gate individual videos, making it easier to control who can access videos.
Artificial intelligence-generated content: Loom offers AI-powered add-ons that automatically generate captions, video titles, and more.
In-app sharing: Users can share full-length videos and video clips directly from the app.
Pros & Cons
Pros
Cons
• Browser extension options: Loom's browner extension add-on makes it easy to start recording without accessing the app itself.

• AI production automations: Auto-generated titles, captions, and transcription make it easy to get videos up and going faster.

• In-app editing: Ability to trim and edit videos in-app before sharing.
• Viewer details: Limited access to viewer data, including how the viewers accessed the video (through email, etc.)

• Slow processing: Video processing can be time-consuming and slow.

• Recording limits: For free plan users, recordings are limited to 5 minutes.
Why We Chose Loom
Loom is a great asynchronous communication option for teams' collaboration toolboxes. The ability to share screen recordings improves team collaboration, regardless of location, while helping teams store and document key standard operating processes in one secure application.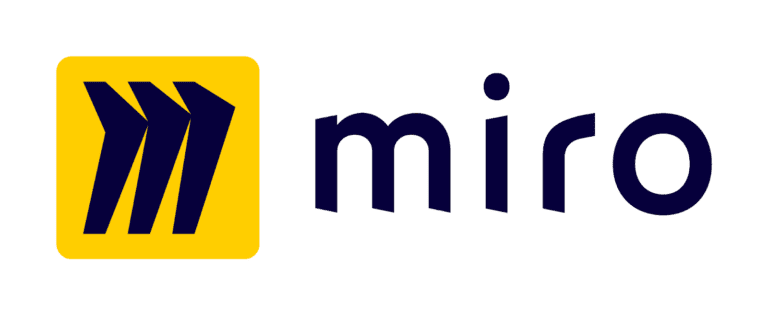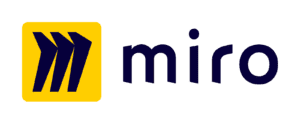 Miro: Best for Team Brainstorming
Miro is a virtual whiteboard that helps teams simulate the experience of brainstorming, idea mapping, and planning collaboratively within one application. Included within Miro are a variety of templates for teams to collaborate within, from Kanban boards, mind map formats, Venn Diagrams, and team meeting agendas.
---
Read more: 10 Task Management Tools to Improve Team Collaboration
---
Miro comes with a variety of tools for collaboration, from Post-It note-style blocks, freehand drawing tools, text boxes, and more.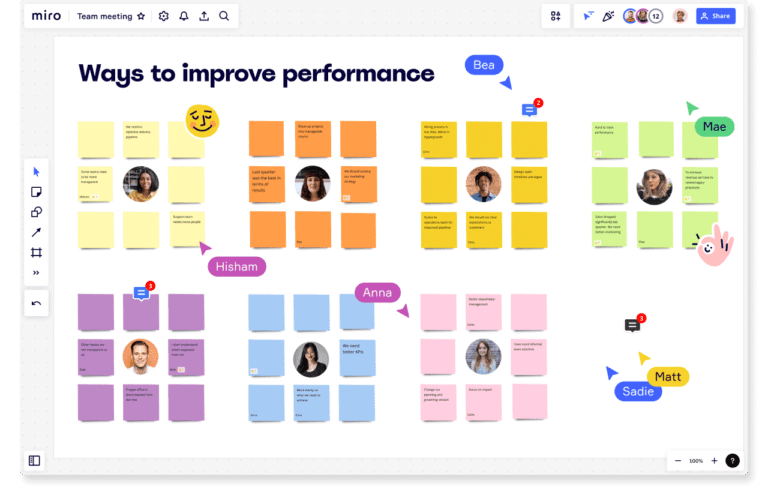 Key Features:
Timer options: While teams work within a Miro board, they can set timers to limit brainstorming sessions and keep track of the allotted time.
Spreadsheet import: Users can import existing spreadsheets, making it easier to combine existing documentation with new ideas or save notes without navigating into another application.
Templates: Miro comes standard with a variety of templates for brainstorming, project planning, and more—saving teams time once a session begins.
Pros & Cons
Pros
Cons
• Integration options: 130 native integration options are available within Miro, such as Teams, Zoom, Atlassian products, etc.

• Variety of templates: Compared to other mindmapping solutions, Miro offers a wide variety of templates, such as flow charts, service blueprints, and Kanban frameworks.

• Project management capabilities: Some standard project management included, such as due dates, tagged comments, and team alerts.
• Locking down setups: It can be time-consuming to lock all objects on a board while trying to set up a board in a particular fashion.

• Load times: Occasional lags when multiple people are working within one template.

• Board navigation: Learning to use and navigate the board itself can be challenging (learning to zoom vs. move around etc.).
Why We Chose Miro
Miro is a stand-out option that can help bridge the gap between in-person ideation sessions and virtual ideation for large teams, hybrid teams, and remote teams. A variety of premade brainstorming templates help facilitate ideation and strategic planning for teams regardless of industry or intended use case. With flexible tools and the ability to host up to 100 users on a board at one time, Miro is a great virtual collaboration tool for product development, mind mapping, recording meeting notes, and much more.


Confluence: Best Wiki for Collaboration & Knowledge Sharing
Created by Atlassian in 2004, Confluence is a wiki database that allows teams to house data, share updates, store essential documents, and collaborate more effectively. Confluence is designed as a remote-friendly, single source of truth for knowledge sharing, process documentation, and even project management.
---
Read our full review of Confluence
---
Each organization's Confluence dashboard is comprised of spaces, such as blogs, work pages, documents, and notes. Within each space, users can collaborate with other users, ideate within Whiteboards, and even use integrations to transfer information back out into other essential applications within your team's tech stack, such as Jira Software, Google Drive, and Slack.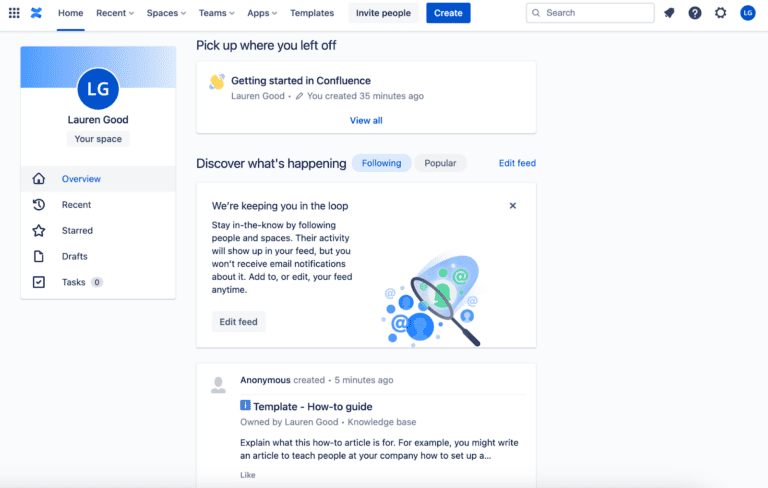 Key Features:
Content tree organization: Teams can organize projects and data within a custom content tree, streamlining organization and simplifying document storage.
Template options: Confluence includes built-in document templates so teams can jump right into brainstorming, project planning, and more.
Jira conversions: Sticky notes and items created in Confluence can automatically become Issues within Jira all in a few clicks.
Pros & Cons
Pros
Cons
• Admin controls: Advanced access permissions and admin controls.

• Collaboration-focused design: Confluence enables users to work together and communicate across various formats, from commenting, real-time collaborate boards, and team feed updates.

• Usability: Easier to use and understand compared to other Atlassian products. Confluence is a great starting point for less experienced teams.
• Formatting issues: Formatting issues and inconsistencies can arise from time to time (particularly with tables, graphs, and numbered lists).

• Expensive pricing: Per-user pricing and add-ons can make Confluence an expensive option.

• Limited integrations for Microsoft users: Limited integration with poor support for Microsoft products specifically.
Why We Chose Confluence
Overall, Confluence is a remarkably customizable wiki that can help your organization share knowledge while providing individual users space to create, ideate, and record essential data, from notes to videos, comments, and more. In particular, Confluence stands out as a top choice for existing Atlassian software users, as it can help add collaborative functionality to less collaboration-focused options from Atlassian, such as Jira Software and Jira Work Management.


Google Drive: Best for File Management
Google Drive is a cloud-based document and file storage service that allows users to store and view essential files across all their devices, from desktops to mobile devices. Within Google Drive's interface, users can organize files in folders (which can contain unlimited sub-folders), label folders with unique titles, and even color-code files.
---
Read more: Best PM Software for Google Workspace Users
---
Google Drive works seamlessly with other Google Workspace products, such as Google Slides, Google Sheets, Google Docs, and Gmail, to provide users with a streamlined file-sharing experience. Within Google Drive itself, users can easily share files with other users, create shared Drives, and even view minute-by-minute changes on files, organized by user.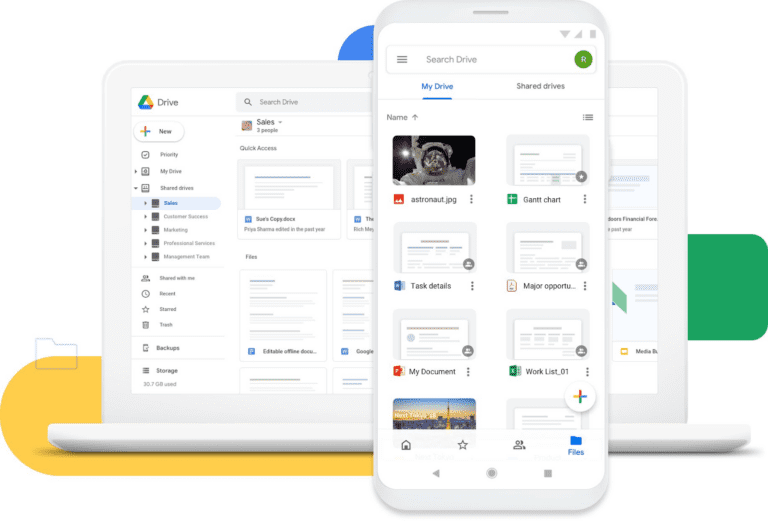 Key Features
Storage space: Every Google Drive user gets 15GB of file storage space from day one.
Integration with Google Apps: Google Drive works well with other G-Suite applications, allowing users to save Gmail attachments in Drive, move image files into Google Photos, and more.
Offline work: Google allows even free users to enable offline edit syncing, enabling users to work on the go, even if wifi is temporarily unavailable.
Pros & Cons
Pros
Cons
• Beginner friendly: Easy to learn and navigate with an intuitive interface.

• Offline work: The offline work feature allows users to work offline while syncing work.

• Import and export options: Allows users to store, share, and export files in a variety of formats.
• Revisions search: Revisions history can be hard to sort through when looking for specific edits.

• Import upload times: File imports can be time-consuming and slow.

• Daily file sharing limitations: File sharing and import options are limited to 750GB per user/day.
Why We Chose Google Drive
Google Drive is a superior option for document management and file sharing, making it incredibly easy to view and share data with a few clicks. The easy-to-navigate interface and seamless integration with other Google Workspace products make it an appealing option for teams who require secure storage for work files.


Zoom: Best for Virtual Meetings
Zoom is a collaborative meeting platform that offers users a variety of ways to connect in real-time, from video calling to audio calls, and instant messaging. Users can also schedule meetings ahead of time, including setting recurring meeting schedules, either from the Zoom app directly, or through integration with Calendar apps, such as Google Calendar or Outlook.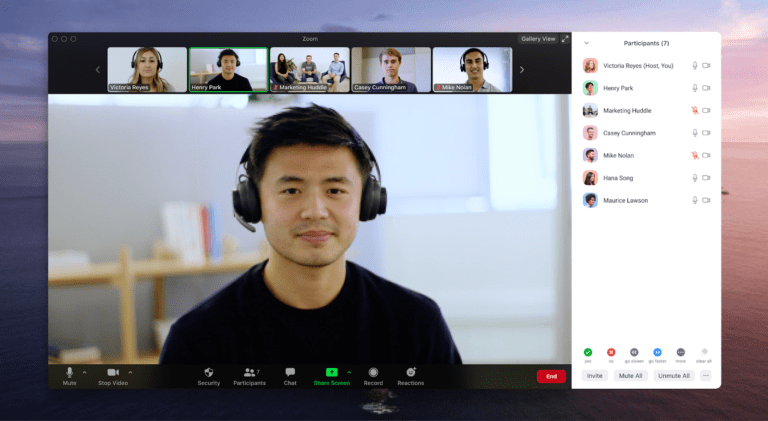 For business users who frequently host virtual events and webinars, Zoom Webinar can be purchased as an add-on for virtual events (minimum requirement of 500 guests required).
Key Features
Test meetings: If you want to test your internet connection, the quality of your video, or test out a new virtual background, Zoom offers a test call simulator for getting settings just right.
Meeting registrant import: Users can bulk upload registrants by importing a CSV file with the registrants' full names and email addresses using Zoom Meeting registration.
Waiting room options: Users can use the waiting room feature to place users in an outside waiting room until hosts are ready to start the call.
Pros & Cons
Pros
Cons
• Call customization options: Zoom offers extensive meeting customization options (e.g., recording, breakout rooms, screen sharing).

• Integration options: Over 1,500 integrations are available through Zoom Apps, such as Miro, Trello, Google Workspace Products, and Slack.

• More users than other video call providers: Zoom supports more users per call than Google Meet (1,000 vs. 250).
• Call time limits: Users on the free plan are limited to 40 minutes per call, whether attending or hosting.

• Internet bandwidth: Zoom consumes a lot of internet bandwidth, slowing down your internet for other users on your wifi.

• Audio and video clarity: The clarity of audio and video is often lagging/distorted at times, even for strong internet connections.
Why We Chose Zoom
Overall, Zoom stands out as a top choice for video calling and virtual meetings because of its numerous customization features and scalability. While Zoom's free plan may be limiting for most users due to meeting time limitations, its paid plans offer a lot of flexibility for larger organizations that require the freedom to host instant meetings, schedule recurring calls, or even host webinars. Compared to other virtual meeting solutions, like Google Meet, Zoom can support more users per call and provide users with more extensive security features and administrative controls.
Methodology
FAQs