Visual project management software enables project managers and teams to plan, track, and collaborate on projects buy providing a visual representation of project tasks, timelines, and dependencies, making it easier to understand and manage a project's progress.
We've reviewed dozens of options to put together this list of top visual project management software. Read on for all the details.
Featured Partners: Project Management Software
Our Picks


ClickUp: Best Full-Featured Visual Project Management Tool
ClickUp is a powerful project management tool that helps teams stay organized and productive. It offers a wide range of features and capabilities to streamline tasks, improve collaboration, and track progress. With ClickUp, users can create and manage tasks, set due dates, assign responsibilities, and track time spent on projects. It also provides customizable views and dashboards, allowing teams to visualize their work in a way that suits their needs.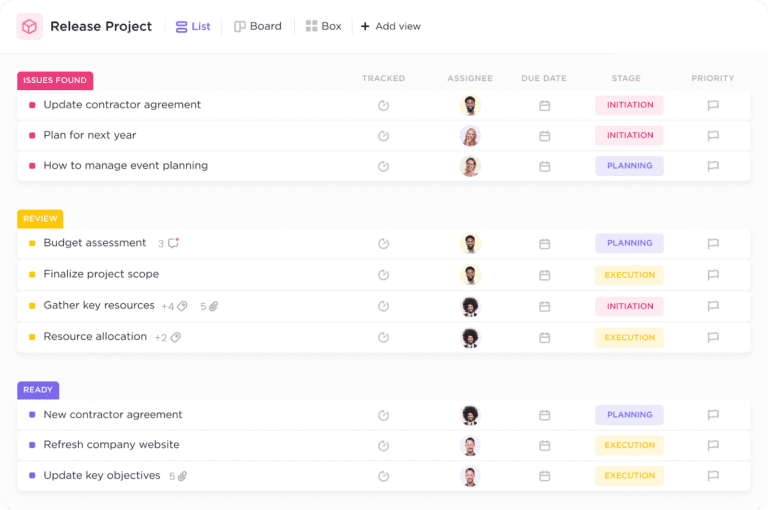 Pros & Cons
ClickUp Pros
ClickUp Cons
• 11 views available
• Loads of functionality for the priceHighly flexible, can be used for many industries
• Rich template bank
• Customizable fields
• Integrates with Google Calendar, effective for time blocking
• Free forever plan available

• Tends to be slow when processing large amounts of information
• Interface can be confusing
• Home screen is cluttered and not very customizable
• Mobile app is not intuitive
• Cannot switch between multiple accounts
---
---
Why We Chose ClickUp
ClickUp has a highly comprehensive feature set, making it a solid investment for its price. The platform offers 11 customizable task views, such as kanban boards, timelines, and Gantt charts, which enable teams to visualize their projects and track progress effectively. ClickUp also integrates with popular third-party apps, making it easy to streamline workflows and automate processes.


Wrike: Most Intuitive Gantt Chart Maker
Wrike is a project management tool that enables users to plan, organize, and track their projects in real-time. With Wrike, teams can create tasks, set deadlines, assign responsibilities, and monitor progress all in one place
Wrike offers a range of features such as Gantt charts, customizable dashboards, and automated reporting to help teams stay organized and efficient. The software integrates with other popular tools like Google Drive, Slack, and Salesforce, making it a versatile solution for project management across various industries.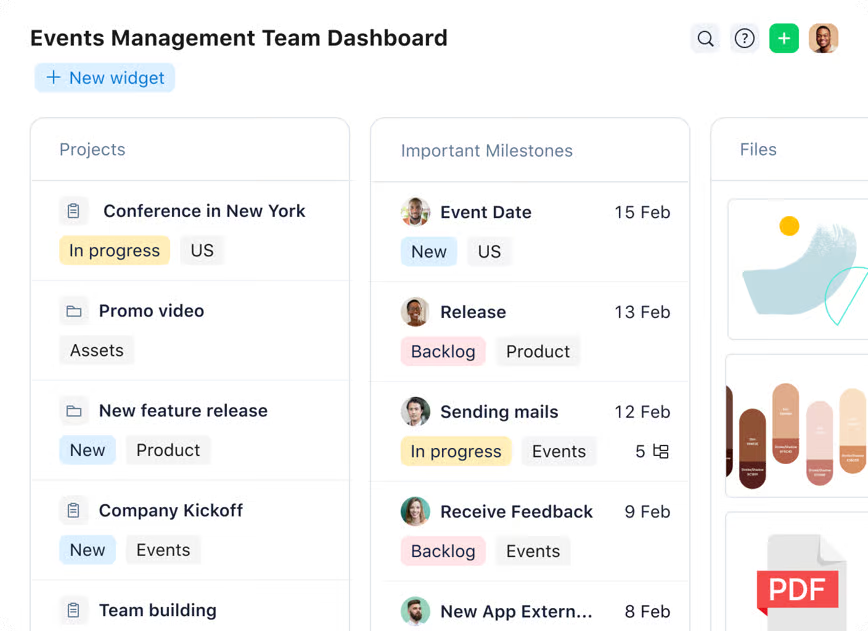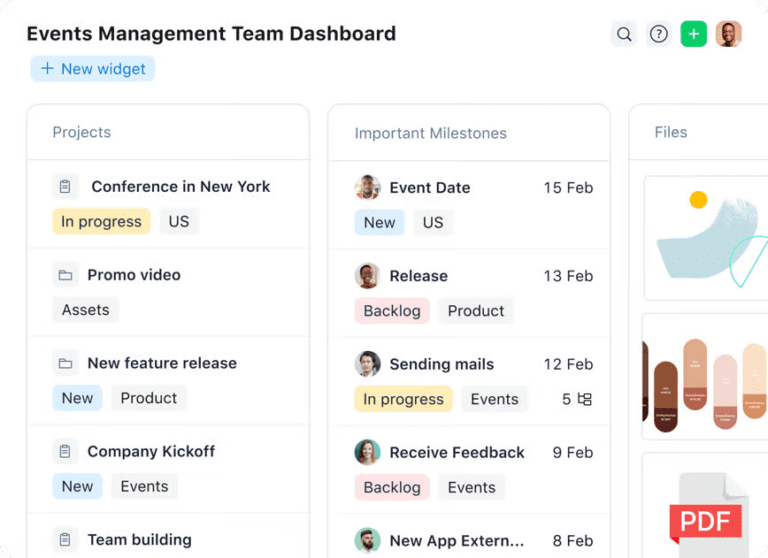 Pros & Cons
Wrike Pros
Wrike Cons
• Interactive and customizable tools for visualization
• Drag-and-drop interface
• Visual proofing available
• Several views such as portfolio management
• Customizable dashboards
• Templates available for personal work, work management, and project portfolios
• Smooth functionality
• Free forever plan available
• UI is not that intuitive
• Steep learning curve

---
---
Why We Chose Wrike
In addition to its powerful project management features, Wrike has the most customizable and intuitive interface for Gantt charts. Furthermore, Wrike offers robust customization options, allowing users to tailor the tool to their specific needs. This flexibility ensures that Wrike can adapt to different project management methodologies, whether it be Agile, Waterfall, or a hybrid approach.
In addition, Wrike offers advanced reporting and analytics capabilities. The platform provides real-time insights into project performance, resource allocation, and team productivity.


monday: Most Customizable and Visually Appealing Solution
monday.com is a versatile and intuitive project management software tool that helps teams collaborate and stay organized. It's a centralized platform where teams can track their tasks, projects, and deadlines in real-time.
monday allows you to create unique workflows that suit your specific needs. Features include task tracking, progress monitoring, file sharing, and team communication. The platform provides visual representations of project statuses through charts and graphs, making it easier for teams to analyze and report on their progress.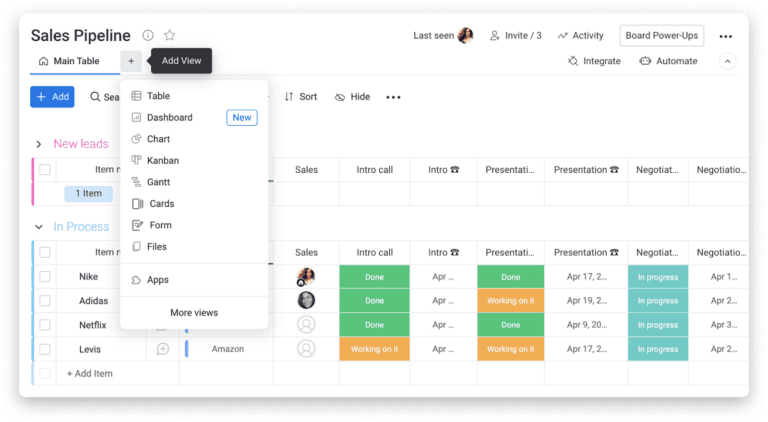 Pros & Cons
monday.com Pros
monday.com Cons
• Flexibility and wide range of integrations
• Ready-to-use automations
• Highly customizable
• Advanced reporting dashboards
• Generally intuitive but some tasks are not very straightforward (e.g. editing and commenting)
• Premium prices require at least three seats
• Limited mobile app usability

---
---
Why We Chose monday.com
monday.com's user interface is highly intuitive and visually appealing, making it easy for users to navigate and understand. The platform allows users to create and customize visual boards, which serve as a central hub for all project-related information. With the ability to drag and drop tasks, assign deadlines, and track progress visually, teams can easily collaborate and stay organized. Additionally, monday offers a wide range of integrations with other popular tools, such as Slack and Google Drive, further enhancing its functionality and convenience.


Asana: Minimalist Look but Powerful Features
Asana enables teams to collaborate efficiently and stay on top of their tasks. It allows you to create projects, assign tasks to team members, set deadlines, and track progress in real time.
Asana users can communicate within the platform, share files, and provide feedback on specific tasks. It provides insightful analytics and reporting features that help teams gain valuable insights into their project performance.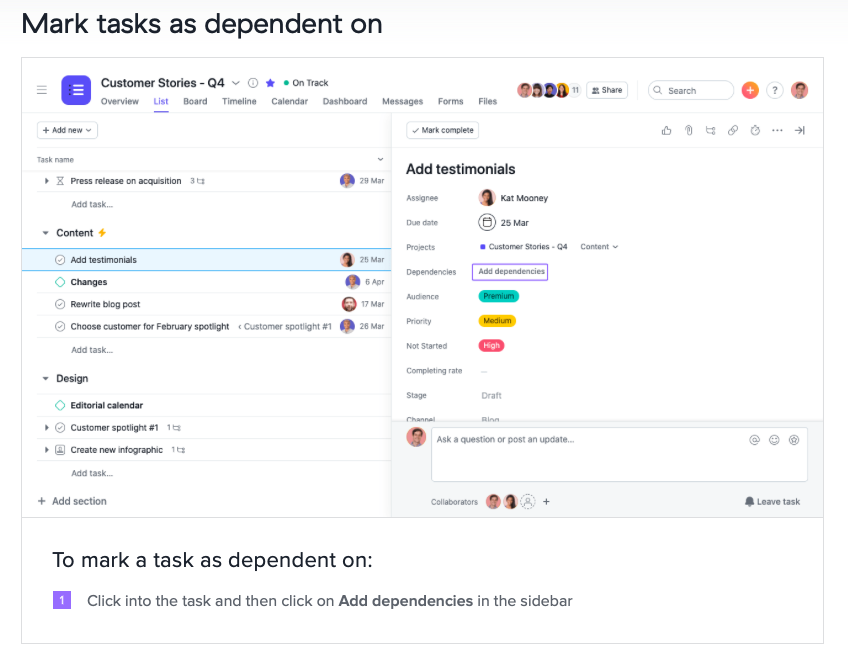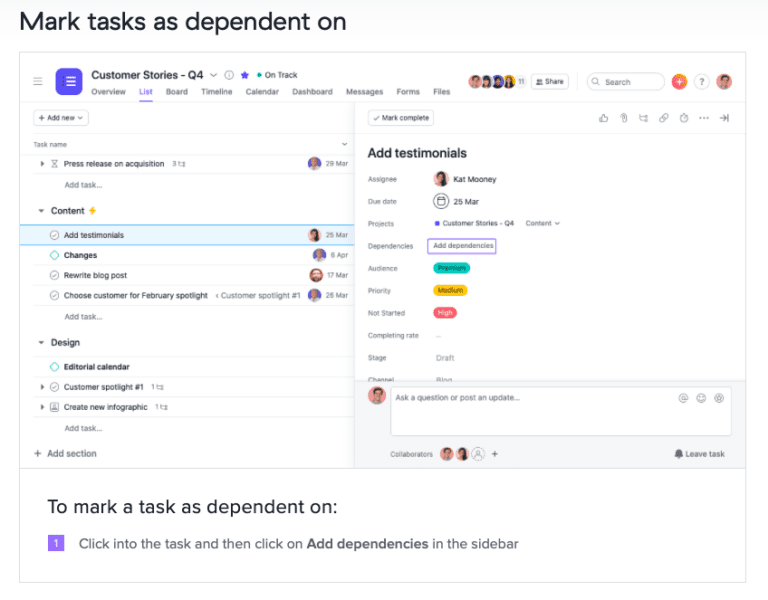 Pros & Cons
Asana Pros
Asana Cons
• Feature-rich
• Real-time reporting and insights
• Customizable fields
• Highly intuitive interface
• Great design
• Very efficient functionality
• Free plan for up to 15 members
• Priced generally higher than competitors
• Complex advanced features
• Single assignee for tasks
• No time-tracking functionality
• Limited flexibility
• Limited exporting functionality

---
---
Why We Chose Asana
Asana has an intuitive and visually appealing interface. Its visual layout helps teams stay organized and on track, as they can easily see the progress of each task and project at a glance.
In Asana, users can create custom fields, tags, and labels to categorize tasks and projects according to their specific needs. Asana also integrates with other popular tools like Slack, Google Drive, and Dropbox, allowing teams to seamlessly connect their workflows and access important files or information within the platform.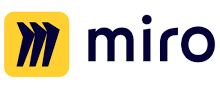 Miro: Best Online Whiteboard
Miro is a collaborative online whiteboard that allows teams to work together in real time. It's a virtual canvas where users can create, edit, and share various types of content, such as sticky notes, diagrams, charts, and images. Miro's extensive range of tools makes it easy for teams to brainstorm ideas, organize information, and plan projects. Video chat and screen sharing are also available in Miro.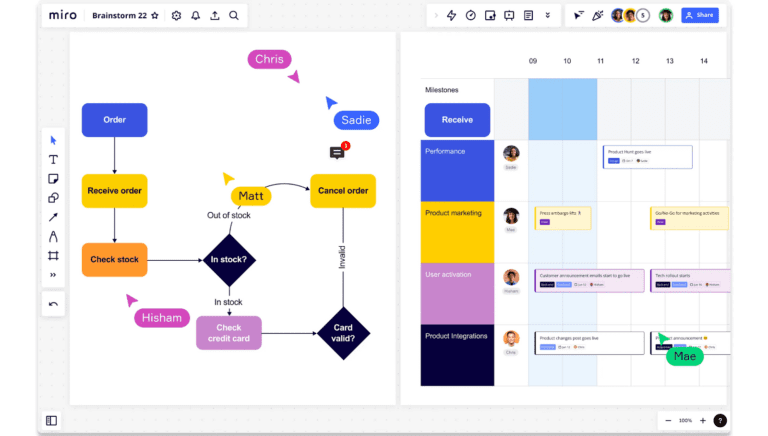 Pros & Cons
Miro Pros
Miro Cons
• Freeform approach is great for brainstorming
• Infinite space to mind map
• Smooth collaboration features, great for remote brainstorming
• Extensive tools for diagramming
• Templates available for different types of meetings
• Easily exportable diagrams
• Free plan available

• Interface is intuitive but usage isn't as straightforward
• Cannot save custom templates
• No project management features as such, but Miro creates visual timelines that are a crucial part of project management and progress visibility

---
---
Why We Chose Miro
Miro stands out as a visual project management tool due to its versatile and intuitive features as an infinite whiteboard. It offers a wide range of visual templates and tools that allow teams to collaborate and brainstorm effectively. Plus, Miro's real-time collaboration feature allows team members to work together remotely, enhancing productivity and efficiency.


Trello: Most Responsive Kanban Boards
Trello offers a simple yet powerful project management platform for managing tasks, creating to-do lists, assigning responsibilities, and tracking progress.
Users can create boards for different projects or departments, add lists to represent different stages of a project, and create cards to represent individual tasks. Flexibility and ease of use make Trello a popular choice for individuals and teams looking for a simple and efficient way to manage their projects.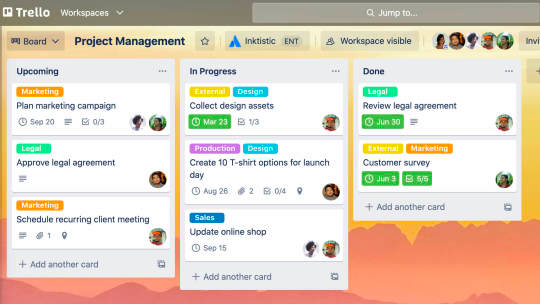 Pros & Cons
Trello Pros
Trello Cons
• Highly intuitive drag-and-drop interface
• Very smooth functionality
• Good automation features
• Powerful mobile app
• Team collaboration features
• Free forever plan available
• Not ideal for complex projects
• Additional features come in plug-ins and integrations called Power-Ups

---
---
Why We Chose Trello
Trello is a visual project management tool that stands out from its competitors due to its intuitive and user-friendly interface. The drag-and-drop functionality allows users to effortlessly create, update, and prioritize tasks, making it a breeze to keep track of progress. It also offers seamless integration with other popular tools, such as Google Drive and Slack, further enhancing its effectiveness as a project management solution.
Bottom Line: The Best Overall Pick
monday.com is our pick for the best visual project management software due to its advanced reporting features and viewing options. With monday, users can generate detailed reports that provide insights into project progress, resource allocation, and team performance. These reports can be customized to meet specific needs and can be easily exported for further analysis or for sharing with stakeholders. This greatly enhances project transparency and facilitates data-driven decision making.
In addition to its reporting capabilities, monday.com stands out for its aesthetically pleasing interface. The platform offers a clean and modern design that makes it easy to navigate and understand project information at a glance. The intuitive layout allows users to quickly grasp the status of tasks, identify any bottlenecks, and make necessary adjustments. This visual appeal not only enhances user experience, but also contributes to increased productivity and efficiency.
monday's project management software also offers a wide range of view options, providing users with flexibility in how they want to visualize their projects. From kanban boards to Gantt charts and timelines, there are various views available to cater to different project management methodologies and preferences. This versatility enables teams to adopt the most suitable approach for their specific needs, ensuring effective collaboration and streamlined workflows.
Finally, another key strength of monday.com lies in its intuitive functionality. The platform is designed to be user-friendly, with a straightforward interface that requires minimal training or technical expertise to use. This simplicity saves time while also reducing the likelihood of errors or misunderstandings.
FAQs: Features & Benefits of Visual Project Management Software
---
Read our picks for the year's top project management software: 10 Best Project Management Software Buyers' Guide
---