Professional services automation software enables organizations to run their business using a consolidated platform instead of multiple separate tools. Professional services organizations use PSA software like Mavenlink to provide integrated project management, resource management, project accounting, and team collaboration features for effective project, task, team, and revenue tracking. Customers looking for Mavenlink competitors and alternatives have several options available to them today.
Read also
:
Mavenlink Software
Table of Contents
Our Top Picks for Mavenlink Alternatives
Users in search of Mavenlink alternatives can explore our top project management software recommendations, which can provide full professional services automation functionality.
Back to top
Mavenlink Alternatives: What to Look for
Mavenlink project management software gives companies a single platform for greater control, clarity, and confidence in running their business and serving customers. Users in search of alternatives to Mavenlink should take note of the following important features, which are essential in professional services automation software:
Dynamic dashboards with real-time data across projects, tasks, and teams
Multiple work views, including portfolio and Gantt chart views
Resource planning tool with capacity forecast and resource allocation features
Business analysis tool for optimal utilization, performance, and profitability
Skills matching and management
Project management with visual task management and tracking
Billable and non-billable time and expense tracking, and timecard approval
Budget management and invoicing
Workflow customization and management
Project health metrics and reporting features for real-time insights
Process automation and reusable project management templates
Ready-to-use and custom reports with visualizations
Easy integration to third-party software
Seamless collaboration with internal team and external partners
Role-based, granular permissions and other data security features
Back to top
Top Software Alternatives to Mavenlink
Here is a list of the best software alternatives to Mavenlink, so your company or project team can find the best solution for your PSA requirements.
Asana
Asana
is work, task, and project management software that enables a team to organize from a big picture view down to the smallest details. It uses a data model that gives users all the tools and information they need to remain in sync, meet deadlines, and reach business goals. An integrated collection of tools and features enable teams to map out processes, organize details, automate tasks, customize their workspace, and monitor business revenue — regardless of company size. Asana offers multiple work views, including workload view to manage team members across projects. It has a visual workflow builder to connect teams, organize work, and streamline projects. Other features include work request forms, rules-based automation, reports, a template library, and native integrations to popular software.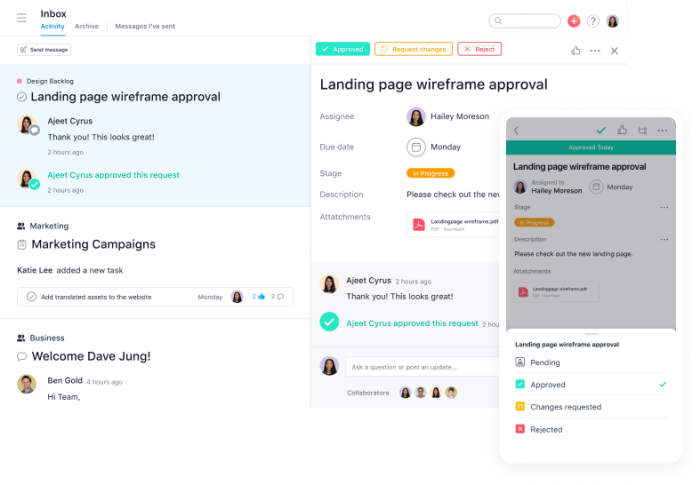 Pros
Task accountability and management
Project collaboration
Customizable workflows
Cons
Increasingly complex UI with more features
Needs better control for notifications and email alerts
Wrike
Wrike
is versatile project management software that enables a team to manage all the moving parts and ongoing processes involved in professional services. It is a customizable platform that offers a single, shared workspace to promote collaboration across the entire company that makes it easy to receive and share information. Wrike lets users share files, tasks, and reports easily. Users can view work with Gantt charts, Kanban boards, and team calendars. It also has ready-to-use templates, visual proofing, automated approvals, and expense and time tracking. Other features are dashboards, analytics, portfolio management, workflow automation, and integrations.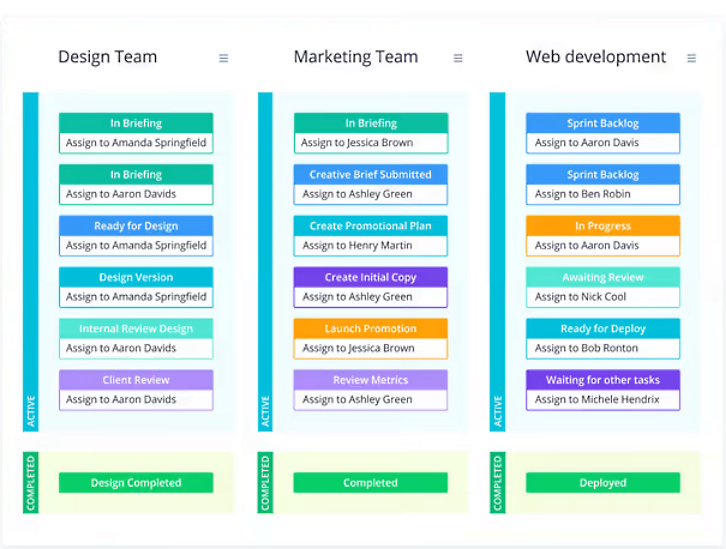 Pros
Task and workload management
Project collaboration
Visual builders and tools
Cons
Needs time tracking and clock improvements
Users wish for a more intuitive interface for new users
monday.com
monday.com
is a flexible and highly visual online work management platform. It's applicable to a variety of use cases, from coordinating software development to simple task management. A highly customizable table allows users to configure the application and create the workflow that fits their needs. monday.com includes ready-to-use templates, a drag-and-drop interface, and data visualizations. It also has real-time dashboards, mobile apps for iOS and Android, and exportable images that keep everyone updated. Features like workdocs, searchable boards, and file storage also support collaboration. It has a growing list of native integrations, as well as a marketplace for ready-made apps.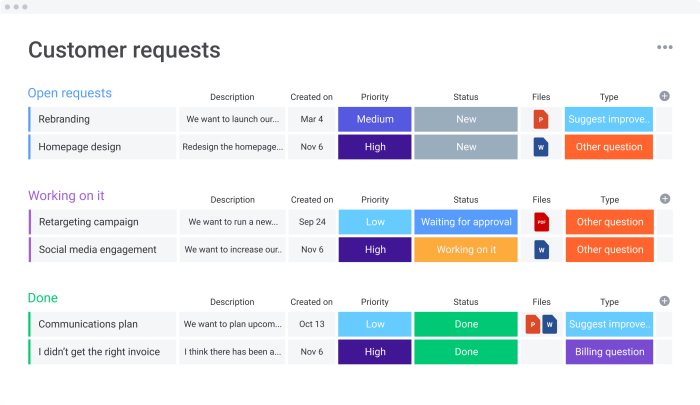 Pros
Task prioritization and assignment
Project scheduling
Flexible workflow boards
Cons
Advanced reporting and analytics are only available in the Enterprise plan
Users wish for enhanced resource allocation features
Smartsheet
Smartsheet
is a work collaboration and project management solution. It provides a dynamic workspace, so each team member has access to features and functionality to support their specific tasks and responsibilities. The enterprise-grade software is applicable across the organization, from marketing and IT to PMOs and operations. It helps create a connected experience for sales reps, consultants, and customers. Smartsheet allows users to automate project and customer data collection, and then streamline validation, assessment, and approval processes. It has features for project management, collaboration, customer reporting, and portfolio management. Other capabilities are request management, workflow automation, and a no-code/low-code solution builder.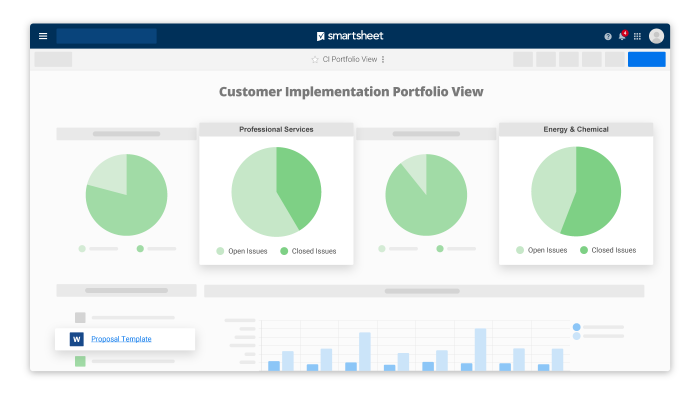 Pros
Task lists and assignment
Project scheduling and tracking
Collaborative, spreadsheet-like interface
Cons
Onboarding new users can be a challenge
Users request more direct integrations with apps like Jira
Teamwork
Teamwork
is project and team management software made for client work. It lets users manage projects, team members, consultants, and customers in one platform. Companies can track billable hours with team time logs, as well as changes to tasks and milestones with full visibility. Easily scale and expand functionality and features with other Teamwork add-ons or third-party apps. Teamwork provides users multiple work views, such as a Gantt-style view for project tracking, board view for task tracking, workload view for team capacity management, and calendar view for easy task and event management. It streamlines and standardizes operations with automation, task list templates, invoicing, time logging, personalized dashboards, custom fields, and organized messages.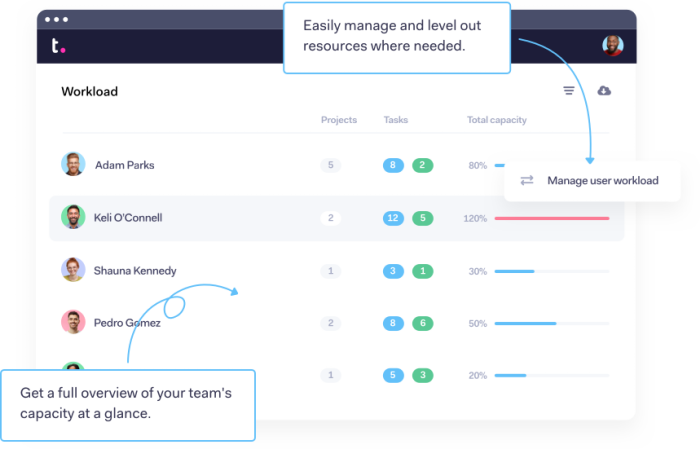 Pros
Task prioritization and automation
Project scheduling with critical path identification
Template creation for tasks and workflows
Cons
Needs additional automation features
Users notice occasional lags during chat with their customers
BigTime
BigTime
is professional services automation software that helps companies keep projects on time and on budget. It is a project platform for professional services firms with tools and features to manage people, projects, payments, and profits. Easy timesheet data entry enables accurate tracking of time and expenses. It also has billing and custom invoicing that simplifies payment, revenue, and growth management. BigTime helps a project manager get real-time visibility and actionable insights in ongoing projects, as well as upcoming ones. It streamlines project budgeting and and cost tracking. An interactive Gantt chart that automatically updates based on staff timesheets and hours allows users to analyze gaps and increase project efficiency. Other features include review and approvals, resource optimization, consolidated reporting, and a mobile app.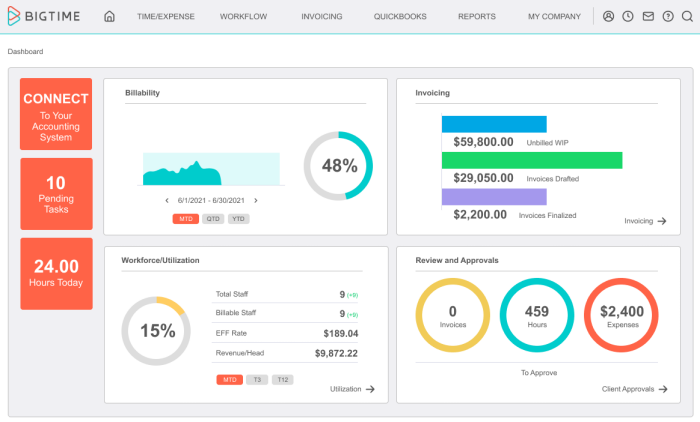 Pros
Dashboards and reporting
Project tracking
Ease of setup and use
Cons
Limited automation in expense management
Users wish for a better mobile app experience
Scoro
Scoro
is end-to-end work management software ideal for agencies, consultancies, and professional services firms. It helps streamline project management, quoting, and billing processes, while providing insights to optimize resource utilization. Scoro provides a central hub for tracking projects, sales, and daily activities. Manage time with a drag-and-drop timeline planner or Kanban task board. Utilization tools allow users to allocate resources based on actual availability. The software lets users get a detailed overview of activities, track revenue and profitability, and automate routine tasks. It also has CRM, invoicing, and performance tracking.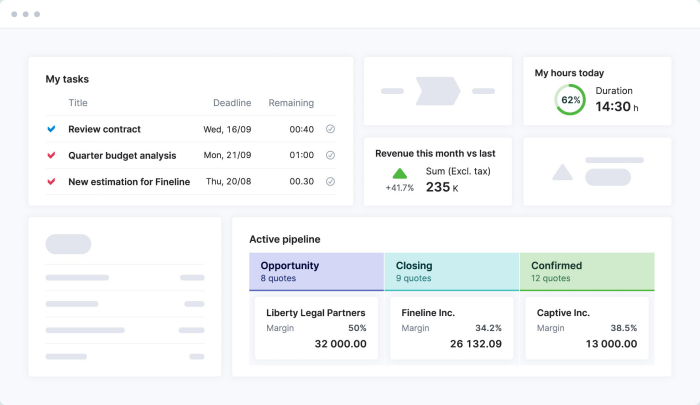 Pros
Project portfolio and risk management
Task dependency and tracking
All-in-one solution
Cons
Occasional issues in connecting data across projects, CRM, or finances
Users wish for more personalization features in budget and dashboards
Planview Clarizen
Planview Clarizen provides PMOs and professional services teams, whether in small business or large enterprise, enterprise-grade work management software. Users gain real-time visibility across their projects to proactively manage risks and deliver valuable business impact. It has built-in collaboration features to keep all stakeholders informed. Planview Clarizen connects project financials to actual project performance to help users uncover real costs. Users can perform tracking by employee, task, department, or work item. It also has features for capacity planning, work demand management, out-of-the-box reports and dashboards, and task automation for structured, ad hoc, and agile types of work operations.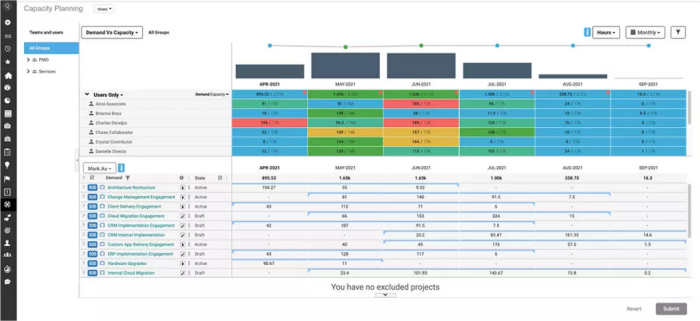 Pros
Project portfolio management
Work visualizations
Time tracking and rate management
Cons
Pricing is at the high end
Users want easier process and workflow management
Keyedin Projects
KeyedIn Projects
is adaptive project management software that centralizes projects, tasks, resources, and reports onto a single platform. It is a solution for PMOs and professional services firms that helps them identify their most valuable projects. It supports different work methodologies, so each team can work the way they want while the PMO coordinates project execution, improves collaboration, and meets deadlines. KeyedIn Projects include project governance features that provide users insight, governance, and control across all projects. It has custom forms, approval workflows, risk management, and issue management. It also has features to manage and track project plans, resources, progress, time, and expenses. Also available are mobile apps, dashboards and analytics, templates, and accounting software integration.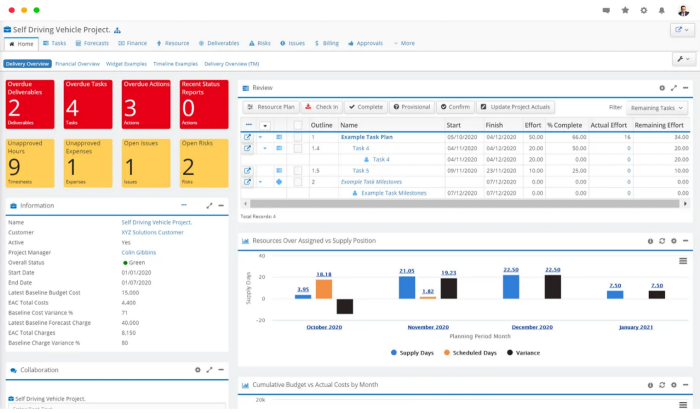 Pros
Flexible configurations
Project portfolio management
Responsive support
Cons
Needs simpler timesheet approval and management
Users wish for additional viewing controls and privileges to hide sensitive data
Precursive
Precursive is professional services automation software native to the Salesforce platform. It has features for project management, resourcing, billing, and analytics. Users are able to track project performance and outcomes to deliver better customer experience. They can mobilize people with the right skills, track time, optimize billable utilization, and invoice clients accurately. Precursive enables users to collaborate with customers via onboarding playbooks. Project teams plan and implement projects with dependencies, tasks, milestones, and risks. With integrated project accounting, they can easily monitor each project's budget, cost, margins, and revenue. Other features include resource scheduling and management, demand forecasting, and workforce management.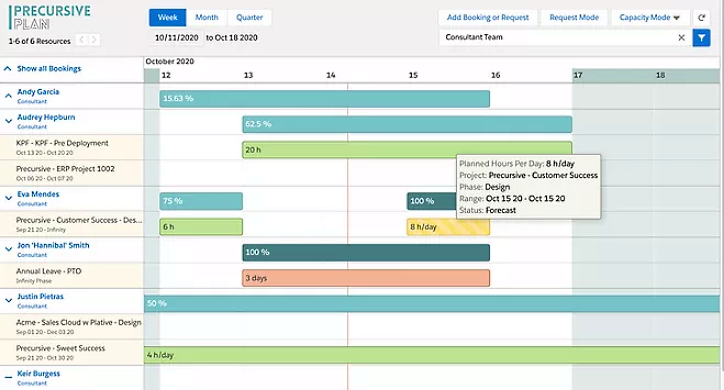 Pros
Unified visibility of resources, opportunities, and forecasts
Customization options
Template creation
Cons
Requires Salesforce software
Limited support for agile project management methodologies
Back to top
What Is Mavenlink?
Mavenlink
is a professional services automation platform with built-in project management software. It also has features for resource and operations management, business intelligence, workflow management, and team communication and collaboration. It has comprehensive project management capabilities for managing and tracking tasks, resources, project financials, hours, and other operations data. It also offers advisory services, professional services, and customer success assistance. Mavenlink customers are mostly located in the United States and North America. The majority of customers belong to marketing, IT, software, and related companies. It recently merged with Kimble, increasing their combined market share and establishing Mavenlink among the key players in the PSA and project management software industries.
Back to top
Ready to Try a Mavenlink Alternative?
Project management software, whether integrated in a professional services automation platform like Mavenlink, or as standalone software, is vital for service providers and their customers. With the right project management features, professional services organizations are able to respond quickly to project and team changes, allowing them to serve customers more effectively.
Read next
:
Best PSA Software & Tools for 2022