Bridge24
is excited to announce its Basecamp 3 integration. Users of the latest version of Basecamp can now take advantage of the enhanced reporting and exporting capabilities of Bridge24. As more people migrate to the PM app's third version, they can also now find and experience the needed features but are still missing from their favorite productivity tool. With single-click dynamic connection, it is now easy for Basecampers to connect, display and manage their To-do's, and export them to Excel or CSV format.
Basecamp 3 Now Supported in Bridge24
With
Bridge24
now supporting integration to Basecamp 3, users can have a better view of their To-do's across all their projects. They now have access to powerful and flexible tools that will allow them to get various perspectives of their project data. Moreover, they can easily narrow it down to the most relevant information, or expand it across projects for a bird's eye view with just a few clicks. Bridge24 has been included in their
Extras
page.
Export To-do's to Excel
In addition to the powerful views, users can export their data to Excel and CSV formats. They can easily choose to export fields from a view, as well as all fields available. They can even export the comments thread or information about attachment PMCOMs and links to their To-do's. Comment threads and attachments will appear in a separate Excel tab.

Easy Viewing with the Power Grid
Users now have more options to view and manipulate their Basecamp 3 To-do information. From the Power Grid view, they can quickly toggle to either Show or Hide columns, and view only the fields they want to see. They can easily change the sorting from either Ascending or Descending order. Users can Group columns to consolidate information using the values in a column. They can quickly find and isolate a To-do by typing in the 'ÄòSearch within' bar containing the particular keywords. By clicking on a To-do, they can edit the information from the Basecamp 3 popup. All edited information are in sync and updated from both apps.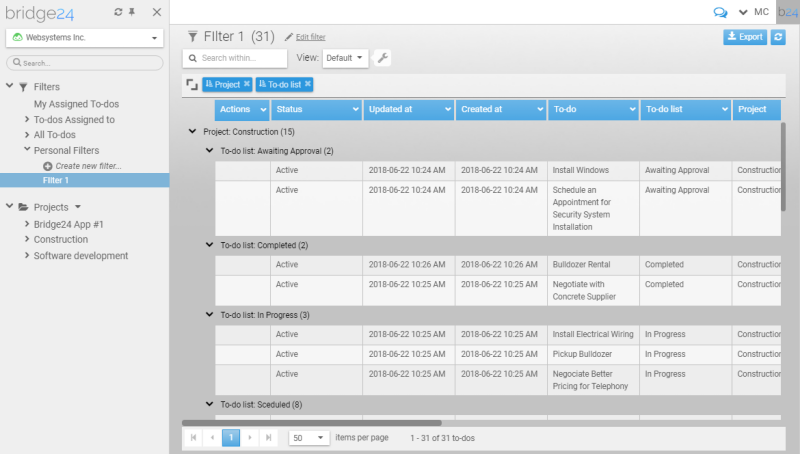 Find it fast with Filters
The latest
Bridge24
Basecamp 3 integration enables users to take advantage of the powerful filtering tools. They can create and save filters, then use them to zero-in to specific information they are looking for. Accessing filters is easy from the left tree view. For instance, they can filter by project, by assignee, and by status. They can also include To-do's that are completed, not completed, or both.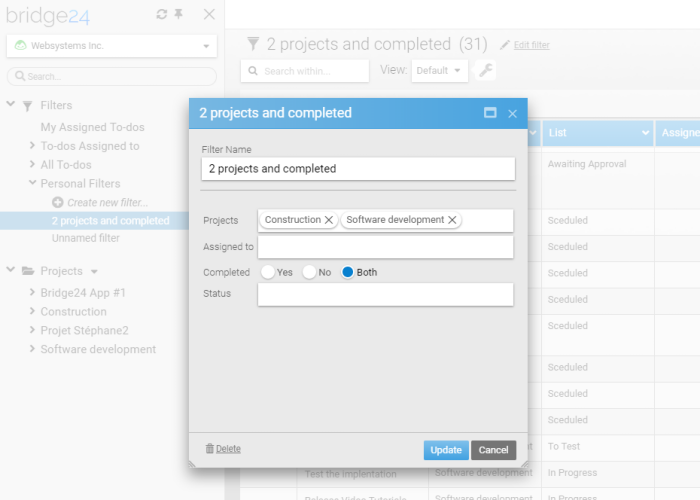 More features, other Services
Bridge24 for Basecamp 3 integration is now available. Users of Basecamp 2 accounts can continue to connect with Bridge24 and use the application's features such as Calendar and Board modes, to-do editing, and other available functionality. Other features for this latest integration like Charts and Reports will be supported at a later date. However, users who need a more custom functionality can avail of
Custom Development Services for Basecamp 3
. Feedback for particular requests or ideas are welcome. For more information about the latest integration news and other announcements, visit them also on
Facebook
,
Twitter
,
Google+
or
YouTube
. You can also
try Bridge24 for Basecamp 3 now
for free. Original post:
Basecamp 3 Integration Ready – Export Excel and Custom Reports

Featured Partners: Project Management Software
If you're interested in learning more about top rated project management software, the editors at Project-Management.com actively recommend the following: