TeamGantt is an online Gantt chart maker that enables users to easily visualize and then create project plans and schedules that they can update from anywhere and share with anyone. The application combines an intuitive, drag-and-drop tool with a collaborative platform that allows for real-time team communication and project progress updates. Teams can plan faster, manage schedules and resources more effectively, and keep up-to-the-minute awareness of all their projects with a single application.
Table of contents
TeamGantt : Features and Strengths
Project Planning and Management
TeamGantt provides modern-looking Gantt charts that users can easily create with drag-and-drop controls. Teams can change start and end dates, reorder tasks, adjust timelines, create dependencies, and add labels with a single click. They can display all projects in one Gantt chart to plan accurately and spot conflicts quickly or apply filters for detailed planning and scheduling.
The Gantt chart maker lets users see workloads and resource availability with workload forecasting capability. It also has custom project templates, project history, and a RACI chart. Users can switch views from Gantt view to list, calendar, Kanban board, and portfolio view. Project baselines also let teams compare actual plans against original plans.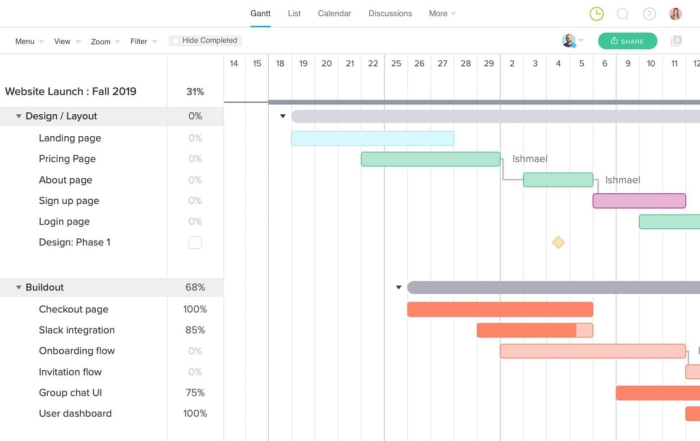 Team Communication and Collaboration
TeamGantt lets users securely share their project Gantt charts with team members and other stakeholders. Team members can post comments and conversations on tasks. They can notify all project participants or select only users assigned to the task. Each task contains a single sticky note that users can pin to the top of each comment thread.
The Gantt chart software supports project collaboration with file storage, attachment, and sharing. Users can share project Gantt charts with unlimited guest users with a secure, view-only link. They can also embed Gantt charts in websites.
Dynamic Reports, Time Tracking, Mobile Apps, and More
TeamGantt provides powerful reporting across projects with well-designed Gantt charts. The portfolio view lets teams keep tabs on all projects from a single screen. Users can organize projects by team, department, client, project owner, or quarter and regularly check progress to spot tasks in danger of falling behind.
The online Gantt chart software includes a built-in time tracker so users can track hours spent on individual tasks and the whole project. It also works across platforms and devices consistently, whether on a Mac, PC, tablet, or smartphone. Other features include nested subgroups and tasks, print to PDF, and import from spreadsheets.

TeamGantt Pricing
TeamGantt pricing is available in different plans depending on the needs of a team. All plans include task dependencies, multiple users, labels, daily email reminders, project collaboration, task conversations, file sharing and storage, and support by email and in-app messaging. Users can choose to pay monthly or pay yearly with a 20 percent discount. Interested parties can try the premium plans free for 30 days.
The Free plan is ideal for small personal projects with a limit of 1 project, 3 users, and 60 tasks. The Standard plan at $19.90 /user /month billed yearly (or $24.95 /user billed monthly) includes unlimited projects and tasks, planning tools, calendar, list, and board views, unlimited guest users, discussion dashboards, and phone support. The Advanced plan at $24.45 /user /month billed yearly ($29.95 /user billed monthly) includes all Standard plan features with the addition of hourly estimating and resourcing tools, portfolio management view, and time tracking.

Who Uses TeamGantt?
TeamGantt is for teams and businesses of all sizes in any industry with a need for an online Gantt chart maker. With over a million users, companies in digital agencies, marketing, construction, and manufacturing sectors use TeamGantt to schedule their projects and tasks while collaborating on their work. Customers include Whole Foods, Amazon, Google, Intuit, Uber, Netflix, Starbucks, Storenvy, and Creative Market.
TeamGantt Supported Language
Users can enter project and task details in any language in TeamGantt but the software interface is in English only.

Case Studies
Jon Crawford is the founder of an online store platform based in San Francisco. The business creates a community of online stores, allows a user to open an online storefront, and also lets shoppers visit thousands of online stores. Jon's team was looking for a way to visualize all company projects going on at once. With TeamGantt, they are able to set realistic goals, gauge their progress, and see how resources are being applied. Gantt charts in TeamGantt have become the company's main planning tool.
Priya Kothari is the COO of a marketplace for ready-to-use design assets from independent creators. Users can buy digital design goods from the company that they can use for personal or commercial projects. The company depends on TeamGantt for managing its product roadmap, resource plans, and detailed project schedules. Its Gantt charts help project teams quickly see task relationships and the time allotted for each task. Priya and her team can easily reorder tasks, change dates, update resources, and leave task notes using the same software.
Why Choose TeamGantt?
TeamGantt provides a platform where teams can plan projects and collaborate on tasks on the same application where schedules, related files, and relevant communication are all together. It is flexible for a wide range of projects and initiatives but also capable of tracking all moving parts in real time for efficient project health monitoring and reporting. Teams and companies become more organized with streamlined processes, enabling them to bring the business to the next level.
Company Info
Groundbreaking Designs, LLC, doing business as TeamGantt, is a privately held software company with headquarters in Baltimore, MD. It was founded in 2009 by John Correlli and Nathan Gilmore. While searching for software that will allow them to schedule and collaborate online and not finding one that does both well, they decided to build TeamGantt. Launched in 2010, companies like Twitter, Expedia, and Turner Broadcasting signed up within its first year. The company continues with its mission to help teams work smarter on their projects.

---
Explore Additional Project Management Resources
Learn more about project management by exploring the following project management software reviews & project management software comparisons including Monday.com vs Jira, a comprehensive Monday.com software review, Aha! Software or Agile vs Waterfall.
Featured Partners: Project Management Software
Gantt charts are a critical tool for project management. If you're interested in more ways to integrate Gantt charts into your planning and workflow, Project-Management.com recommends the following as well: