MindMeister is an online mind mapping software that enables users to easily turn ideas into beautiful mind maps. Individuals and teams can quickly map ideas using an intuitive editor with a number of styling and customization features to improve readability and comprehension. It is ready for collaboration, includes access controls, and supports mobility with mobile apps and cross-device compatibility.
Table of contents
MindMeister : Features and Strengths
Mind Mapping and Customization
MindMeister is a creative tool to help users visualize their ideas. Users can choose from different themes to add color and style to maps that further improve its readability and comprehension. They can choose from 3 layouts of mind map, org chart, or list view, or use the different layouts on the same canvas. Predefined mind map templates for various occasions are available. Users can add connections to show relationships between any two mind map topics with the option to customize the style, shape, and start/endpoint of the connection line. Other features include custom topic styling options, line styling, tintable images and emojis, freely positioned topics, and markdown syntax to format text within topics, comments, and notes.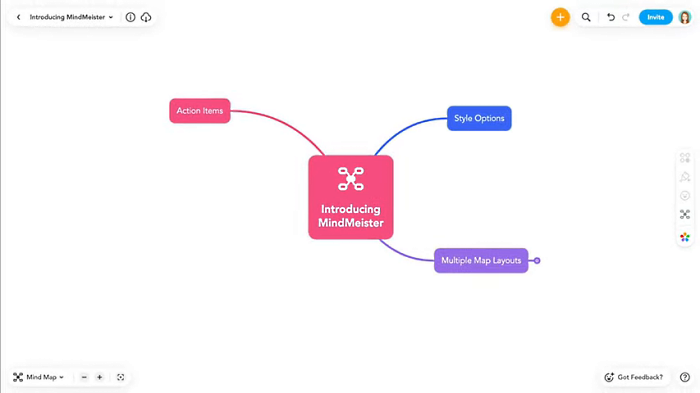 Collaboration and ivity
MindMeister supports real-time collaboration for teams with its brainstorm mode. It has commenting tools for exchanging thoughts and suggestions in a logical and structured form. It also has version a history feature to allow users to view previous versions, make a copy of a previous version, or restore from a previous version. Users can share links as often as needed for collaboration. They can also export a mind map to PDF, Word, and PowerPoint, or print maps on paper. The mind mapping software comes with many productivity features. Users can easily toggle between visual and linear outline mode. It has expandable notes to contain more details, while the Focus mode clears the canvas from distractions with only the ideas remaining. It also supports file attachments from local or online storage, and imports other mind map files into MindMeister.
Integrations, Security, Mobile Apps, and More
MindMeister integrates seamlessly with other Meister products. Integration with MeisterTask quickly converts ideas into actions that users can track on a project board. Users can also embed a mind map into a MeisterNote document that shows map changes in real time. They can embed multimedia files in a mind map, create and open mind maps from Google Drive, and create maps in MS Teams. Security features include an admin account for managing users, groups, and subscription options. The admin can create groups within the organization to streamline map storage and sharing. Roles and permissions provide additional control on who can view and edit maps. Native mobile apps for iOS and Android enable users to use the software on their mobile device. It has real-time sync between devices and email notifications whenever changes to a map occurs.

Back to top
MindMeister Pricing
MindMeister pricing is available in 3 premium plans for different requirements. All paid plans include unlimited number of mind maps, file and image attachments, PDF export, image export, mind map printing, and an admin account. A free Basic plan is also available with up to 3 mind maps. All plans come with real-time collaboration, access for multiple team members, and email support. The Personal plan at $2.49 /user/month paid annually is ideal for individuals and personal projects. The Pro plan at $4.19 /user/month paid annually includes all Personal plan features and is for complex mind mapping. The Business plan at $6.29 /user/month paid annually includes all Pro plan features and is for enterprise users and applications.

Back to top
Who Uses MindMeister?
MindMeister is ideal for businesses and organizations of all sizes in need of an online mind mapping application. It is a solution for teams in software development, IT, marketing, consulting, HR, educators, and students. Customers include Equitem Financial, IT-Enterprise, Rare Carat, SAP, Dream Harvest Games, Ironshield Financial Planning, The British International School of New York, CREA Mont Blanc.org, and Ulitic.
Back to top
MindMeister Supported Languages
MindMeister supports English, German, French, Spanish, Portuguese, Dutch, Danish, Russian, Japanese, Italian, Simplified Chinese, and Korean.

Back to top
Case Studies
Richard Raquillet is the Vice President of an environmental NGO based in Chamonix, France. Its mission is to conduct scientific experiments and research on the consequences of climate change within the surrounding mountain range. The team and its partners use MindMeister for collaborative project planning. They use mind maps to pose and reflect on current projects, as well as present ideas for new projects. The software lets them draw a comprehensive picture of the project and introduce projects to other team members by sharing the mind maps via link or with email invitation. David West is Senior Advisor & Partner of an internet marketing firm in Calgary. The company provides its clients with information and strategies through its coaching and mentoring program. The team needed a way to easily collaborate with clients to help retain valuable information during their coaching sessions. Since using MindMeister, the company has added great value to the clients' experience. Clients are even adopting the mind mapping software outside of their coaching program as a true testament of its value.
Back to top
Why Choose MindMeister?
MindMeister offers a highly accessible, affordable, and intuitive mind mapping software that enables users to organize information visually on an infinite digital canvas. It is an effective tool for improving the dissemination and comprehension of information, which allows recipients to learn faster and be more productive in their tasks.
Back to top
Company Info
MindMeister is a product of MeisterLabs GmbH, a privately held software company with headquarters in Munich and offices in Vienna and Seattle. It was founded in 2006 by Till Volmer and Michael Hollauf with a vision to create SaaS products. MindMeister is the first product of the company that continues to create well-designed productivity tools that help teams work together. Followed by
MeisterTask
, a task management app, and MeisterNote, a collaborative documentation app, the company now offers Meister Suite as a complete productivity toolkit.

Back to top
---
Explore Additional Project Management Resources
Learn more about
project management
by exploring the following project management software reviews & project management software comparisons including
Monday.com vs Jira
,
Monday.com software review
,
Aha! Software
or
Agile vs Waterfall
.
Featured Partners: Project Management Software