Backlog is a project management software solution for developers, primarily used to support efficient planning, organization, and tracking. In this article, we will review potential alternatives to Backlog.
Table of contents
Backlog Alternatives: What to Look for
Backlog users include software developers, product management teams, startups, and small businesses. For users looking for an alternative to Backlog, the following features are essential to manage projects better, collaborate on code, and use built-in tracking to resolve issues faster:
Multiple work views that include list, Gantt, board, and calendar views
Tracking of task status, progress, and milestones through reports and dashboards
Bug tracking process and reporting
Automated notifications and reminders
Conversation threads with historical details
Support for file attachment, organization, search, and sharing
Task creation, breakdown, assignment, scheduling, and prioritization
Built-in version control of files and other digital assets
Integration with third-party tools and services including with source code repositories
Secured messaging for contextual collaboration and real-time communication
Customization of interface and tools
Project management templates, custom fields, and automation
Back to top
Best Backlog Alternatives
Companies use Backlog for its integrated project management, bug tracking, and team collaboration tools. The best Backlog alternatives provide developers and product teams the tools and features to manage projects, track issues, and communicate clearly using a single platform.
Jira
Jira Software
is an issue and project tracking tool used by agile development teams. It enables users to plan, track, release, and report on their software projects. It is customizable for different workflows and integrates with many tools needed in building products. The software also has roadmap, automation, and built-in security features. Jira Software supports agile teams with its Scrum boards and Kanban boards. For planning the bigger picture and communicating the plan to stakeholders, its roadmapping features lets users plan their work up to epic levels while viewing team progress in real time. It has ready-to-use agile reports that provide actionable insights. With repository integration, users can view code and include issues. They can create branches and pull requests, view commits, and measure progress from across all tools right inside the software.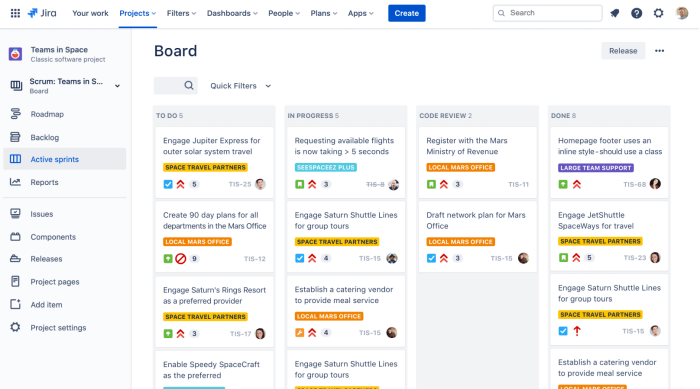 Pros
Flexible Kanban boards
Progress monitoring and tracking
Task and issue management
Cons
Complex to set up and maintain
Users have tended to request better control of notifications
Wrike
Wrike
is a versatile work and project management software. It is customizable to allow different teams and companies to use the right set of tools and features that best suit business needs. It works in real time so that users can post comments, send notifications, edit collaboratively, and generate dynamic reports with timely valuable information. Wrike lets users improve ideas and products consistently with automation, collaboration, and reporting tools. Agile teams can optimize their software development with asset attachment, shared team calendars, visual workload view, and powerful file and document search. It also has robust bug tracking tools that includes performance dashboards, instant notifications, report templates, and task monitoring.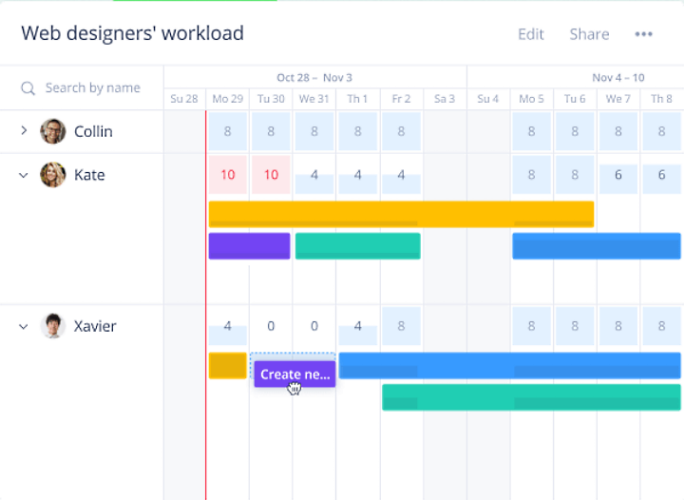 Pros
Task management
Project collaboration with internal teams and external partners
Visual tools and components
Cons
Too many features can be overwhelming to new users
Time tracking features could be improved
Asana
Asana
is an online software for managing work, projects, and tasks. It provides multiple work views so teams and individuals can have different perspectives, look at information that is meaningful to each, and collaborate quickly wherever they are. Automation makes managing routine work easier, allowing teams to gain project clarity and context, set rules to automate common tasks, and use forms to standardize work requests. Asana includes ready-to-use templates that users can customize and fine tune. Project management features include tasks and subtasks, milestones, dependencies, due dates and times, approvals, and custom fields. The software has a variety of reports for viewing goals, workload, portfolios, and dashboards. It also has built-in messaging, mobile apps, and integrations to many third-party tools.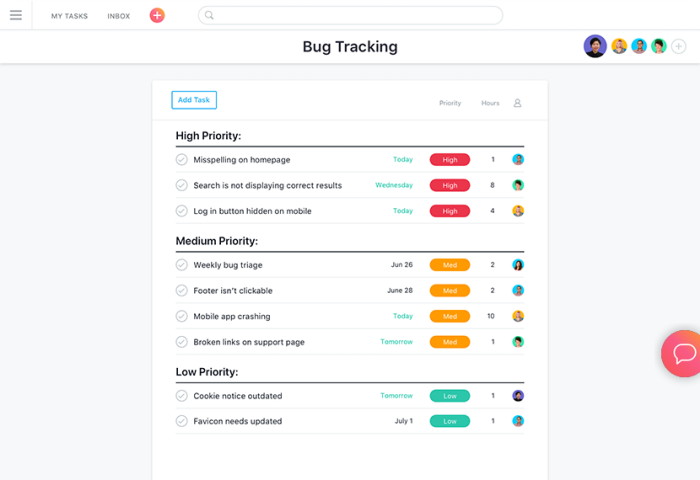 Pros
Task management
Integration options
Mobile app
Cons
Unable to assign multiple people to a single task
Needs more intuitive menu and navigation for new users
monday.com
monday.com
is a flexible work management software for various use cases such as software development and project management. It is customizable so teams can shape their workflows in ways that fit their needs. Teams can collaborate effectively across the organization with automations and notifications so they have a clear picture of the project all the time. monday.com is highly visual and intuitive for all types of users. It has hundreds of ready-to-use templates to get started quickly. Visual boards with custom columns and drag-and-drop interface lets make it easy for teams to build the solution that tracks what is most important for their work. Features include multiple work visualizations, exportable images, mobile apps, dynamic work docs, automations, and integrations.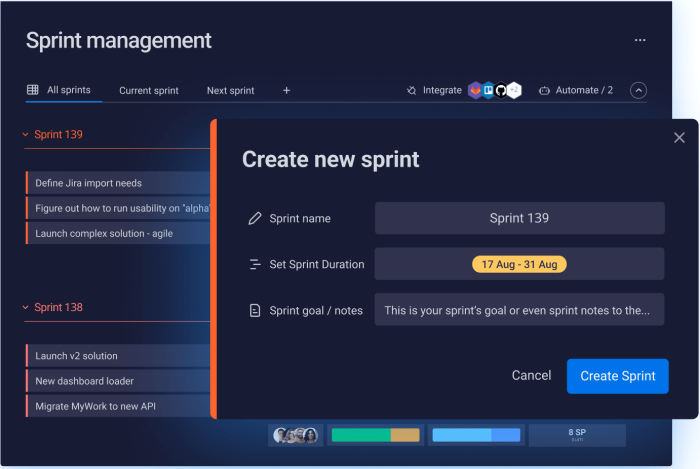 Pros
Task management and prioritization
Dependencies and critical path
Highly visual and customizable
Cons
Mobile experience not equal with web app
User reviews ask for more integration with messaging apps
Smartsheet
Smartsheet
work collaboration software is for enterprise teams. Users are able to build scalable business solutions and manage risks on demand. It provides a cloud-based dynamic workspace where teams can manage projects, automate workflows, and collaborate in real time. It is a secure and reliable system that gives users visibility with multiple work views as well as versatility with integration. Smartsheet lets users switch views from grid, card, Gantt and calendar view using the same data. Users can attach files, automate updates, communicate with comments and @mentions, and control access with permissions. It supports different methodologies, from waterfall to agile and hybrid. Teams are able to sync sprints, manage resources, mitigate complexities, and consolidate efforts with its set of features.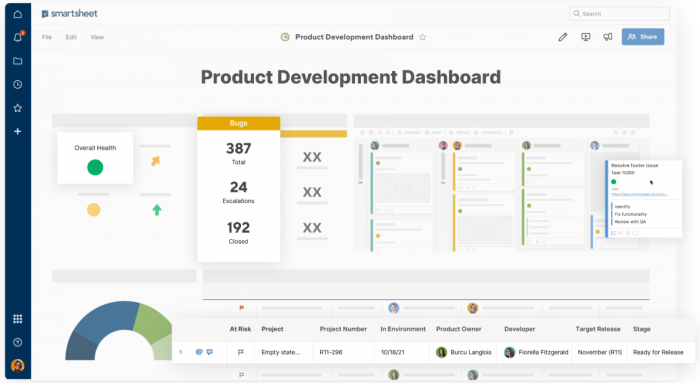 Pros
Task management
Automation, forms, and reminders
Ease of setup
Cons
Needs more integration options
User reviews ask for more flexible report creation and template customization
ClickUp
ClickUp
is an all-in-one work management software to replace using multiple apps. Users can manage tasks and projects, communicate with teammates, and set organizational goals. Users can choose from multiple views that include list, board, Gantt, and calendar views. They can look at embedded code, build wikis and knowledge bases, and monitor activities from a feed. ClickUp is customizable that lets users choose the functionalities they need. They can include task automation, assign sprint points, add custom fields, and choose from hundreds of templates. It has automation features, intake forms for bug tracking, agile dashboards, and native Git integrations.
Pros
Task management
Built-in collaboration tools
Responsive support
Cons
Too many features can be overwhelming to new users
User reviews ask for greater customization of views
Teamwork
Teamwork
is a project and team management software ideal for client work. It enables users to manage projects, clients, and different types of teams. It lets companies track budgets and billable time. The software is flexible and extendable with various add-ons and integrations for an end-to-end business solution. Teamwork includes tools to maximize resources and reports to provide overview of projects at every stage. Customizable workflows allow support of waterfall, agile, and custom processes. Features include tasks and subtasks, milestones, calendar and messages. It also has file management, versioning, notebooks, custom fields, dashboards, multiple work views, mobile apps, and automation.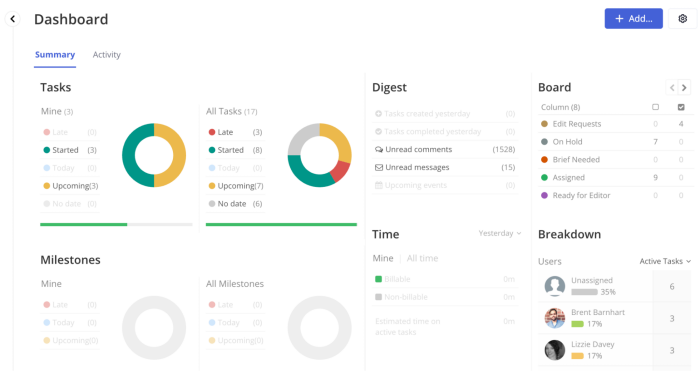 Pros
Task prioritization, automation, and management
Tracking and collaboration
Ease of setup and use
Cons
More controls for notification
User reviews ask for a UI refresh of the instant chat feature
Trello
Trello
is a collaboration software used for managing projects, tracking issues, and improving productivity. Its main interface is a board that can represent a project or a team. Users can create custom lists as stages in a workflow or other types of grouping. Each list can have cards to contain tasks, details, due dates, checklists, conversations, and attachments. Users can manually move cards from one list to another with drag-and-drop or automate the flow using rules and triggers. Trello is a highly visual collaboration platform now with other available work views such as timelines, calendars, tables, and dashboards. It has automation that helps reduce repetitive tasks such as moving cards, showing reminders, scheduling teammates, or streamlining processes. It also has Power-Ups, or integration with other tools that enhances the capability of a user's board.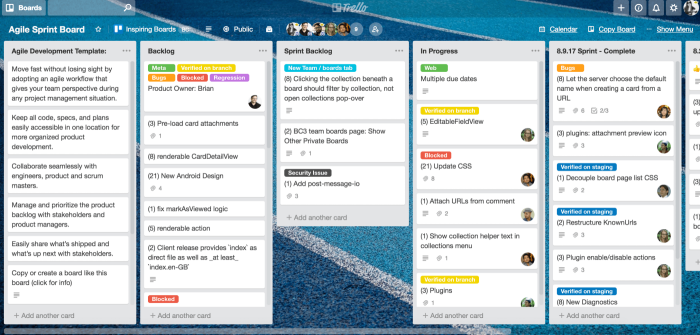 Pro
Drag-and-drop interface
Task list and prioritization
Ease of setup and use
Cons
Missing subtask capability
Simple core functionality that needs integration with other tools
Hive
Hive
project management software gives users the tools and views to improve productivity. It has summary and portfolio views for users managing multiple projects. It also provides users an action list view to keep them updated on their deadlines and tasks. A built-in native chat enables easy communication and collaboration. Customizable reporting and analytics provide actionable insights to specific requirements. Hive provides tools for project and task management with approval workflows to simplify complex processes. It is ideal for document and video proofing. The software also has time tracking and timesheets, team resourcing, and multiple work views like Gantt, board, table, and calendar view. Project managers can create plans with any of the views and invite teams and external partners to improve transparency.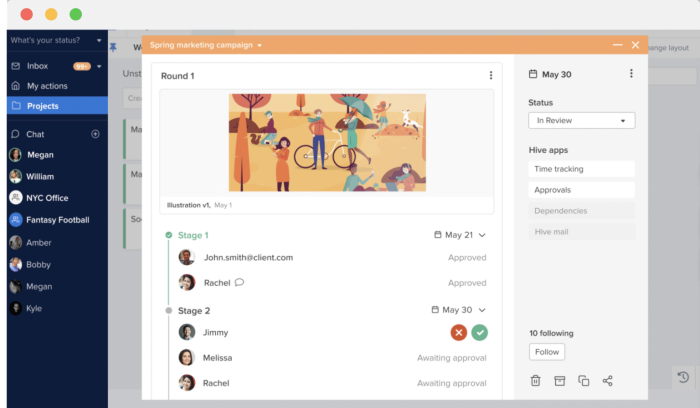 Pros
Task management and prioritization
Ease of setup and use
Responsive support
Cons
User reviews ask for additional integration such as with CRM tools
Lacks billing/budgeting tool linked to time tracking
Basecamp
Basecamp
is an all-in-one work and project management tool for a various teams and work environments including remote work. It unifies all data and information into one place, from conversations and files, to task lists and schedules. The software brings all of these work items together in an organized way with to-do lists, shared schedules, and powerful search tools to allow users to find what they need easily and quickly. Basecamp helps users and teams organize work by breaking it down into projects then into tasks and adding people responsible for them. It organizes conversations using several communication tools for different purposes such as message boards, group chat, and 1-to-1 private messaging. It also helps reduce status meetings through automated check-ins, activity views, notifications, and reports.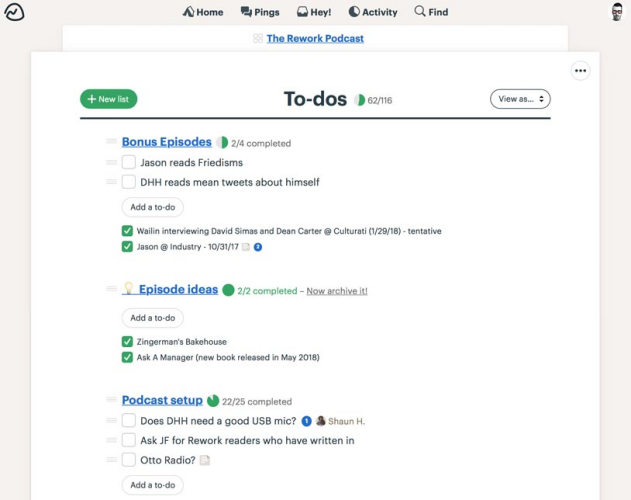 Pros
Task list and prioritization
Shared schedules
Collaboration and messaging
Cons
Occasional performance slowdown
User reviews ask for for more UI customization
Back to top
What is Backlog?
Backlog
is an online project management tool for software development teams. It is a visual project tracking software with built-in collaboration. Developers, designers, clients, and all other team members connect seamlessly on one platform. It has tools for bug and issue tracking, version control, and Git and Subversion repository integrations. It supports enhanced project transparency with different work views and reports. Software developers and product teams are able to work with code alongside project work.
Read also
:
Backlog Software
Back to top
Ready to try a Backlog alternative?
Project management software like Backlog enables software development teams to gain a clear vision and consistent guidance as they develop software products. Every stakeholder involved is aware of the schedule, activity, status, and progress to successfully meet the project goal. Users looking for a Backlog alternative can explore our recommended alternatives to get their search for a solution underway.
Featured Partners: Project Management Software