Overview Presentation

Yaware TimeTracker is an online productivity suite which automatically tracks vital business processes and measures time and productivity. Yaware uses apps that are easy to manage and are readily available in Google stores. It functions by automatically collecting data to form reports that are viewed in an online account whenever the user wants to and from anywhere.
Features, Benefits, Strengths
Automated Time Tracking – Yaware TimeTracker is an awesome tool that has an integrated list of effortless tracking geared towards improving efficiency and offering the user the best experience ever. It offers automatic time tracking and productivity tracking, it categorizes work time automatically, generates smart reports, emails and of course manages mobile notifications. With Yaware TimeTracker you are also able to track time from wherever you are and at any time you feel like.
Flexible and Immediate Management – With this software you are able to check data whenever you need to whether on your laptop, tablet or smartphone running on either Android, Mac, Windows, Linux or iOS. It enables you to organize your time well instantly and thus enhancing productivity.
ivity Improvement – A mix between effortless time tracking and instant management gives Yaware TimeTracker the ability to improve your daily productivity. It enables you to realize the best work schedule for you, balance online and offline activities, and eliminate time wastage.
Overall Analysis – Yaware TimeTracker offers all round analysis ranging from time usage and attendance, internet usage and software usage and also flexible time and overtime. Everything is measured and organized in one particular place that is easily and readily accessible.

Pricing
Yaware TimeTracker offers the best at an amazing price. It is the cheapest Time Tracking Software that offers much more. For only 8 dollars per month
($8/month)
you get your time tracking software running and improving your daily productivity. In addition, the software comes at a free 14-day trial, so you can get the feel of the software without paying for it.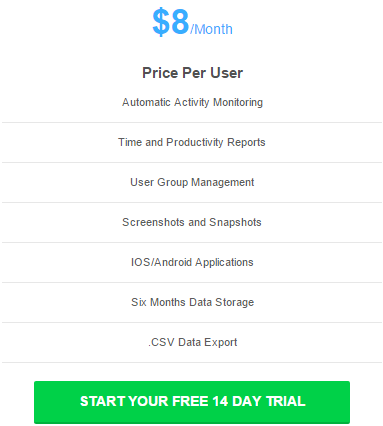 Social Network Presence
Target Market
Yaware TimeTracker is ideal for everyone who needs to improve performance and enhance productivity. It can be used by individuals, teams, freelancers, remote offices, small and big corporations. It is a flexible software for everybody. A wide range of customers have tried Yaware TimeTracker and they are fully satisfied with what it offers.
Supported Languages
Yaware TimeTracker supports English language only.
Some of their Clients
It has over 70,000 satisfied clients. Some of the clients include; Yuri Vasilyev of Groupon, Peter Conrad of Collateral Recovery Solutions and Geoff Biskupek of Geneva Digital.

Testimonials
Groupen users have stated that Yaware TimeTracker is one of the main tools they use in assessing their work quality and it allows them to fully meet their needs and manage their process remotely Peter Conrad sees Yaware TimeTracker as a tool that provides great service and it is easy to use. According to him it provides objective measures for monitoring productivity and performance. Geoff Biskupek, a designer says that it has helped him become productive by helping him manage his time well.
Why Yaware TimeTracker
Yaware TimeTracker offers a solution to keep track of activities automatically and in real time. It helps people and individuals to become more productive by measuring and analyzing whatever they need, whenever they need it. It measures and boosts team productivity up to 400% and is available in various operating systems.
Company Info
Yaware is a privately held company founded in 2010 operating in the information technology and services industry. It has its headquarters in 2801 Camino Del S. Suite, USA with about 11-50 employees.

---
Explore Additional Project Management Resources
Learn more about project management by exploring the following project management software reviews & project management software comparisons including Monday.com vs Jira, Monday.com software review, Aha! Software or Agile vs Waterfall.
Featured Partners: Project Management Software