Both Trello and monday.com are used for day-to-day project management and managing multiple projects simultaneously. Although they have many notable differences, they also share quite a few similarities.
But how do these project management tools stack up against one another? Specifically, which one is right for your organizational needs — Trello or monday.com?
Trello vs. monday: Project Management Features Compared
Project management software is more popular than ever before. Not only are full-scale software suites readily available, like Microsoft Project, but other solutions — like Trello and monday.com — are available both as web-based services and mobile apps that feature project management functionality alongside other useful tools and utilities.
Reporting
Our Pick: monday.com
Unfortunately, Trello's native reporting functionality is very limited. It recently introduced a new Dashboard view for subscribers of their Business Class and Enterprise pricing tiers, but Trello's reporting still leaves a lot to be desired.
Trello does provide numerous add-ons, available for all users, that add advanced reporting capabilities to the platform. Some of these solutions include:
Analytics & Reports by Screenful
Assista
Harvest
Time Tracker by TimeCamp
Timeline, Calendar, Time Tracking by Planyway
view26 Reports
Conversely, monday.com offers native reporting functionality. It also offers various formulas and filters, which can perform advanced calculations and filter your reporting data, respectively. Users can also search for data across all of their monday boards simultaneously, ultimately making it easier to find the exact data needed.
For long-term tracking, monday.com also offers benchmarking and cumulative data. The former gives your team hard data regarding goals and milestones, while the latter provides an easy-to-follow timeline of your reports over a prolonged period of time.
Kanban, Gantt charts, and other visualizations
Our Pick: Both


One of Trello's key selling points is its native support for agile teams via kanban boards, Gantt charts, and other visualizations. However, all of these visualizations are locked behind the paywall of their highest subscription tiers. For paid subscribers, Trello's data views include:
Timeline: Track sprints and goals over the course of time.
Calendar: Set reminders and notifications to let your team know exactly what's expected of them each and every day.
Dashboard: The aforementioned Dashboard view lets you easily view due dates, assigned Trello cards, and more.
Table: Similar to a modern spreadsheet, Table view provides a general perspective over all the work that is happening on your Trello boards.
Map: Use the Map view when tracking and reporting on location-based data.
Much like Trello, monday.com also provides kanban boards, Gantt charts, and other data views for agile project management. Both kanban views and Gantt charts are available natively within the monday.com platform, so both Trello and monday.com receive high scores when it comes to visualizing data.
Teamwork and collaboration
Our Pick: Both
Collaboration software is essential to any team-oriented project. As such, it comes as no surprise that both Trello and monday.com support teamwork at every possible turn.
The sheer ease-of-use of Trello makes it available for team collaboration right from the start. It has an intuitive interface that most project managers will be able to digest and understand within a few minutes. Moreover, Trello features a shared team calendar, collaborative board templates, file sharing, and more.
But monday.com is also a highly collaborative platform. Since it maintains all of your communications and files within their centralized platform, all of your resources are stored in one convenient location. This simplifies the process of managing tasks, activities, and complex projects.
Trello and monday are on even ground when it comes to collaborating on individual or multiple projects. Both products are capable of bolstering your team-oriented productivity in numerous ways, including these:
Strengthening communication between teammates
Establishing a sense of accountability amongst employees
Providing transparency into your organization's project management processes
Increasing focus on the most important tasks and activities
Improving the decision-making process
Regardless of which one you ultimately choose, you'll be able to empower your employees, build stronger bonds between teammates, and drive productivity to all-new heights.
Trello vs. monday: Benefits & Pricing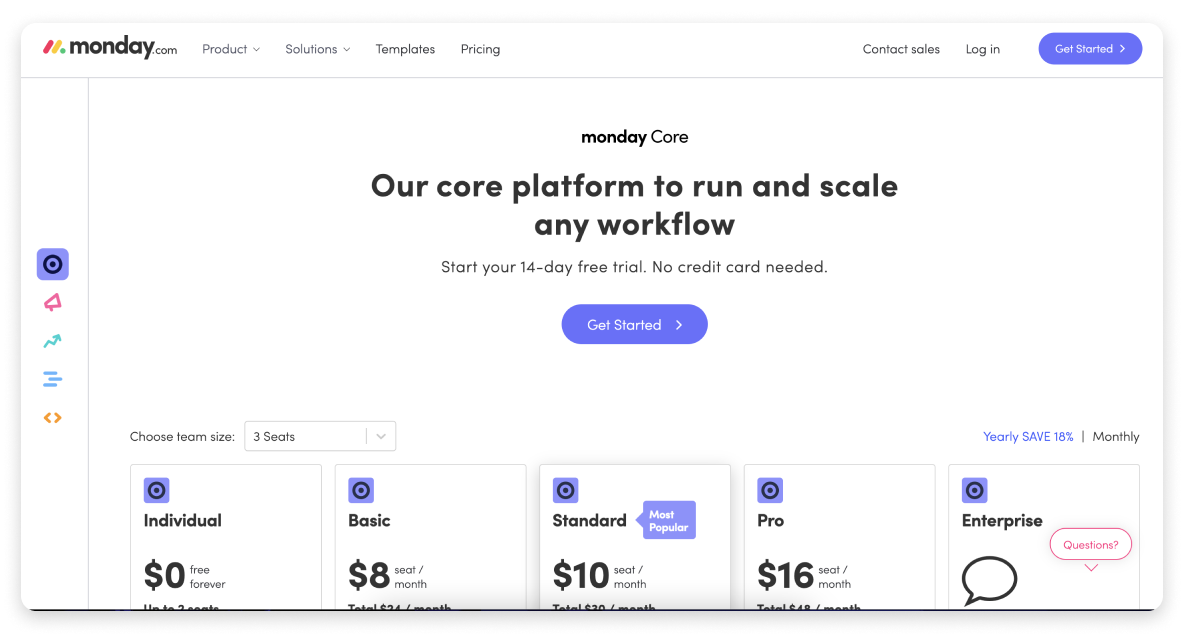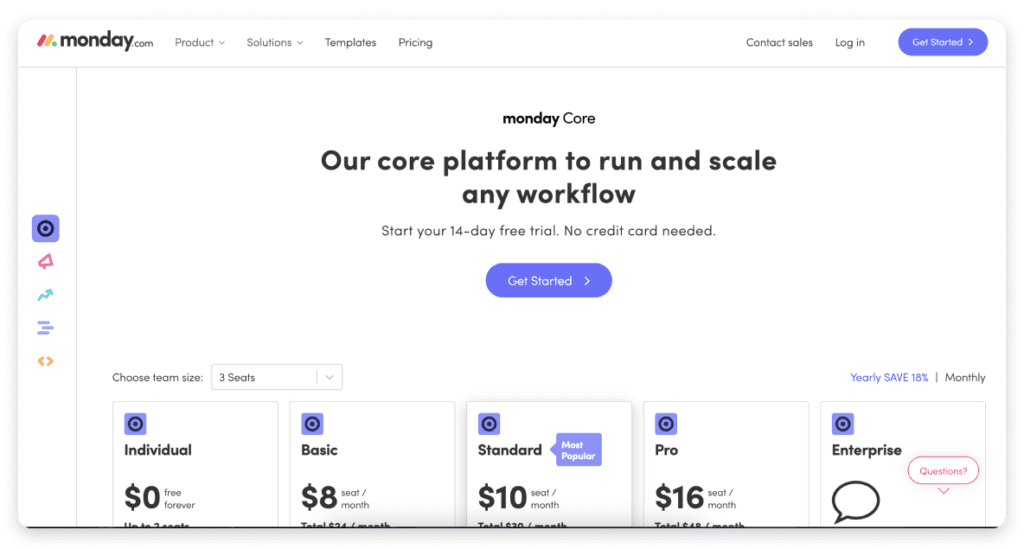 Your organization's budget also plays a role in deciding between Trello and monday. Both solutions offer free plans with limited functionality, so you'll have the opportunity to test drive the two products before making your final decision. To benefit from their full functionality, however, you'll need to subscribe to one of their pricing plans.
Free plan
Our Pick: Trello
Trello's free service, meant for individuals and small teams, offers quite a bit more functionality than monday's free tier. It includes:
Unlimited Trello cards
Support for up to 10 boards per Workspace
Unlimited Power-Ups
Unlimited storage (10 MB file limit)
250 Workspace command runs per month
Custom Trello backgrounds and stickers
Unlimited activity logging
Card due dates
Two-factor authentication
Primary features included in monday.com's free plan include:
Support for up to three monday boards
Unlimited docs
Access to 200+ templates
20+ different column types
Support for up to two team members
Additionally, both Trello and monday.com are accessible via the web or mobile device. Both products support Android and iOS.
Paid plans
Our Pick: Both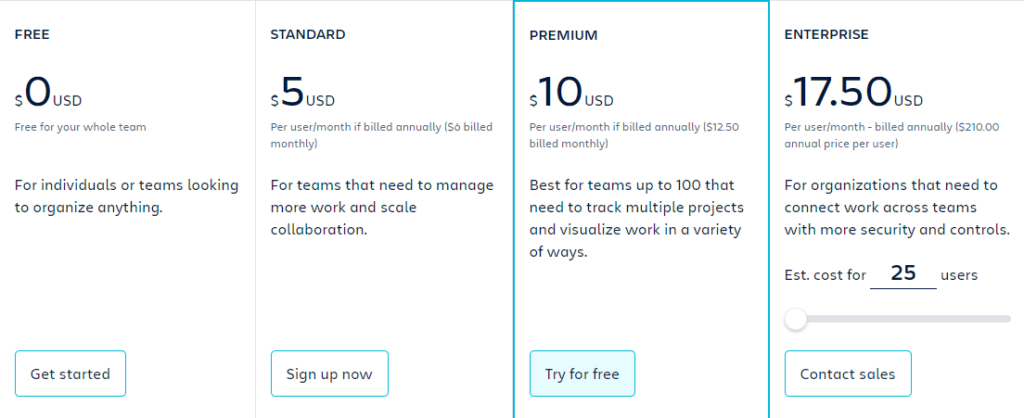 Both Trello and monday.com offer a variety of paid subscription tiers that offer varying levels of functionality to accommodate different projects. Trello's paid plans include:
Standard plan: $5 per user per month when billed annually
Premium plan: $10 per user per month when billed annually
Enterprise plan: $17.50 per user per month when billed annually
Likewise, monday.com offers several different pricing tiers to help you find the exact product that meets your needs. Its paid plans include:
Basic plan: $8 per seat per month when billed annually
Standard plan: $10 per seat per month when billed annually
Pro plan: $16 per seat per month when billed annually
Enterprise plan: Contact monday.com for a custom price quote
Not only are their pricing plans similar, but the increasing level of functionality available with each tier also progresses similarly across both the Trello and monday platforms.
Customer support
Our Pick: monday.com
Customer support is where Trello really falls behind monday.com and the other Trello alternatives. Although both platforms have been heavily streamlined and optimized throughout the years, some technical issues are bound to occur with both Trello and monday.
Firstly, Trello's free plan doesn't even mention customer support. While subscribers to their paid plans can expect a response from customer service within one business day — via email — this just doesn't compare to monday's level of customer support. But if you're in a pinch, there are many online tutorials for some immediate guidance.
The monday.com platform advertises 24/7 customer support. Moreover, their customer support team has an average response time of less than one hour, so customers are never left waiting for an answer. monday.com also has an online Knowledge Base and tutorials, so all your bases are covered.
Trello vs. monday.com: Which Is the Better Project Management Tool?
Our Pick: Either for Different Reasons
Both Trello and monday.com are viable project management tools that offer third-party integrations to expand their functionality. While the customizability and accessibility of Trello is difficult to beat, monday.com offers a plethora of supplementary tools that help you make the most of your project and your team.
If budgeting is an issue, Trello's free service offers a little bit more in terms of functionality than monday's free tier — but both solutions offer multiple pricing plans to better meet your large or small business needs. For comprehensive project management, however, monday.com is the better option.
But if neither of these seem quite right for your needs, take a look at some of our favorite Trello and monday.com alternatives.
Featured Project Management Software
If you're interested in learning more about project management software, the editors at Project-Management.com actively recommend the following: