Overview Presentation

Kanban Tool is an online visual collaboration application that lets different users share workflows and documents, analyze and improve processes, and allow teams to function more efficiently. The tool can be used to manage multiple projects simultaneously, along with providing the ability to communicate with your team members in real-time. Moreover, Kanban Tools gives insightful and useful analytical information that helps the user in making informed decisions.
Features, Benefits, Strengths
Real-time Workflows and Kanban Boards – Kanban Tool creates a realistic working environment through the use of its Kanban board feature. The team members can organize their work and tasks on this board, which is visible to everyone. The board updates in real-time giving instant intimations to the team members. The board has a very visually aesthetic design along with modern functionality, such as providing the ability to drag and drop tasks between workflows to the user.
Reports and Analytics – The platform has a very intelligent reporting and analytical system. The tool can use past data to predict the expected completion date of tasks by a certain member. Additionally, you can create several kinds of charts, graphs, diagrams and other useful illustrations to present the information in a convenient and user-friendly manner. The reports and analytics can be used by the manager to improve the efficiency of the workforce greatly.
Online Document Sharing and Integration – You can share your documents and files with your colleagues through Kanban Tool. The documents are placed on the cloud, meaning they are available to the users at any time. The documents can be attached to specific tasks to denote relevance. Additionally, the tool is integrated with other file sharing applications, such as Google Drive and Dropbox to name a few.

Pricing
Kanban Tool comes with a pricing option for almost all kinds of businesses. The tool includes a free version with limited features, and allows up to 2 users. The unlimited version can be used as a free-trial for 30-days, without any extra charges or credit card details. After the trial period, Kanban Tool is available at a mere $5 per user per month. There are several other options, such as the 'ÄòStarter plan' which costs $9 per month and allows 4 users, and the 'ÄòPro plan' that costs $29 per month and allows 10 users.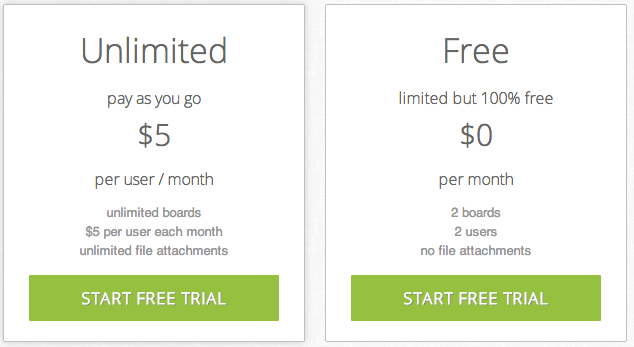 Social Network Presence
Target Market
Kanban Tool is useful for small to mid-sized businesses. The free version can be useful for individuals or 2 users. The tool can be used in all fields of business like consultants, IT, freelancers, medical practitioners, and designers, to name a few. Furthermore, businesses that want to achieve their goals within certain constraints along with maximum efficiency form an ideal customer base for Kanban Tool.
Supported Languages
Supported languages include English, German and Polish.

Some of their Clients
Clients include Expedia, gaming companies Riot and Rovio, Orsay, Pearson, Xerox, antivirus organization Avira, Kontera, SkyScanner, NHS, Groupon and CityIndex.
Testimonials
Valeria of Ainstainer Group was impressed with the ease of use and user-friendliness of Kanban Tool. She stated that the tool was of immense help in managing her clients, and that her employees were able to use it easily due to its simplicity. Another user, Sarah, indicated that after several weeks of using Kanban Tool, the increase in productivity was mind-blowing. She claims that the efficiency of her work was increased by 50%. Mark Schmidt, a software developer, also made a similar claim. He said that his delivery time decreased by 48%, along with a significant increase in software quality.
Why Kanban Tool
Its unique features coupled with an alluring design and seamless functionality makes Kanban Tool a stand-out performer in the project management software industry. Moreover, a free version is also an attraction for individuals or small businesses who work on a tight budget. Finally, the insightful and brilliant analytical capabilities of Kanban Tool add a certain appeal to it.
Company Info
Kanban Tool is a creation of Shore Labs, which was founded in 2009, and has its headquarters in Poland, Europe. Major emphasis was put on simplicity and ease of use by Shore Labs for the creation of Kanban Tool. Kanban Tool has more than 15,000 users around the globe, and was developed to allow businesses to manage their products, and run their processes effectively. [youtube=http://www.youtube.com/watch?v=zsRC0VX_028]

---
Explore Additional Project Management Resources
Learn more about project management by exploring the following project management software reviews & project management software comparisons including Monday.com vs Jira, Monday.com software review, Aha! Software or Agile vs Waterfall.
Featured Partners: Project Management Software