Overview Presentation

BigTime IQ, or simply BigTime, is an integrated time tracking, billing, and task management software especially for professional service providers. It provides a comprehensive set of online tools that enable users to manage employees, projects, and clients efficiently. Data such as timesheets, budgets, tasks and expenses can be linked to effectively monitor the overall real-time status of a project. Reporting, billing, and invoicing are seamless, accurate, and fast.
Features, Benefits, Strengths
Time Tracking and Expense Tracking – BigTime has customizable timesheets that can show daily or weekly views. It has review and approvals workflow, automatically generates notifications to managers and staffers, and allows manual correction by managers of employee timesheets. Security settings limit project views, and required fields ensure that key information are captured. Other features include DCAA timekeepting requirements and smart lookup fields. It also has an integrated expense tracking that allows you to tie expenses to an internal project or billable client project. Other features include expense reporting approval workflows, credit card charge capture, and flexible invoicing options for expenses.
Project Management and Resource Allocation – The time tracking and billing software also includes a budget and task management tool. You can set up tasks per project and assign hourly rates, fees, and expense budgets. It includes a Gantt chart that allows you to create, see, and update project timelines and deliverables. Other features are review and approval of project time and expenses, due date tracking and workflow management. It also has Resource Allocation and project staffing tools that provide information to know which staffers are available, and how much time to allocate.
Billing and Invoicing, Reporting, Mobile App, Integrations, and more – BigTime has billing and invoicing features that allow you to set flexible billing rates and customizable invoice templates that can include personal logo, address, company colors, etc. You can bill a variety of ways: time and material, multiple fixed fee billing at milestons or percent complete, and others. Reporting tools allow you to easily create and customize reports. Viewing is permissions-based, and exporting tools allow you to export in Excel, Word or PDF format. Mobile apps native for iOS or Android platforms enable you to track time and expenses on the go. Offline functionality allows you to continue working until there's connection for auto-sync. It also integrates with Salesforce, QuickBooks, Slack, Google Apps SSO, Zapier, and Lacerte. The company also offers professional services and training.

Pricing
BigTime offers several paid plans. The Express plan is priced at $10 per user per month on an annual billing, with a minimum of 5 users. Features include time tracking, mobile access with auto sync, QuickBooks Online or QuickBooks Desktop integration, dashboard, daily/weekly timesheet views, unlimited timers, custom report wizard, unlimited clients and transactions, chat and email support, and software auto-update. The Pro plan is at $30 per user per month billed annually, with a minimum of 5 users. It includes all Express plan features, and in addition, also has budget tracking, expense tracking, Gantt charts, unlimited user-defined invoice types, and many more. The Premier plan at $40 per user per month billed annually, with a minimum of 10 users, includes all features, including resource allocation, revenue projections, variable cost rates, and other advanced tools. It also offers a free 14-day trial period.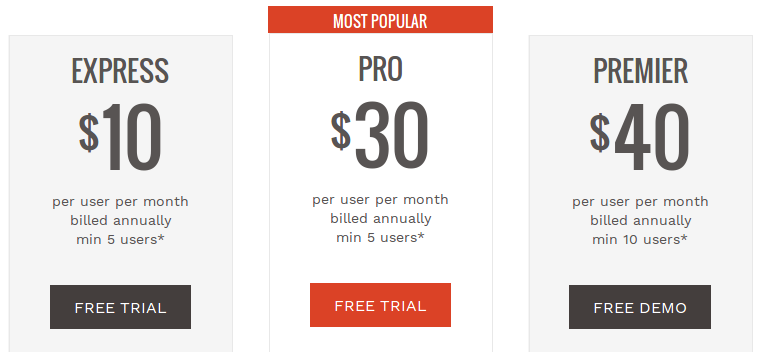 Social Network Presence
Target Market
BigTime is for companies of all sizes, especially for the professional services industry. Accounting, Architecture and Engineering, Consulting, Creative, Government Contracting, IT Services and Law firms will gain the most benefit and value in using the software.
Supported Language
English
Some of their Clients
Clients include 415 Group, C2 Company, True Partners Consulting, and JAS Architecture Group.

Testimonials
Rich Craig stated that BigTime has helped them manage their firm's growth.
Harry Haramis explained that the integrated business software not only met the requirements of their IT services company, but also opened their eyes to 20 other BigTime features that they could use to enhance productivity.
Jon Sammer stated that they did not have to compromise or change the way their architecture firm operated to accommodate the software. Instead, they made BigTime bend to their needs.
Why BigTime
BigTime is an online software to help professional service providers manage their resources and clients with modern and effective tools to make sure you are profitable at the end of the day. It was created by a professional service company to meet its own requirements and challenges. Customers trust the software to help track over $2B in their client fees annually. Also, it recently ranked #6 in G2 Crowd's Top 50 B2B Tech Companies in the Chicago area, along with companies like ActiveCampaign and Basecamp.
Company Info
BigTime Software, Inc., is a privately held computer software company based in Chicago, IL, USA. It was founded in 2002 by Brian Saunders, CEO. He ran an IT consulting firm for over 15 years. As he was facing the challenges that professional service firms face, such as with employees, work, time, expenses, clients, or project billing, this led to the development of a time billing software solution designed for the needs of professional services providers. The company remains committed to helping professional service firms combine the art of leadership with the business of being profitable.

---
Explore Additional Project Management Resources
Learn more about project management by exploring the following project management software reviews & project management software comparisons including Monday.com vs Jira, Monday.com software review, Aha! Software or Agile vs Waterfall.
Featured Partners: Project Management Software