Companies face a set of post-pandemic challenges that are entirely different from the challenges in 2020. Optimism and hope drove an upsurge in products, applications, and experiences. Organizations shifted from solely retaining employees to attracting people with the right skills. According to business leaders, alignment is a crucial success factor, and tools that help align work to business goals provide companies with a significant edge. Project management systems are key to keeping teams and work aligned and for enabling better collaboration A comparison of Rally vs Jira can be useful in finding the right business tool.
Table of Contents
The Rally approach
Rally Software (formerly Agile Central) is a platform that supports all the stages of agile planning and execution. It is an agile software solution that lets teams and companies plan, prioritize, manage, track, and continuously improve work. Mid-sized companies and enterprises use the software to help them align work to business goals, empower teams to work efficiently, and deliver customer value to market faster. Tools include portfolio kanban, release tracking, risk dashboard, iteration status, and GitHub connector. It integrates with Jira, CA, Excel, GitHub, Micro Focus, and Jenkins.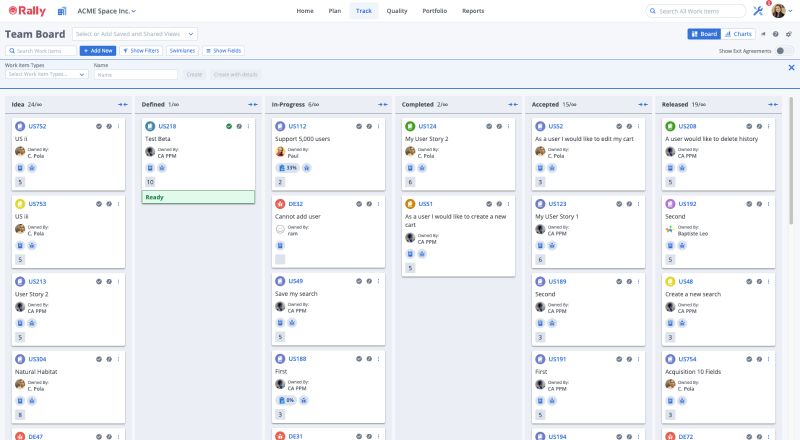 Team board
Rally Software has a Team Board that helps align daily work to business strategy. The company can easily view data and promote a culture that focuses on outcomes. The Team Board flexibly supports Scrum and Kanban and lets teams manage their workflow without admin help. They can view all their work across all stages, from ideas to a completed outcome. Members can create new cards and edit, and move them across the board. A single click on a card will reveal additional details using a pop-over, so you can get more information about a user story or defect without leaving the page.
Work views
Rally Software includes a Work Views feature that allows users to manage the work of one or multiple teams on a single page. This feature lets teams, product managers, and product owners find work faster and easier. They can view and review backlogs across teams. Users can see and save a view that shows all the work of a single or multiple teams. It serves as the central hub where teams can collaborate on a plan, decide on prioritization, and track work. Teams can visualize work in a variety of views, either by list, board, or timeline. Work Views simplifies how a team's day-to-day work aligns with their company's strategic goals.
Capacity planning
Capacity planning shows how a company's business priorities stack up against the capacity of its teams. Rally Software helps you balance work allocations and team delivery. You can prioritize business needs according to the work capacity of your agile teams. Your capacity plan helps ensure that teams plan the right set of work for the next work iteration and that they have enough capacity to achieve the plan. The tool provides roll-ups of progress, dependencies, alignment, and plan health, so teams can make the right decisions and have the right focus.
The Jira approach
Jira Software is an issue and project tracking software for all members of your agile software development team. It lets you plan prints, track tasks and issues, and release software in an organized way. The software is customizable so you can choose a ready-to-use workflow or create your own. It helps teams track their performance with visual tools and reports. You can easily extend its functionality with over 3,000 apps available on the Atlassian Marketplace.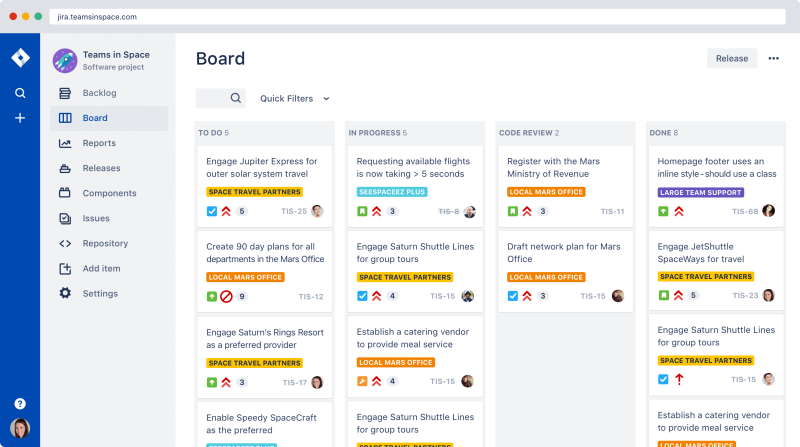 Scrum/Kanban boards
Jira Software has Scrum boards for increasing communication and transparency, promoting sprint planning and iterative development, as well as improving team focus and organization. A variety of teams can use it, from software teams to marketing, business, and HR teams. It also has flexible Kanban boards that give teams full flexibility of current and next tasks so they can continuously deliver maximum output with efficiency. The work in progress (WIP) feature allows them to spot and prevent bottlenecks for a smoother workflow.
Agile reporting
Jira Software includes more than a dozen agile reports that are ready to use. It provides real-time insights for better performance in every sprint. Reporting tools generate sprint reports that help determine and prevent scope creep, burndown charts that help track progress toward sprint goals, release burndown reports to monitor if a release is falling behind schedule, and velocity charts to help teams get a better estimate of their capacity.
Automations
A built-in automation engine is easy to use without coding, helps boost productivity, and lets team automate at scale. Teams can save time with Jira's automation tools. It works across Jira products and integrations with simple drag and drop. Automation comes with built-in rule templates so you don't have to start from scratch. Users can automate the assignment of issues or automate their software releases, among many other tasks.
---
---
Agility and agile tools
Working in silos results in hidden information within teams or departments. It fragments a single organization into isolated and independent units. Aligning something not visible is impossible, but agile methods and tools use visual tools so that everyone is on the same page. This Rally vs Jira article compares features and approaches to help teams choose the right software for their agile teams. But before we compare Rally and Jira in particular, let's review agile tools in general.
Agile project management software enables organizations to ship valuable working products early and often. It supports teams in all the stages of product lifecycle, from planning to execution. Additional benefits include:
Increased visibility through visual management tools like Kanban and Scrum boards
Increased alignment through self-organizing teams, customer collaboration, and importance of user feedback
Increased adaptability by welcoming change and breaking down complex work with smaller but more frequent iterations
Increased sustainability that prevents employee burnout with smaller iterations and frequent customer interaction that helps avoid major repair or rework
Increased quality through frequent product updates in features and security
---
---
Ready to decide on Rally vs Jira?
This Rally vs Jira comparison shows that both are capable agile management software for teams of any size to focus on their day-to-day work while moving towards greater business goals.
Rally Software is ideal for companies with a requirement to adopt agile methods across all business stages, from business steering and portfolio planning, to team planning and continuous improvement with its enterprise-grade solution. It is preferred by businesses for managing software development projects.
Jira Software is an agile project management tool that provides flexibility for a wide variety of teams and use cases. Small businesses ranging to enterprises can use it for issue tracking, customer support, and product development with the option to customize, integrate, and scale.
Featured Partners: Project Management Software
If you're interested in learning more about top-rated project management software, project-management.com actively recommends the following: