Rally Software from Broadcom is an enterprise agile management software platform that provides users across the organization with a central tool for collecting data and work status. It helps break down silos and align teams, processes, and tools. Users have increased visibility on projects, dependencies, and risks, while allowing leaders to make data-driven decisions to increase efficiency, reduce waste, and foster trust.
Table of Contents
Rally Software Features and Strengths
Plan and Prioritize
Rally Software provides users with a central hub to plan and prioritize product strategy with all the important information available across the organization. It unifies the enterprise and provides access to data so teams can plan the right projects and prioritize those that give the most value to customers.
The Objectives & Key Results (OKR) feature gives users a goal-setting framework, so teams and the whole organization can align around the same goals. Teams can associate each objective level with a portfolio item type so team members can understand the business outcome the organization is trying to achieve.
The Portfolio Timeline feature allows users to plan and visualize a timeline for execution. Another feature is the Portfolio Items page that provides end-to-end views of initiatives down to stories, tasks, or defects. The Capacity Planning tool includes what-if scenarios, a single view of demand (features) and supply (teams), and an objective 'too much demand' vs 'not enough supply' view.
Manage and Track
Rally Software helps users track productivity and project quality with tools that inform and engage teams. It enables teams to tie user stories to features without guesswork. It also provides teams with the information they need to pivot when the need arises. The Portfolio Kanban Board shows a visualization of epics to features throughout the entire life cycle from ideation to delivery. Users can monitor work-in-progress as well as spot bottlenecks that slow the flow.
Users can create custom dashboards such as a risk dashboard to keep risks visible throughout execution. The Release Tracking page displays which teams are working on what features and when. Teams can also check dependencies, see unscheduled/unplanned work, highlight issues, or see the big picture. Other features include a Plan Progression page and custom dashboards and reporting.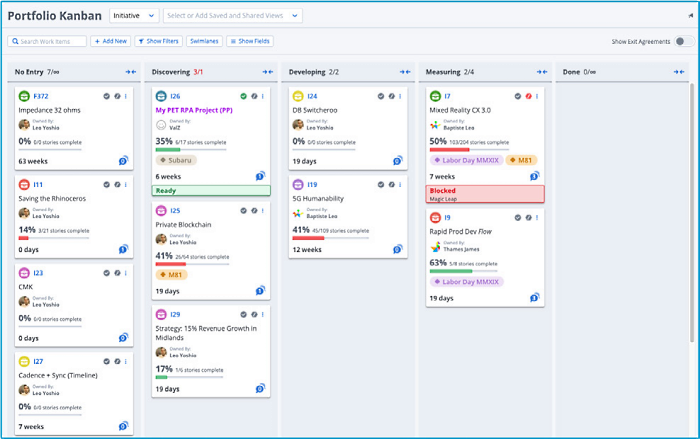 Continuously Improve and Deliver Value
Rally Software collects data so teams can review and create smoother and more intuitive workflows. Its Portfolio Items Cycle Time feature shows users historical information to create better estimates. It includes flow efficiency calculations enabling users to make exact and efficient improvements in the process.
Agile flow metrics provide a view into the efficiency and predictability of teams and their deliverables. It includes charts for flow velocity/throughput, flow load, flow time, and more. It also has Capacity Forecast metrics that enable teams to balance risk and predictability, so they have a better understanding of how much they can deliver based on historical data.
Rally Software Pricing
Customers interested in Rally Software can contact Broadcom's Agile Operations team directly by filling up a web form in the website to request for a price quote.
Who Uses Rally Software?
Rally Software is for businesses of all sizes that need an enterprise agile management software for their digital transformation journey. Many of its customers use the software to have a central tool to give them a way to plan, track, adjust if necessary, and improve continuously. Customers include Boeing, Sandia National Laboratories, Pepsico, CVS Health, The Hartford, United Health Group, Dish Network, Chipotle Mexican Grill, and Hershey's.
Rally Software Supported Language
Rally Software is currently in English only. Support for the German language ends in July 2023.
Case Studies
Ricky Heileman and Mason Ingalls are senior managers for operations who work for a chain of restaurants with over 2000 locations across North America and Europe. When Covid hit, they needed to completely change their business model. The company had to be nimble enough to bring all the teams together, reach customers differently, work differently with its restaurant crew, and operate the business differently.
Heileman and Ingalls were able to bring in all the teams to work together with all the information they needed visible and transparent through Rally Software. The company continues to get benefits with the enterprise solution even after the pandemic. Rally provides increased visibility to the whole product life cycle, from ideation to delivery. It enables them to know not only the status of projects but also help make data-driven decisions on what to work on next.
Emma Terzian is a PMO Manager for a large company specializing in premium chocolates. Emma and team are finding ways how to simplify the process of helping the different teams and departments find what is valuable to their organization through value stream management (VSM). In spite of the pandemic, the company did well in its candy sales due to the innovation of its supply chain partners. In response, the company needed a tool to match the agility of its partners to support them further.
Rally enables the company to have a more integrated workflow and process to remove departmental silos of information. The PMO is able to get important feedback, work on alignment, and help drive better performance.
Why Choose Rally Software?
Rally Software offers comprehensive support for different methodologies to allow quick adoption of Agile management and digital transformation. It is flexible and allows the customization of workflows and dashboards for various purposes. It promotes greater transparency to help teams track issues, manage risks, and collect metrics that results in optimized operations and greater customer satisfaction.
Company Info
Rally Software Development Corp was a public company based in Boulder, CO that offered the RallyDev software. The company was founded by Ryan Martens in 2001, which went public in April 2013. CA Technologies, a public American company, acquired Rally in May 2015. Renamed as CA Rally, the enterprise agile software was to complement and expand CA products for DevOps and Management Cloud. In 2018, Broadcom, a multinational technology company that designs, develops, and supplies semiconductor and infrastructure software solutions acquired CA Technologies as a strategy to buy established mission-critical technology businesses.
Featured Partners: Project Management Software