Project planning is a crucial part of project management that helps determine if a project can successfully achieve its goals. Planning is an activity that project teams can perform manually, or with the help of project planning software. These tools significantly improve the quality of a project plan, as well as the time it takes to create one.
Read more: Top 5 Steps for Creating a Successful Project Schedule
Table of Contents
What Is Project Planning Software?
Project planning software is an application, tool, or feature in business and productivity software that facilitates the project planning process. Since project planning involves activities like goal setting, creating the work breakdown structure (WBS), scheduling and allocating human resources, conducting risk management, and planning communication, using digital planning tools can systematize and organize the whole process.
Project planning software enables users to create a working project document that will guide the project team during the project execution phase. It provides the features and capabilities to help users clearly define the project scope, tasks, schedule, resources, risks, quality standards, budget, and communication plan.
Read more: Tips for Project Management Budgeting
Best Project Planning Software and Tools
Project planning is a critical activity that transforms a project from an idea with goals into a result with valuable impact. The best project planning software helps a project manager build an organized and comprehensive plan that covers scope, schedule, cost, tasks, resources, and risks.
Wrike
Wrike is versatile project management software that helps teams create custom tools for their exact needs. It has features to support better project planning through sharing of files, tasks, and reports. It also shortens the feedback process, improves visibility, and allows for faster searching of information.
Wrike project planning tools include interactive Gantt charts for visualizing plans, progress, and dependencies. A drag-and-drop interface lets users adjust plans easily while automatically sharing the updated plan in real time. Other features include built-in team collaboration, visual proofing, shared calendars, resource management, time tracking, and reports.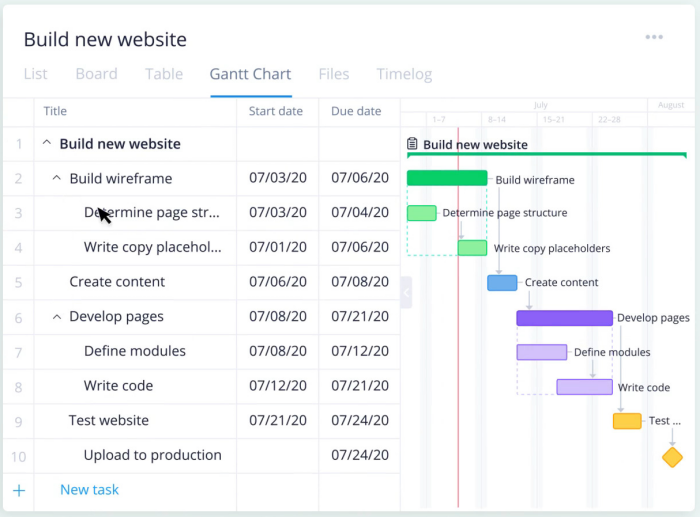 Pros
Task organization, management, and tracking
Resource planning
Responsive support
Cons
Occasional issues in task dependency
Users wish for improvements in Workload feature
Asana
Asana is online project management software for teams. Users are able to manage tasks and other types of work in a central shared workspace with access to different work views. A timeline view allows for planning and management of different types of tasks including dependent, overlapping, and unscheduled tasks. It also has a project overview so teams get a clear context of goals, resources, and other project information.
Asana project planning tool enables teams to plan, manage, track, and communicate about projects. Users can customize projects and workflows, and then save them as reusable templates. Other features available are real-time project status monitoring, Kanban board view, forms, workload, integrations, and rules-based automation.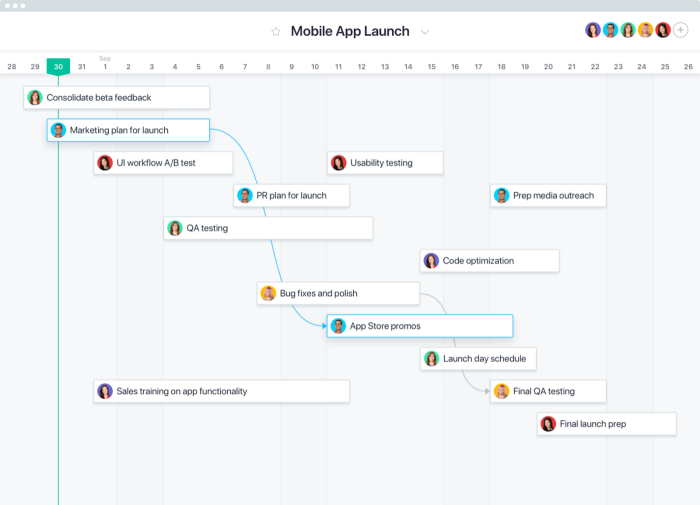 Pros
Task management and project collaboration
Shared team calendar
Centralized inbox for reminders and notifications
Cons
Needs simpler navigation
Time tracking is only available through integrations
Jira Software
Jira Software is project tracking and issue management software used by many developers and product teams. It has several planning tools built-in for creating features, planning sprints, and tracking defects. It also has roadmapping tool that enables teams to plan smarter and communicate better.
Jira Software has basic roadmap feature to manage tasks from the bottom up and monitor team progress in real time. It offers quick and easy planning for a single team. Advanced project planning is also available to manage multiple projects and teams with unlimited levels of hierarchy. Users can visualize and track dependencies across teams, projects, and initiatives. They can also plan with consideration of team capacity and what-if scenarios.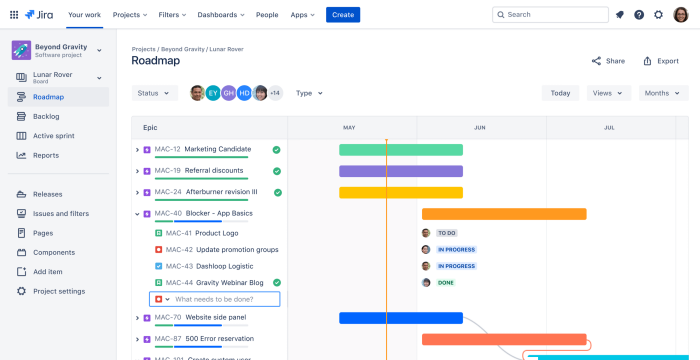 Pros
Real-time task tracking
Project progress monitoring
Issue tracking
Cons
Needs additional integration options
Users wish for simpler UI and navigation
monday.com
monday.com work management platform caters to a variety of use cases, workflows, applications, and industries. A highly visual and customizable interface lets teams shape and select the tools for their needs. It provides project planning and management features that allow teams to manage a wide range of initiatives, from basic projects to complex portfolios.
monday.com provides the central workspace to manage projects from initiation and planning to execution and closing phase. Users can plan their project scope, budget, milestones, dependencies, baselines, and stakeholders. They can assign tasks to owners and contributors and specify deadlines while monitoring progress with real-time dashboards and reports. The software also has collaborative document, Gantt chart, templates, and automation.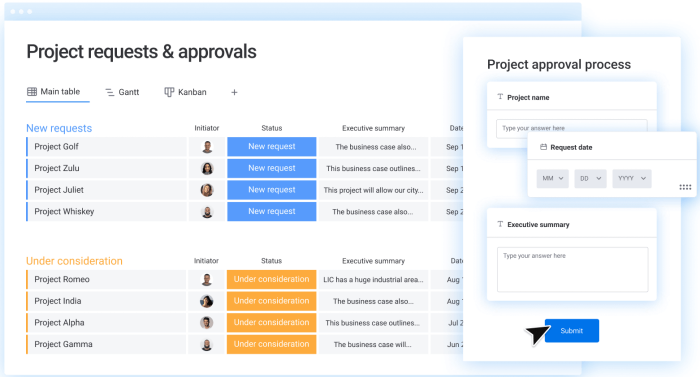 Pros
Task creation, assignment, and prioritization
Gantt chart with critical path
Template library
Cons
Needs a more intuitive UI for linking tasks and attaching files
Users wish for a chat or messaging tool within the software
Teamwork
Teamwork is all-in-one project and team management software ideal for client projects. Users can manage projects, teams, and clients within the same platform and also track billable time for accurate billing and invoicing. The software has tools and reports to help maximize resources to increase productivity and profitability.
Teamwork project planning software makes the task of planning simpler and more efficient. Gantt charts help visualize timelines with tasks organized according to priority and sequence shown in Gantt-style views. Users can break down work into manageable tasks and track progress for every milestone reached. Other features include risk register, resource management, time tracking, and messaging for better stakeholder and client alignment.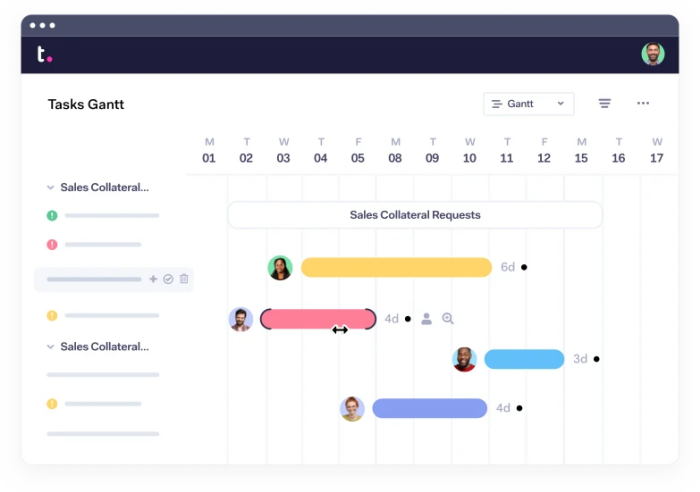 Pros
Task management and scheduling
Progress tracking and collaboration
Mobile app
Cons
Needs more intuitive UI for navigation
Users wish for more granular control of access and permissions
Scoro
Scoro end-to-end work management software enables users to streamline project planning and management, simplify quoting, automate billing, and optimize resource utilization. It provides agencies, consultancies, professional service organizations, and IT firms a central hub to manage and track all work. An up-to-date view of project plans help users focus on important work while seeing how changes and delays impact projects.
Scoro project planning tool lets users plan, track, and manage unlimited projects. It has tools to streamline creating projects, assigning tasks, scheduling meetings, and planning work. It also has custom user roles, real-time Gantt charts, work tracking for actual and billable time, progress reports, calendars, invoicing, contacts database, and key metrics.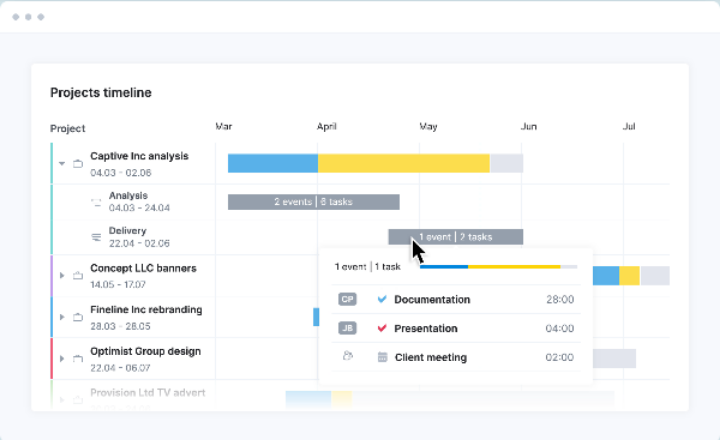 Pros
Project risk analysis
Task dependencies
Invoicing and billing
Cons
Resource allocation feature needs improvement
Users wish for more automated timesheet management
Hive
Hive is project management and collaboration software for all types of users. It enables teams to stay on top of their projects and tasks with a range of work views. It is simple to use for a variety of workflows, with project templates, automation, and multi-user video proofing.
Hive provides project management planning tools as well as monitoring and execution tools within the same platform. Users can organize projects in Gantt chart, calendar, and other views with easy switching between layouts. It promotes transparency with internal and external stakeholder collaboration. It also has resource management for optimized utilization, custom automated workflows to streamline processes and communication, and reporting and analytics tools.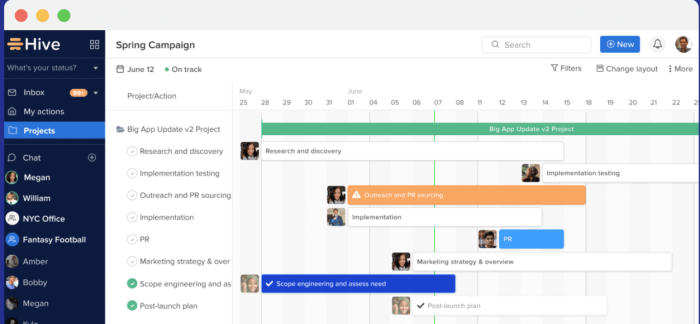 Pros
Task creation, assignment, and prioritization
Project scheduling and critical path analysis
Time tracking
Cons
Needs improvement in managing notifications
Users wish for more analytics features
Resource Guru
Resource Guru is resource management, planning, and scheduling software that enables teams to improve performance. It offers simple project planning software that that allows users to create project plans based on the project team's actual availability. With the right information on who is available and capable, teams can plan new projects effectively.
Resource Guru has a project scheduling feature that tracks utilization rates and prevent over-allocation. It also has a drag-and-drop interface, provides overview of all project schedules, allows for changes easily, and supports collaboration with project managers and team members. The software generates different reports to help monitor project health, enable forecasting, and prepare for additional capacity.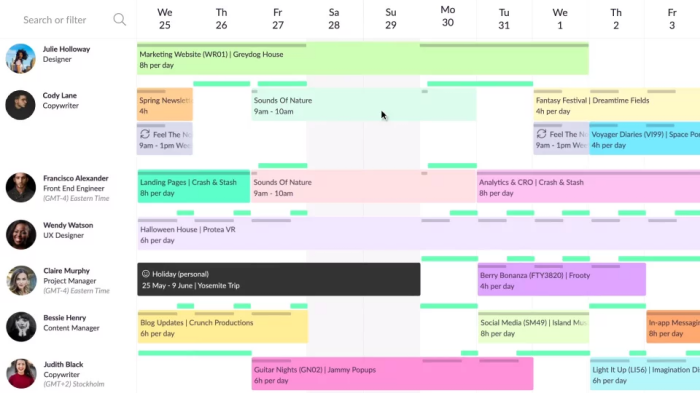 Pros
Resource capacity and performance
Intuitive project scheduling
Ease of setup and use
Cons
Needs additional notifications for project-related schedules
Users wish they didn't have to download pivot table reports to view them
Workzone
Workzone online project management software improves visibility so teams can manage any number of projects with ease and success. It has a comprehensive project dashboard view that lets users instantly see which projects are on track and which are running behind. Task management, personalized to-dos, and real-time notifications help keep projects on time and on budget.
Workzone project planning tool also has built-in workflows for managing project requests and approvals that help speed up project creation. The interactive Gantt chart lets teams view project schedules graphically across a timeline and in-line editing shows changes immediately. Other features are dependencies, time tracking, workload reports, group calendar, and templates.
Pros
Interactive Gantt chart
Custom project templates
Project reporting
Cons
Needs routing improvement in submitting request forms
Users would like an integrated project accounting feature
Runn
Runn is resource planning and forecasting software that enables users to manage people, projects, and profits on a single platform. Teams can schedule people and projects in real time, plan team capacity, and allocate effectively. Users can schedule resources and manage capacity with simple clicking, dragging, and dropping.
Runn includes a project planning app that shows resource availability information. It allows for quick creation and adjustment of project schedule. Users can view all projects and portfolios with all phases and milestones for efficient prioritization. Other features include project forecasting, budget tracking, timesheets, reporting, API, and integrations.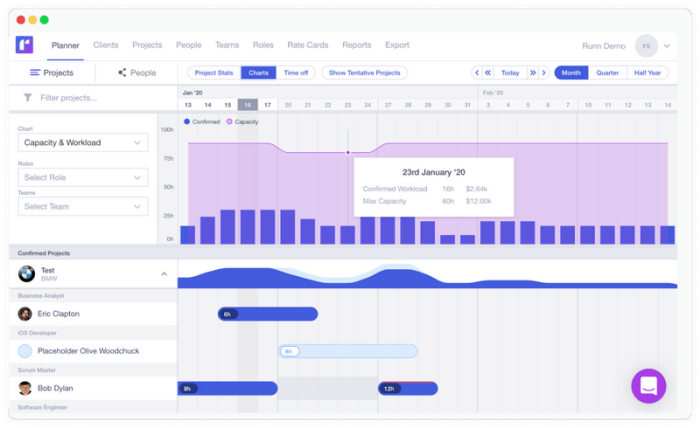 Pros
Clean and intuitive UI
Straightforward project reporting
Affordable with free plan
Cons
Limited permission levels
Needs additional integrations
Types of Project Planning Software
Project planning software provides users the tools to create schedules and Gantt charts, as well as track progress against baselines and estimates. Project planning functionality is available in several types of platforms.
Project Management Software
Project management software enables project teams to follow best practices and improve outcomes with the use of a digital platform. PM software supports users in their project management activities with centralized information, improved visibility, and increased efficiency throughout the project lifecycle from project initiation and planning to monitoring, execution, and project closing.
It has specific features that simplify project planning such as timelines, Gantt charts, automated task management, document collaboration, performance reporting, and team communication.
Professional Services Automation Software
Professional services automation (PSA) software helps organizations handle time tracking, contracts, project management, invoicing, and billing of clients.
Since project management is one of the primary functions of PSA software, most solutions come with project planning tools that help ensure successful delivery of projects. PSA software goes beyond project delivery with client invoicing, billing, and other project financials to maintain healthy company revenue.
Resource Planning Software
Resource planning and resource management software includes project planning capabilities to manage human capital and scheduling. It is for allocating and assigning people to projects. The software is also useful in determining information for capacity management and resource forecasting based on roles and project needs. Teams create more accurate and efficient project plans when they can utilize resources for the project in the most optimal way.
Read more: Resource Management Tools & Software
Project Planning Software Features
Users looking for project planning tools should consider essential features that will help them create a comprehensive project plan.
Document management: Needed to document the business case, goals and objectives, and scope statements for a project.
Work breakdown: Allows users to create a WBS from a large project using an outline or list view.
Task management: Easy-to-use tool for creating, prioritizing, assigning, and tracking tasks with dependency features.
Team calendar: Enables the project manager to schedule and organize meetings with team members and stakeholders to discuss project plans.
Planner and scheduler: Interactive timeline or Gantt chart builder with support for critical path analysis, automatic adjustments, and alerts for upcoming due dates.
Collaboration: A central workspace where all involved can view and retrieve up-to-date project information, read announcements, and send messages related to the project.
Dashboards and reports: Allows the project team and stakeholders to get status updates and progress reports.
Resource management: Tools to manage the estimated workload against availability of resources, ensuring the project is adequately staffed.
Budget management: Enables a project manager to calculate costs and expenses, manage budget, and give project sponsors budgetary reports and requests.
Read next: Best Scrum Software and Tools for 2023