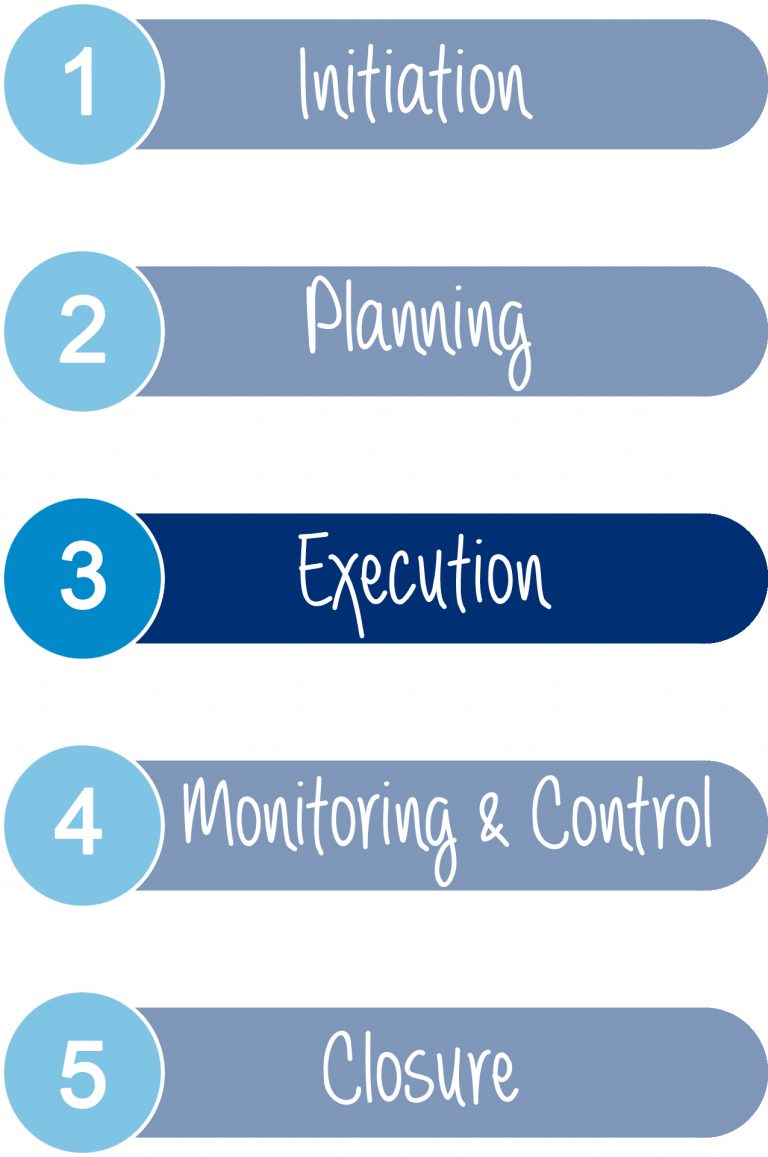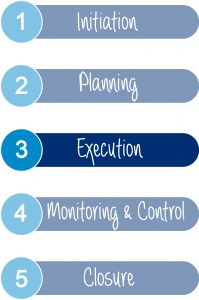 You and your project team have worked through the planning phase. You have devised a solid strategy for your project. However, as Peter Drucker said
, "
Plans are only good intentions unless they immediately degenerate into hard work.
"
With your detailed plan in hand, your team is ready to start phase #3, the Execution phase. Roli Pathak, in her overview
Top 5 Project Management Phases
, says of this phase "a project deliverable is developed and completed, adhering to a mapped-out plan. A lot of tasks during this phase capture project metrics through tasks like status meetings and project status updates, other status reports, human resource needs and performance reports. This is an important phase as it will help you understand
whether your project will be a success or failure.
"
Exploring Phase #3 – Execution
At this stage in the project life cycle, you will finalize your complete project team and acquire all essential resources needed to accomplish the tasks laid out in the planning documentation. Your focus as project manager will change to performing and supervising all activities to create the tangible product or service as outlined in the project plan.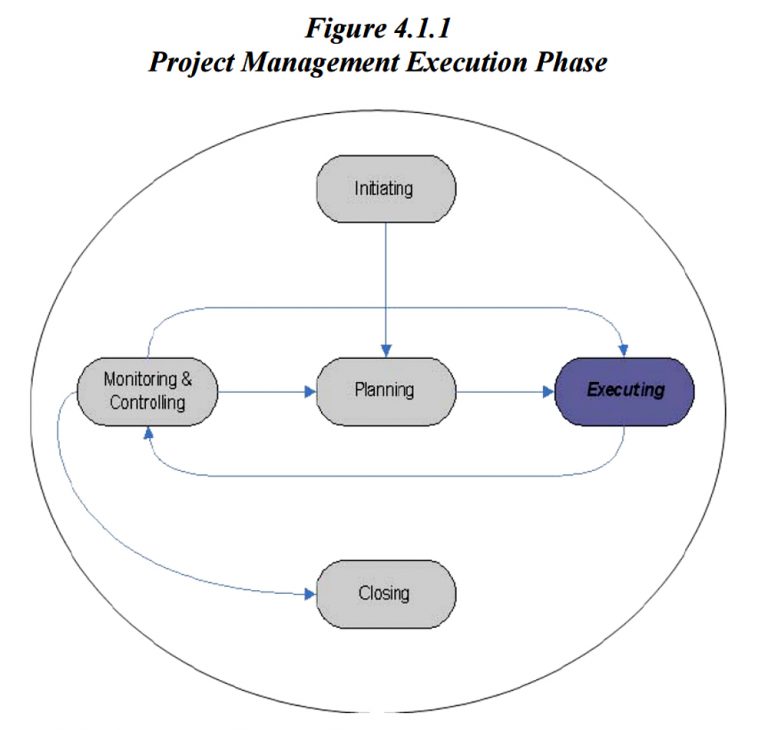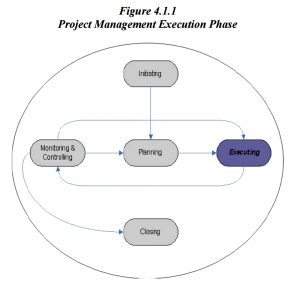 Department of Information Systems Arkansas | Project Management Methodology
The execution phase will likely take the longest amount of time to achieve of any of the phases. You can anticipate using most of your resources and energy during the completion of this stage. Closely tied to the execution phase is phase 4, Monitoring & Control. We will study specifics of phase 4 in my next exploration post. Keep in mind, however, that during execution, you will create a management process to track time, resource expenditure, delays, issues, etc. ensuring that you and your team don't forfeit quality. Jason Westland is the Founder and CEO of ProjectManager.com. In his book,
The Project Management Life Cycle, A complete step-by-step methodology for initiating, planning, executing & closing a project successfully
, he said, "The execution phase is typically the longest phase of the project in terms of duration. It is the phase within which the deliverables are physically constructed and presented to the customer for acceptance. To ensure that the customer's requirements are met, the project manager monitors and controls the activities, resources, and expenditure required to build each deliverable. A number of management processes are undertaken to ensure that the project proceeds as planned. The activities shown in Figure 1.5 are undertaken. "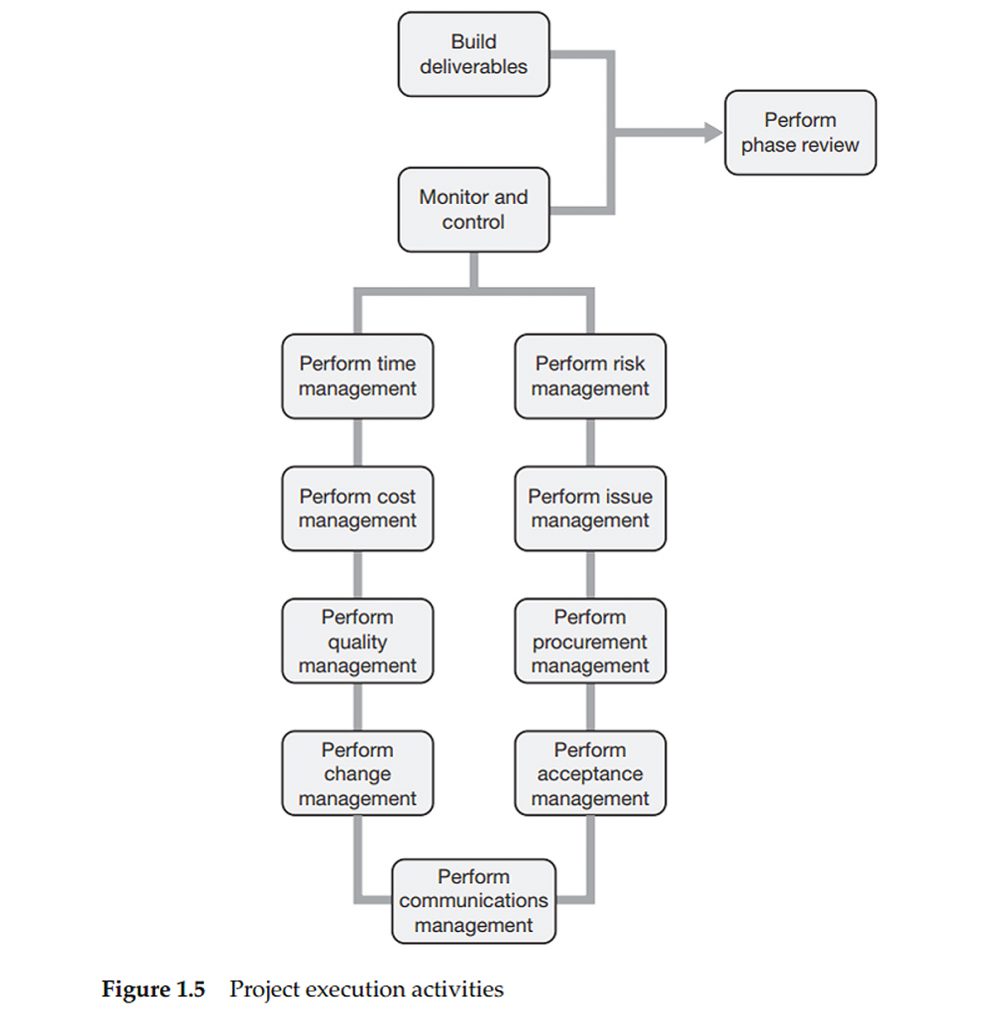 In this visual, Jason illustrates how phase 3 and 4 share simultaneous actions, and which activities take place during this time.
Project Manager Priorities
Your visibility as the project manager becomes prominent during the execution phase, as stakeholders, clients, and executive management will expect progress updates.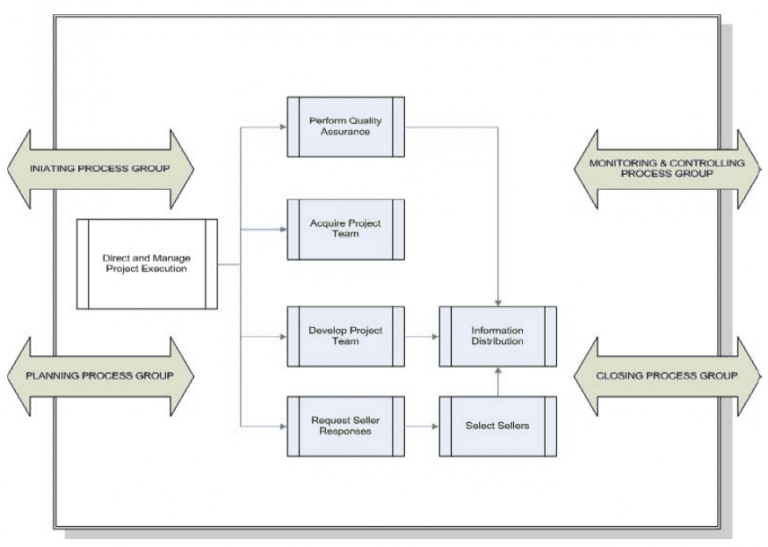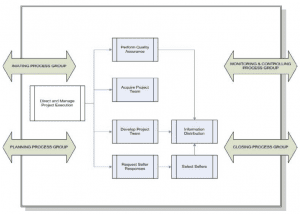 Department of Information Systems Arkansas | Project Management Methodology
As project manager, you don't want to be so hands-on executing activities personally as you will bog yourself down in the tedium of specific tasks. You should instead supervise your team and facilitate each member's achievement leaving yourself free to communicate efficiently with management. Your focus must be on handling the expectations of your client. Your goal is to pay special attention and to make sure that you keep all parties involved abreast of any developments including routine status updates, resource usage, and any other pertinent issues. You want to achieve and maintain quality throughout, catching and mitigating any potential risks before they influence the project milestones and therefore the completion date. Multitasking is a key skill of a successful project manager. While, yes, monitoring & control do technically occur on the next phase, stay aware of possible hindrances during the execution phase as well.
Progress Updates
Documentation has been part of your project from the beginning. The charter from the initiation phase included a suggested plan. During the planning phase, your team finely tuned the plan and updated the project documents. The execution phase is no different. As you and your team progress, you will update the project documentation with results including accomplished activities and completed deliverables. You should include cost expenditure and quality benchmark updates. Your team may find that once you put the plan into practice, potential policy and procedural revisions may surface that decision makers should consider for implementation. You would include those items as well. During execution, projected risks may materialize. By consistently assessing risk, you equip yourself, your project team and executive management to develop contingencies and alter or update your plan as you move forward.
Wrap-Up & Resources
To learn more about project metrics, status meetings, project status updates and reports, take a look at these articles.
Metrics for Project Success
|
3 Ways to Improve Progress Measurement for Better Project Performance
Featured Partners: Project Management Software