If you're new to project management, you might be feeling a little overwhelmed with so many new terms and ideas to master. Don't worry, that's why we've compiled this helpful guide of project management essentials for beginners so you'll be ready for project excellence in no time!
Featured Partners: Project Management Software
What Is Project Management?
Project management brings together a specialized set of ideas, tactics, and techniques aimed at successfully completing measurable and specific goals that contribute to the successful competition of a project or project portfolio.
While the scope of project management is broad and encompasses a wide range of ideals and teachings, it's understood much more easily through the lens of specific tactics called methodologies.
What sets it apart from general "management" is its direct connection to the objectives and time-bound targets realized within the project's defined scope and constrained timeframe, as opposed to an ongoing, continuous management approach.
---
Read more: What is Project Management? Definition, Types & Examples
---
Why Is Project Management Important?
Project management is one of the most important aspects for an organization to prioritize today. According to the Project Management Institute (PMI), organizations that don't properly include project management in their strategies have more than a 60% higher rate of overall failure. Yet, organizations that make project management a priority see the inverse effect, with increased strategic alignment, better quality control, and ultimately, more successful projects in the long run.
---
Read more: What Is Agile Project Management?
---
The Top 5 Things to Know If You're a Project Management Beginner
Project managers are experts in project management who help organize, manage, and execute successful projects. While they are far from the only career path within the project management industry, project managers are one of the most common roles you will hear about.
Project management tools are a flexible way to personalize your team's project management strategy – and they're essential to keeping your project on track. Project management software, collaboration tools, and project charts are a few of the tools you will want to explore.
Project management strategies and tactics are shared through methodologies and frameworks that detail how and when strategies can be applied and their best use cases for various types of projects.
Project management is one of three essential elements in organizational project management: project management, program management, and portfolio management. (More about that here)
Project management is an ongoing process, meaning that continuous improvement and change are an integral part of maintaining a strong project management strategy.
Understanding the Essentials: Project Management Methodologies & Frameworks
While the terms "methodology" and "framework" are often used interchangeably in project management, they are, in fact, very different. In project management, methodologies refer to a very specific set of rules and guidelines that are to be followed to the letter when working on a project. On the other hand, frameworks are less rigid guidelines that provide adaptable paths for the application of methodological principles.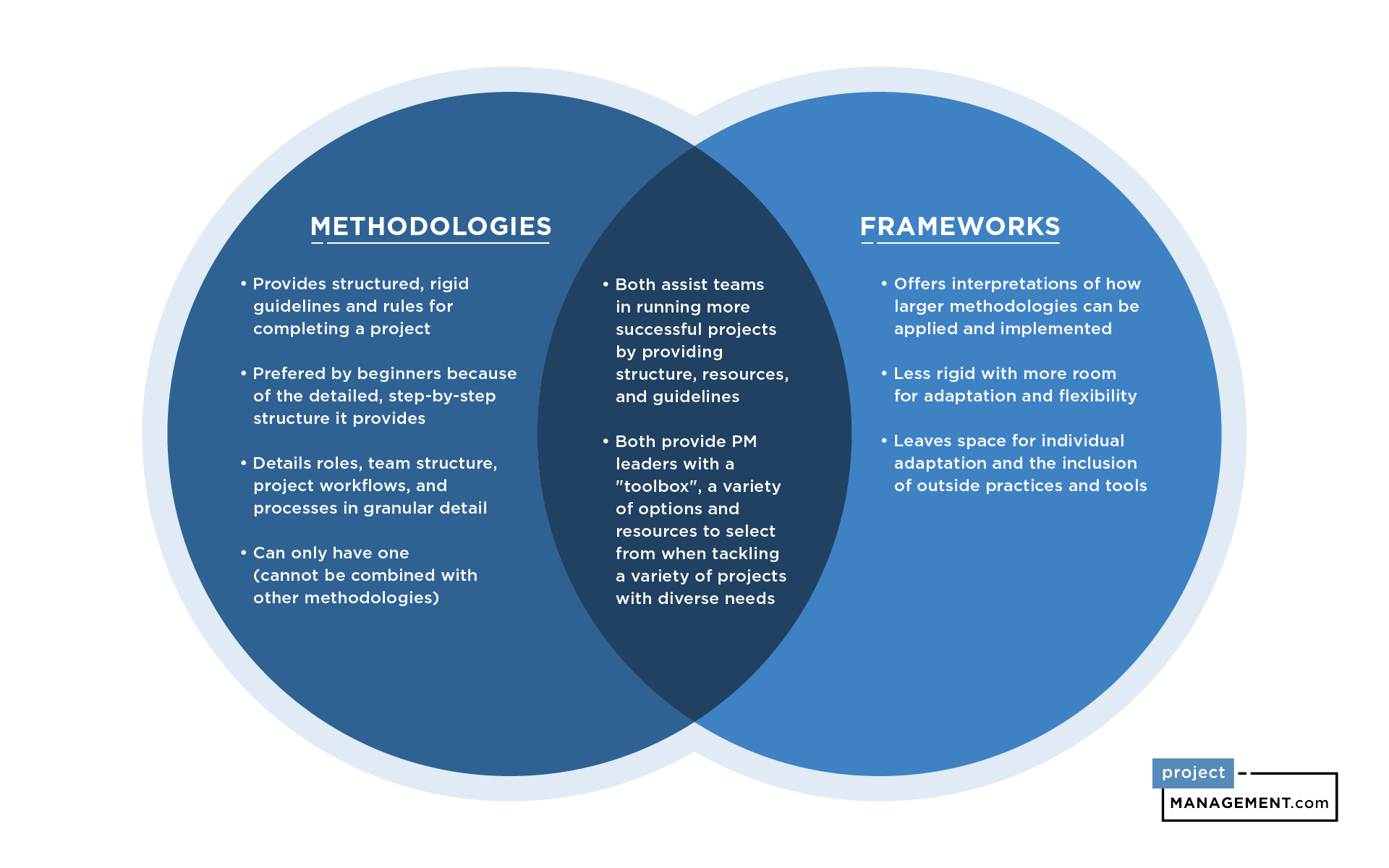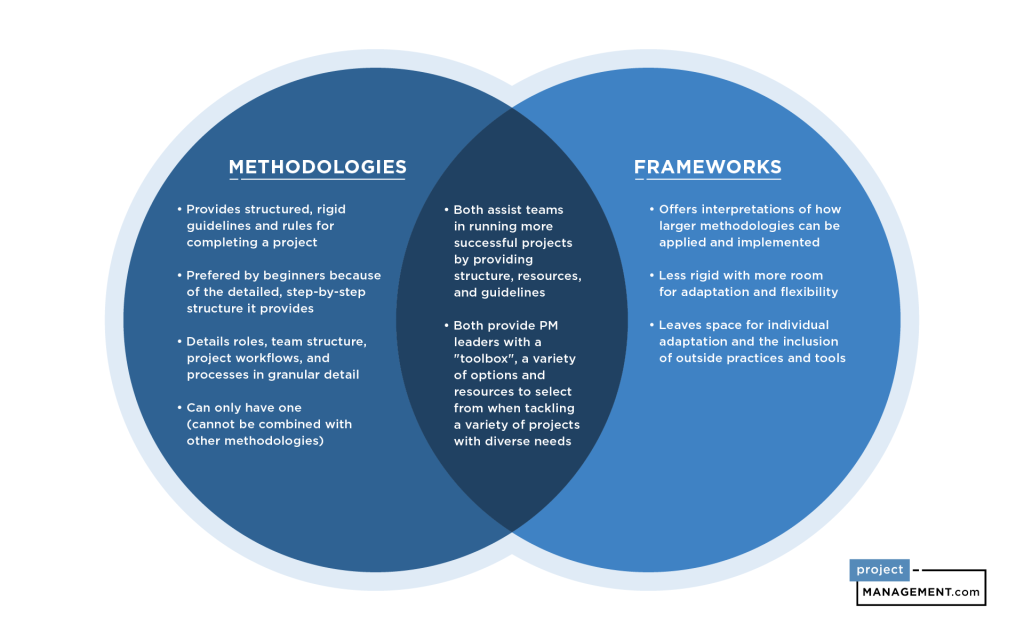 ---
Read more: Agile Software Development Methodology & Principles
---
The 3 Elements of Organizational Project Management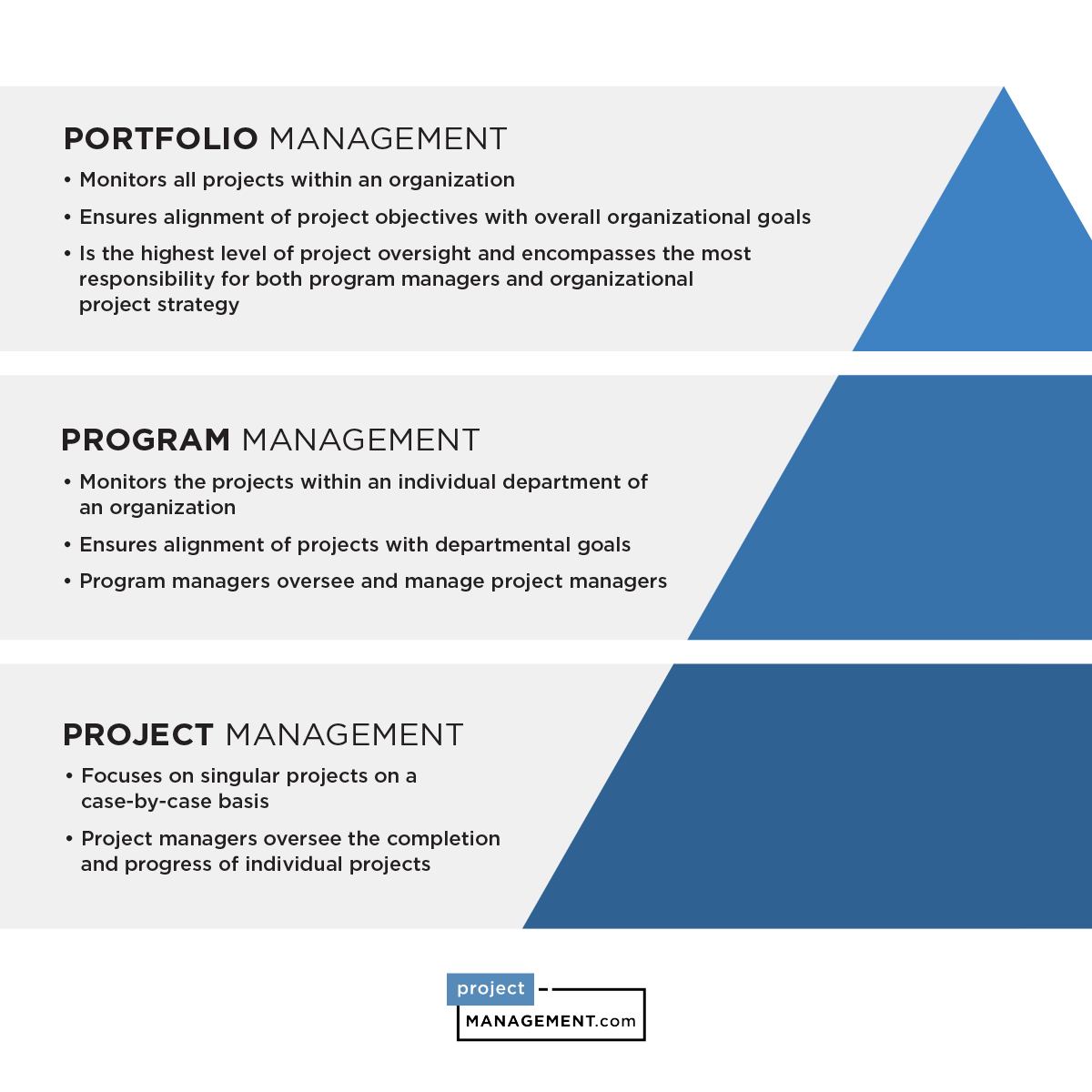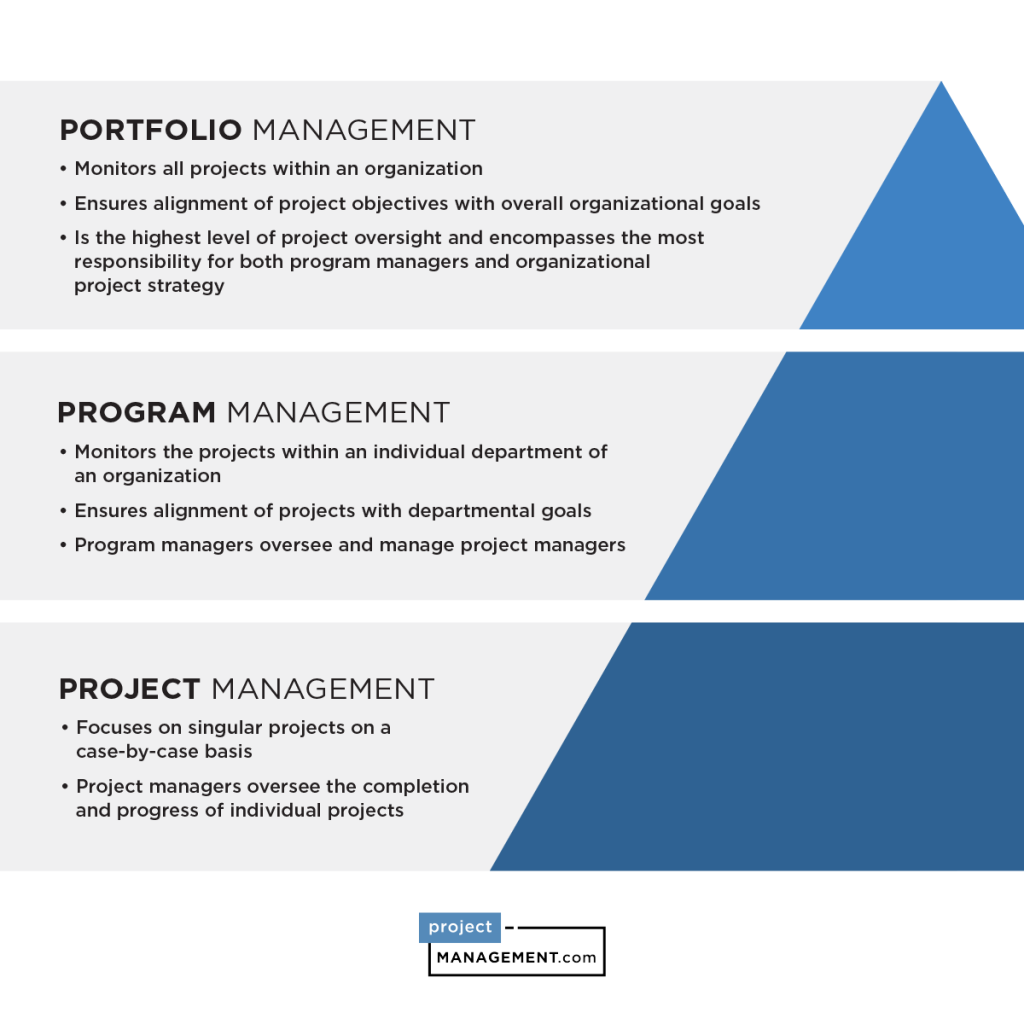 Project Management: While project management refers to a larger study of best practices in managing and completing successful projects, it also refers to the running of an individual project, when compared to program or portfolio management.
---
Read more: The Four Elements of Project Management
---
Program Management: Program management aligns all of the projects within a specific department of an organization with clearly defined goals and objectives that serve departmental and organizational needs. A program manager works closely with project managers to implement project strategy at the departmental level while overseeing project progress more granularly.
---
Read more: What's Your Project Management Style?
---
Portfolio Management: Portfolio management monitors and tracks the activities of all projects within an organization, at the program and project level. This is the highest level of organizational project management that focuses on ensuring that all organizational projects are in alignment with business goals.
Project Management Software
As the name implies, project management software encompasses a wide range of software offerings that aim to help teams complete projects successfully and on time. While individual features vary from vendor to vendor, project management software, at its most basic level, allows teams to schedule and assign tasks, organize essential files, break down large tasks into smaller subtasks, manage multiple projects at once, and view projected project timelines.
Depending on a team's level of familiarity with project management and their individual project needs, they may use project management software alone or in combination with other project management tools, such as Gantt charts, collaboration tools, and Kanban boards.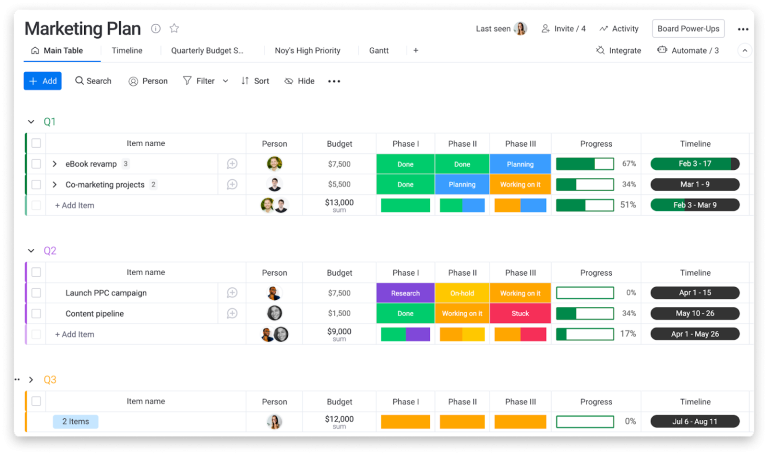 ---
Read more: 10 Best Project Management Software for 2023
---
What Top Project Management Certifications Do I Need?
In the field of project management, certifications are essential to highlighting your mastery of project management concepts, improving your earning potential, and furthering your career. Whether you're new to project management right out of college, you're looking to make a career shift, or you're an experienced project manager with years of experience, obtaining certifications from accredited organizations, such as the Project Management Institute (PMI), is the best way to prove your worth in the competitive marketplace.
Below is a list of the top certifications you should explore, regardless of your experience in the project management field.
Top 5 Project Management Certifications
---
Read more: 5 Best Project Management Certifications for 2023
---
Phases of the Project Lifecycle
In order to properly master the basics of project management, you need to understand the various phases of the project lifecycle, from beginning to end.
Project Initiation
Defines project vision, goals, and objectives
Outlines clear milestones and project timeline
Identifies potential risks and roadblocks throughout the project
Project Planning
Outlines an estimated budget and plan for resource management
Answers the "what," "how," and "when" of the project plan
Clarifies project scope
Project Execution
Monitors project status as actions are taken
Engages stakeholders and team members in open communication
Relies on predetermined systems to keep execution moving forward smoothly
Project Monitoring & Control
Tracks team performance against KPIs and goals
Compares projected budget and scope outlines against project progress in the status quo
Monitors quality of deliverables
Project Closure
Reflects on major wins and losses throughout the project lifecycle
Delivers final deliverables and project outcomes
Provides an opportunity for team reflection and discussion
---
Read more: 5 Phases of Project Management Life Cycle You Need to Know
---
How to Implement a Project Management Strategy for Your Organization
1. Take stock of the status quo
Before you take any steps toward implementing a project management strategy for your organization, you need to take stock of your unique situation. Perhaps you already have a well-flushed-out project management strategy with dedicated project managers. Maybe you're a small business owner just venturing into project management for the first time.
In any case, the first step is answering 3 essential questions:
What is our level of experience with project management?
What goals do we want to achieve through project management in the short and long term?
What is our budget and capacity for exploring project management resources such as software solutions, staff, etc?
2. Build your toolbox
With so many project management tools and resources available, how can you decide which tools are the right fit for your organization? A good first step is to consider project management software, as many vendors include free trials and free forever plans that can fit within any budget while providing businesses a home base for all things project-related.
Take time to thoroughly explore your options by researching, testing, and demoing a few top choices before making a selection. While it's more than okay to switch vendors later on as your business grows and evolves, ideally, you want to select an option that can scale alongside you to minimize data migration down the line.
3. Consider who will take ownership within your organization
Now is the time to consider who will take ownership of your project management strategy. Will you have a dedicated project manager or managers? Who are the key stakeholders inside and outside of your organization? How will essential personnel communicate throughout the project lifecycle?
4. Create a plan and hone in on your goals
What projects will take priority over other tasks in order to meet your most essential business needs? How will you measure the success of your strategy over time? What are your top goals that project management can help address? Whether your team is highly experienced in project management or you're making a run at it for the first time, having a plan in place ensures your success.
Now is the time to document your project management strategy and outline key standard operating procedures, or SOPs. While this document will look unique for each team, it should include, at a minimum, details surrounding scope, team roles, procedures, definitions, and revision history.
This guide will serve as your point of reference as you begin exploring project management, whether you're testing out a new project framework, adding a new member to your project management team, or implementing project management strategies for the first time. It's important to note that this guide should serve as a living document, meaning it can be easily modified and updated over time.
5. Roll out your trial run
Once you've established your game plan, it's time to take action and put your strategy to the test. Check-in with your team frequently throughout the duration of the project and encourage open communication about what's working well and what can be improved.
Now is the time to utilize your toolbox of resources as well. By utilizing project management software or project charts (such as a Gantt chart), you can schedule deadlines, track the progress of tasks, organize key files, and even relay updates to your team.
6. Reflect and debrief
After the conclusion of the project, take time to debrief with your team openly about successes and failures throughout the project lifecycle. Create a plan to address any challenges more effectively next time around and stay flexible in your team's approach to roadblocks.
---
Read more: Strategy for Project Managers 2023
---
FAQs