Determining how to tap collective knowledge and experience in organizations and enterprises has long been a fundamental management problem. But with the merging of knowledge management systems and collaborative and social technologies, new knowledge sharing technology tools like Confluence allow teams and companies to dramatically expand their business capabilities and value.
Table of contents
What is Confluence?
Confluence is a remote-friendly team workspace that connects co-workers and content for improved performance and higher quality. Confluence is a business platform where workers come together to discuss problems, issues, projects, and anything else work related.
The knowledge management tool harnesses collective knowledge into easy-to-find answers. Project collaboration features help kick-start team participation to move work forward. The software is a modern social intranet that enables all teams across the organization to share announcements, strengthen company culture, and get instant feedback. Confluence is free for up to 10 users, with paid plans starting at $5 per user per month.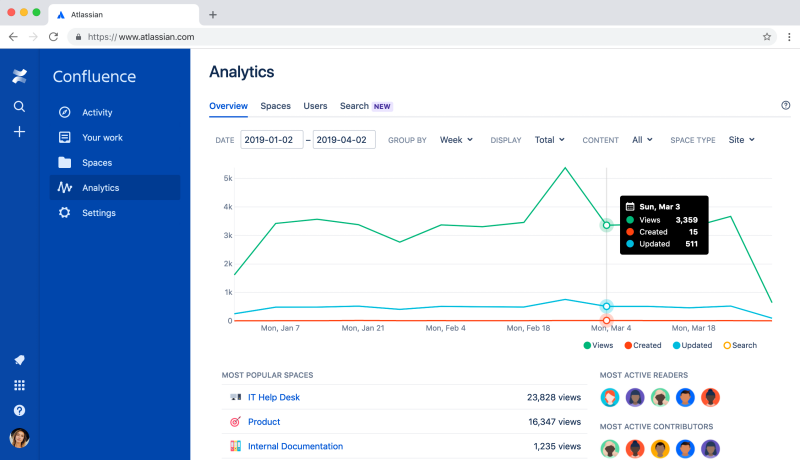 Advantages of Confluence
Confluence is an innovative communications solution that speeds up clerical tasks at the workplace, leaving more time for the important activities. It allows users to take into account multiple viewpoints so that they select the best code or document. Confluence is an on-demand service that is easy to set up without placing much strain on company servers.
The software enables teams to improve their ability to communicate and share files, allows Jira users to instantaneously create issues and track progress, helps developers discuss specifications together, and provides technical writers with a nifty documentation tool for storage, drafting, and editing. Also, enterprises get solid enterprise readiness and easy synchronization.
Read also: A Sneak Peak at the Future of Document Management for Businesses
Drawbacks of Confluence
Confluence is a collaborative software that organizes documents in a single space. But without a standard policy or process, it will not prevent users from creating multiple duplicate pages because they forgot about a similar page that another user created. Creating pages properly may require a deeper technical understanding to display more visually appealing content. Documentation for creating pages, onboarding training, and a more intuitive interface can help non-technical users adopt the tool in less time. Users also wish for role-based permissions and a built-in chat in future updates.
What to look for in a Confluence alternative?
Confluence is ideal for teams using other Atlassian products or teams with technical backgrounds. For teams looking among Confluence alternatives, the following capabilities can help an organization adopt a collaborative document management tool better suited to their workflow, team composition, or business requirements:
Additional tools such as project management for a unified business solution
A user-friendly interface like drag-and-drop page editing
Reporting and insights to improve document management and overall business processes
Easy integration with other business tools and productivity apps
Affordable and scalable for any business size or industry
A verification tool to make sure content is reviewed, updated, and verified
Read also: Personal Experience of Time Tracking for Technical Documentation
Best Confluence Alternatives
Confluence is part of the proven Atlassian technical stack, along with Jira and Trello, that provides reliable solutions. However, other robust and flexible solutions from both Atlassian and Atlassian competitors are available that may provide a more suitable Confluence replacement.
Ready to try a Confluence alternative for your knowledge sharing needs?
Confluence is a great tool for cross-departmental collaboration and knowledge sharing. But it's not the only tool available for companies who may need to look at solutions—including those from Atlassian competitors. In order to choose the best knowledge management software, it's essential to know who your users are, what type of content you will share, and the processes you will implement to manage your documents to keep them relevant, organized, and secure.