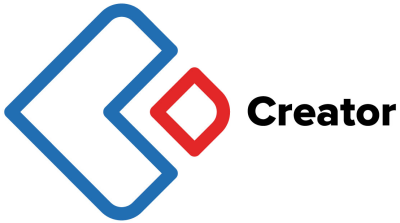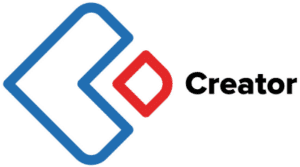 Zoho Creator is an intuitive visual application builder that lets users of all roles and skill levels to design, develop, and deploy software applications for business. Its low-code, AI-assisted, and customizable application development platform enables businesses to have the flexibility and speed to turn ideas into solutions to support processes, teams, customers, and business operations.
Table of Contents
Zoho Creator Features and Strengths
Simplified Application Development and Deployment
Zoho Creator is an intuitive, low-code tool that lets users of all technical levels to build apps fast with the exact features needed. It has visual builders and ready-made code blocks that users can drag and drop to build apps that run natively on any device such as desktops, tablets, and mobile devices. It also includes developer tools to extend an app's capability, or allow users to create their own libraries and custom components.
It has a smart import tool to quickly migrate business data from spreadsheets and other systems into a connected environment. Users can collect any type of data with forms, create the data structure, and organize details for the app using one tool. It also handles deployment and hosting so users can deploy the apps they build on the web and publish it as native Android and iOS app. Apps can also be hosted on Zoho's cloud, public clouds, or install on on-premise servers.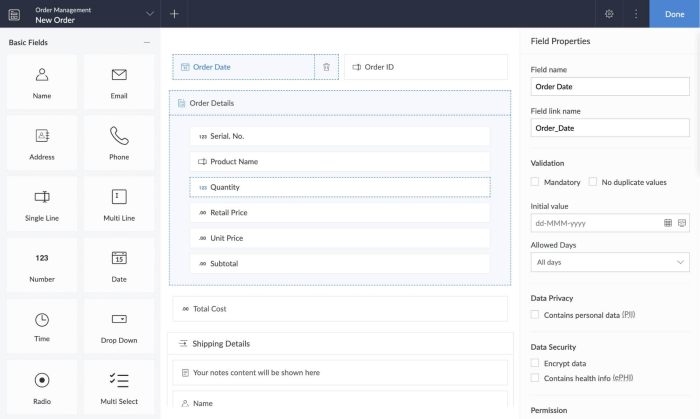 Visualization and Automation
Zoho Creator includes data visualization tools that can combine data to create custom reports that teams and organizations need to perform analysis. Users can quickly inform and communicate with stakeholders using graphs and charts with real-time metrics and alerts. Its visual builders can combine data from different sources to provide a centralized source of insight. It also has fully interactive reports and customizable dashboards that are compatible with third-party widgets.
Users can build automation within the apps they create to collect data, update records, give approvals, transact payments, send emails, or generate reports. They can also create custom buttons to initiate any workflow in an interactive manner. Other features are a blueprint builder and scheduled automated actions.
Integration, Customization, Security, and More
Zoho Creator lets users easily integrate with all of Zoho business suite of products. It also integrates with more than 600 third-party connections and cloud services. It supports leading payment gateways, multiple currencies, and one-click connection configuration. Other features of the application development platform are customization, white branding, design templates, and localization.
The platform comes with enterprise-grade security controls for app security like data encryption, disaster recovery, business continuity, world-standard data compliance, and data privacy. Customers have full control over user access. It also has data governance tools, IP restrictions, SSO, audit trails, and domain authentication, among others.
Zoho Creator Pricing
Zoho Creator pricing is available in several plans with increasing capabilities as the plan gets higher. Customers can pay yearly and enjoy 30 percent savings, or pay month by month. They can start with a 15-day free trial. There are also customer portal add-ons, support plans, and professional services as additional purchases. All paid plans include email, live chat, and toll-free support, with a dedicated account manager.
The Free plan includes for the creation of one application only, basic features, a total of 1000 records, and 250MB storage.
The Standard plan at $8 /user/month billed annually (or $12 /user billed monthly) includes for the creation of also one application but with access to more features including AI models, 10,000 records, and 1GB storage.
The Professional plan at $20 /user/month billed annually includes unlimited applications, 1000 AI calls, higher automation runs, more integration connections, 25,000 records, and 3GB storage.
The Enterprise plan at $25 /user/month billed annually includes all features in the Professional plan, with advanced features such as BI and analytics, integration with over 600 business apps, 50,000 records, and 5GB storage.
A custom Flex plan is also offered for users with custom requirements that need a tailored plan.

Who Uses Zoho Creator?
Zoho Creator is for businesses of all sizes, from startups, SMBs, to enterprises across industries. It is for companies that need a low-code, custom application development tool to create solutions for customer service, marketing, sales, finance, HR, or operations. Customers include Amazon, Saint Gobain, Volkswagen, Marriott, Swiggy, Comcast, Blue LLC, Aboitiz, and Bailey Consulting & Training.
Zoho Creator Supported Languages
Zoho Creator supports the following languages in edit mode: English, French, German, Japanese, Portuguese (Brazil), Spanish (Latin America), and Chinese (Simplified). It also supports translations of about 60 languages in live mode, from Afrikaans to Yiddish.
Case Studies
Jojo Guingao is the chief digital officer of a large conglomerate company in the Philippines. As the company grew into many businesses, the commitment to social responsibility also grew. However, they did not have a proper system to track their customer social responsibility activities. They were also managing their internal processes with spreadsheets. So they searched for a low-code development platform to suit their many operations and found Zoho Creator.
After implementing the application development platform, they are now converting ideas into results faster. Jojo was so delighted to see non-programmer members from accounting, admin, and HR developing web and mobile apps with minimal help from IT. The company is automating thousands of transactions, saving on costs, and streamlined the organization by centralizing diverse business units with the help of the platform.
Katrina Bailey is the director of a Sydney-based consulting firm that services organizations in the aged and community care sector. To assist healthcare providers in managing their databases and allow them to analyze their data to uncover trends, the firm recognized the need to develop a purpose-built platform for these providers.
Bailey and team needed a tool that would enable the firm to develop custom apps based on their unique workflows. Zoho Creator is the tool that enabled the firm to create the Continuous Improvement Data Analysis (CIDA) platform. CIDA helps aged care providers collect and analyze data easily. Creator allows them to streamline the app structure, enhance the UI, and build a multi-device experience.
Why Choose Zoho Creator?
Zoho Creator provides flexibility to businesses so they can quickly build applications to accelerate and support digital transformation. It can help modernize companies, streamline processes, and automate workflows for increased productivity and efficiency. Companies are also more agile and resilient to handle disruptions, evolving demands, and new opportunities with a low-code platform.
Company Info
Zoho Creator is a product of Zoho Corporation, a privately held global software company with US headquarters in Austin and R&D headquarters in Chennai, India. It was co-founded in 1996, then known as AdventNet, by Sridhar Vembu, Tony Thomas, and Sreenivas Kanumuru. The company launched Zoho Creator in 2006, which has been instrumental in the creation of close to a million apps today.
---
Featured Partners: Project Management Software
If you're interested in learning about more project management software options, check out these featured vendors.