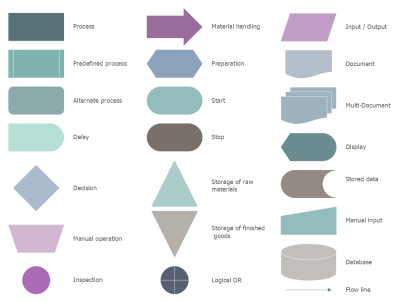 A flowchart, like other diagrams, is a specific kind of visual display. It is made up of geometric shapes connected by lines and arrows to represent a process, workflow, system, or computer algorithm. By visualizing what is going on step-by-step, it enables the audience to better understand the process.
Benefits of using flowcharts
Flowcharts are useful tools in many situations and industries. For example, educators use flowcharts to plan coursework or create lesson plans. Sales and marketing professionals use them to design and plot the flow of surveys or when charting their sales process. Flowcharts are used to help manage business operations like accounting procedures, employee training, product manufacturing, or reverse-engineering.
Flowcharts offer the following benefits:
Visual clarity – It can show complex processes and sequences in a single document.
Instant communication – It is a simplified way of communicating and documenting how a process works to groups of people.
Efficient coordination – It can show the sequence of events to help avoid taking unnecessary steps that can waste time and resources.
Effective analysis – By visualizing the step-by-step flow in the process and the needed action required, it can show less-obvious flaws and bottlenecks.
Flowcharting basics
A flowchart is composed of geometric shapes that represent a certain function. An arrow or a line with an arrowhead connects the shapes in between to show the sequence of the process or the flow of data.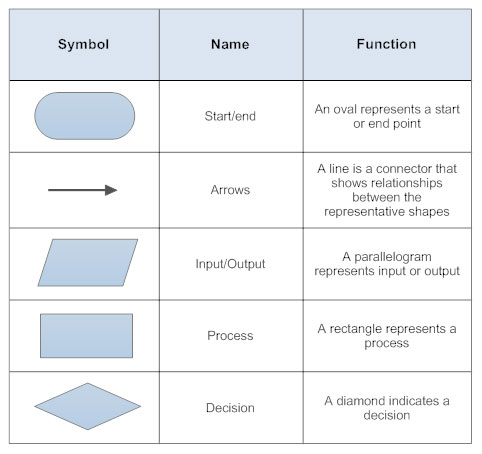 The following are the general steps in creating a flowchart:
Define your purpose.
List the steps of your process in the right sequence.
Classify each step as an input/output/data, process, decision, document, or other.
With pen and paper—or software—sketch your flowchart by connecting the shapes with arrows. Make sure that decisions have split paths and a loop connects to a previous step.
your flowchart against your purpose.
Project management flowchart use cases
Project management uses several tools to ensure successful delivery of projects that provide value to its users. The benefits that flowcharts offer, such as visual clarity, instant communication, efficient coordination, and effective analysis, are qualities much desired by teams as they manage and work on projects.
As a methodology, project management follows defined processes. According to the PMBOK Guide, the project management process is divided into five stages. Teams that consistently follow the process and best practices of every stage have a greater chance of delivering the project successfully. However, teams are also encouraged to be flexible and adjust the general process to suit unique business requirements and work environments.
Project initiation process
The following is a basic process flowchart of project initiation. The oval-shaped start is labeled Initiation to describe the name and beginning of process. The first step is the pre-defined process of creating the Project Charter document using the project initiation form. This document is then submitted to the controlling body such as senior management or project sponsor for approval. The diamond-shaped decision displays the paths of the process if it is approved or not. If approved, it will continue to the next stage, which is the project planning process. If it is not approved, it goes to an elongated hexagon-shaped preparation step to either adjust the Project Charter document and go through the approval step again, or be canceled altogether.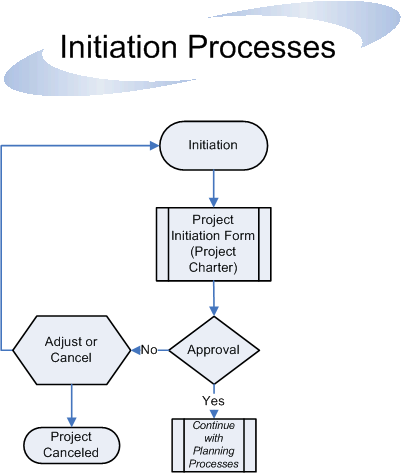 New project process
This is another project process flowchart that can be followed for similar-type projects with clients. In this flowchart, whenever a new project is created, the project manager creates project documentation that includes entering time and expense data to a database for proper budgeting and billing. The status of the project is monitored for any event or milestone, and if needed, the project schedule will be adjusted. Schedule adjustments will impact how tasks are assigned and will require meetings with the client. Once the deadline is reached, a sign-off will be held to make sure project goals are achieved.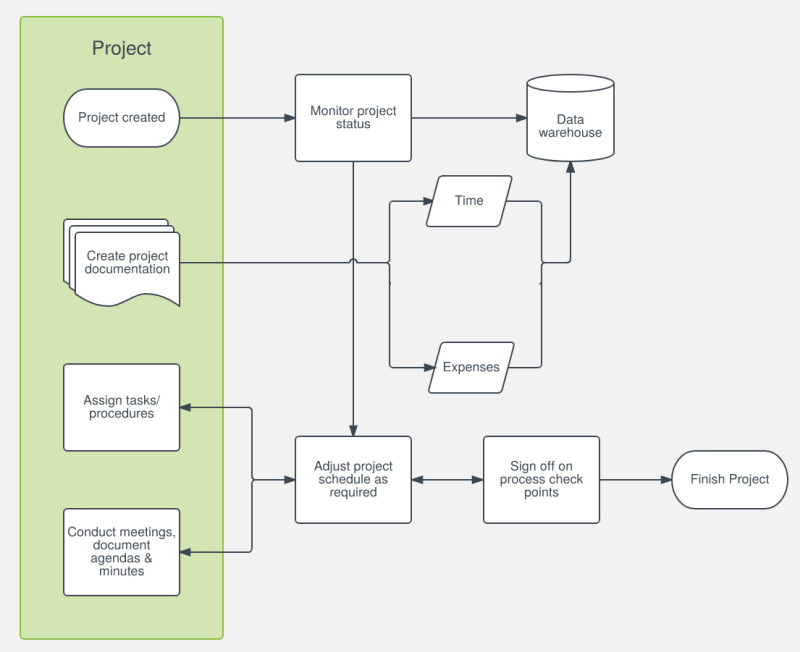 Development project process
Aside from the basic process flowchart, there are other types of flowcharts for different purposes. For example, a swimlane flowchart can be used to identify the different tasks per role of a development team. In this flowchart, the responsibility of the project manager, developer, and QA are clearly shown for the whole process. Swimlane flowcharts are excellent tools for visualizing cross-functional processes, where it can have vertical or horizontal divisions to describe different responsibilities or authorities.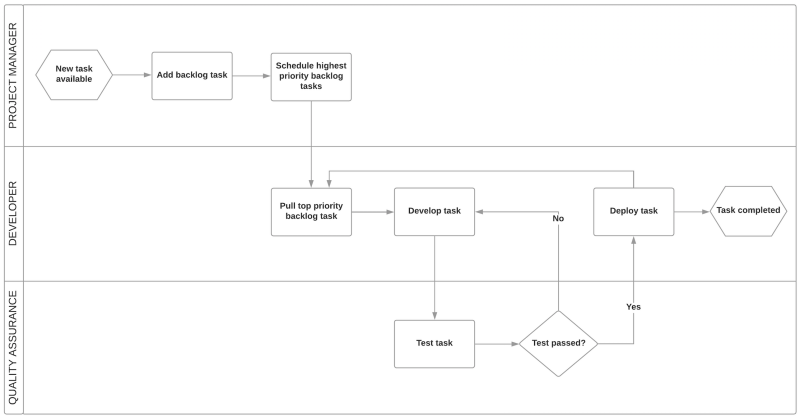 Conclusion
Flowcharts and other visual diagrams like Gantt charts are essential tools in project management to increase the likelihood of success. They provide information faster than any document can. There are other types of flowcharts as well, like a workflow diagram, decision flowchart, event-driven process chain (EPC) diagram, and data flow diagram, among others, for different purposes.
Featured Partners: Project Management Software
If you're interested in learning more about top-rated project management software, the editors at Project-Management.com actively recommend the following: