It's really easy to get started with Trello. Its free service provides more than enough functionality for an individual or a small team to get started, and specific tasks are quickly created and assigned through the use of Trello cards and boards. Once all of the cards (tasks) on a board are complete, those who have the correct permissions can easily archive or delete the boards as needed.
Closing & Deleting Trello Boards
Expired, outdated, or completed Trello boards can be removed from your workspace in one of two ways:
Closing a board: While using this method doesn't delete a board entirely, it does effectively remove it from your workspace. Use this option when you want to archive a board that may be needed at a later date.
Deleting a board: Not only does this method remove the board from your workspace, but it renders the board (and any data within) completely unrecoverable. Only use this option when you're done with a board and you're sure that you won't need to access it at a later date.
Frequent users and those who are already familiar with the Trello platform will find the process of closing or deleting boards quite intuitive. Those who are new to the platform, however, might be unsure of how to proceed.
Closing an Open Board
An open Trello board cannot be directly deleted from your workspace. Instead, you'll have to close the board before proceeding with the actual deletion process. Luckily, the process of closing an open board in Trello is quite straightforward.

Start by logging into your Trello workspace and choosing the board you want to delete.
Next, click on the ellipsis button (…) in the upper-right corner of your workspace.
Click on the option to "Close board…" and confirm your choice within the on-screen prompt.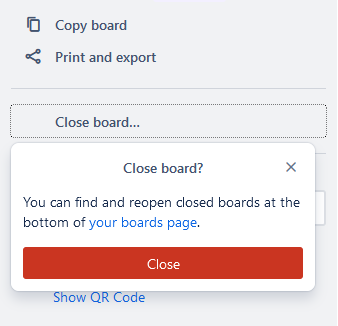 The process of closing an open board is akin to using the Recycle Bin on any modern operating system. Boards that are closed aren't actually deleted —  they're just removed from your immediate view. Deleting a board permanently requires a couple of extra steps, which are detailed below.
Deleting a Closed Board
Upon confirming your decision to close a board within Trello, you'll immediately be given the option to permanently delete your board. If you're absolutely sure you want to delete the board, go ahead and click "Permanently delete board" to proceed.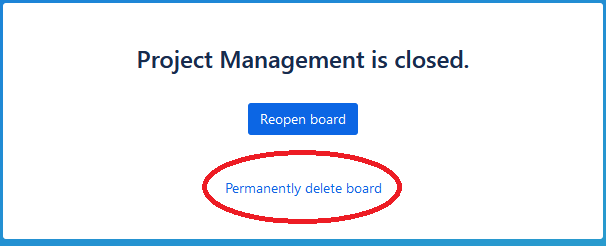 However, you don't have to make this choice right away. Closed boards remain within an archive in your Trello workspace, and they are listed at the bottom of your Trello boards page. From here, you can choose to recover the board or to delete it permanently and remove it from your workspace.
Using Trello's Delete Board Tool
There's another, quicker way of deleting a board, too. Instead of logging in to your workspace, selecting a board, and closing or deleting it, users with Admin access can simply use Trello's Delete Boards tool to save time.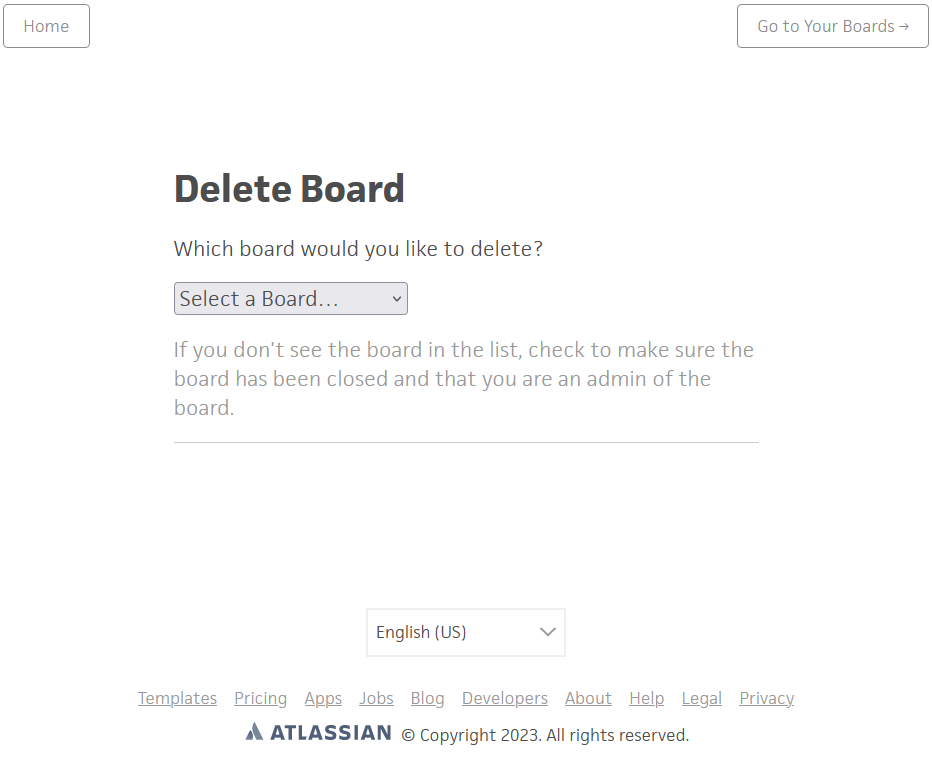 After logging in, you'll be given a list of all your available workspaces and the individual boards within each one.
To delete a specific board, select the title from the dropdown list.
Check the box next to "I know the board will be gone forever. Let me delete it!"
Click the "Permanently Delete Board" button to finalize the process.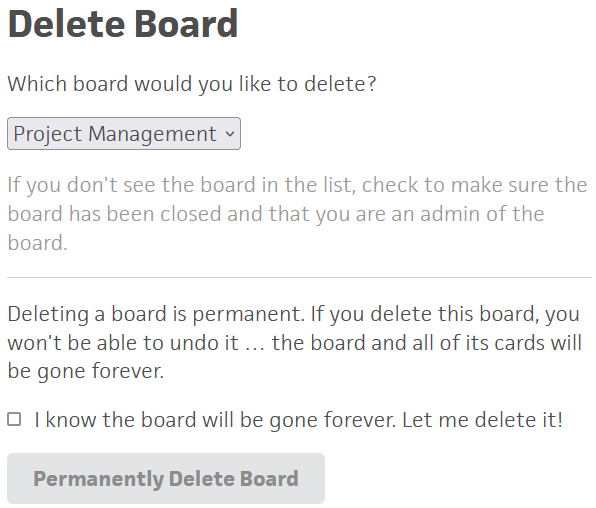 Remember, this process will permanently delete your board from your Trello workspace and from the entire Trello system. As such, it will be completely unrecoverable.
Things to Consider When Closing & Deleting Trello Boards
While the various methods of closing and deleting boards are rather intuitive and straightforward, there are a few nuances to consider before committing to one option or another. Not only can these caveats save you a great deal of time and frustration, but they can also help ensure that you're making the right decision for your Trello board and for your entire team.
Trello's free plan supports up to 10 active boards at any given time. If additional boards are needed, you'll need to delete or close one of your current boards. However, all of Trello's paid plans support an unlimited number of active boards.
You must have Admin access to close or delete a board. This prevents accidental deletion by a novice user as well as malicious deletion by a disgruntled teammate. It also ensures that your senior-level team members can keep up with any changes as they happen.
Every member in a free Trello workspace has Admin access to that workspace. However, individual boards can only be managed by assigned administrators. For those with a premium plan, all workspace admins are automatically granted Admin privileges for every board in the workspace — even the private boards.
The processes of closing or deleting boards are best performed on a laptop or desktop computer. Android users do have the ability to close and delete boards through their smartphone app, while iOS users only have the option to close boards via the app.
Various third-party tools and services are available for Trello that make it possible to restore previously deleted boards. However, since these services ultimately use a rollback feature to achieve this, the third-party service needs to be active when the board is deleted in the first place.
Now that you have a better understanding of your options when it comes to closing and deleting Trello boards, it's time to learn more about working with Trello boards in general.
Working with Trello Boards
Users tend to prefer Trello over other, similar solutions because of its versatility. Not only can you close and delete old or unused boards, but you can also reopen boards that have been previously closed, export your data to other platforms, and perform a myriad of other actions.
How to Reopen a Closed Board
While closed Trello boards can be reopened and restored, boards that have been permanently deleted cannot be recovered. To restore a Trello board that has previously been closed, follow the steps outlined below.

Log in to your Trello workspace, navigate to the Trello boards page, and click "View closed boards."
Locate your closed board within the popup window and click the "Reopen" button.
Confirm the workspace you want to restore your board to and click the "Reopen board" button.
Wait for a few seconds for the Trello platform to process your request and update your workspace. Once it's complete, you can access your reopened board along with the other boards in your workspace.
Boards can also be reopened immediately after they've been closed. This option appears automatically via a pop-up box, which also gives you the option to permanently delete your Trello board. If you just closed the board by mistake, clicking "Reopen board" is a great way to restore your board quickly and painlessly.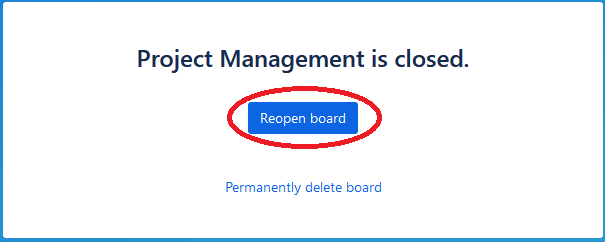 This method works identically to the process described above. After clicking "Reopen board," you'll still need to select your board from a dropdown menu. Once selected, choose "Reopen board" again to confirm your selection and restore your closed board to your workspace.
Saving Your Data Before Deletion
In some cases, you might want to save or export the data from your Trello boards for use on another platform. There are many third-party tools available on the market today that will handle this process for you, but it can also be performed manually from within Trello itself.
Trello supports two file formats when saving or exporting data from their platform.
CSV: An acronym that stands for "comma-separated values," the .CSV file extension is a default extension that is usable in most modern spreadsheet applications.
JSON: Also known as "JavaScript Object Notation," the .JSON file extension is compatible with most technical web applications.
In addition to exporting your data to a digital format, you can also choose to print the data on your Trello board via the same dropdown menu. This is a great idea if you want to make a hard copy of your information for reporting or recordkeeping purposes.
Frequently Asked Questions (FAQs)
---
Read our complete review of Trello for 2023
---
Using Trello Efficiently & Effectively
Trello is a highly efficient task and project management solution for individuals and small teams alike. It's a budget-friendly platform that offers basic list creation and activity tracking, but Trello's paid options offer even more functionality in the way of file sharing, data exporting, and support for unlimited boards. It's an intuitive, easy-to-use platform that offers a lot in the way of project management, productivity tracking, team-building, and much more.