TMetric is a multi-platform time-tracking application that is simple to use and easy to integrate with many popular project management systems. It includes comprehensive features for timekeeping, site and app monitoring, activity tracking, and task management. Teams and companies are better able to track and manage how they spend time on tasks and projects to improve overall efficiency which results in maximized profitability.
Table of Contents
TMetric Features and Strengths
Time Tracking, Billing, and Invoicing
TMetric provides automated time tracking by allowing users to add time to a project. Users can track time by starting a timer within the TMetric app or starting the timer button that appears on an external web app that TMetric integrates with. They can also track time for a task created within TMetric. Another way is to manually add time to a time entry using the button on top of the timesheet or selecting a time span on the timeline.
The time tracking tool offers desktop and mobile apps for distraction-free time tracking. The desktop app tracks billable hours as users work on their desktops. It can detect zero activity, notifies for break time, and alerts users of overrun in case they leave the timer on. Mobile apps let users track time wherever and whenever they need to. Time entries will automatically sync to data in their web app. An offline feature is also available.
The billing and invoicing features include the assignment of flat hourly rates. Users can set rates for projects, for individuals, and for specific work types. With billable rate data, companies can run their payroll or transform rates into invoices. Businesses can send invoices to clients, keep track of client bills, and mark them paid after accepting their payments. The software also allows for the customization of invoices with a company logo and other details.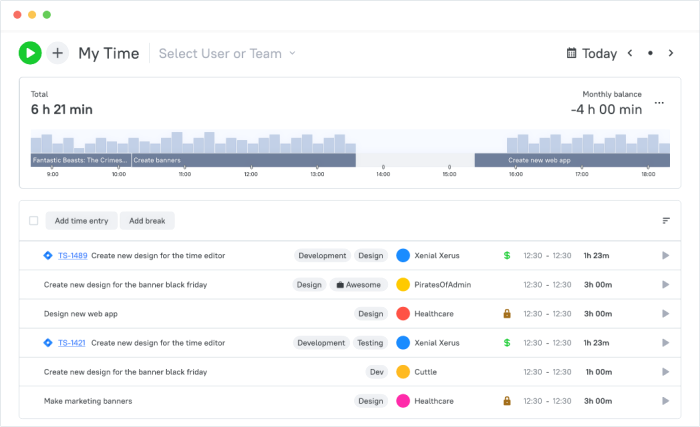 Project and Task Management
TMetric lets users track project activities and progress with its work breakdown features. Teams can get a detailed view of work in progress. They can manage unlimited projects, set project rates, as well as add project members with the right role and permissions. Users can also set project budgets in equivalent time or money that they can monitor and analyze to maximize profits. The time tracking software includes task lists that let users track time, monitor changes, and set deadlines.
Team Management, Time Off, Reporting, Integrations and More
TMetric includes a team productivity dashboard for simplified tracking of team progress. It provides a complete view of all team tasks, including completed tasks, the time spent on these tasks, as well as whether the team member is currently working or not. Users can create personalized workspaces, work schedules, and holidays for every team.
Its time-off calendar provides PTO tracking and leave management capabilities. Users can also create time-off policies, automate requests and approval with workflows, and compute balances. The time tracker includes several summary and detailed reports that users can export in PDF and CSV formats. It also integrates with a wide array of apps that falls into business, development, help desk, project management, and task management categories. Some of these are Bitrix24, Figma, Google apps, Azure DevOps, BitBucket, GitHub, Dixa, Freshdesk, Zendesk, Asana, ClickUp, Jira, Evernote, Microsoft To Do, and Tick Tick.
TMetric Pricing
TMetric pricing is available in several plans. Customers can choose to pay annually with savings or pay month-by-month. All plans come with unlimited projects and clients. Interested users can try paid plans free for 30 days.
The Free plan is for up to 5 users. It includes time tracking as well as basic reporting and team management features, API, and Zapier integration. Users can download browser extensions for Chrome, Firefox, and Edge. Desktop apps for Windows, macOS, and Linux, and mobile apps for iOS and Android are also freely available.
The Professional plan at $50 per user annually or $5 per user monthly includes everything in the Free plan with the addition of calendar app integrations, billable rates, and money tracking. It also has project budgeting, invoicing, task management, employee activity levels, activity summary reports, and unlimited activity data storage.
The Business plan at $70 per user annually includes all Professional plan features, plus apps and sites usage reports, and screenshots capturing. It has payroll for employees, time-off calendar, work schedule, and team dashboard. It also has time-sync with QuickBooks, GitLab, Jira, Redmine, and ClickUp.
TMetric also offers different volume discounts upon reaching 40 or more, 100 or more, 200 or more, and 500 or more users.
Who Uses TMetric?
TMetric is for individuals, teams, and businesses that need a time-tracking application for increased profitability and efficient time and resource management. Many of its users are software developers, marketing agencies, designers, customer support agents, contractors, freelancers, consultants, and professional service providers. Customers include Endygo, ITSyndicate, 050media, JOT Digital, Freshlab, Mvad., Swaven, BizStream, and Experience Digital.
TMetric Supported Languages
TMetric supports English, Russian, German, and Spanish.
Case Studies
The BizStream team from Allendale, Michigan has been using time trackers for years. But when they decided to stop using their project management tool, they went searching for a time-tracking tool that would be a better fit for the team. They needed a cleaner UI, one with a mobile app, and an API that would integrate with Jira. After evaluating more than 25 options, they chose TMetric.
TMetric is a web app, but also has a desktop app and a mobile app. The team also like its user interface, its Chrome extension, and built-in integration with Jira. Since using the time tracker, it has been much easier for the team to track time. Its Chrome extension allows them to track directly from a Jira card that logs the card in TMetric. The team also uses its mobile app to update their timers when not at their desks.
Harry Laos is the CMO of a software development company based in Sydney. To manage the time of the company's teams more effectively, Harry and team searched for a time-tracking solution to address a recurring problem. They found TMetric and decided to give it a try.
TMetric offers the right features, functionality, and price, along with a stellar support system. As a project-based company, the time tracking tool provides a sense of visibility and transparency that enables the company to be more organized and profitable. With time equals money, the company is now operating more efficiently and at a profit. It has seamless integration with Jira, notifications, and automated timesheet reports.
Why Choose TMetric?
TMetric provides more than time-tracking capabilities with its integrated billing, invoicing, and reporting. Time entries are easily converted to billable hours, invoices, and business reports with automation that enable companies to improve their productivity and keep their profitability. The time tracking software also improves workflow with its integrations and provide intuitive tools to manage projects, team schedules, and individual workloads that helps optimize business operation, all in a single platform.
Company Info
TMetric is a product of Devart, a privately held software company based in Prague, Czech Republic. It was founded in 1997 and is a provider of database management software and ALM solutions for popular database servers. The company launched TMetric in 2016 as an internal productivity tool. After a year, thousands of users worldwide started choosing it as their productivity booster. Today, the company continues to develop the time tracking app to help customers have a smoother working process for higher productivity and profitability.
Featured Partners: Project Management Software