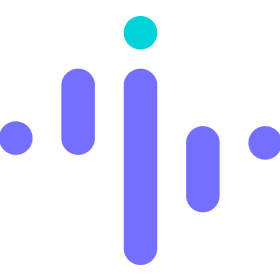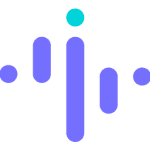 Insightful is a time tracking and employee monitoring solution for businesses. It provides information on how employees spend their working hours through employee internet use monitoring, time tracking, and automated project tracking. Insightful also helps business owners and managers identify problematic employees, gain real-time insights, and prevent unsafe employee behavior. These insights can then be used to implement process changes that increase the general productivity of the team. Insightful is easy to deploy, works silently in the background, and is suitable for both office and remote workers.
Features, Benefits, Strengths
Employee Activities Monitoring – Insightly monitors employee time and attendance by automatically noting when employees arrive to work and how long they stay, based on their computer activities only; there is no need for them to clock in or out. It can tell when they are working on the computer, and when they are taking a break. Reports will also show how often employees take their breaks and for how long. The software provides users with insight into what employees are doing at all times. They can see in real time which apps and websites employees are using at any given moment, or if they are inactive. Other features include taking automatic screenshots of up to 20 random shots in an hour, and data storage of up to 2 years that can be accessed and analyzed at any time.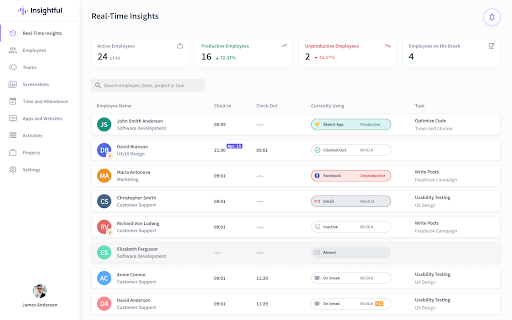 Time Tracking with Proof of Work – The time tracking software helps users track time spent on projects and tasks, providing documented proof of employee's work. Team leaders can create projects, divide them into tasks, and assign them to team members. As employees work on tasks assigned to them, users can get insights into the time their employees spent on each task. The WorkPuls Tracker installed on the desktop computer of the employees will display all the tasks assigned to them, and from which they can track the time they spent on these tasks. Users can get a detailed overview of the time employees spend on each task, the apps and websites they use while working on the task, and for how long.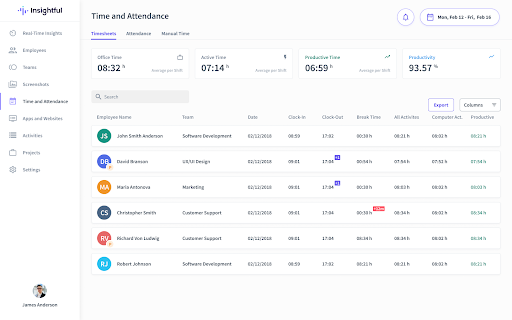 Automated Project Time Tracking, Integration, and more – WorkPuls can track project time automatically. Employees do not need to click start and stop buttons, because work will be assigned to corresponding projects and tasks, which will be tracked automatically. It integrates with tools used by functional teams in marketing, customer support, development, design, and sales. For example, users can find out how much time the marketing team is investing into each client and each campaign. For support, it can track which ticket is most time-consuming, and which software is most frequently used. Also, users can set which apps and websites are considered productive or unproductive activity, depending on the team they belong to.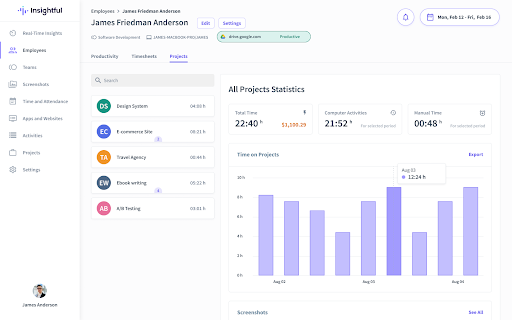 High security and scalability – Offered in cloud and on-premises configurations, Insightful protects your company's data with enterprise-garde security and customizable compliance policies. Companies can easily expand Insightful to support in-office and remote workforces with powerful workflows and automations.

Pricing
WorkPuls is priced $6 per employee monthly, or $57 per employee yearly. Yearly subscription includes additional phone support. An Enterprise plan is also offered per request, and includes the option of on-premise installation. A 7-day free trial is available.

Social Network Presence
Target Market
WorkPuls is applicable to businesses of all sizes in all industries where employee time tracking and activity monitoring is needed.
Supported Language
English
Some of their Clients
Clients include Manpower, Eipix, GIR, and Staff Virtual.

Testimonials
Aashish Jaa stated that they are immediately alerted whenever a person's behavior does not fit their company policy or their job description. They are able to react on time and reduce unsolicited time waste, all the while with WorkPuls running invisible at the background.
Laura Miller describes the time tracking software as the most accurate time tracker with the ability to customize idle time-outs as per how their employees work.
Why WorkPuls
WorkPuls provides companies an intuitive and non-obtrusive way of tracking time and monitoring employee activities. It provides real-time information and comprehensive reports that can help improve productivity, alert and stop non-productive activities and other factors that result in inefficiencies.
Company Info
WorkPuls, Inc., is a privately held software development company based in San Francisco, CA, USA. It was founded in 2015 by Ivan Petrovic, CEO; and Milan Misic, COO. The company, composed of teams located in different continents, builds cloud solutions. Another product it offers is Empulse, an insider threat detection and compliance control software.

Featured Partners: Project Management Software
If you're interested in learning more about top-rated project management software, the editors at Project-Management.com actively recommend the following: