Stackfield is an all-in-one, project collaboration tool. With servers located in Germany, Stackfield is intuitive and easy to use yet highly secured platform to help all employees in EU companies and organizations that have additional requirements for privacy and security. Integrated features like communication, project management, documents, and team conferencing allow users to keep information centralized within a single software solution.
Table of Contents
Stackfield Review: Features and Strengths
Central and Interconnected Communication
Stackfield provides communication tools for teams through several channels. Secure, built-in team chat facilitates the quick exchange of information. A discussion area that lists discussions by topic to allow teams to easily find how they decided on ideas or resolved issues.
Stackfield also has built-in audio and video conferencing with screen-sharing capabilities and can support in-office, remote team, and hybrid work setups. Teams can hold face-to-face meetings, work head to head on proposals, make presentations, and discuss projects. Built-in collaborative docs, wiki pages, and a knowledge base centralize all needed project documentation, and all data resides in Stackfield's secure environment.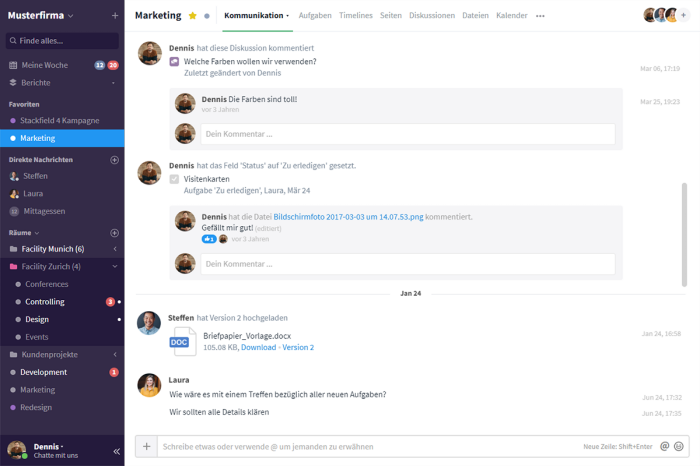 Visual Project Management
Stackfield enables users to manage projects with less complexity through its visual PM tools. Individual team members can manage their tasks and to-dos with a Kanban board. The project schedule is also shown in traditional timeline/Gantt views. Users can get quick overview of portfolios with its table view.
The project management software allows companies to organize activities and provide them different workspaces called rooms. They can organize work by location, by departments, or by function. For instance, a company can create rooms for each office location. Under one location, it can have rooms for marketing, sales, and engineering. Inside the Engineering room, users can also create separate rooms for internal clients and external clients. Navigating the different rooms is through the sidebar.
Stackfield can run reports that include project details and summaries presented through various visualizations such as colored indicators, lines, and charts. Other features include workflow automation and time tracking.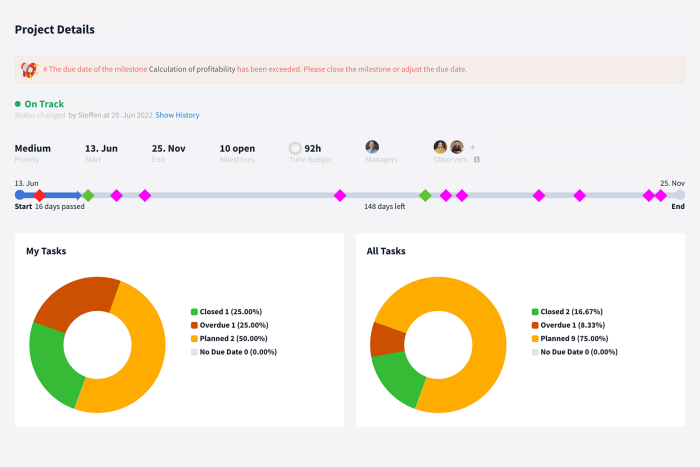 Data Protection, Global Search, Visual Feedback, Apps, and More
Stackfield uses end-to-end encryption and decryption that automatically takes place on the end device. It also has usage compliant to EU-GDPR, ISO-certified data centers, enforced 2FA, location-independent backups, and multiple redundant systems.
Other features are fast global search, visual feedback and proofing, and web, mobile, and desktop access. Stackfield also offers a user-specific weekly overview and support through in-app live chat, email, phone, and a learning center.

Stackfield Pricing
Stackfield pricing is available through several plans. Although priced per user, customers purchase in groups of users up to 100+ in increments of 10 – 20 users. Customers can choose to pay monthly or yearly with a 17 percent savings. All plans include unlimited rooms.
The Business Plan at €11/user/month paid yearly (or €13.20 monthly) includes features such as team chat, task and project management, calendar, file storage, workflows, reports, time tracking, and 1:1 audio/video telephony.
The Premium Plan at €16/user/month paid yearly includes all features in the Business Plan with the addition of email forwarding, whiteboards, project portfolios, unlimited external guests, audio/video conferencing, and advanced security settings like IP whitelist, enforced 2FA, and advanced password policies.
The Enterprise Plan at €24/user/month paid yearly includes all features in the Premium Plan plus unlimited organizations, SSO, provisioning via API, customizations, and compliance confirmation by users.
An on-premise option is also available at €24/user/month paid yearly with a minimum of 100 users.

Who Uses Stackfield?
Stackfield is for businesses of all sizes in need of a highly-secured all-in-one collaboration tool. With servers located in Germany, it is ideal for European companies looking for effective data protection measures such as law firms, governments, banks, research and innovation firms, agencies and consulting firms, insurance companies, universities, healthcare, and pharmaceuticals. Its customers include DTHG, Myra Security, Seven Bytes Media, EMC Home of Data, CAIDAO, BRK Rescue Service, Spitex Glattal, COTESA Composites, and the City of Nuremberg.
Stackfield Supported Languages
Stackfield is available in English and German.

Case Studies
Jerome Rossol is Head of Innovation at a manufacturing company of fiber composite components for the aerospace and automotive industries. Working daily on multiple large-scale and long-term customer projects, maintaining an overview on the development of individual projects has become problematic with only email as the tool for collaboration and communication. The clamor for a better project control tool, especially from sales and engineering teams, had become very loud.
Rossol found that Stackfield provided the perfect number of features and functionality while remaining intuitive enough to keep the learning curve to a minimum. His team chose Stackfield because of its convincing high-security standards and the option for an on-premise version. The training provided by Stackfield also made the onboarding run smoothly. The company can now plans and compartmentalizes individual processes and projects using Stackfield's rooms and room groups.
Oliver Krämer works in the Office for Digitalization and Process Organization (DiP) for a large city in Germany. Oliver recalled that before the pandemic, almost all staff worked on-site and mobile collaboration tools were very limited. When the health crisis erupted, the office took a hard hit in productivity due to lack of preparation for an extended hybrid workplace. They needed a tool that would support cooperation in virtual teams and project work.
Upon internal recommendation, the DiP implemented Stackfield, with Oliver's team of lead users introducing the tool to the rest of the office. Stackfield supported the digitalization efforts of the office by simplifying the access of documents remotely, keeping collaboration on new projects secured through project rooms, automating the management of recurring tasks, and enabling a system of contingency for employees getting sick or going on vacation.
Why Choose Stackfield?
Stackfield is a highly secure alternative to US-built software solutions for businesses in Europe. Its integrated tools minimize the need to use multiple solutions and switch back and forth between disconnected systems. Also, its end-to-end encryption ensures that no one except the data owners and their permitted collaborators can see the contents of messages and files.
Company Info
Stackfield GmbH is a privately held software company based in Munich, Germany. It was founded in 2012 by Christian Mudure, CEO. After years of experience as an IT consultant in various companies, Christian observed that people were still relying on software solutions that do not meet the demands of team collaboration nor provide the essential security to protect business information. Stackfield aims to improve teamwork in companies and offer an alternative project management and collaboration tool for those who seek better security and legal certainty.

---
Featured Partners: Project Management Software