Every action in a project, no matter how seemingly insignificant, has a cost. Identifying cost overruns, project delays, or resource shortfalls is an important part of project management. Project accounting software helps track all the minutiae of an ongoing project, providing project managers the ability to adjust on the fly and stay within budget.
Here, we discuss and compare project accounting software, as well as noting important features to look out for when selecting a solution.
Project Accounting Software vs Financial Accounting Software
Financial accounting software focuses on profit and losses during a set period and therefore does not lend itself to tracking project deliverable costs. Conversely, project accounting software can retrieve this cost at any time to ensure a resource cost has not exceeded projections. Further, the ability to generate daily reports containing a business metric or Key Performance Indicator (KPI) allows a project manager to retrieve relevant granular information more frequently than from a standard financial accounting system.
Resources may come from multiple internal and external entities during the execution of a project deliverable. With project accounting software, project managers can determine the exact cost of a project deliverable during any phase of the project.
Using cost codes for similar project deliverables allows project managers to quickly identify any cost going awry. Cost codes allow project managers to foresee any deliverables that may come in under or over cost, and adjust accordingly. Alternatively, cost breakdown in standard financial accounting software is done in broad categories — such as account payables and account receivables — which are generally reported on monthly.
---
Read more: How to Improve Integration of Project Management and Accounting With Ease
---
Top Project Accounting Software
Vendor
Compliance
Management
Third Party
Integration
Multi-Currency
Multi-Country
Online
Payments
Role Based
Permissions
Resource
Management
Business
Size
Acumatica
✅
✅
✅
✅
✅
✅
✅
Small to Large
FinancialForce
❌
❌
❌
❌
❌
❌
✅
Small to Large
Freshbooks Premium
❌
✅
✅
❌
✅
❌
❌
Small
NetSuite
✅
✅
✅
❌
✅
❌
❌
Small to Large
Multiview ERP
✅
✅
✅
❌
❌
❌
❌
Small to Large
Sage Intacct
✅
✅
✅
✅
✅
❌
❌
Small to Large
Striven
✅
✅
✅
❌
❌
❌
✅
Small to Large
Unanet
❌
✅
✅
❌
❌
❌
✅
Small to Large
Wave
❌
✅
✅
✅
❌
❌
❌
Small
Acumatica
Acumatica is a cloud-based project accounting software that can be used in multiple countries, as well as handling multiple types of currencies. This product also has built-in compliance management and tracking features as part of its package. Acumatica offers the full complement of key features a decision maker is looking for to manage their complex projects. To go along with its complement of features, the user interface is intuitive and easy to maneuver.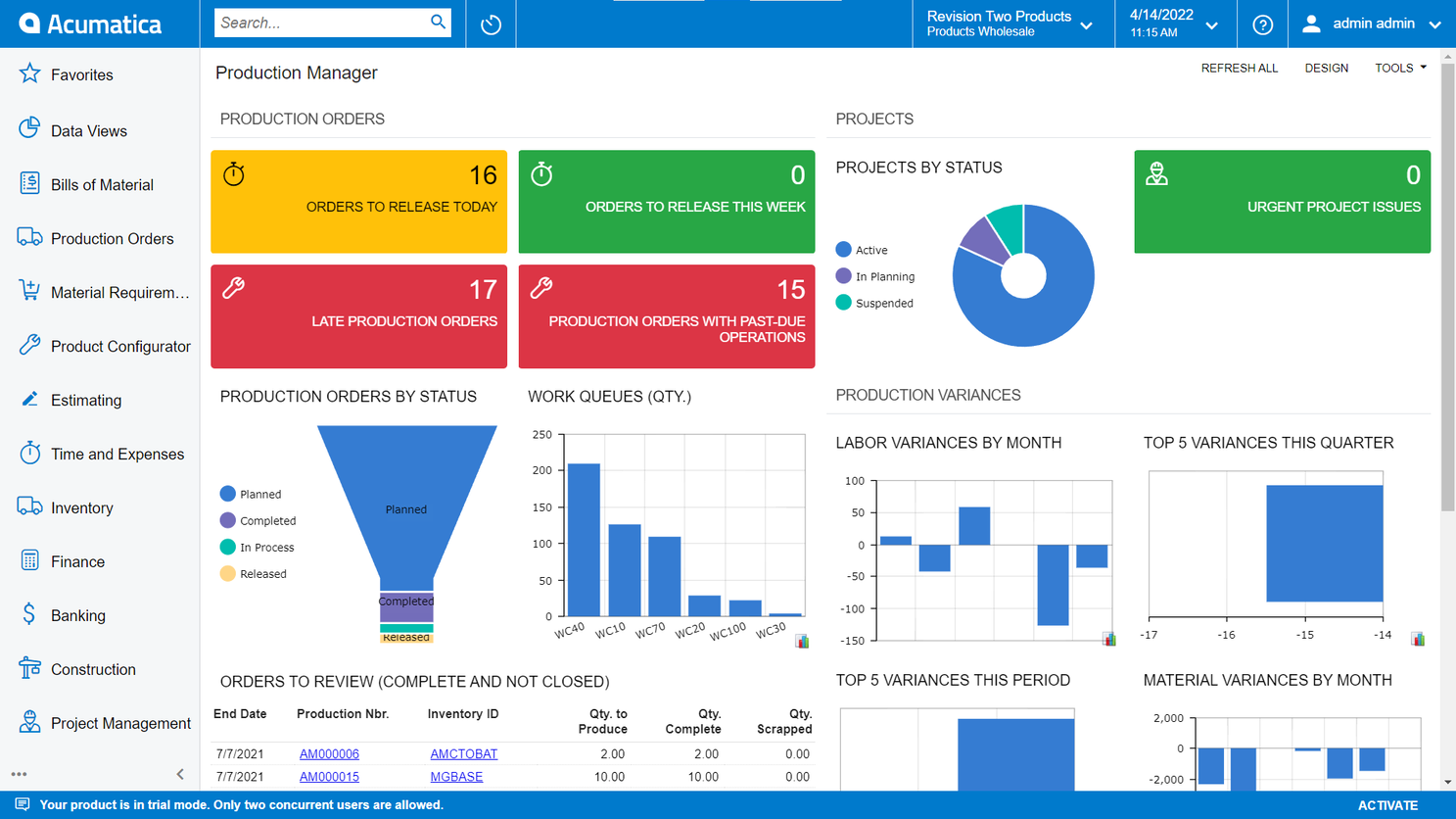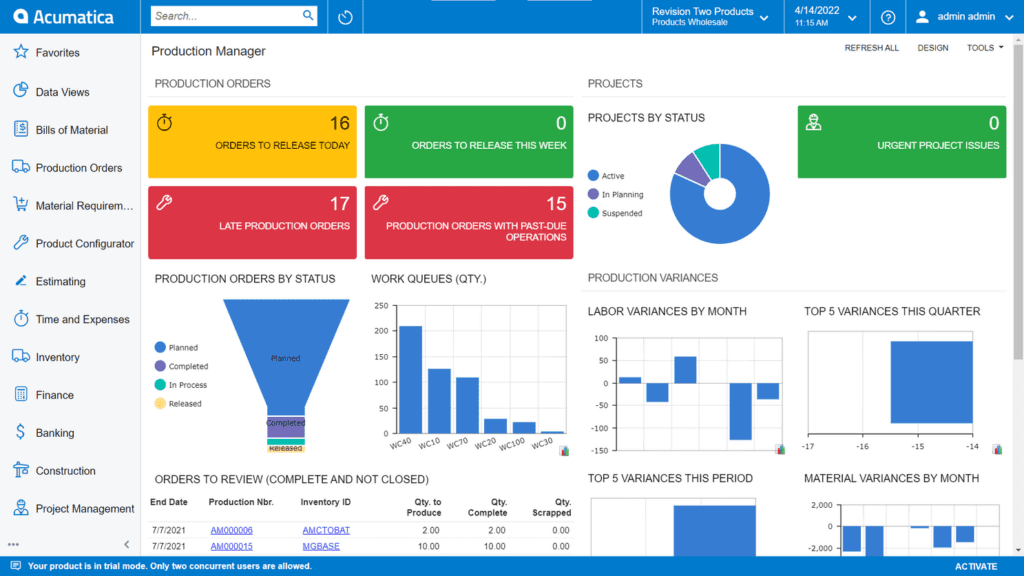 Example of a multi-project dashboard view from Acumatica. Source: Acumatica, accessed September 2023.
Principles of Least Privilege (PoLP) is implemented in the financial reporting module, which allows employees access to reports relevant to assigned tasks. This product can run on-premise with additional infrastructure and Microsoft Windows Server 2008 R2. Acumatica can be operated on several of today's popular databases.
There are far more pros about this product than cons. However, a consistent con that came up with reviewers is the unusual pricing structure: account-based fees versus user-based fees. Further, customizing the dashboard to show meaningful information is challenging, and designing unique reports to show a project's status is cumbersome.
FinancialForce
Certinia, formerly FinancialForce, is unique in that it's built on the Salesforce platform. Salesforce is a customer relationship management (CRM) platform, and its purpose is to establish a working relationship with business customers. The CRM offers customer engagement tools, collaboration tools, and opportunity tracking that tie into Certinia.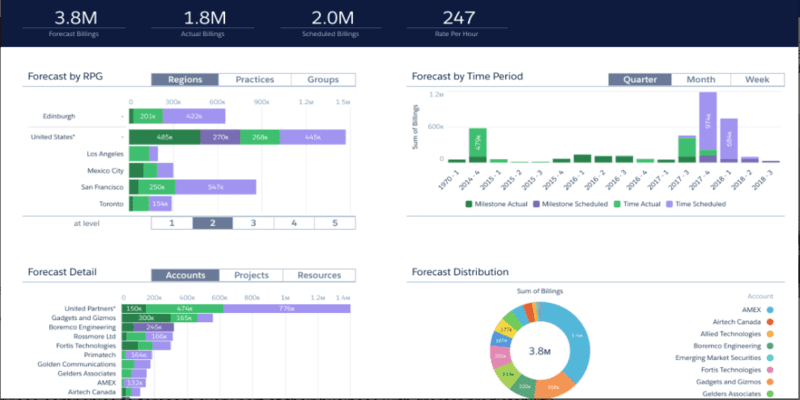 Example of a forecasting and analytics dashboard. Source: Certinia, accessed September 2023.
The project accounting software for Certinia is offered under Professional Service Automation (PSA). Certinia is certainly customer-centric, yet this product offers all the features to meet a business's project accounting needs.
Most aspects of this software are user-friendly and can be customized to meet unique business needs. However, the resource planner module is reported as being out of place and not user-friendly, and customization of reports is difficult to complete.
Freshbooks Premium
Freshbooks is great for small businesses, and here the focus will be on the premium plan versus lite and plus plans. Freshbooks does not have all the accouterments of a large business project accounting software product, but the popularity of the software shows it definitely meets small business needs. Freshbooks' focus appears to be small business challenges, with features like late fees and late payment reminders including automatic online late payment charges.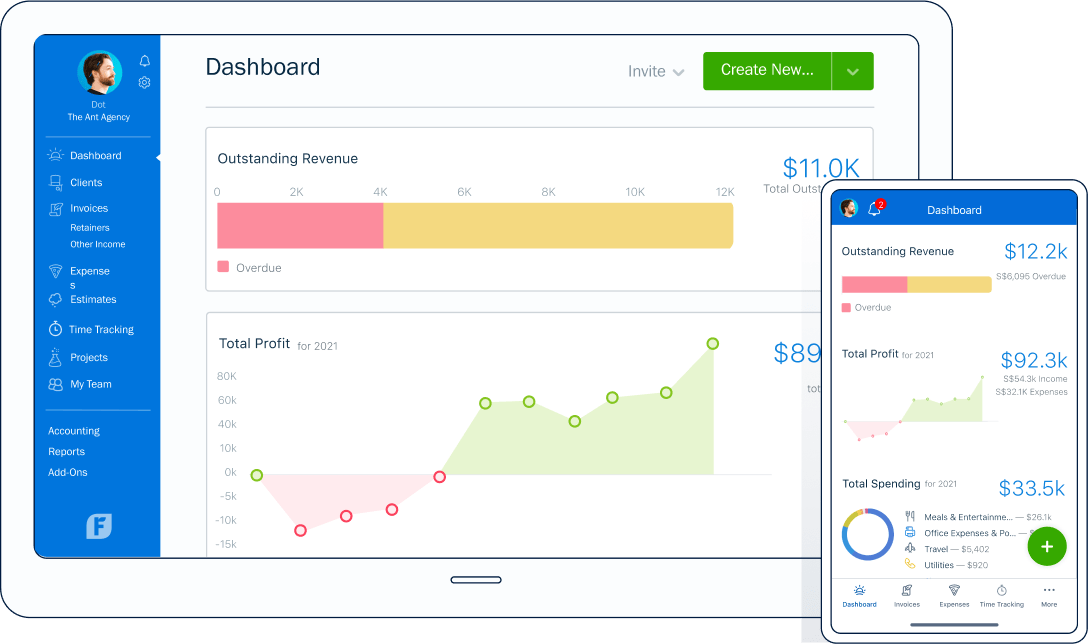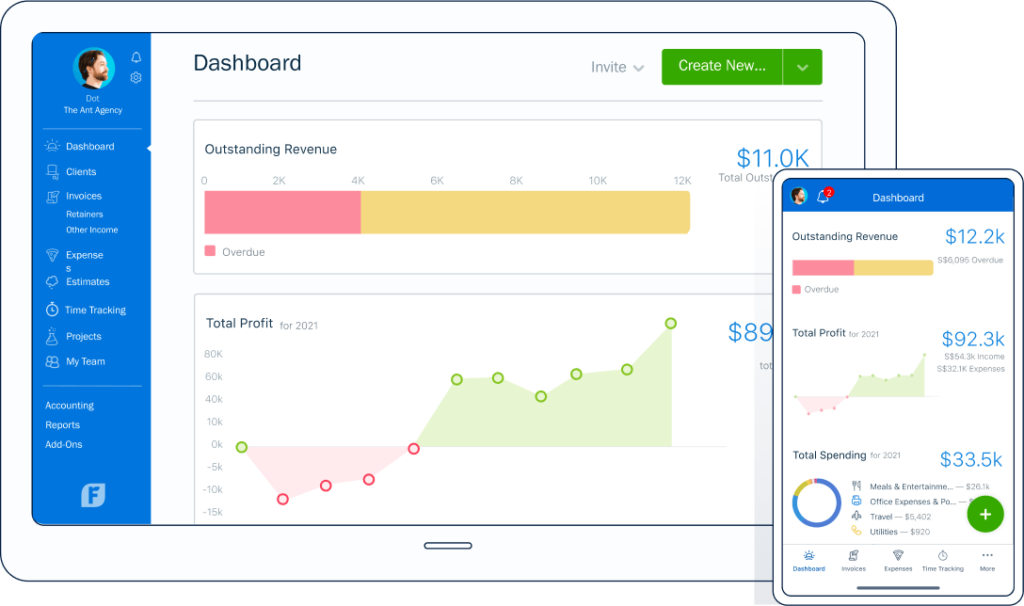 Example of the Freshbooks mobile app interface. Source: Freshbooks, accessed September 2023.
Freshbooks has a user-friendly dashboard, and it's less expensive than other cloud-based project accounting products. Notably, Freshbooks upset some of its customers when a software update came with a no-notice price increase, yet it still maintains a broad customer base.
NetSuite
NetSuite's unique feature is its compliance management multi-currency capabilities. NetSuite can also be integrated with third-party applications. This product is touted as being highly configurable, and can easily be customized to address project requirements.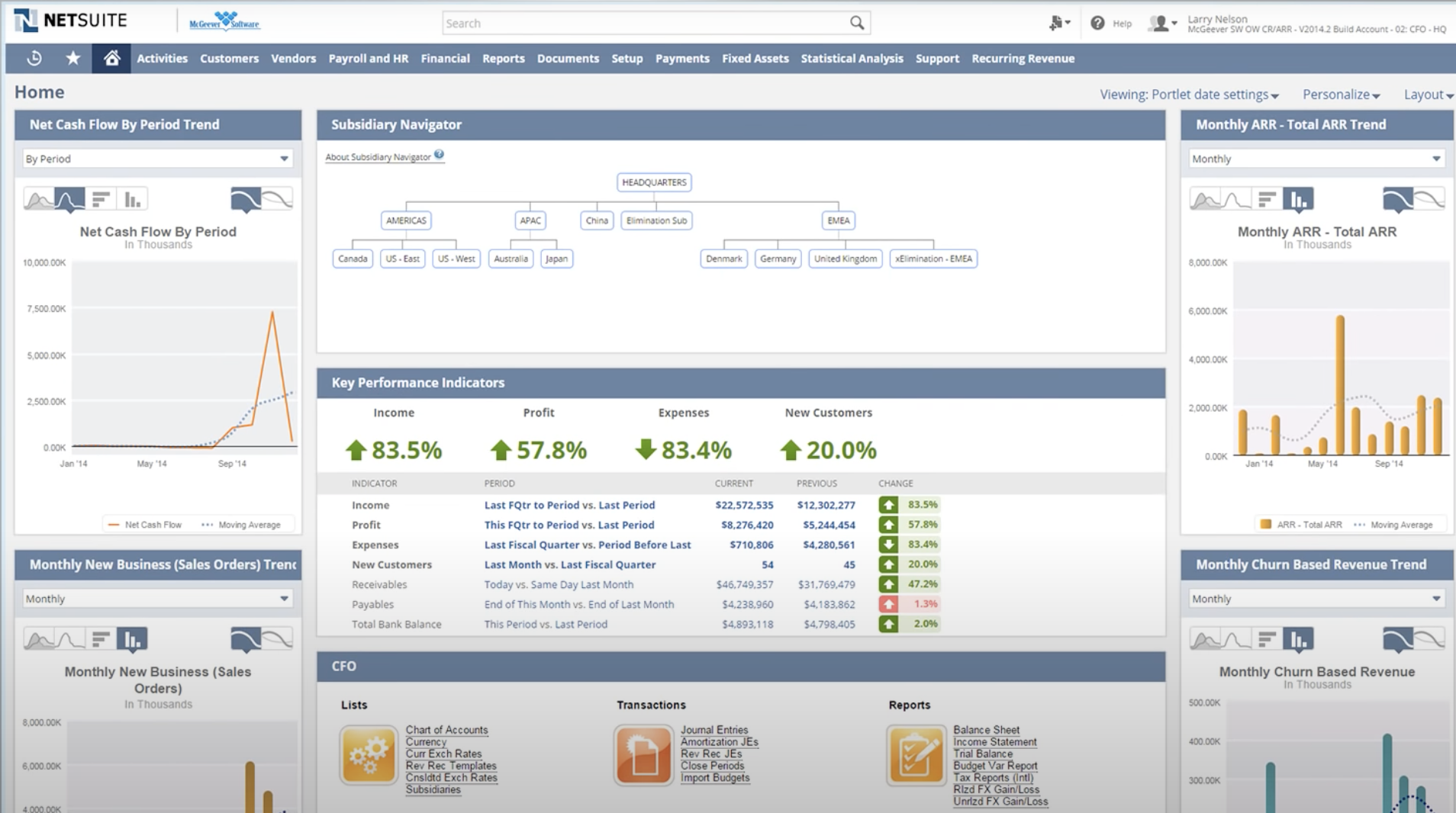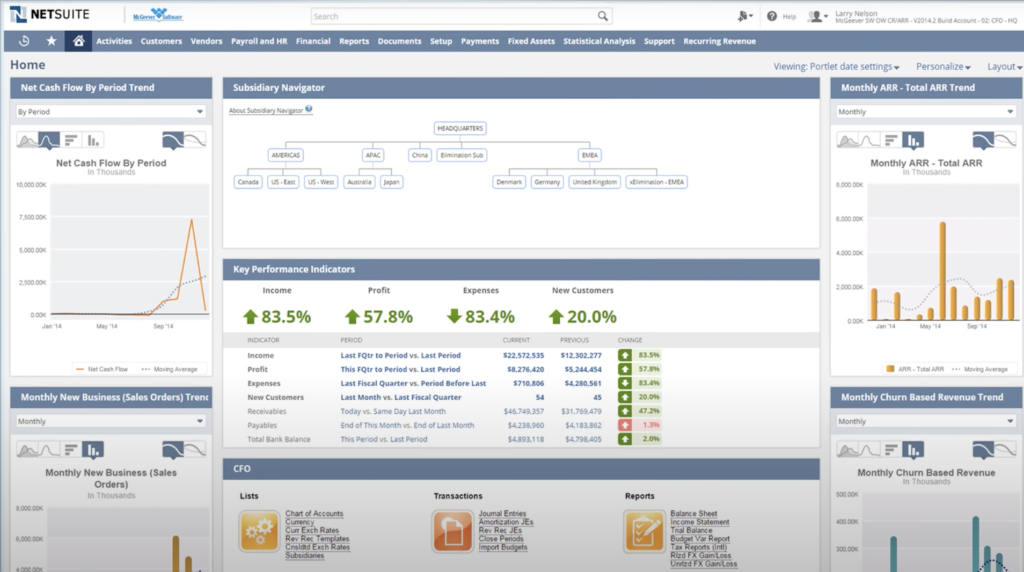 Netsuite homepage, with customizable widgets. Source: Netsuite, accessed September 2023.
This product is aimed at supporting enterprise organizations but can do well in a midsize environment, too. This is a robust project accounting software package that is modularly built to retain some flexibility in pricing. Unsurprisingly, NetSuite is used by more than 26,000 organizations.
In reviews, the ability to customize NetSuite to meet a business need is a repeated positive. The consistent negative mentioned in customer reviews is that NetSuite prices are higher than most of its competitors.
Multiview ERP
Multiview ERP is a Generally Accepted Accounting Principles (GAAP) and Health Insurance Portability and Accountability Act (HIPAA) compliant software package. Multiview ERP can provide reports when requested, versus the standard end-of-the-month report generation provided by a typical financial accounting package.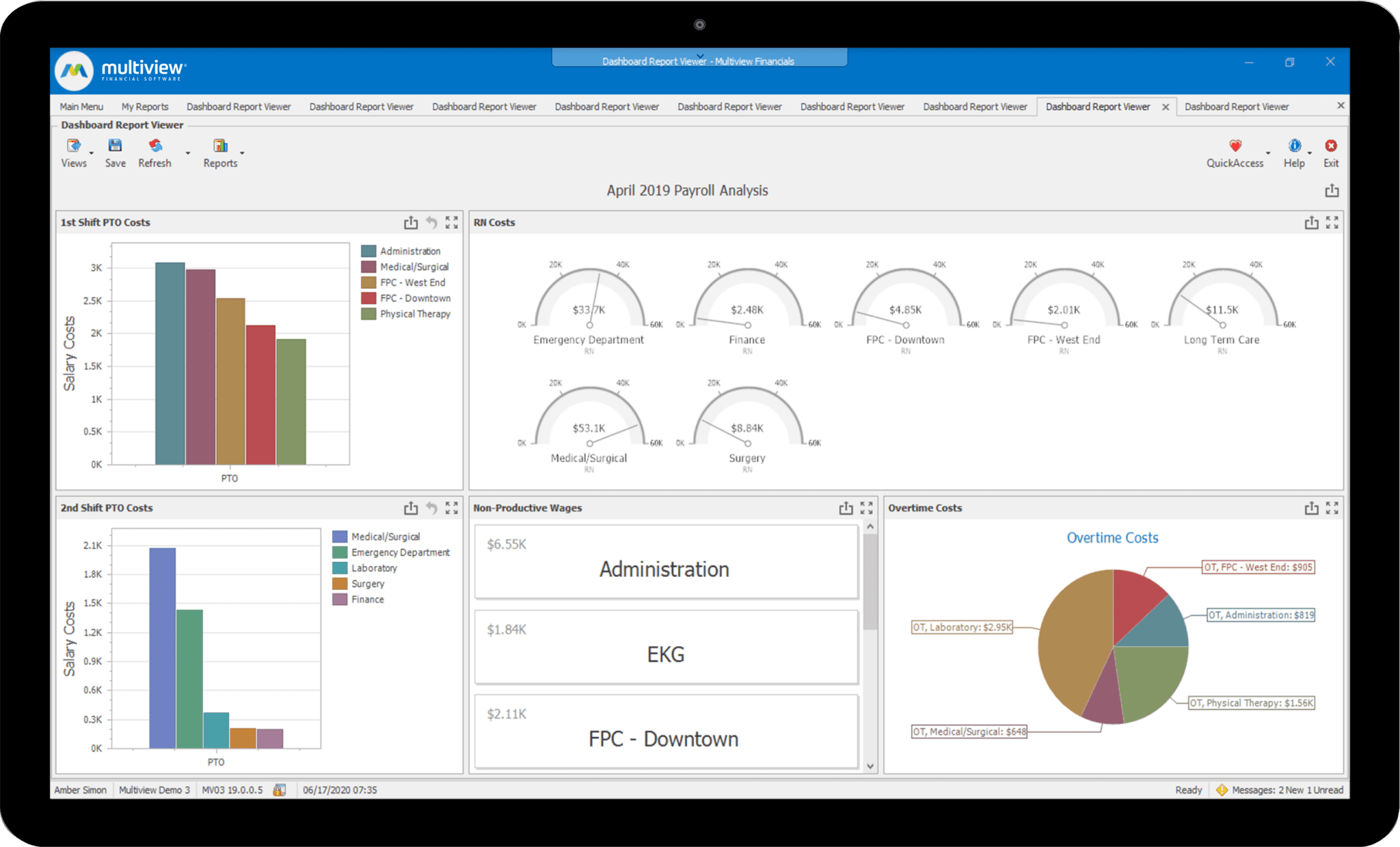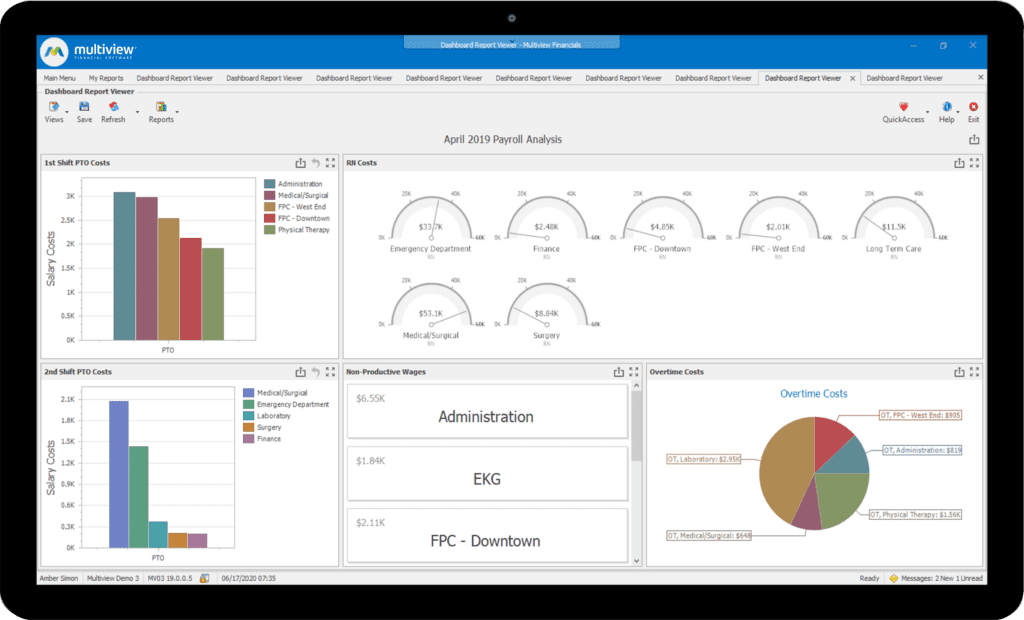 Dashboard reporting features within Multiview ERP. Source: Multiview ERP, accessed September 2023.
This product contains other key features one would expect in a project accounting software package, like advanced analytics, budget, and forecasting. Multiview ERP also has unique features, such as a compliance management module, the capability to integrate with third-party vendors, and support for foreign currencies.
Reviews of Multiview ERP repeatedly state that the application is highly customizable, with a superb search feature allowing a user to search on any key field or dollar amount. Several compliments are repeatedly directed at Multiview's customer support department. This is another project accounting software product that can support small to large businesses.
Sage Intacct
Sage Intacct has a full complement of key features a decision maker is looking for in a project accounting software package. As for unique features, it offers fraud detection, a multi-currency module, and an option for online payments.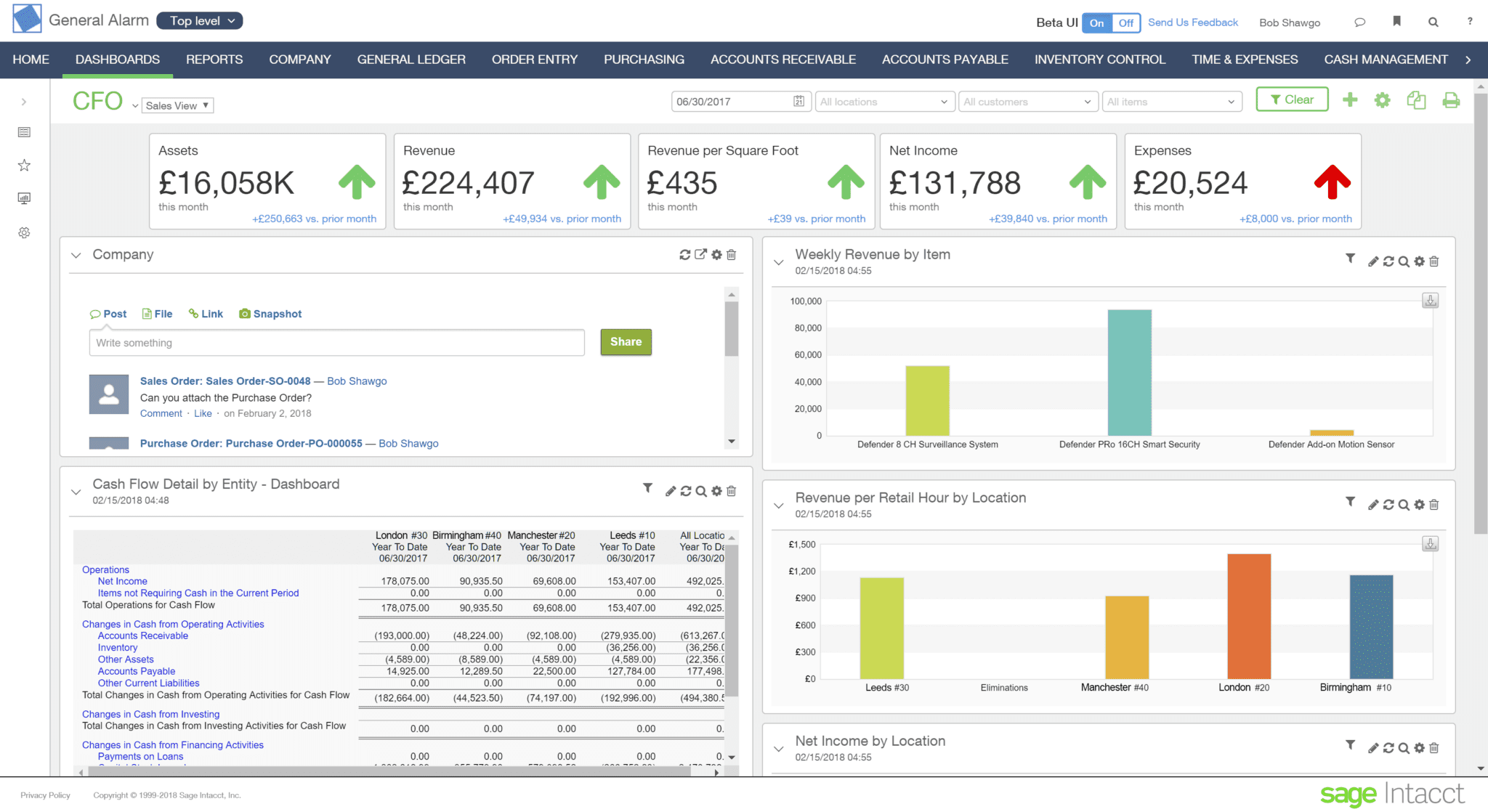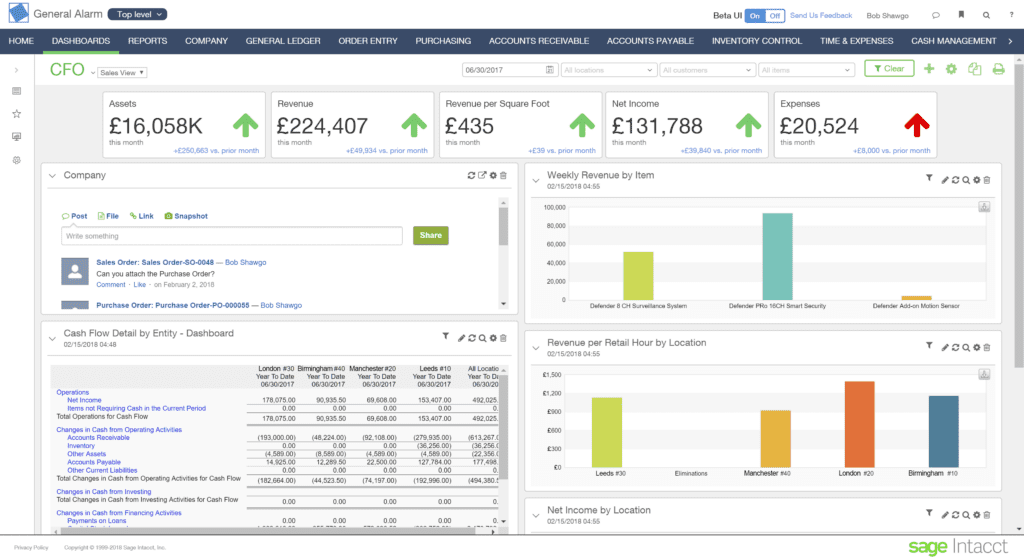 Asset overview dashboard view from Sage Intacct. Source: Sage Intacct, accessed September 2023.
This is another premier package that businesses are happy using based on the reviews. Sage Intacct gets high praise for its ability to track weekly goals, tasks, and project statuses. This product is also complimented for its ability to integrate with third-party plugins.
However, reviewers note that generating a specific report is not intuitive, and the canned reports lack useful information.
Striven
Striven has many of the common key features one would look for in project accounting software, such as the ability to set and track project budgets, generate reports, and keep track of billing and invoices. But what really resonated in this product's reviews was the customer's optimism when a function did not perform to expectations. The customers gave Striven the benefit of time to address and correct any identified issue.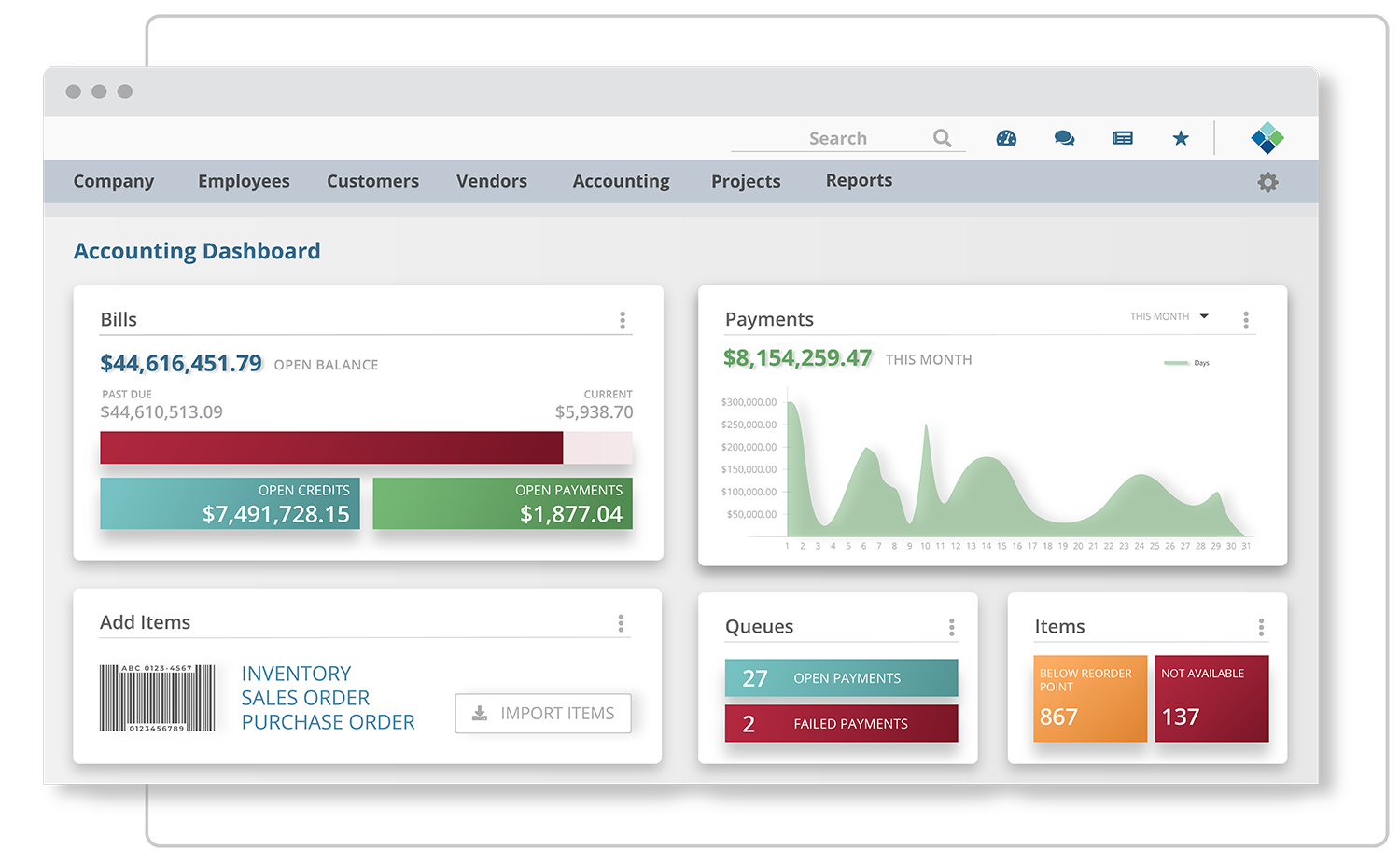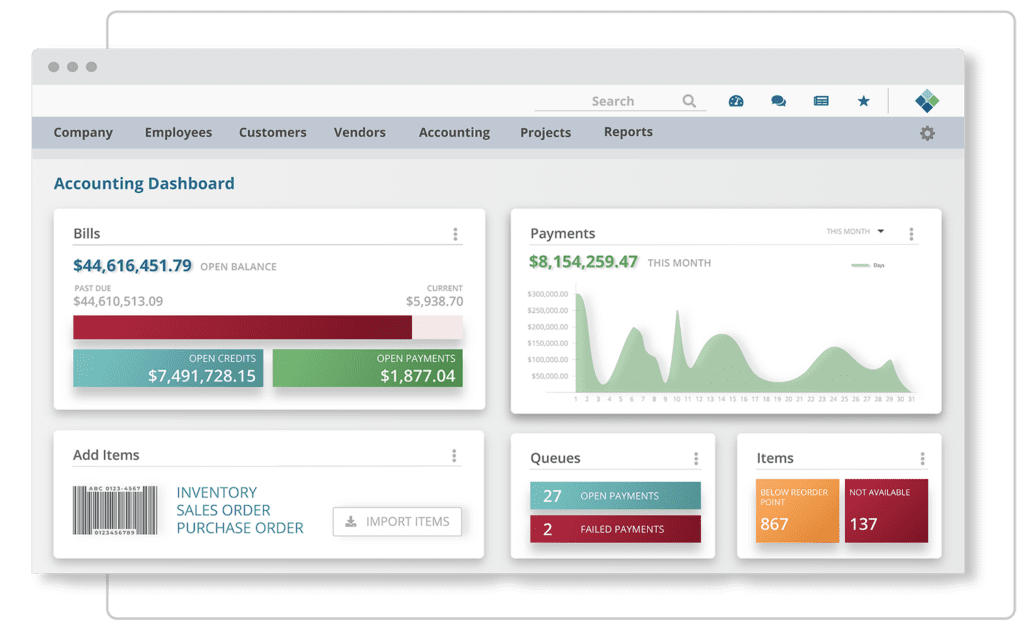 Accounting dashboard view with payment overviews. Source: Striven, accessed September 2023.
Multiple reviews of Striven note that this vendor provides superior customer service. Two reviewers in particular noted that Striven helped move data from a previous system into Striven with no migration problems or loss of data in the process. Reviews consistently state the application is very user-friendly and integrates well with other software processes using REST API.
Unanet
Unanet falls in the category of a PSA, which is a combination of project management and Enterprise Resource planning (ERP) services. This software is used to manage the daily activities of a business from a central database. Unanet is complimented with the typical accolades for any good project accounting software. Like some of its competitors, it features a user-friendly interface and other key features. Non-standard features on offer include the ability to accept foreign currency, and a resource management module.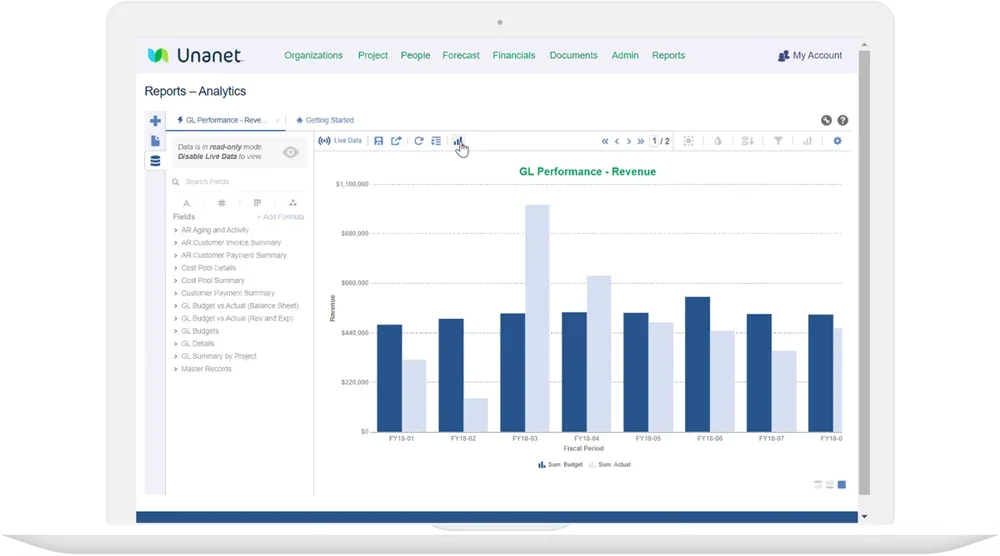 Unanet's reporting interface. Source: Unanet, accessed September.
Unanet also offers various ways to learn how to use the application with a knowledge center and Unanet University. This product is touted as being especially good for government contractors.
A noticeable con is that Unanet software upgrades are not thoroughly tested, and customers have complained about multiple problems after an attempted upgrade. Other cons are significant issues like pay rate and hiring date changes without the ability to revert to the original entry.
Wave
Wave is for small businesses with less than nine employees, and it's a free product. Wave does not come with all the amenities of some of its competitors, but it may be a perfect solution for an upstart small business that is aiming to keep its initial costs low.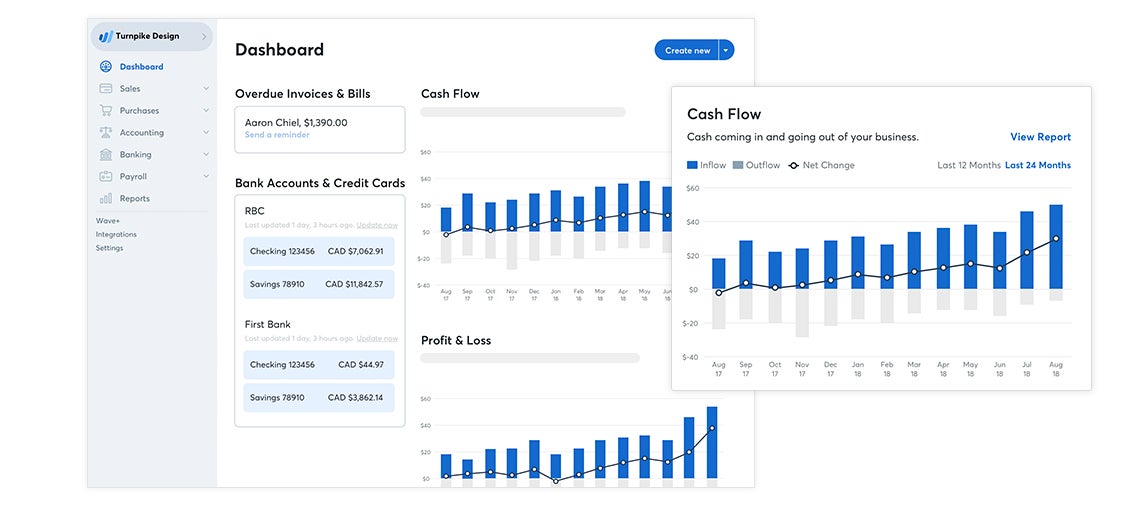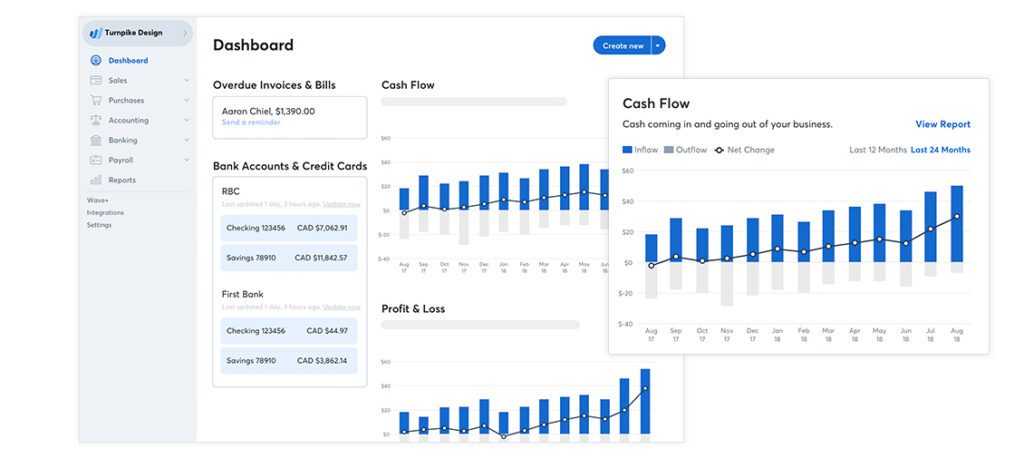 Cash flow overviews are shown within the dashboard feature. Source: Wave, accessed September 2023.
Surprisingly, Wave offers multi-currency and multi-country options, a feature typically only found in more complex systems. Wave can also be integrated with third-party applications. Wave is easy to use, and freelancers find Wave to be the perfect product for invoicing and receiving Automated Clearing House (ACH) transactions.
A notable con is that the product lacks accounting and reporting for individual projects, but the product has found a niche market and meets a need. Wave does offer a premium support plan at $49 for three months, allowing users to talk with a product specialist to address any operational issues.
Key Features of Project Accounting Software
Standard financial accounting software will not provide you the granular information you and your team need to successfully manage projects. Good project accounting software offers key features that provide KPIs and metrics to keep you abreast of how a project is doing after each deliverable.
For a project accounting software product to work efficiently, it must contain the following features tailored to meet project management best practices.
Financial Management
Flexibility to generate project costs, revenues, or profits after a project deliverable, or as required
Ability to adjust the billing cycle per project requirements
Adjusts cost and charge rates as the market fluctuates
Budgeting and Forecasting
Creates realistic budget forecasting before a project starts
Offers project-based accounting costs for all transactions
Groups projects by portfolio or product line
Revenue Recording
Ability to record revenue when it is earned and not when cash is received

Managing Indirect Rates
Tracks costs that are indirectly related to the project

Billing and Invoicing
Produces pre-approved forms to meet customer-specific needs
Generates pre-validated forms with applicable charges for specific customers
Expeditious process for payments and cash flows

Time and Expenses
Capable of automated approvals
Ability to share real-time project information in a consolidated database
Reports data in different currencies and executes an audit trail
Ability to streamline business processes and minimize or eliminate any errors

Project Reporting and Dashboards
Ability to compare cost codes for similar projects
Identify KPIs to track schedule performance or cost performance for similar project tasks
Monitors and generates reports on forecast and actual costs
ERP and CRM Features
Two features that are often mentioned during reviews of project accounting software are Enterprise Resource Planning (ERP) and Customer Relationship Management (CRM) modules, as both can be part of these products.
ERPs consolidate information into a centralized database from various departments within an organization to streamline and automate processes. ERPs help organizations remain efficient and make better decisions.
CRMs help maintain customer relationships, using automated processes to facilitate customer interaction. CRM touches marketing, sales, customer service, and customer help support.
---
---
Select the Best Project Accounting Software
As a decision maker, you're exposed to a bevy of project accounting software products. The project accounting software evaluated here are all web or cloud-based, and have many similar features. When you compare project accounting software features, be sure it's a comparison against the same key feature — the naming may be different between products.
Many of these project accounting software products can be used in industry-specific domains, so another selection criteria is finding the best solution for your sector. Along with price, industry-specific requirements and differentiators are the features that may ultimately be deciding factors for your organization.
---
---
Featured Partners: Project Management Software