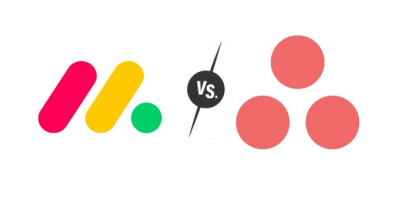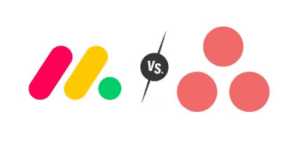 Selecting the most suitable project management software for a specific requirement, team or company is a challenge. After a long evaluation period, your team will likely need to compare your top two options. A typical matchup we encounter is between monday.com and Asana. They're of the most popular work management tools for project teams and below, we compare them.
Table of Contents
About monday.com


monday.com is a cloud-based software platform that functions as a work operating system (Work OS). It provides a digital workspace for organizations of all sizes and across all its functions. monday.com platform and products provide flexible building blocks so users can assemble apps to manage various kinds of work. Teams can plan projects, run operations, track processes, and build custom apps for any workflow.
About Asana

Asana is a project collaboration and work management system that helps improve employee productivity and company efficiency. Its integrated tools and features support different teams and workflows so they can plan, execute, track, report, and streamline work, projects, and processes. Asana helps increase visibility of work across teams to improve awareness, remove duplication of effort, and provide insights that allow companies to scale and grow efficiently.
monday.com vs Asana Comparison
monday.com and Asana are two leading project management software in the market today whose ideal and intended users are much the same and sometimes overlap. This Asana vs monday comparison aims to highlight similar strengths as well as distinct differences in two comparable plans, namely monday's Standard plan and Asana's Premium plan.
Features and Strengths
Project teams need to collaborate with relevant stakeholders in real time. The right project management tool enables project managers to stay on top of deadlines, priorities, and changes.
monday.com is a highly visual software solution that provides teams a full project overview at a glance. Users can choose from a main table view, a timeline view, a Kanban view, a calendar view, and a map view. They can combine several boards in one custom dashboard view to bring together deadline, stakeholder, and budget information with real-time updates.
monday.com offers work management and project management tools for a range of project requirements with scaling capabilities and integrations. It has features to manage multiple projects, breakdown projects into tasks, assign ownership and responsibility, understand risks, and track progress. Users can collaborate simultaneously on shared docs, edit online whiteboards, communicate through comments, and hold conference calls, all within monday.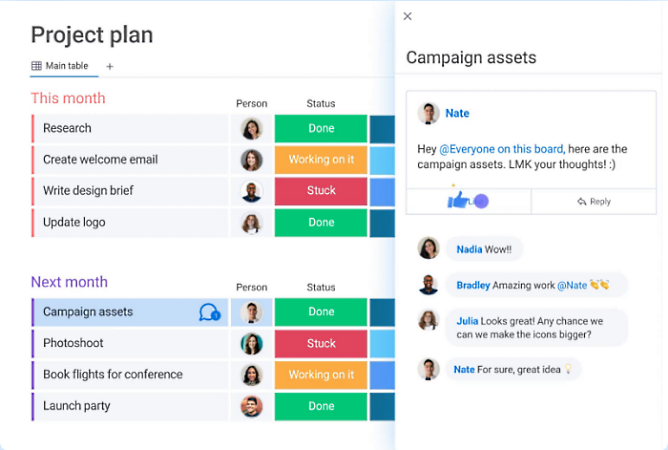 Asana is a cloud-based work management solution for teams across the organization. It can support the workflow of different teams and allow users to switch between work views such as lists, timelines, boards, calendars, workload, and files, with specific personal and teammate views . Teams can organize complex work and prioritize. Built-in dashboards show data and progress in real-time that users can easily share.
Project teams can use Asana in all stages of a project. It has tools to manage the full hierarchy of projects, tasks, subtasks, milestones, dependencies, portfolios, and goals, from project initiation to closing. Other important features are task assignees, due dates and times, file attachments, forms, and approvals. Collaboration is available through task comments, private messages, project discussions, and team conversations.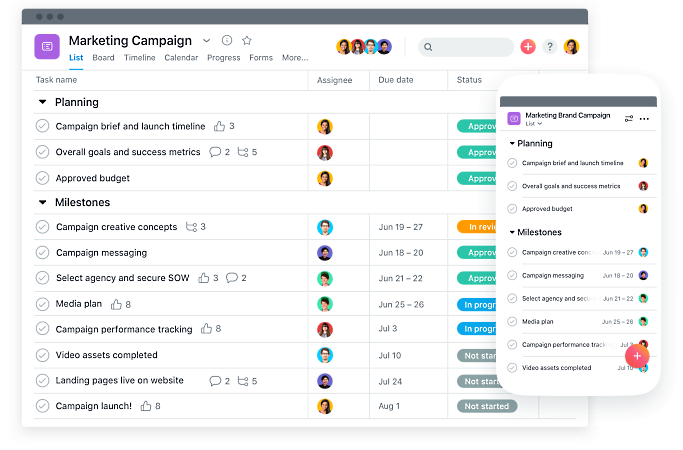 Our Take: monday.com is more versatile for a wider range of teams, team sizes, and use cases. Asana features become more useful and valuable as project teams grow, especially at the enterprise level.
Pricing
monday.com pricing is available in five different plans, from the Free plan for individuals up to the Enterprise plan. monday's most popular plan is its Standard plan, with per-user pricing that falls in the middle of its pricing plans. For $10 per user per month — paid annually for a minimum of three users — a small team will have access to unlimited work items, 20GB file storage, unlimited docs and boards, mobile apps, team collaboration tools, multiple work views, and hundreds of automation actions. A free trial of 14 days is available.

Asana pricing is available in four tiers, including its free plan and enterprise plan. Its Premium plan is at $10.99 per user per month billed annually. This pricing level includes most work views except portfolio and workload views. Premium users can use Asana's workflow builder tool, unlimited file storage of 100MB file limit, and the Admin Console. However, its Premium plan has fewer pre-built templates compared to monday's Standard plan. Other features also not available at this plan are custom automations, approvals, and proofing. Asana offers a free 30-day trial period.

Asana's free plan includes up to 15 members compared to monday's free plan of 2 seats only. However, monday's Standard plan is more affordable and has more features included compared to Asana's Premium plan.
Asana's paid plans are ideal for teams of more than 15 members. If your team has 15 members or fewer but needs more features, you can stay on the Free plan as an organization and upgrade at least 2 of your members to a paid plan.
Our Take: Which option is best for you will depend on your team's needs.
Ease of Use
monday.com makes it easy for users to adopt its platform quickly. Aside from the intuitive menus and controls, it offers over 200 ready-made board templates that teams can use for marketing, project management, sales and CRM, design, software development, HR, and more.

Further, these templates are customizable so users can change them to fit their specific workflows and processes without any coding needed. In addition, users can integrate monday into more than 100 apps and services. Its selection of pre-built recipes allows the creation of custom automations. The Standard plan provides 250 automation actions per month and another 250 integration actions per month.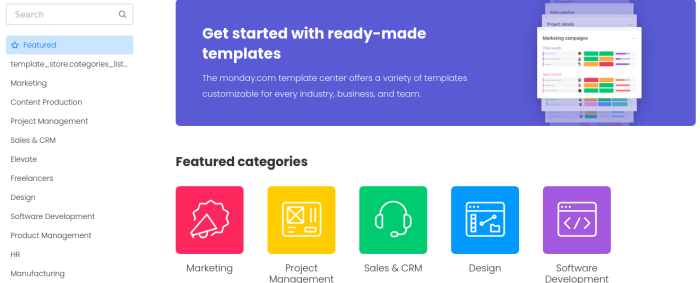 Asana enables teams can access its template library and work on projects across marketing, operations, design, product, sales, customer success, and IT with over 100 free and ready-to-use templates. It also boasts more than 200 integrations with other tools and services for full and comprehensive business solutions, including with its API. Although Asana has pre-set rules that teams can use to automate workflows, the tool is not as comprehensive as that of monday. Moreover, Asana's custom rules builder is available only in the costlier Business plan.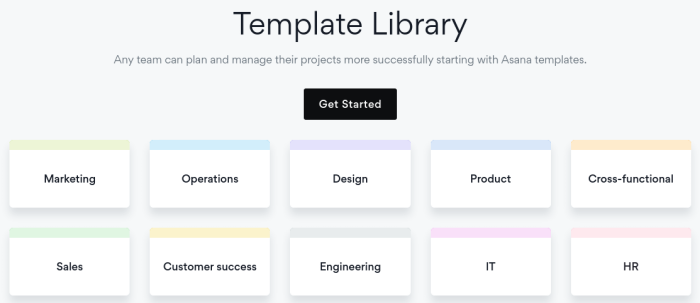 monday has more options to automate processes within the system itself and through its its integrations. Asana, however, has more integration partners ideal for teams that work with more third-party tools while using it as a central work hub.
Our Take: monday offers an extensive template library that allows a company to quickly manage workflows and track progress.
Security
monday.com ensures that it meets rigorous security, availability, and confidentiality standards with its SOC 2 Type II Compliance reports. Its security model and controls comply with international standards and industry best practices such as ISO 27001, ISO 27017, ISO 27018, ISO 27032, ISO 27701, HIPAA, GDPR, and CSA. Its Standard plan also includes two-factor authentication checking.
Asana also complies with SOC 2 Type II reporting and includes multi-factor authentication. With more than 100,000 enterprise customers, it invests in reliable infrastructure and commits to protecting privacy through governance. It also has ISO 27001, ISO 27017, ISO 27018, ISO 27701, HIPAA, GDPR, and CSA compliance.
Our Take: It's a tie. Asana vs monday both equally adhere to strict security and privacy standards.
Help and Support
monday.com provides 24/7 customer support in the Standard plan as well as self-serve knowledge base and access to daily live webinars. Users can access tutorials, guides, and articles about any topic. Those with coding skills can also learn how to build apps for its marketplace and get official training and certifications to build and implement monday.
Asana offers priority support while reserving 24/7 support only for Enterprise plan customers. Users can go to Asana Academy and avail of numerous training courses including live training and a comprehensive course catalog for beginner, intermediate, and advanced level users as team leaders, team members, or developers.
Both monday and Asana provide plenty of help articles and learning opportunities to become more proficient in using the software. But monday's 24/7 support gives monday customers the assurance that issues or interruptions to business operation will be minimal.
Our Take: Give this one to monday.com for help/support that's intuitive and adapts to the needs of users.
Comparing monday.com's Standard plan to Asana's Premium plan shows how one solution or the other can better address a particular requirement and situation more effectively. Hopefully, this Asana vs monday comparison can help teams and organizations come to a decision and find the right solution to their specific project management and work collaboration needs.
Featured Partners: Project Management Software
Asana and monday.com are pretty evenly matched and your final choice will be driven by your team's unique needs. If you're interested in learning more about top-rated project management software, the editors at project-management.com actively recommends the following: