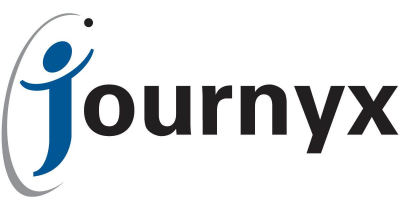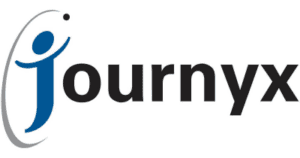 Journyx is a web-based time tracking system that provides companies flexible solutions to help users track project time, manage time and attendance, or manage workforce and budget. It integrates easily with enterprise solutions so that companies are able to streamline timesheet entry and processing.
Table of Contents
Journyx Features and Strengths
Project-based Time Tracking
Journyx JX is a project time-tracking solution that's fully integrated with many popular project management and financial systems so that time and expense data are fully in sync. They gain access to real-time visual data from custom dashboards and dynamic reports, providing organizations the most relevant and useful information.
The project time tracking software lets users view project, time, and expense reports at the program, project, or task levels. JX can show actuals vs estimates, hours by activity, and total cost. It can also run scheduled reports, provide templates, and allow for customizations. Other features include custom data validation rules to ensure correct time entries and a payroll rules engine that automates timesheet data upload to payroll providers.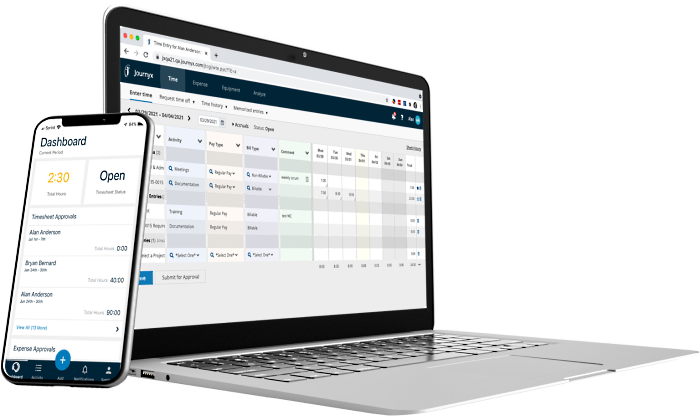 Time Clock and Attendance
Journyx CX includes flexible time collection methods such as web-based and mobile time clocks as well as time clock hardware that supports biometrics, ID badges, PIN, and facial recognition. The platform includes standard and customizable features to capture time for payroll and allow employees to manage time and attendance remotely.
Its PTO tracking allows users to set up an unlimited number of rules to manage employee vacation and benefit accruals. It has over 75 standard reports with the option to customize them. It also has labor management and compliance tools, geofencing for remote work, and several add-ons for employee scheduling, job tracking, field services, and facility access control.
Integrations, Mobile, Industry Solutions, and More
Journyx software integrates with many business systems, including Microsoft Dynamics, Microsoft Project, QuickBooks, Sage, Oracle NetSuite, and ADP. It also integrates with Zapier, Workday, Salesforce, Excel, Power BI, Tableau, SAP, HRS, Abra, Paychex, Ultipro, PeopleSoft, Deltek, Peachtree, and other payroll, HR, accounting, and ERP systems.
Its mobile app lets users enter time and expense data as well as review and approve submissions from anywhere. It has several add-ons to expand standard functionality and build atop its core time tracking to provide other capabilities like financial forecasting, project resource planning, and project monitoring, reporting, and profitability. It also offers industry-specific solutions for companies in the pharmaceuticals, consulting, staffing, oil&gas, healthcare, research, utilities, engineering, education, and non-profits. Its system implementation services let users save time with tailored configuration, comprehensive training, and ongoing support and maintenance.
Journyx Pricing
Journyx pricing is available through affordable, per-user monthly pricing tailored to customer needs. Interested parties can fill up a web form that will be the basis of a price estimate from the Journyx team.
Who Uses Journyx?
Journyx is for businesses of all sizes across industries that need an employee time and expense tracking system for accounting and payroll. Many midsize and large companies prefer the software to track project time and to capture employee time and attendance. Customers include WSP, PacSun, Corrpro, Alexion Pharmaceuticals, CBN, Maui Jim, HOPE Fair Housing Center, Iridium Communications, and MasTec Network Solutions.
Journyx Supported Language
Journyx supports English only at present.
Case Studies
Sandra Dodge is the Senior Financial Reporting and Systems Manager for a mobile satellite service company based in Virginia. When the company upgraded its MS Dynamics GP system, the finance team realized that its project timesheet software from another vendor was not compatible. For a full year, the team looked for a solution until Dodge learned about Journyx.
The company chose Journyx due to its tight integration with Dynamics GP. With the help of the Journyx team, Dodge was able to set up a solution that requires very little maintenance. The software allows employees to enter time daily from anywhere. Its approval and notifications features provide automatic reminders for submitting timesheets. According to Dodge, by the second day after the close of the time period, the finance team have up to 95 percent of its teams' timesheets submitted and approved.
Mark Fialkow is the Director of Business Operations for a services company in Florida specializing in engineering and installation work for major telecom companies. Most employees work from client locations and were tracking time in manual timesheets. Fialkow needed a modern solution to track employee time against project budgets. He also needed to solve problems like difficult-to-read timesheets, incorrect time entries against projects, and the need for multiple manual entries into the accounting system.
The company chose Journyx as the solution as it allows employees to centrally track time wherever they may be working. Employees can accurately bill time against projects and submit timesheets on time for a quicker payroll process. The result is a smoother payroll process that enables the company to pay employees correctly and on time.
Why Choose Journyx?
Journyx enables companies to streamline operations involved in tracking employee hours, optimizing project financials, allocating resources, and managing expenses. It improves the productivity of remote teams in terms of tracking time and expenses for accurate billing. It also provides real-time visibility into employee performance, project progress, and other crucial business data with seamless integration into other enterprise systems.
Company Info
Journyx Inc. is a privately held software company based in Austin, Texas. It was founded by Curt Finch in 1996. The company offers time-tracking solutions that provide companies with an accurate way to track employee time for projects, billing, and payroll. These solutions give organizations the workforce data and insights they need to make smarter decisions.
---
Featured Partners: Time Tracking Software