Hubstaff is a time tracking and productivity monitoring tool for all types of teams, including remote teams. It enables companies to track the time of people and projects accurately with easy-to-use apps that work across platforms and devices. It also offers automations and integrations.
Hubstaff Review: Features and Strengths
Time Tracking
Hubstaff is user-friendly time tracking software with in-depth reports that benefit both employees and employers. Users can click a simple stopwatch to track every minute spent on tasks and capture actual project duration. There is also an option for manual entry. The software can automatically generate timesheets based on time entries. Employees can easily see a breakdown of their hours by date, client, and project.
The time tracking software allows employers to review, approve, or reject timesheets and time-off requests from a single application. It also provides time and attendance features for creating and managing employee shifts. Other features include automated attendance tracking, alerts, break policies, project budget and cost tracking, and payroll integration.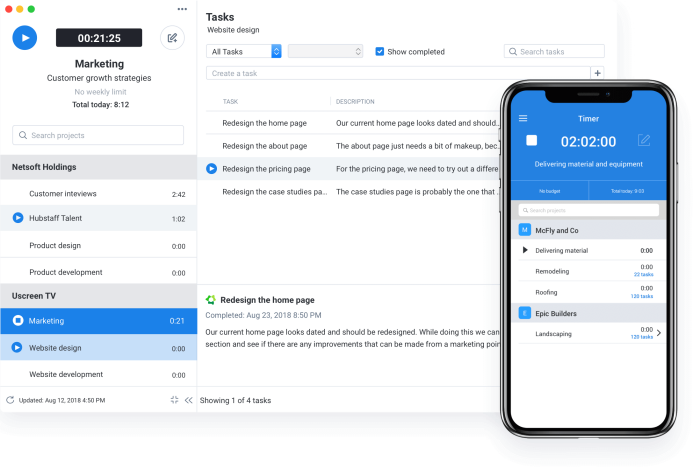 Employee Productivity Monitoring
Hubstaff provides managers and business owners a real-time view of the workforce. Users can track the team's time and generate detailed timesheets. They can set up automated reminders so team members do not forget to track time. The software can also monitor website and app usage. This provides insights into what tools the team frequently uses, or what's causing interruptions.
The software can track keyboard and mouse activity to measure frequency and activity levels, but not to obtain sensitive data. Monitoring features aim to facilitate open communication and trust, so they are only active during working hours. Other features include achievement badges and optional screenshots.
Workforce Management and Field Service Management
Hubstaff includes an employee scheduling feature that allows users to create schedules, view shift assignments, manage shift swaps, and get alerts for no-shows. It can function as payroll tracking software with timesheet approvals, configurable pay rates for automated payments, and payment integrations.
The software also has geofence time tracking, GPS location tracking, and invoice tracking. Field service teams can use it to create and schedule work orders, manage teams and assets, and generate detailed reports. The Hubstaff platform includes native mobile apps for iOS and Android; desktop apps for Mac, Windows, and Linux; and a Google Chrome browser extension.

Hubstaff Pricing
Hubstaff pricing is available in different products and plans. Customers can choose to pay monthly or annually. The company offers a free 14-day trial of any of its Hubstaff products with a 60-day money-back guarantee. Customers can choose from three Hubstaff products: Hubstaff Time, Hubstaff Desk, and Hubstaff Field.
Hubstaff Time and Hubstaff Desk have similar pricing plans:
Free plan: One user only. Hubstaff Time Free and Desk Free include basic features such as time tracking, timesheets, limited reports, and limited payments. Desk Free also includes activity rate tracking and limited screenshots.
Starter plan: Starts at $140 annually. Includes two users, all features in the Free plan, plus reports, one integration, 24-hour support, and per-user settings.
Pro plan: Starts at $200 annually. Includes two users, all Starter plan features, and advanced features such as unlimited teams, payments and payroll, unlimited integrations, scheduling and attendance, invoices, and expense tracking.
A custom Enterprise plan is also available. The Hubstaff Field plans are:
Field Pro: Starting at $240 annually for two users.
Desk Field: Starting at $300 annually for two users.
Who Uses Hubstaff?
Hubstaff is for freelancers, teams, and companies of all sizes across industries. It is a time tracking solution ideal for remote work software, field service management, agency workforce management, consultancies, professional services, and international teams.
Clients include WRS Health, Groupon, Los Angeles Clippers, Credit Sesame, Catalyst, Dorms.com, Ring, Tallyfy, and LinkUp Studio.
Hubstaff Supported Languages
Hubstaff currently only supports English.

Case Studies
Amit Kothari is the co-founder of a company providing onboarding solutions. With a remote team scattered all over the world, they needed a way to record time and account for billable hours. The employee management solution they also needed to work with the ompany's existing processes.
With Hubstaff, Amit's team can submit invoices wherever they are and get paid using different services through integrations. Hubstaff provides easy time tracking and better activity tracking that enables Amit's company to hire talent in any region.
Andriy Sambir is the CEO of a software development agency that was having a hard time tracking and building reports for all ongoing projects.
After trying Hubstaff, Samir immediately saw improvements. The productivity tool automatically gathers tracked hours from projects and generates custom reports. They can also schedule reports and save filters. Hubstaff also improves the way the company tracks time and activity rates, resulting in enhanced transparency.
Why Choose Hubstaff?
Hubstaff is easy to set up and use, so businesses adopting the online tool can instantly improve productivity. Users become aware of time and how they spend it. The software also provides automations to simplify time entry and tracking, and helps generate accurate timesheets and reports. Managers gain better visibility, helping them prioritize projects, control expenses, adapt better tools, or schedule employee training.
Company Info
Hubstaff is a product of Netsoft Holdings, LLC, a software company headquartered in Fishers, Indiana. It was co-founded by Dave Nevogt and Jared Brown in 2013. When Dave was running an SEO company with a remote team, he started to formulate ideas about how to start a software service that would help manage remote teams. Today, the company has over 90 remote team members across 28 countries and offers five products.
Featured Partners: Project Management Software
If you're interested in learning more about top-rated project management software, project-management.com actively recommends the following: