Celoxis is a comprehensive and collaborative project management software for businesses. This web-based software lets users manage projects, resources, and business processes with several built-in tools and features. Project teams, clients, and executives can collaborate, track, and get real-time reports using a single shareable and secure platform for a variety of use cases and industries.
Table of Contents
Celoxis : Features and Strengths
Project Management
Celoxis provides a comprehensive solution for managing projects that covers request tracking, project planning, project tracking, project accounting, and portfolio management. Users can collate project requests from multiple sources like emails, forms, and spreadsheets, and then prioritize them based on business KPIs. They can build dynamic project plans that automatically adjust with auto scheduling tools, support for inter-project dependencies, and multiple assigned resources per task.
Teams can track with milestones, RAG health indicators, critical path analysis, baseline, and EVA methods, as well as automatic email alerts. Project accounting tools provide visibility into budget, receivables, and profitability, with tools for profit and margin tracking, revenue forecasting, and custom KPIs. Portfolio management provides aggregated information across projects on custom dashboards.
Resource Management
Project managers can easily allocate resources based on availability, demand, and skills. Celoxis supports teams on multiple locations and shifts, and includes tools for capacity planning, calculation for holidays and exceptions, and instant overload alerts. It tracks time, cost, and billing through an integrated timesheet and expense module. Features include multiple-level approvals, built-in timers, automatic reminders, and customizable policies.
Reporting, Collaboration, and More
Celoxis provides users a comprehensive view of projects and teams, so they have a real-time insights. Reports can include custom fields and custom formula fields that they can use in filters, columns, or charts. It allows chart drill-downs and bulk actions on records. Users can view reports on Celoxis dashboards, which they can resize as needed. Other reporting features include multiple dashboards, scheduled reporting via email, and PDF download. Collaboration is available with teams and clients through file sharing with version control, online discussion with support for @mentions, and free client portals. The software also has an activity stream and shared calendars. The interface is compatible to different mobile platforms without the need to install native apps.
What is the Pricing of Celoxis?
Celoxis offers one simple per-user price with a minimum of 5 users. A 30-day trial is available.
Cloud Edition: $25 per user per month
The Cloud edition includes free 24/5 support, free clients and virtual users, and 2GB of file space per user. Companies can also pay yearly, every 2 years, or every 3 years with corresponding discounts.
On-Premise Edition: Contact Us for Pricing
The On-Premise edition includes free support for one year and an optional annual maintenance contract (AMC), free clients and virtual users, and free upgrades for users with a second AMC.
Who Uses Celoxis?
Celoxis is ideal for small and large businesses looking for a web-based project management software that can be deployed as a cloud or on-premise solution. Businesses, universities, and government offices around the world use the software, including Adobe, the University of New South Wales, Northern Ireland Assembly, Bombardier Jets, University of Washington, Utah.gov, Cleveland Clinic, Cornell University, and Council of Europe.
Celoxis Supported Languages
Supports English, Arabic, Chinese (Simplified), French, German, Portuguese, Russian, and Spanish.
Celoxis Case Studies
Michael Milshtein is the director of engineering and development for an American e-learning content development and consulting services company. This completely virtual organization with geographically dispersed team members has very strong project management practices, but their de facto on-premise PM software became incompatible over the years due to limitations in resource planning, project status reporting, decentralized project plans, billing leaks, and spiraling license costs. Celoxis is the best replacement to handle large project plans, providing the company with Gantt chart. It allows them to allocate resources by effort, and give users a robust and customizable reporting tool. Its web-based, on-premise installation also cut license costs by 60%.
Laura Yue is a business analyst for an Australia-based hardware and software solutions provider to the mining and civil infrastructure industries. Work on its several divisions was project-based, but the company did not have a formal project management tool for tracking progress and costs. It was looking for a solution to address information silos, missing project and time tracking, and cost overruns, as well as tracking employee leave and personal time-off. The company chose Celoxis for having a cloud-based solution available through browsers, sophisticated PM features, extensive work tracking, reporting capabilities, ease of deployment, intuitive usability, and a responsive support team.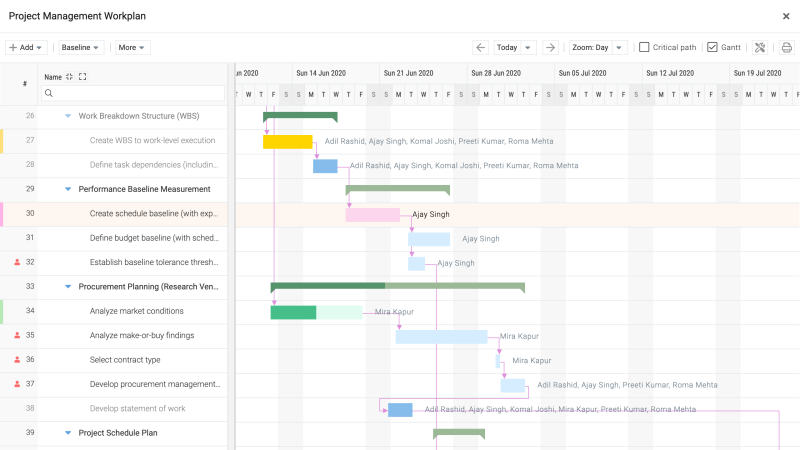 Why Choose Celoxis?
Celoxis project management software provides a timely solution for companies and enterprises adopting digital transformation and consolidating business processes. It comes with all the necessary features to enable teams in remote and hybrid work setups to stay connected, focus on being productive, and make data-driven decisions — without having to switch between tools. Users can spend more time completing work and sharing insights, rather than looking for information.
Company Info
Celoxis Technologies is a privately held project management software company with headquarters in Pune, India. It was founded in 2001 and is the first company in India to offer SaaS and on-premise deployment of its software. The founders Nikhil Daddikar and Ravindra Wankar started with the idea of building a PM software flexible and scalable enough to address project management and collaboration challenges in the workplace. After two decades, Celoxis continues to be a favorite PM platform, having outperformed the competition and weathered global economic downturns. It continues to be a relevant tool for the changing project management landscape.
Featured Partners: Project Management Software