Workflow management software is designed to help enterprises and small businesses alike better manage and automate their business processes. In this guide, we've rounded up seven of the best workflow management software solutions, covering their pros and cons, key features and differentiators, and providing a brief description that explains why you might want to select that particular solution.
Our Picks
Best For
Pricing Starts At



Visit monday.com

Best Overall
Free Forever plan available • $8/user/month


Read more about monday




Visit Process Street

Best for AI-Powered Workflows

14-day free trial • $100/month


Read more about Process Street





Visit Kissflow

Best for Workflow Templates
$1,500 per month


Read more about Kissflow


Visit ClickUp

Best for Workflow Mapping
Free Forever plan available • $7/user/month


Read more about ClickUp



Visit Wrike

Best for Online Proofing Workflows
Free plan available • $9.80/user/month


Read more about Wrike



Visit Bonsai

Best for Customer Experience Workflow Management
Try free • $25/user/month


Read more about Bonsai



Visit Jira Work Management

Best for Cross-Departmental Use
Free plan available • $5/user/month


Read more about Jira Work Management
Our Picks


monday work management: Best Overall
monday's project management and work platform is flexible and highly visual. It provides teams with a central workspace for planning, managing, tracking, and delivering projects. The software is easy to set up, integrates with many existing tools, and helps users save time with automation.
---
Read our monday work management review
---
monday.com's workflow management system enables teams to streamline business processes. It can store data and files that are important to the process, automate repetitive tasks, and provide collaboration tools so teams can better manage projects and day-to-day work. Some of its helpful features include real-time alerts and notifications, due date management, ready-to-use templates, time tracking, document creation, dashboards, and low-code/no-code workflow automations.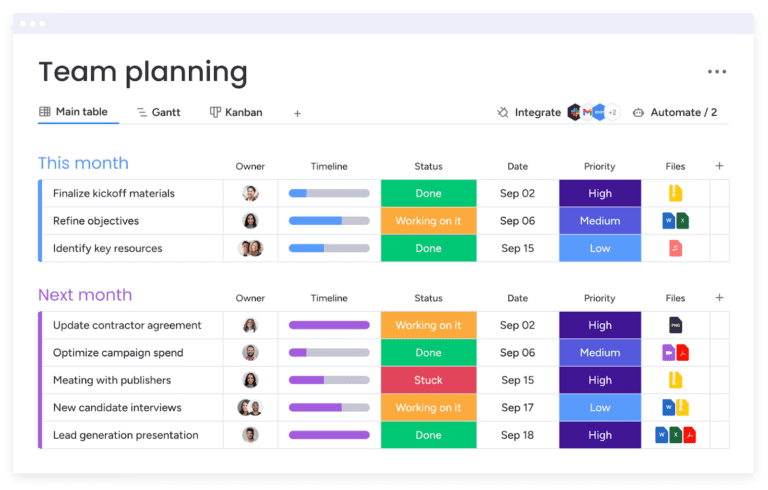 Key Features
Workflow automation: monday.com takes a low-code/no-code approach to workflow automation and gives users the option to build custom automations or use prebuilt automations; it offers more than 200 prebuilt automation recipes to users.
Workflow templates: monday.com has workflow templates for a variety of workflow types, including internal process management, creative process management, recruitment process management, and sales enablement workflows.
Integrations: monday.com comes with more than 200 third-party integration options, so users can easily integrate their communications, marketing, and other business tools into their workflows.
Pros & Cons
Pros
Cons
• Customizable, low-code/no-code workflow automations are available.

• monday.com has an extensive library of templates that can be used to set up workflows.

• Custom fields, columns, templates, and notifications make it easier to fit monday boards and workflows to your exact needs.
• Certain project views and capabilities are not available in the free plan option.

• The Dependency column option is only available in the Pro and Enterprise plans.

• Integration and automation actions are only available to Standard, Pro, and Enterprise plan subscribers.
Why We Picked monday
monday.com has some of the most user-friendly workflow automations in this market, with drag-and-drop, no-code functionality for if-then workflow design. It also includes a variety of project views and high levels of customizability, with easy-to-use templates that cover many different types of workflows, as well as project boards that are colorful and intuitive to use. All of these features are available at a relatively affordable price and in a scalable, tiered pricing structure.


Process Street: Best for AI-Powered Workflows
Process Street is a checklist, workflow, and standard operating procedure (SOP) software solution. It lets users manage recurring workflows in a few simple steps and enables organizations to document team knowledge, create structured documents, assign workflows, and track activity from a centralized dashboard.
Process Street includes conditional logic, so users can create a dynamic workflow with adaptable if-then logic. More recently, Process Street has also added the Process AI feature, which relies on ChatGPT functionality to automatically and intelligently generate tasks and workflows.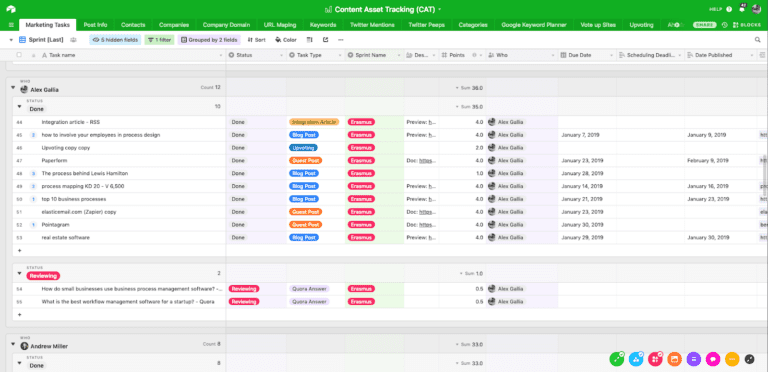 Key Features
Approval workflow: This feature streamlines any process that needs authorization. Users can create single-instance, multi-stage, or sequential approvals.
Process AI: The Process AI feature is a built-in, ChatGPT-powered solution that helps users create new and refine existing workflows, tasks, and SOPs.
Customizable forms: Process Street's customizable forms can include if-then logic and be incorporated into workflows at any point, including at intake. Forms are customizable, embeddable, and can be set up for multi-step information collection.
Pros & Cons
Pros
Cons
• One of the few tools that offers generative AI capabilities at little to no cost to the user.

• Users are able to add rich content and media attachments to their workflows.

• Users at all subscription tiers have access to customizable and multi-step form options.
• Reporting features are incredibly limited for non-Enterprise users.

• There's a huge difference in pricing between the Enterprise tier and the two lower tiers; teams that need more features may not be willing to go for the much higher price tag.

• Customer support access is fairly limited unless you are an Enterprise user.
Why We Picked Process Street
Process Street offers many advanced workflow management features to its users but manages to stand out from the crowd with its Process AI collection of features. These generative AI-powered features help users integrate existing data into detailed workflows, create dynamic tasks, quickly summarize and analyze documents, write content like email messages, and simplify several other tasks with more automation and minimal effort on the part of the user. The software is also a great solution for users who need features like forms for capturing structured data, rich content and media attachments, scheduled automations, and an activity feed.


Kissflow: Best for Workflow Templates
Kissflow is a workflow software solution and automation tool designed for increased productivity. Teams with no coding experience can quickly build their own workflows using a visual form and workflow designer, automated workflow routing, algorithmic task assignment, contextual collaboration, a variety of workflow templates, and third-party integrations.
Kissflow workflow management software includes dashboards to provide real-time information on every process. Other features include dynamic business rules and routing, ad hoc assignment, agile deployment, process audit and optimization, dynamic reporting, social collaboration, and APIs.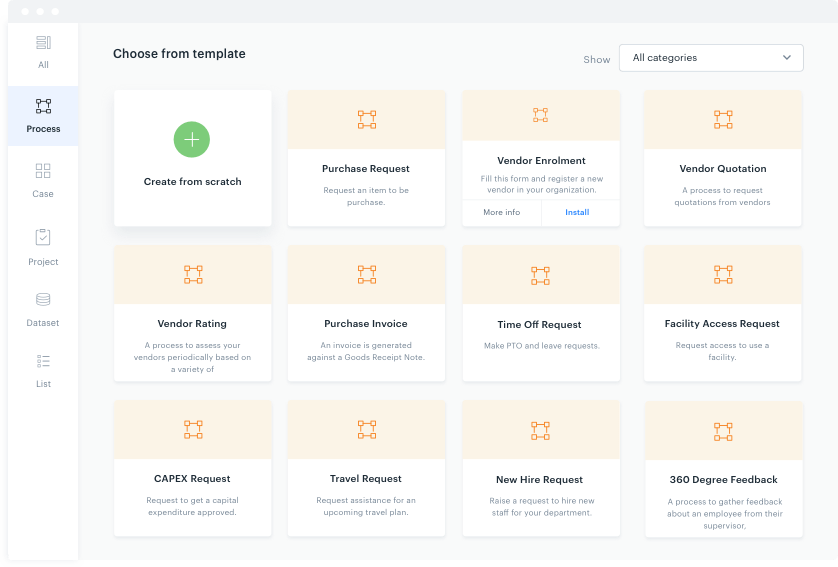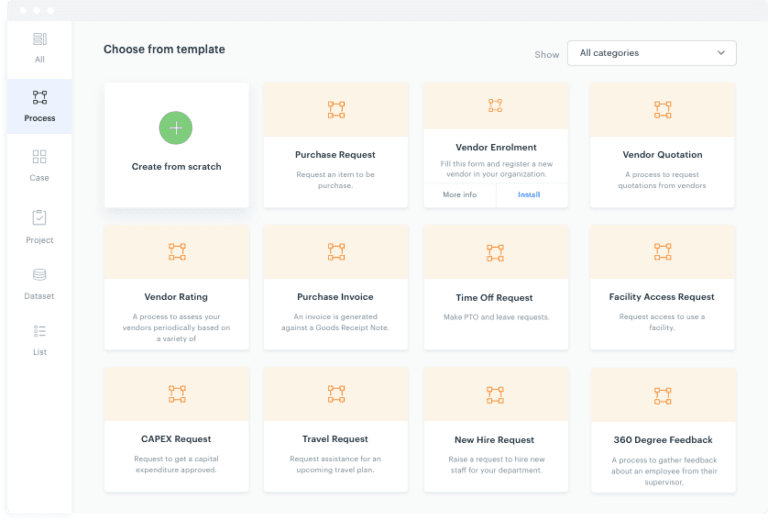 Key Features
Workflow templates: Kissflow has a library of more than 200 workflow-specific templates. Templates cover a variety of industry areas, including finance, engineering, marketing, and healthcare, and a variety of more general operations and people management templates are also available.
Various boards and workflow views: A variety of unique workflow view options are available, including role-based views, matrix views, kanban views, and metrics-based views; Kissflow has particularly helpful analytics and reporting features in its metrics view.
No-code automations: Automations are available for building forms, designing workflows, assigning dynamic tasks, setting up SLAs, and enabling custom permissions with conditional logic.
Pros & Cons
Pros
Cons
• Workflows are highly visual and easy to set up for users of all backgrounds due to the low-code approach the platform takes.

• Kissflow makes it easy to set up role-based access controls and personalized, role-based work views.

• Kissflow's template library has over 200 options that cover most internal and external business processes.
• Kissflow is fairly expensive compared to its most similar competitors.

• Customization options are incredibly limited for Basic plan users; the only customization available is access to custom views.

• Although the workflow template library is extensive, its search function is not the best way to find relevant templates for your particular requirements.
Why We Picked Kissflow
Kissflow's offers a diverse range workflow template options for key industry and operational categories: human resources, procurement, finance, operations, customer support, marketing and sales, product, engineering, IT, and hospital and healthcare operations. Kissflow is considered a favorite for industry-specific workflows and has developed a particular following from healthcare and other organizations that require specialized case management support. We also selected this tool for its guest access options as well as its easy-to-use and comprehensive analytics, data modeling, and visualization features.


ClickUp: Best for Workflow Mapping
ClickUp is a popular project management tool that offers multiple workflow management and automation features to its users. Easy-to-setup automations and integrations are available to all users, with more than 100 prebuilt automations and customizable automations that address more than 50 action possibilities. With integrations, ClickUp workflows can be set up to help manage communication, file storage, and other collaborative requirements in tools like Slack, HubSpot, Dropbox, and Zendesk.
It is one of the best workflow management tools for users who are just getting started with this type of software. Its features are easy to use and accessible to larger teams, its templates cover many common business operations, and its Whiteboards make it possible for users to collaboratively plan and execute visual workflows.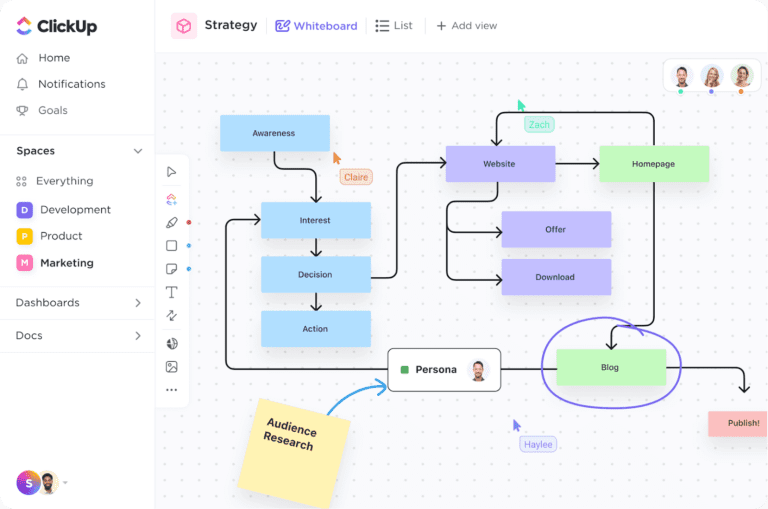 Key Features
Whiteboards: Users can map out possible workflows in ClickUp Whiteboards; while Whiteboards work for individual use, they are ideal for teams that want to add notes, connect tasks, and work together on the process of building an optimized workflow.
Process templates: In ClickUp's template library, several process templates are available. Templates include the Large Account Management Process, the Process Map Whiteboard, and the Marketing Team Processes templates.
Subtasks and checklists: Task management gets granular in ClickUp, allowing users to nest subtasks and checklists within individual tasks; this gives users the ability to create detailed workflows without overwhelming their collaborators visually.
Pros & Cons
Pros
Cons
• Unlimited users can access any ClickUp plan, making this a great solution for scalability.

• ClickUp's Whiteboard feature makes it easy for users of all experience levels to visualize and customize workflow plans.

• ClickUp has an extensive template library with multiple process template options.
• ClickUp is occasionally buggy, with users reporting lags and updates that don't save.

• Because ClickUp is primarily a project management solution, it may require additional customization and knowledge on the part of the user to get it set up for comprehensive workflow management.

• Integrations, dashboards, and automations are limited in the free version of ClickUp.
Why We Picked ClickUp
ClickUp's Whiteboards feature is one of the most visually intuitive workflow solutions available, which makes this a great workflow tool for beginners, creative teams, and all kinds of other users. The software also has a template library with more than 1,000 templates; not all are relevant to workflows and process management, but many are and can be enhanced by ClickUp's other template options. Other reasons why ClickUp is a standout solution include its availability to unlimited users at affordable prices and access to ClickUp AI for all paid plan users.


Wrike: Best for Online Proofing Workflows
Wrike is a versatile project management solution that can be customized to fit a variety of workflows and industries. Teams can fully customize their processes and use automation to deliver projects faster, and users can work with real-time information and use different views to get end-to-end workflow process visibility.
Wrike project workflow software lets users automatically sort and filter tasks, pin essential to-do lists, and use automation to schedule projects, share tasks, manage files, and assign work. Users can create custom request forms to get complete information and auto-assign tasks to the right team. It also has templates, in-app collaboration tools, built-in proofing workflows, and integrations with other apps.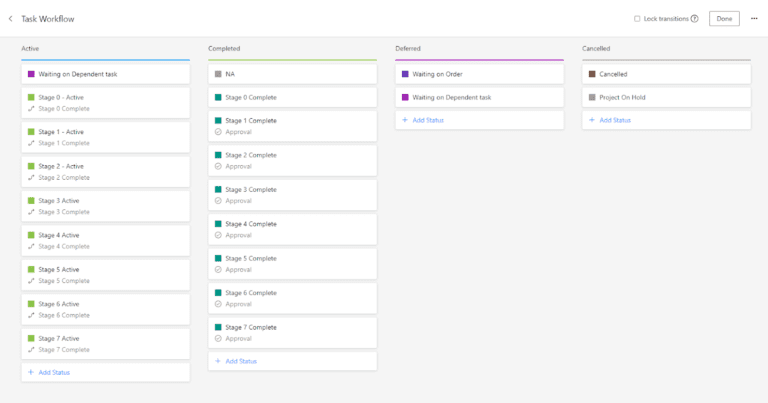 Key Features
Proofing workflows: Particularly helpful for creative and highly collaborative teams, proofing workflows are available to help teams proof multiple file formats, manage multiple versions of tasks and projects, and approve each asset in a more timely fashion.
Work Intelligence: Wrike's assistive AI solution is available to recommend tasks, create subitems, predict project risk, process documents, and streamline communication in various workflows.
Templates and blueprints: For prebuilt workflow support, users can access Wrike's extensive template library. To build out and save tasks, projects, and folders for future use, users can create their own workflow and project blueprints.
Pros & Cons
Pros
Cons
• A variety of project views are available to all users and subscription tiers.

• Work Intelligence AI automation features are available to all users.

• Users can create custom, dynamic request forms and incorporate them into their process workflows.
• Custom fields, workflows, and statuses are not available to Free plan users.

• Very little reporting and dashboarding is available to Free and Team plan users.

• Administrative permissions and features are only available in high-tier paid plans.
Why We Picked Wrike
Wrike has some of the strongest prebuilt proofing workflows and features, including proofing templates, smart approvals with document tracking, collaborative calendars, and built-in time tracking. The Work Intelligence AI collection of features is also a huge bonus, giving users assistance with everything from document summarization to risk management. Finally, Wrike is a fairly affordable solution with many project and workflow view options.


Bonsai: Best for Customer Experience Workflow Management
Bonsai brands itself as a business management tool because, unlike most of the other tools on this list, it does not simply focus on project management or workflow management. Instead, Bonsai is a platform that combines CRM, finance and billing management, and project management features all in one tool. These native features make Bonsai a great solution for marketing, sales, and finance teams in particular, as many of the forms, documents, and workflows these teams will need are already built into the system.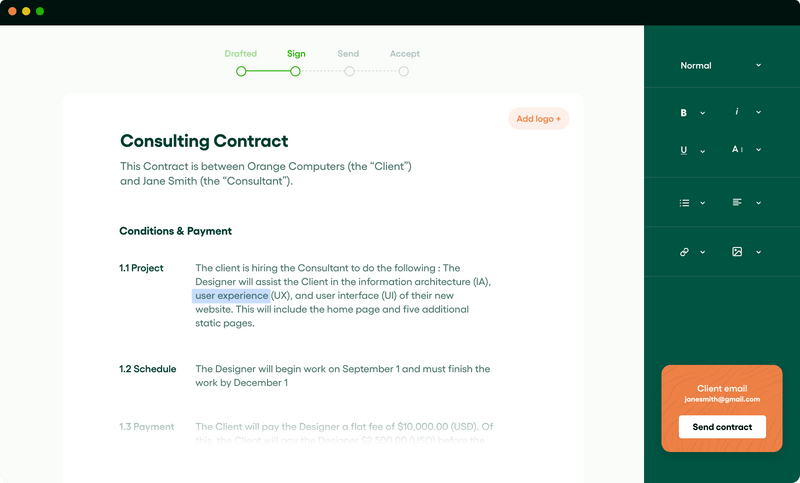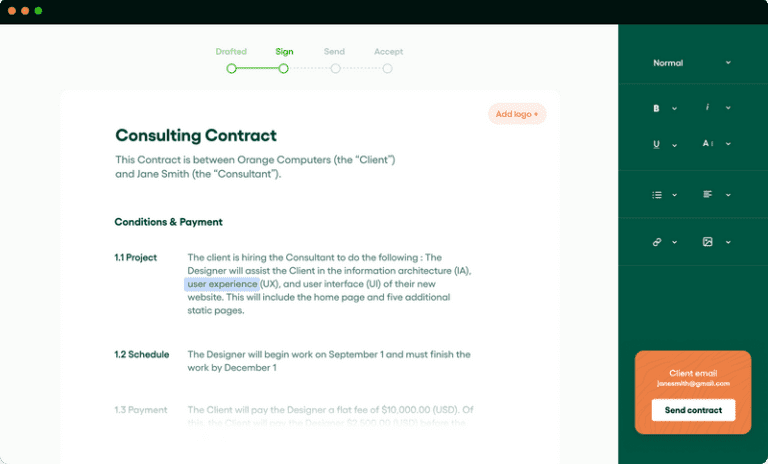 Key Features
Billing and finance workflows: Billing and finance features include automated invoicing workflows and payment reminders, automated tax reminders and categorization, and automatic budgeting with the Envelopes feature.
Contract and proposal management: Professional-looking contracts and proposals can be automatically generated and customized as necessary; both the sender and the receiver can clearly see what steps are next in the document process.
Simple automations: Bonsai's automations are simple to set up through the Automations page on the platform's client tab; all workflow automations are trigger-based.
Pros & Cons
Pros
Cons
• Triggers and automatic actions make it easy to set up workflow automations as needed.

• Most documents and contracts a business will need have already been created in Bonsai's template library.

• Bonsai includes native features that support the workflows of marketing, sales, and finance teams directly.
• Workflow automations and integrations are only available in paid plans.

• Some hiring and onboarding workflow templates and features are only available to Business plan users.

• While Bonsai's template library is extensive, few of these templates clearly fit into an operational workflow; many are better for one-off contracts and projects.
Why We Picked Bonsai
Bonsai includes a variety of business tools and features that will particularly benefit marketing, sales, creative, finance, and compliance-driven teams that need well-crafted contracts and proposals. Its template library is extensive, though users may have to get creative with identifying what templates make the most sense for their needed workflows. The tool also brings forth a clean and modern interface with simple automations that make this an easy-to-use tool for both business and personal use.


Jira Work Management: Best for Cross-Departmental Use
Jira Work Management is a business software solution from Atlassian that helps individual teams and cross-departmental task forces manage work better. Like many other tools in this space, Jira Work Management includes easy-to-use workflow automations, unlimited tasks with subtasks and task management capabilities, and several different project views with embedded communication and collaboration features.
But Jira Work Management sets itself apart with features that are committed to helping cross-departmental and cross-project teams stay consistent with overarching workflows. Global configuration rules hold all users to the same standards, task-syncing prevents duplication of work across projects, and several integrations support smoother processes across industry use cases. For example, Jira Work Management integrates with other Atlassian tools, including Confluence and Jira Software, so business operations and technical teams can work better together.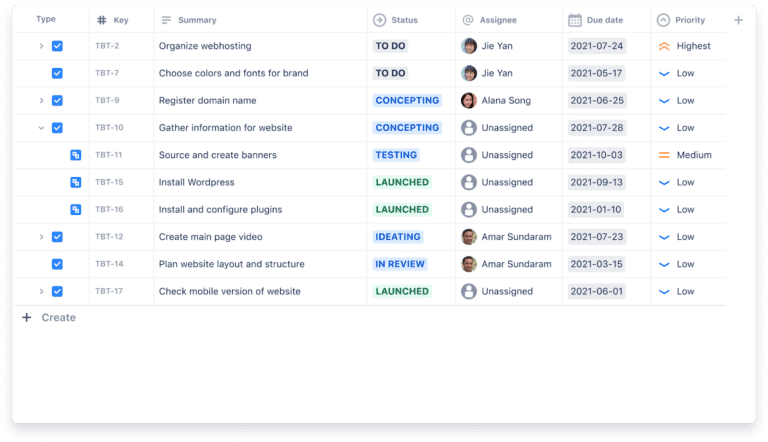 Key Features
Global configuration: Jira Work Management administrators can set up global configuration settings, user permissions, and automation rules that standardize the who, when, and how behind workflow management.
Task management: All Jira Work Management plans have access to unlimited tasks and subtasks. Individual tasks can be locked down for only authorized use and task dependencies are available to help employees work on tasks at the right times.
Integrations: Integrations are available for both third-party software and all other Atlassian tools, including developer-specific software like Confluence and Jira Software.
Pros & Cons
Pros
Cons
• All product tiers have access to customizable workflow features, unlimited tasks and projects, and some quantity of automation rule executions.

• Jira's workflow schemes provide additional context about issue types and how they should be treated in each kind of workflow.

• Integrates well with other Atlassian products, which will be especially helpful for more technical and cross-departmental initiatives.
• Most administrative and role-based controls are limited to paid plan users.

• Customer support has significant limitations for non-Premium plan users.

• Jira Work Management may have a less intuitive user interface for non-technical users.
Why We Picked Jira Work Management
Jira Work Management is one of the few workflow management solutions that offers extensive reporting and dashboarding features to all plan users. Every plan has access to customizable workflows, and even Free plan users are able to do unlimited third-party integrations and up to 100 automation rule executions per month. Widespread availability and access to integrations make this a great tool for teams that need Jira Work Management to work with industry-specific workflows. Product guides are also available that detail how different departments and roles can make the most of this tool.
Methodology
What Is Workflow Management Software?
A workflow is the sequence of steps a person performs between the start and end of a task or process. Workflow management software is software that enables a user to set up, execute, and monitor progress on a defined sequence of tasks.
Its main component is a workflow engine that allows users to create and modify the different tasks that constitute a workflow. Workflow software also reduces manual efforts through automation and helps define specific workflows for different types of processes.
What Are the Different Types of Workflow Management Software?
Buying Advice: Look for These Key Features
Workflow management software provides a structured and centralized platform for managing any business process while reducing the time that's needed to transfer pending work between tasks. Here are some of the most important features to look for when selecting workflow management software.
Key Benefits of Workflow Management Software
Workflow management software gives business leaders and employees a variety of new working advantages when it's implemented correctly. These are some of the benefits you can expect to reap after getting started with workflow management software:
Process standardization: With dynamic forms and workflows, notifications, documentation features, and administrative controls, your team can more easily organize your processes and update them as necessary.
Contextualized workflow builds: Workflow management software allows you to add attachments, notes, and other contextual information to workflows so users of all backgrounds will understand the process and what's happening at that moment.
Automation capabilities: Most workflow tools include easy-to-use, low-code automation capabilities that help to standardize and simplify repetitive workflow processes. This means you won't have to manually assign tasks to new users, move around resources, or do other hands-on work that takes up valuable time.
Improved collaboration and time management: Workflow software increases the overall visibility and accessibility of workflows, making it easier for users to keep up with their individual tasks and keep track of their teammates' progress.
FAQs
Bottom Line: Choosing the Best Workflow Management Software for Your Business
Workflow management software is a worthwhile investment for many organizations, but it won't be as effective if you pick a solution that isn't designed for your particular needs. To help you narrow down your options, we've listed a few software options that fit different business priorities below:
If affordability is most important to your business, choose Jira Work Management, monday work management, or ClickUp. Each of these tools has a free plan option that can be used by at least two employees, and what's more, each one offers helpful features in their free plans, including features for team management, workflow automation, and documentation.
If working with a platform that fits your specific industry is a top priority, choose Bonsai or Kissflow. Each of these vendors covers use cases and customer stories from a variety of industries and departments on its product page, helping customers understand how their products can be used for more specialized workflow management. For example, Bonsai makes it clear from the outset that digital marketing and sales teams can benefit from its built-in CRM, and finance teams can benefit from its invoicing, bookkeeping, and tax management features.
If you're hoping to manage your workflows with advanced automation and AI, choose Process Street, Jira Work Management, or Wrike. All three of these solutions include AI assistance at little to no additional cost, which can be helpful for teams that want to further automate workflow tasks and get support for repetitive tasks like note-taking.
Regardless of where your business process management priorities lie, there's likely a workflow management software solution out there that can satisfy your requirements. As you move through the selection process, be sure to consider input from all relevant stakeholders and future users, as their buy-in will be crucial to the overall success of whichever platform you choose.