Deltek WorkBook is online agency management solution that helps creative, digital media and production, nonprofit and other teams deliver on budget, avoid over-servicing and employee burnout, and improve team and client collaboration. Its integrated task and project management, time tracking, visual reporting, and built-in communication portals streamline processes and boost productivity.
Table of Contents
Deltek WorkBook Review: Features and Strengths
Project Performance and Resources Visibility
Deltek WorkBook provides end-to-end, full agency management in one cloud-based solution. Its integrated approach enables a company to manage agency operations and client projects from start to finish with enhanced visibility in every step, stage, or process. It provides visual dashboards with filters and hundreds of ready-to-use reports to give users the needed information in real time. It is a modular system that can add more features as the agency grows its needs.
The agency management software enables business leadership and managers to make informed decisions about resources and staffing. It has capacity forecasting features that users can apply weeks and months in advance for strategic hiring. Users can choose to bring in freelance resources or start the hiring process, whichever is more cost-effective. Utilization features also supports a balance workload to avoid burnout and protect valuable employees.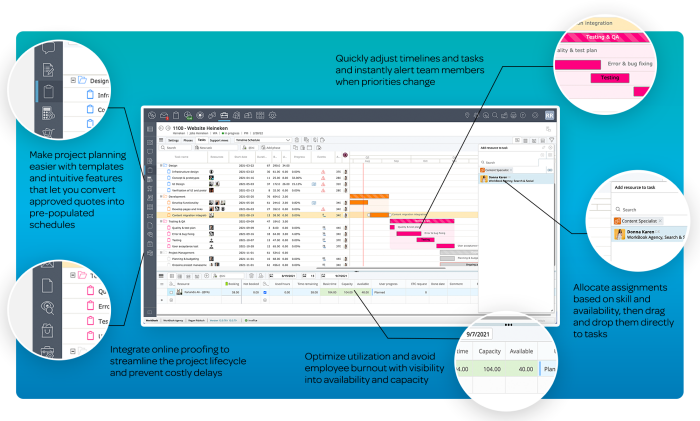 Task and Time Management
Deltek WorkBook has flexible task management tools that includes Kanban boards and calendar integrations. An integrated task management and time tracking tool allows the automated capture of effort spent on tasks while users spend more time on creative tasks and processes. Users can submit their online timesheet and use the software's automated approval workflows to streamline time tracking and invoicing processes.
Client Collaboration, Additional Modules, Integration, and More
Deltek WorkBook includes a client portal that promotes client collaboration and stronger customer relationship management. Clients get an improved experience by submitting job requests and viewing status through their portal. The modular nature of the platform allows users to add CRM and Finance module features to the agency project management software. They can have additional features such as opportunity forecasting, client revenue and profitability reporting, net revenue and cash flow forecasting, financial reporting, and business intelligence.
WorkBook can also integrate with Deltek ConceptShare, an online proofing software, and FreeWheel's Strata, a single-hosted media stewardship and financial management system for streamlined agency workflow and data exchange. The software is also accessible from mobile devices on both Android and iOS platforms.
---
---
Deltek WorkBook Pricing
Deltek WorkBook is a scalable solution available in different packages. Every Projects package includes time and expense, email and calendar integration, collaboration, a project request portal, mobile apps, open API access, and SSO capability. Teams who require more features like CRM or Finance can avail of its enhanced Projects packages with additional modules.
Also, bundle pricing is available with the Deltek Agency Solutions package that combines WorkBook with ConceptShare, an online proofing solution. Interested parties can request a quote using a website form to receive a Deltek WorkBook pricing tailored for their requirements.
Who Uses Deltek WorkBook?
Specifically, Deltek markets WorkBook to the following industry sectors:
Marketing, creative, and advertising
Accounting & CPA
Architecture & engineering
Energy, oil, and gas
Management & IT consulting
Nonprofit
Aerospace & Defense
Construction
Government contracting
The business management system is designed for both free-standing agencies and in-house teams. Deltek's customers are businesses of all sizes, from small boutique agencies to global enterprises, including Media One, We Are Social, People Group, Connecting Plots, Knock, AnalogFolk, Rare, Ogilvy & Mather, and TMP Worldwide.
Deltek WorkBook Supported Languages
Delterk WorkBook supports English, Danish, Japanese, and Chinese (Simplified).
Case Studies
Rob Hill is the COO of a company specializing in brand strategy and advertising. Their South African office needed to collaborate with 14 separate companies and 1200 people working on the same projects. The company needed a solution that will help them reduce the complexity of doing their business.
WorkBook allows them to spend less time on administration and more time on their clients' work and problems. It gives them better ability to resource the business and better workflow systems. The digital tool enables the company to measure their time more accurately and understand where they actually place time among the company's talent and resources.
Jeff Barger is a business analyst for a global talent acquisition and digital strategy recruitment advertising agency. Being an agency, the company has a lot of retainers and they need to be able to capture how much work the staff do on which projects or clients. They were not capturing this information on the account service department.
With WorkBook, the account service staff is now putting in time on the same jobs the creative staff are working. The company now has a more holistic view of the number of hours worked by everybody. The agency software allows them to capture employee hours and bill time against different projects and clients. They can custom-design a solution using automated workflows to eliminate all paper-based and manual processes.
Why Choose Deltek WorkBook?
Deltek WorkBook is specifically built for agencies to streamline projects, optimize resources, and control finances better using an integrated solution. It is comprehensive enough to deliver enhanced visibility and insight into all areas of agency operations while allowing the customization needed to enable users to digitally transform their business, use best practice solutions, and manage their assets, processes, and workforce more effectively to grow the business.
Company Info
WorkBook was originally a Copenhagen-based company founded in 2000 by Niels Heimburger. As a SaaS web-based system, it is tailored for agencies and professional services firms. In September 2017, Deltek Inc., based in Herndon, Virginia, acquired WorkBook to provide solutions and services to its customers in the creative agency market. Deltek continues to provide enterprise software and solutions for government contractors, professional services firms, and other project-based businesses.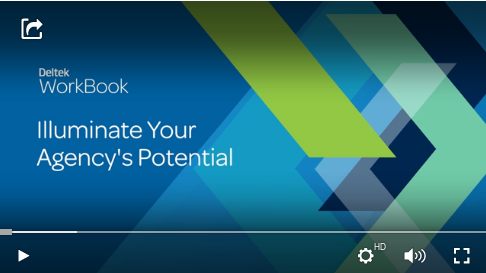 ---
Featured Partners: Project Management Software
If you're interested in learning about other software titles to run your agency more efficiently and profitably, take a look at these featured project management platforms.