Real Build Pro
is a cloud-based construction management platform that enables construction firms, teams, trade partners, and clients to collaborate on projects easily across devices from any location. It has built-in pre-sales, project management, financials, and client management features for the complete organization, management, and delivery of construction projects. This integrated software solution helps centralize project data, documents, and discussions, leading to smoother communication, better performance, and higher profits.
Table of contents
Real Build Pro : Features and Strengths
Pre-Sales
Real Build Pro includes pre-sales features to track leads and convert them into clients. Lead tracking helps users pre-qualify leads, track lead generation sources and monitor performance metrics. Users can identify the most promising prospective clients and make use of reports to refine their marketing and sales strategies. The construction management software also has bid management functionality to quickly generate bid requests from project specifications. Users can attach files and photos and update their estimates directly from winning bids. Other features include estimates, project templates, and Specs Library. Companies can send fixed cost or open book proposals and give clients access to preview and accept detailed and professional-looking proposals.
Construction Project Management
Real Build Pro enables businesses to manage their schedules and collaborate with clients to deliver projects effectively and on time. It has a specifications tool to outline the scope of work and define the budget required. Users can pull specs into proposals and share specs with team members and trade partners. Task management lets users assign tasks to team members or trade partners. They can also attach files, photos, and notes, as well as create punch lists. The project management features enable users to run a critical path analysis on the timeline, manage project schedules using calendar, list, or Gantt view, and create daily agenda for specific tasks, times, and dates. The software also has email and in-app notifications, budget tracking and comparison, document management and organization, built-in conversations and commenting, and daily job logs.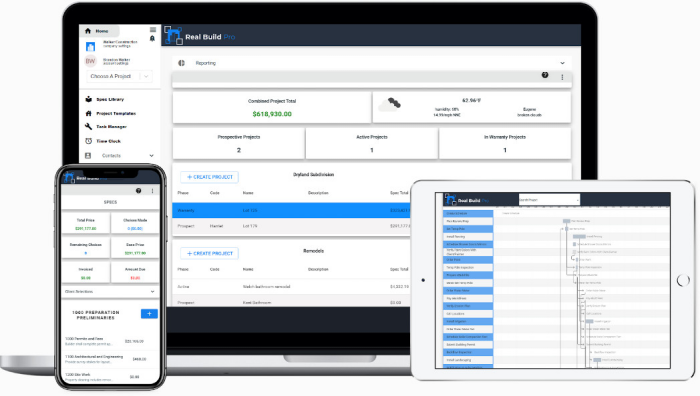 Financials, Client Management, and More
Real Build Pro has financial tools for contractors and builders. It lets users create and send purchase orders to subcontractors, suppliers, and vendors. Business owners can track the approval and payment status of POs. Change order management lets users manage documents and customer expectations. It also has bill tracking, invoicing, and time tracking tools. For client management, the construction management software includes warranty request management with notifications upon new requests. A selections tool enables users to create catalogs and simplify the selection process for the client. A client portal gives each client access to information, files, photos, and videos of their project. The software is accessible across devices using web technology without having to download any app. Free tools such as a drywall material calculator are available on the company's website.

Back to top
Real Build Pro Pricing
Real Build Pro pricing comes in one simple price of $49 /month for unlimited projects and users. Users get to access all its features with an initial 100GB of free storage. Accounts exceeding 100GB of storage will incur a monthly fee $0.19 per gigabyte calculated daily and charged monthly. When requirements change or unexpected events arise, users can pause their subscription for $9.99 /month and keep all their critical documents, photos, warranties, job logs, and other vital data.

Back to top
Who Uses Real Build Pro?
Real Build Pro is ideal for small to medium-sized construction companies in need of a robust, cloud-based construction management software solution. Users are general contractors, plumbers, roofers, HVAC specialists, electricians, painters, tile installers, masons, and concrete workers.
Back to top
Real Build Pro Supported Language
Real Build Pro currently supports English only.

Back to top
Case Study
No information is available.
Why Choose Real Build Pro?
Real Build Pro offers construction professionals feature-rich project management software that specifically addresses challenges and issues in construction projects. It is an affordable solution that provides companies with all the tools to run their construction business, from pre-sales, through project management, to invoicing. A cloud-based, cross-device platform simplifies processes and workflows with intuitive technology that helps boost team performance and productivity for consistent client satisfaction.
Back to top
Company Info
Real Build Pro LLC is a privately held software company based in Eugene, Oregon, and founded in 2020. Real Build Pro construction management software was built out of necessity for a modern tool that can tackle the challenges in the construction business. It is a software solution made for builders, remodelers, and contractors in small and midsize businesses to grow their operations and deliver to customers a more professional experience.

Back to top
Read also
:
How to Identify & Prevent Cost Overruns in Construction 2022
Featured Partners: Project Management Software
If your project management needs are wider-ranging than what's normally handled within a more specialized system, take a look at some of our top-rated project management software choices. The editors at Project-Management.com actively recommend the following: