Project management software is usually thought of as an enterprise tool for large and bustling project teams, but it's just as often used by individual contributors and solopreneurs to keep track of their tasks and personal client projects. Individuals who use project management software have unique needs compared to project management teams, so it's important to research and select the platforms that provide the affordability, ease of use, and particular tools they need most.
In this product guide, we cover six of the best project management software solutions for individuals, their pros and cons, and why we think they're a good fit for individuals and smaller project teams.
Featured Partners: Project Management Software
Our Picks


Jira Work Management: Best Overall
Jira Work Management is a project management solution from Atlassian that can be used by teams of all sizes as well as individuals. Its Free plan is available for one to 10 users and includes access to unlimited tasks and projects. It is also one of the few Free plan options that gives individuals access to reporting and dashboarding, automations, extensive storage, and security features.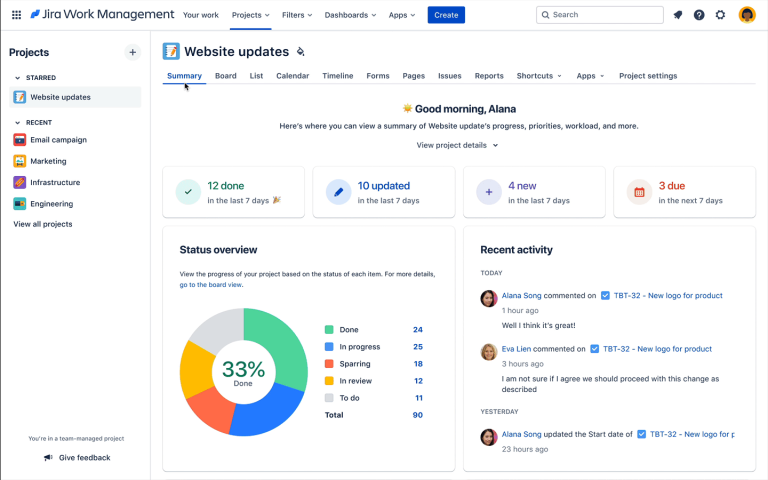 Key Features
Automations: In the Free plan, users have access to up to 100 automation executions per month. These automations can be set up with a low-code/no-code interface and can cover automations across multiple projects or on a single project.
Different project views: Jira Work Management comes with a range of project view options, and all views are available in every plan tier. View options include list, timeline, calendar, board, and summary views.
Reporting and dashboarding: All plans come with reporting and dashboarding capabilities, allowing users to examine data across projects and tasks, either with custom or prebuilt reports and dashboards. In many cases, reports and dashboards can be embedded into other project views, such as the summary view screenshot shown above.
Pros & Cons
| Pros | Cons |
| --- | --- |
| • All plans give users at least 2 GB of file storage, which is more than most project management solutions. | • Customer support is somewhat limited for Free plan users. |
| • Forms are available in all plans, making it possible for users to easily collect data from external stakeholders and individuals. | • Some reporting insights are limited to Premium plan users. |
| • All users can work with unlimited tasks and projects and advanced features like smart links. | • Although Jira Work Management offers many individual-friendly features, its documentation and templates are geared toward larger teams. |
Why We Picked Jira Work Management
Jira Work Management combines the wide-ranging and sophisticated capabilities of an enterprise project management solution with the ease of use and accessibility that individuals require. All plans come with unlimited tasks and projects, access to all project view formats, forms, project templates, reporting and dashboarding, and more advanced features like smart links, customization workflows and branding, and security and compliance management capabilities.
Users also benefit from how well Jira Work Management integrates with other tools in the Atlassian ecosystem, such as Trello, Jira Service Management, Jira Software, and Confluence.


Asana: Best for Scalability
Asana is a project management solution that is perhaps best known for its collaborative features, but also works well for individual use. Its Free plan gives individuals the ability to set up unlimited tasks and projects, and for individuals who still need to collaborate with other people, up to 15 guest users can be invited to interact on the Free plan user's boards. Unlimited messages, activity logs, and file storage also help ensure individuals won't quickly run out of space or resources while using Asana's Free plan.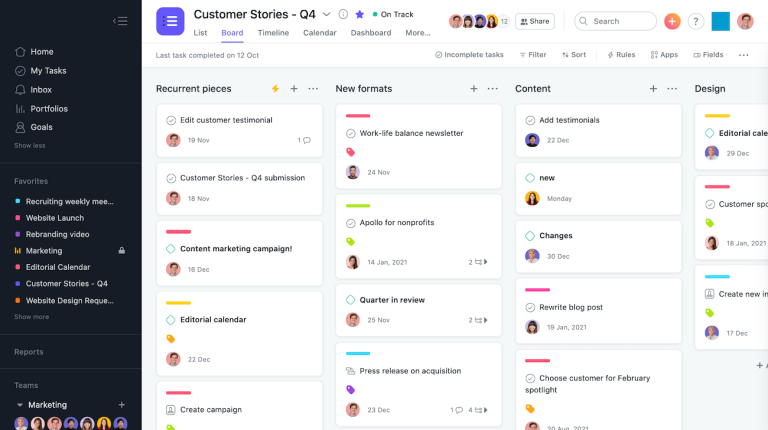 Key Features
Various project view options: In Asana's Free plan, list, board, calendar, overview, and brief views are all available to users. Other views, like the progress view, are available to paid plan users.
Integrations: Asana's native integration library covers a lot of ground across sales and marketing, design and creative, IT and development, finance, HR, and other common tooling categories individuals may be using to manage other aspects of their business or personal tasks.
Unlimited tasks: Tasks in Asana can include file attachments, due dates, color-coded labels, assignees, and other data to make it clear what goals and progress are attached to a given task.
Pros & Cons
| Pros | Cons |
| --- | --- |
| • All users can access unlimited tasks, projects, messages, activity logs, and file storage. | • Most reporting and dashboarding capabilities are only available in paid plans. |
| • Asana comes with an extensive native integration library. | • Certain customizations, like custom fields and task templates, are only available to paid plan users. |
| • The Project Brief feature makes it easy for users to organize important overview details about a project in one place. | • 24/7 customer support is limited to Enterprise plan users. |
Why We Picked Asana
Asana is a user-friendly tool that is widely praised for its intuitive user interface and features that scale as users grow their project counts over time. Most of its project view options are available to free plan users, including calendar view, which helps them visualize deadlines and manage schedules.
Many individuals benefit from using this tool because it allows solopreneurs to interact with freelancers, contributors, and outside stakeholders without requiring them all to have paid seats in the software. Admin capabilities also ensure solopreneurs maintain control over how guests are able to use the tool.


Trello: Best for Ease of Use
Trello is one of the most user-friendly visual project management software solutions on the market. Its boards are set up in a kanban-like format with project cards that can be used to document granular details and attach additional resources for different project tasks. While the tool is easy to scale for larger teams as well, it is often used by individuals to keep track of simple tasks or larger projects and project portfolios.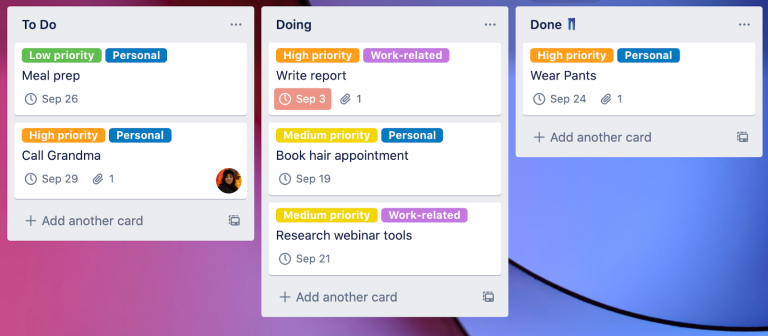 Key Features
Power-Ups: Power-Ups are Trello's solution for third-party integrations. Power-Ups are available for lesser-known tools as well as more common business and operations tools, like Gmail, Jira, Zendesk, and Salesforce.
Project templates: Templates are created for all kinds of business project categories by other Trello users and saved to the Trello library. There's a dedicated category for personal use that includes templates for recreational projects like travel planning, buying a home, and managing groceries and household chores.
Automations: Trello's Butler tool lets users create rules, buttons, commands, and other intuitive automations with a no-code interface.
Pros & Cons
| Pros | Cons |
| --- | --- |
| • Users have access to unlimited task cards in all Trello plans. | • Most project view options are not available to Free plan users. |
| • Trello has some of the most affordable paid plan options in the market, which makes it a great option for individuals who want to grow their capabilities at a low cost. | • Trello is not a strong solution for individuals who care most about reporting and dashboarding. |
| • Low-code/no-code automation is available to users of all Trello plans. | • Only paid plan users can customize Trello fields. |
Why We Picked Trello
Trello is one of the easiest-to-use project management tools, which makes it a great option for individuals who are just getting started with project management solutions. Although it doesn't offer much in the way of reporting and dashboarding, it's highly visual, so users aren't likely to lose track of project, task, or subtask deadlines and dependencies. It's also an affordable tool for individuals, with most features available for $0 to $10 per month. Additionally, Trello integrates with the rest of the Atlassian ecosystem, including Jira Work Management.


monday work management: Best for Custom Fields
monday work management is a popular project management tool for individuals, small project teams, and enterprise teams alike. It sets itself apart with a highly visual, customizable, and intuitive interface that enables individual users to create projects and tasks with dozens of custom fields, labels, and column types to fit their particular needs. It is also one of the few solutions that gives Free plan users access to dashboard widgets, though widget options and quantities may be limited unless users subscribe to a paid plan.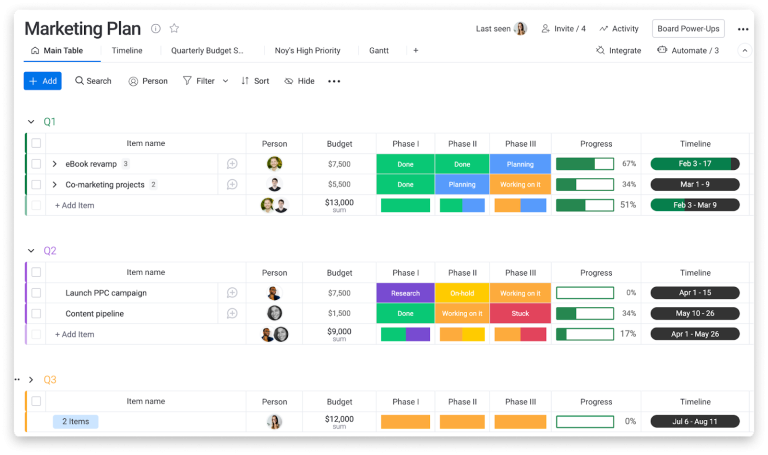 Key Features
Project templates: monday.com offers several easy-to-set-up project templates that span categories like content production, freelancers, design, startup, education, and nonprofit.
Shareable forms: Shareable forms are available in all plans and enable users to create and send custom forms for data collection to outside individuals.
Dashboards: monday.com dashboards are designed with a widget-driven interface, so users can set up multiple visualization and reporting widgets on one screen. Free and Basic plan users get one dashboard per board.
Pros & Cons
| Pros | Cons |
| --- | --- |
| • Extensive customer support resources, including a self-serve knowledge base, 24/7 customer support, and live webinars are available to all users. | • Most project views are not available to Free plan users. |
| • All users can set up custom notifications on their project boards and workspaces. | • Item, board, and custom field and column limitations in the Free plan make it difficult for this tool to keep up as individuals create more projects and tasks over time. |
| • All plans give users access to unlimited embedded docs. | • The activity log for monday work management only lasts for one week for Free and Basic plan users. |
Why We Picked monday work management
monday.com is an easy-to-use tool with one of the best UX/UI designs in the project management market. Although certain features are limited for lower-tier plans, all users benefit from the high levels of customization that are available in this tool, as well as from low-code/no-code automation recipes. At the individual task, field, and column levels, monday work management is particularly easy to configure to a user's unique requirements.


ClickUp: Best for Project Templates
ClickUp offers integrations and automations that can scale with larger teams, but these features (and more) also benefit individual users. All plan options come with unlimited tasks and features that help users stick to deadlines, such as a calendar view and sprint management capabilities.
But where ClickUp really shines is in its template library, which is one of the largest and most diverse template libraries in this market. It includes an entire template section for personal use, which provides the foundation for projects like apartment hunting, home remodeling, exercise and nutrition tracking, and budgeting.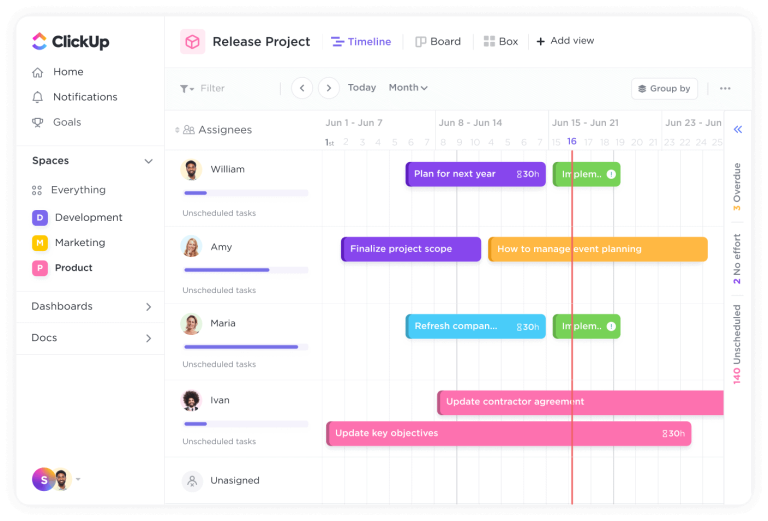 Key Features
Extensive project view options: Every ClickUp user has access to list, board, calendar and table views and limited access to Gantt, activity, timeline, workload, mind map, and whiteboard views.
Project templates: ClickUp's project template library offers hundreds of project template options categorized by user experience levels and categorical use cases. More than 120 templates are labeled for personal use projects.
Task and subtask statuses and labels: All ClickUp users get access to tags, priorities, relationships, doc tags, dependencies, and task checklists to help them better identify and track items at a task level.
Pros & Cons
| Pros | Cons |
| --- | --- |
| • Unlimited views, tasks, and users can be set up in all plan options. | • The Free plan is not compatible with ClickUp's AI assistant. |
| • All users can access ClickUp's robust, prebuilt library of templates, or they can design and reuse their own templates with the Template Everything feature. | • Automations, especially advanced automations, are very limited in the Free plan. |
| • An extensive library of native integrations and a number of tools for building integrations are available to all users. | • Several reporting features are only available to Business and Enterprise plan users. |
Why We Picked ClickUp
ClickUp is an intuitive tool with perhaps the deepest template library in the project management market. This is especially helpful for individuals who have never used project management tools before, as these templates are easy to set up and come prebuilt with most of the fields, items, and labels a user will need to get started with any given project. The tool also supports unlimited custom views and gives users creative, low-code/no-code capabilities to set up those views.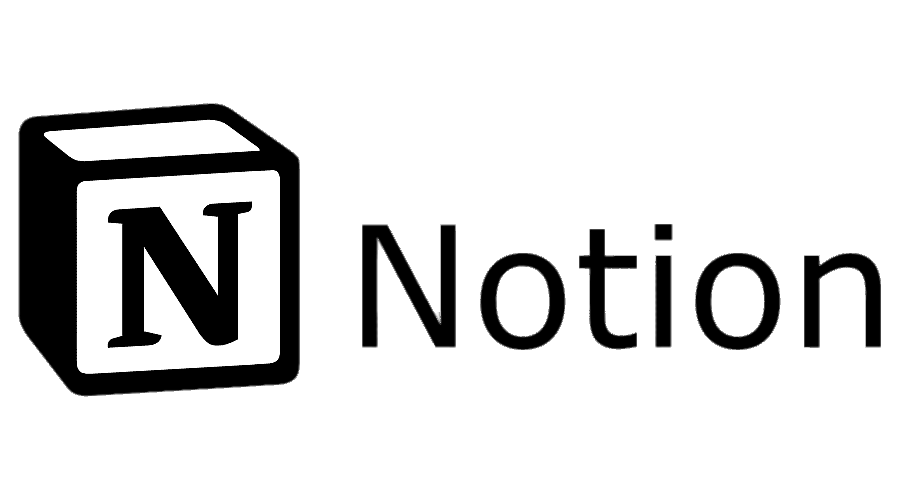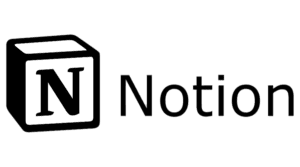 Notion: Best for Creative Project Management
Notion is a creative project management tool that design, content creation, and other creative teams often use to manage project tasks and creative resources simultaneously. It can be a particularly effective platform for individual creatives as well, as the Free plan includes a collaborative and highly visual workspace, page analytics, automations, relevant integrations, and unlimited pages and blocks for individuals. Creative users benefit most from Notion's wikis and docs features because they're designed to store and organize assets of all kinds and in all formats, including design prototypes.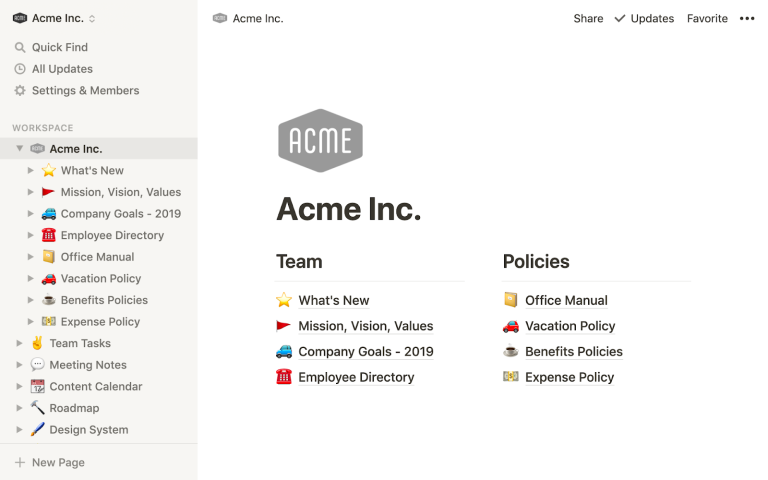 Key Features
Customizable automations: Automations can be set up for statuses, tasks, bug reports, documentation specifics, and other features, depending on individual user requirements.
Wikis and docs: Wikis and docs are organized databases within Notion that allow users to upload content, including visual content, for storage and documentation purposes.
AI assistance: Notion AI is available to all users for an added fee. This AI assistant can help with content writing, summarizing, and brainstorming.
Pros & Cons
Pros
Cons
• This is a highly visual project management tool that also translates well to mobile use.
• Notion is highly customizable.
• This is one of the few project management tools that gives all users, including Free plan users, the ability to subscribe to the built-in AI assistant feature.
• Notion has many features that are designed with creatives and programmers in mind, so not all features will be intuitive for the average user.
• This is one of the few project management tools that gives all users, including Free plan users, the ability to subscribe to the built-in AI assistant feature.
• Unlimited blocks and file uploads are only available to paid plan users.
• Customer support is incredibly limited for Free plan users.

Why We Picked Notion
Notion is an image- and visual-driven project management tool, making it stand out from most of its competition, which focuses on text and numerical data. For users who need to get their creative assets organized, perhaps with the help of an AI assistant, Notion offers scalable workspaces with pages and blocks that cater to the format of most creative assets and projects. Notion also includes basic analytics, automations, and integrations in all plans, including its Free plan.
FAQs
Bottom Line: Choosing the Best Personal Project Management Solution for Your Needs
Individuals have unique requirements for their project management tools, and because every individual project and use case can be so different, no one project management tool is always the right fit. To help you make the best choice for your individual needs, consider the following:
If extensive storage space and task management capabilities are most important to you, choose Jira Work Management, Asana, or Trello. All three of these products offer access to unlimited tasks and file storage in their free plans, and both Jira Work Management and Asana offer unlimited projects to free plan users as well.
If ease of use and clear project visualizations are most important to you, choose Trello, ClickUp, monday work management, or Notion. Each of these tools takes a different approach, but what customers overwhelmingly say about each of these tools is that reporting, dashboards, individual fields, integrations, and automations are easy to set up and navigate. ClickUp and monday work management also offer particularly extensive and relevant template libraries for individuals who need a more guided project management experience.
If reporting and dashboarding are most important to you, choose Jira Work Management. This tool comes with extensive dashboarding and reporting capabilities in its free plan, whereas most project management tools offer no or limited reporting capabilities to free plan and individual users. monday work management may be another strong alternative for individual users due to its range of reporting and dashboarding widgets; however, prospective buyers should be aware that they'll be restricted to a small number of dashboarding and reporting features as a free plan user.
Personal project management tools make it easier for individuals to automate and manage their tasks with the efficiency of a larger team or organization. Especially when you invest in professional tools with lower-tier or free plans, you can benefit from a range of features that make project and task management less of a headache.
---
Read next: 10 Best Project Management Software
---