FreshBooks is cloud-based invoice and accounting software for small and midsize businesses. It is an easy-to-use solution for creating invoices, organizing expenses, running accounting reports, and getting paid. Business owners can access FreshBooks accounting software using a web browser on any computer, or use the FreshBooks app while on the go.
In this FreshBooks review, we'll break down the features of this accounting software.
Table of Contents
FreshBooks : Features and Strengths
Accounting, Invoicing, and Payments
FreshBooks provides easy-to-use, double-entry accounting that ensures accuracy and compliance. It helps users identify revenue items and related expenses to give accurate calculations of profits and losses. Automatic checks and balances help guarantee debit and credit amounts are equal.
Users can invite their accountants to have exclusive access to financial information and reporting to better support the business. It also has automated bank reconciliation, accounts payable, and credits management.
FreshBooks lets users create professional-looking invoices quickly with the option to receive payment online through credit cards and ACH. Invoicing features also include automated payment reminders, automatic credit card payments, request for partial deposit, and client retainers.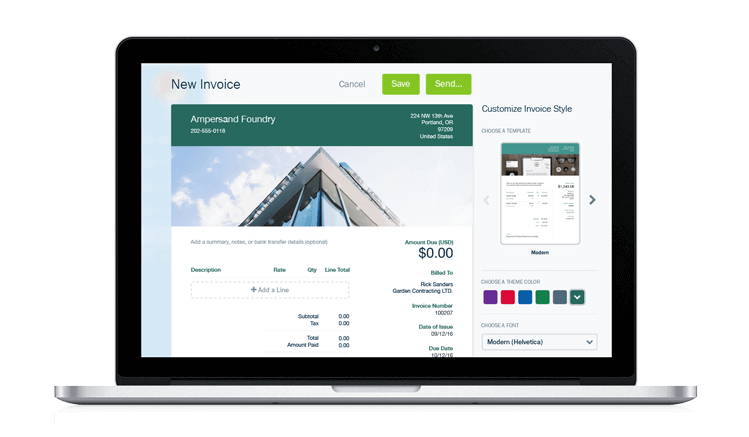 Time and Expense Tracking
Integrated time tracking lets users log their hours and automatically put them onto an invoice. It also provides a breakdown of hours, a built-in timer available in the mobile app and a Chrome extension, and team timesheet.
FreshBooks features also include expense tracking, where users can easily log and organize expenses to track cash flow. By connecting their bank account and credit card, users enable the software to update their account with the most recent spending. Users can take photos of their receipts and log it in the software to track expenses that way.
It also has categorization of expenses, marking of expenses as billable, and tracking of project expenses for budgeting.
Centralized Projects, Reports, and More
Business owners and their teams can collaborate on projects with their contractors and business partners in the software. FreshBooks provides a centralized place for file storage with built-in permissions to secure access. Users and their guests can chat for instant feedback.
It also has profitability tools with an at-a-glance breakdown, summary, and detailed reports. It has ready-made financial reports, estimates and proposals, iOS and Android apps, client management, and an automated mileage tracker.

FreshBooks Pricing
FreshBooks payment plans are available in several tiers, depending on the number of billable clients. Plans are payable on a monthly or yearly basis. Premium add-ons are also available, as well as a 30-day free trial.
FreshBooks Lite: $6/month or $108/year
The Lite plan includes support for up to five billable clients. It is ideal for professionals with basic accounting and invoicing needs.
FreshBooks Plus: $10/month or $180/year
The Plus plan allows users to send invoices to up to 50 billable clients. It has additional features for managing recurring billing, client retainers, and e-signatures, as well as generating double-entry accounting reports.
FreshBooks Premium: $20/month or $360/year
The Premium plan includes support for unlimited billable clients. It also has tools for accounts payable, project profitability, customization, and automation.
FreshBooks Select: Custom Pricing
A Select plan is available for businesses with more complex needs that require a custom solution.
Who Uses FreshBooks?
FreshBooks is ideal for freelancers, self-employed professionals, and small businesses working with contractors. Consultants, SMB owners, creative agencies, marketing companies, and AEC firms are some of the more common users.
FreshBooks clients include Beyond Creative, Pink Shark Marketing, ACE Connections, PandaDoc, Bench Accounting, and Gartner.
FreshBooks Supported Languages
The FreshBooks interface is only available in English, but users can send invoices and estimates in French, Danish, Dutch, Estonian, German, Italian, Norwegian, Portuguese, Romanian, Spanish, Spanish (Latin America), and Swedish.

Case Studies
Sara Lobkovich is the founder of a strategy consultancy firm based in Seattle. She faced the challenge of starting with no revenue and no set processes for bookkeeping and getting paid. Using FreshBooks software and Bench bookkeeping services to handle payments, invoices, and expenses, she was able to grow the company's revenue and jumpstart the business with confidence.
Trigg Wilkes is the owner of a youth sports organization. Initially, he relied on an accounting firm, but the company was having difficulty managing multiple platforms for payroll, bookkeeping, and invoicing. With FreshBooks and Bench, Wilkes' organization is able to simplify billing and bookkeeping for thousands of clients.
Why Choose FreshBooks?
Small business owners prefer FreshBooks for its friendly and intuitive interface, which allows them to focus on their business instead of their accounting software. It has a comprehensive set of features that streamline accounting processes and tasks, enabling a company with few employees to do more.
Users are able to centralize information, track time and expenses, receive online payments, and accomplish tasks that save the organization hours and money. It also helps owners make better decisions with real-time data and comprehensive reporting. Notably, customers give good feedback on FreshBooks' customer service.
Company Info
FreshBooks is a product of 2ndSite Inc., a privately held software company with headquarters in Toronto, ON, Canada. It was co-founded in 2003 by Michael McDerment and Levi Cooperman to provide an accounting solution that suits the needs of self-employed professionals and their teams. Today, over 24 million people are using FreshBooks software in more than 160 countries to manage their accounting and invoicing requirements.

Featured Partners: Project Management Software
If you're interested in learning more about top rated project management software, the editors at Project-Management.com actively recommend the following: