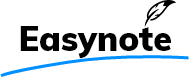 Easynote is an integrated project management and productivity tool for individuals and teams. Its capabilities include customizable dashboards for project management and tracking, scheduling, meeting, document management, and file management. The intuitive application enables users to save time and cost from using multiple apps with its combined tools in a single platform.
Table of Contents
Easynote Features and Strengths
Project Management and Tracking
Easynote provides several work views that enable teams to plan, track, and manage all kinds of work and projects. With customizable boards, users can define the project, break down the tasks, and create columns with different widgets to hold and track important information. EasyNote includes pre-defined widgets to display for status, urgency, numbers, people, completed, and deadline, to name a few.
A timeline or Gantt view lets users get an overview of the project that they can switch between days, weeks, months, quarters, or years. Teams can view the total time of all the tasks of each project. Also, they can view the timelines of all projects for comparison in a single view.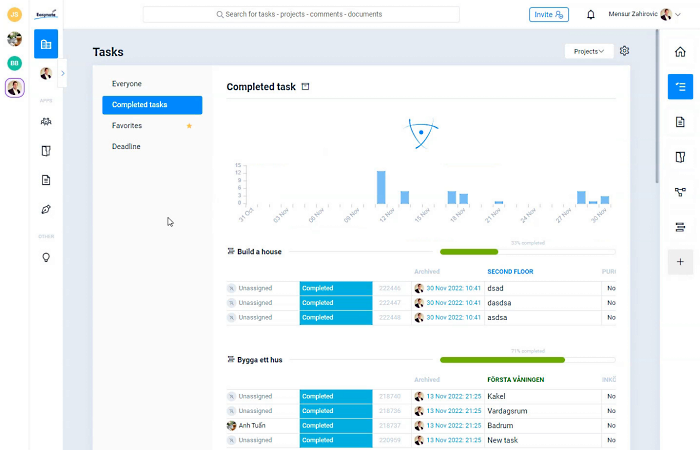 Document and File Management
Easynote includes an integrated document management tool that allows users to create project-related documents within the same platform. Teams can quickly view these documents, update them as needed, and make them accessible to all stakeholders. It now integrates with OpenAI so that users can get suggestions and writing help in creating content with the Easy Write AI feature.
The task management software also has a built-in file management system that centralizes all user files for easy storing, attachment, and search. The Files app lets users manage access to the files for security. It has a private folder, a publicly shared folder via a link, and drag-and-drop attachment of files to a project. It also integrates with web storage services.
Scheduling, Meeting& Minutes, and More
Easynote has an integrated scheduling application that helps users automate the scheduling of appointments, meetings, and events. Users can sync their scheduled meetings to multiple calendars, manage their availability, and even add a personal video message.
Furthermore, they can create their meeting minutes with the meeting app and connect it to previous minutes to see what has changed. Users can add Skype, Google Meet, and Teams events to their calendar events. The all-in-one project management tool has numerous dashboards, a Kanban-style Agileview, notifications, commenting, and apps for desktop and mobile devices.
Easynote Pricing
Easynote pricing is available in several packages billed annually with increasing limits. All features are available in every package. Interested users can try any plan for free for 7 days, except the Enterprise plan.
The Indy package, priced at $29 per month when billed annually, includes one user seat with access to 30GB storage, 50 templates, the app's knowledge base, and 24/7 chat support.
The Family package is priced at $79 per month when billed annually. It includes 5 user seats and offers everything in the Indy package, plus 500GB storage, free team training, and dedicated phone support.
The Prime package at $249 per month, billed annually, includes 30 user seats. This plan delivers all the features of the Family package, along with 1000GB storage, free training for the entire company, and a dedicated Customer Success Manager.
The Enterprise package is a custom package that includes unlimited users. It has all the Prime package features, as well as 24/7 live support, support to set up the infrastructure, and SSO.

Who Uses Easynote?
Easynote is for businesses of all sizes in need of an integrated task management and business productivity tool. Small to midsize companies in consulting, wellness and fitness, marketing and advertising, accounting, recruiting, design, e-learning, and financial service sectors use the software for work management. Large firms in the construction, IT, manufacturing, and real estate sectors use Easynote also for project tracking and team collaboration. Customers include Volvo, Spotify, Unicef, Würth, Samsung, Yamaha, AstraZeneca, Adidas, and Air France.
Easynote Supported Language
Easynote is available in English only at the moment.
Case Studies
Mark is a commodity manager for a small business. He needed a tool to organize all the office paperwork and at the same time be able to access quickly all the information for business needs. Mark stated that when he first tried Easynote, it felt daunting. However, with the help of an amazing support team, he now finds it easy to use in organizing all the company documents and consolidating all the apps they need under one platform.
Michelle works for a small construction company that chose to implement Easynote for task management and customer service. Michelle stated that she continues to discover new capabilities as she uses the software. It has all the important features to help manage tasks and support customers. Although some widgets are not yet available, it provides good visuals and continues to add more features.
Why Choose Easynote?
Easynote is simple to use with an intuitive design requiring minimal training. Users can quickly adopt the tool and readily improve how they track projects, manage tasks, and collaborate with each other. The seamless integration of the different apps allows teams to deliver projects on time because they have access to all the needed information, files, and documents they need, as well as integration with other tools that clients and partners may use.
Company Info
Easynote AB is a private software company based in Malmö, Sweden. It was founded by Mensur Zahirovic in 2016. While working on a project, Zahirovic struggled to find a simple tool that he could customize to organize his team and manage his deadlines. So he decided to build the first version of Easynote, which is a free task management and note-taking application. Within one year, over 10,000 people signed up, prompting Zahirovic to redesign the tool and build a new version from scratch. Today, Easynote has become an innovative project management platform that helps teams work better, quicker, and smarter.
Featured Partners: Project Management Software