Dragonboat
is product portfolio management software that enables teams and companies to strategize, prioritize, deliver, and improve their products. Integrated tools and features allow teams to connect and align high-level business objectives with product initiatives and features. teams are able to build roadmaps, create plans, track progress, and deliver products with improved visibility, prioritization, tool integration, and data-driven decision-making.
Table of contents
Dragonboat : Features and Strengths
Roadmapping
Dragonboat is a comprehensive product roadmapping tool beneficial to chief product officers (CPO). It enables CPOs and their teams to make the best product decisions to delight their customers while improving business outcomes. Users can align priorities across revenue, customers, operations, and stakeholders. They are able able to connect visions and goals with initiatives and features. The software provides tools to prioritize strategically and apply different frameworks like RICE, MoAR, or a custom framework. It lets users plan roadmaps, assess allocation in real time, perform trade-off analysis, and play what-if scenarios while carefully considering benefits, resources, and dependencies. Users can view and share roadmaps and progress at different levels. It also syncs two-way to receive alerts with other tools like Jira, Azure DevOps, and Asana.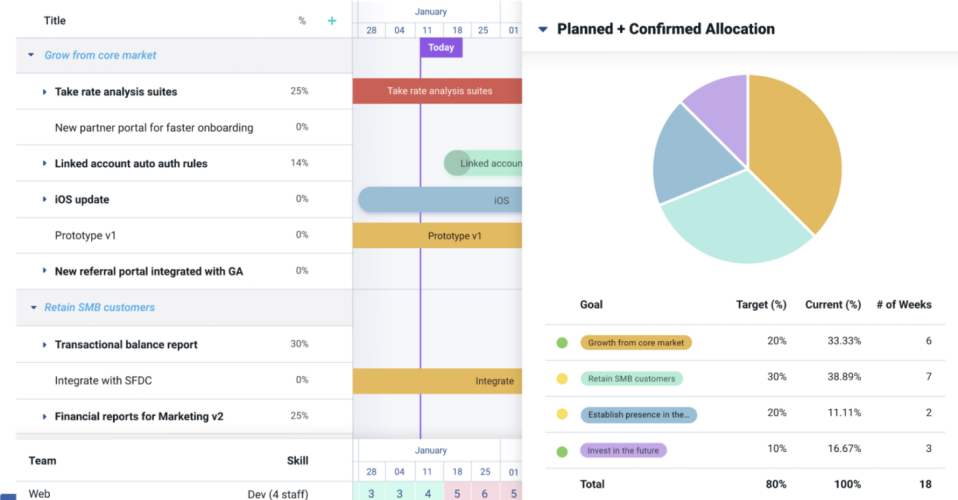 Operations
operations teams can use Dragonboat as their single source of truth for product decisions. It allows them to connect their objectives and key results (OKR) and initiatives in different ways. Teams can align OKRs and strategies from top to bottom across all levels, promote ideas and innovation from the bottom up to achieve goals, or across through team collaboration and support.
Portfolio Management
Dragonboat enables teams to allocate and prioritize qualitatively or quantitatively with real-time visibility. It lets users estimate and allocate resources, and identify and plan dependencies with integration to engineering tools. Users can engage stakeholders and gain insights by centralizing feedback in a Request Portal. Users can also organize requests, link the requests to product ideas, and automate the right updates to the right audience.

Back to top
Dragonboat Pricing
Dragonboat pricing is available in different package plans. Users can choose to pay monthly or annually. A free plan for a single editor or product manager at a non-profit or startup is also offered. An editor is a Dragonboat user who can create and edit the app, and has access to all modules. Readers have read and comment-only access on shared reports and requests, while resource users have no access and are for resource planning purposes only. The Starting Plan is at $39 /editor/month billed annually (or $49 /editor/monthly). It includes unlimited roadmaps, Gantt charts, what-if scenarios, roadmap planning and sharing, resource forecasting, prioritization, and OKRs. Scaling and Enterprise plans include all Starting plan features, additional advanced features, integration, SSO, and customizations. A custom Enterprise+ plan is also available with optional additional modules.

Back to top
Who Uses Dragonboat?
Dragonboat is ideal for chief product officers, product operations teams, product managers, digital transformation teams, and portfolio managers in need of a product portfolio management software for businesses of all sizes. Customers include Procore, F5, Chime, Miro, Zenbusiness, Tealium, Chatmeter, Broadsign, and Nium.
Back to top
Dragonboat Supported Languages
Dragonboat is available in English only at the moment.

Back to top
Case Studies
Jackie Orlando is the Director of Operations of a provider of customer data orchestration tools based in San Diego, CA. As the organization's product management continues to grow, the company needed to continue building and scaling product operations. In particular, the company needed to have a single source of truth for idea management, a way to make smarter outcome-based decisions, and visibility for senior leadership. Dragonboat checked all the boxes for Jackie and her team, providing visibility throughout the organization from a single, centralized place. Sridhar Nagarajan is the VP of at a local reputation platform that helps retail brands and agencies monitor online reviews and social media to increase their revenue. After trying multiple tools and spreadsheets, Sridhar's team realized that its roadmapping process was not working. Dragonboat combines product roadmapping and portfolio management to provide a single source of truth. It enables the company to prioritize product features, manage backlogs, visualize and share roadmaps, and align products across teams. It also helps in managing resource allocations, what-if scenarios, and trade-offs.
Back to top
Why Choose Dragonboat?
Dragonboat is a flexible platform that allows users to configure the software to fit their ways of working. It lets users create their own framework with all the tools needed in one central solution. It also bridges strategy and execution, provides data and insights, and offers robust two-way integration with other tools to promote visibility.
Back to top
Company Info
Dragonboat, Inc., is a privately held software company based in Santa Clara, CA. It was founded in 2018 by Becky Flint and Lee Bailey. In the early 2000s, Becky Flint was helping fast-growing companies have product portfolio management functionality but was unable to find the right tools to support the needs of an outcome-focused product organization. This led to the creation of Dragonboat for product leaders and organizations to have a central tool that drives business results.

Back to top
Featured Partners: Project Management Software
If you're interested in learning more about top-rated project management software, the editors at project-management.com actively recommend the following.