Caspio is an online database platform that provides visual application development tools. It is a low-code platform that lets users build database applications fast they can embed on websites for different use cases. With intuitive point-and-click app builders and automation, teams and organizations can quickly create web forms, portals, and dashboards.
Table of Contents
Caspio Features and Strengths
Visual App Builder and Online Database
Caspio makes working with databases easier for non-technical users by using a visual app builder to manipulate its integrated online database. The point-and-click tool guides users in building different web applications such as forms, reports, and dashboards. With little to no coding involved, users can design, build, and deploy their business apps more quickly than is possible using traditional development tools. Once complete, they can embed their apps in websites, online portals, or content management systems like WordPress, Wix, or Shopify.
The platform includes a fully integrated SQL Server at its backend. Visual tools and relational database supports rich data types, various joins, referential integrity, lookup fields, and other functions. The platform also supports file and image handling, as well as data import and export. Its infrastructure runs on AWS which allows scalability to support unlimited users, millions of records, and simultaneous transactions.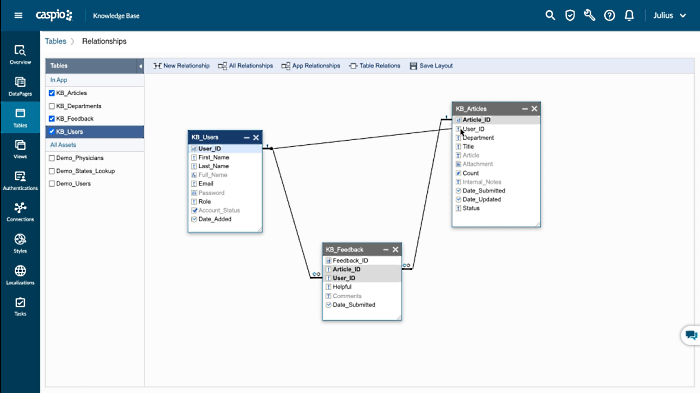 Automation and Notifications
Caspio enables users to design custom workflows and run tasks with automated triggers. Its drag-and-drop logic builder lets teams run business rules, data calculations, approvals, and notifications using custom logic and pre-defined schedules. Users can also schedule data import and exports using connectors to move data between Caspio and other cloud apps like web storage services.
The online platform can automatically send SMS and email notifications from apps, triggers, and tasks. It will send notifications when changes in data occur, based on a schedule, or on demand. Users can customize the alert messages for different users and updates.
Integration, Customization, Security, Compliance, and More
Caspio has ready-to-use connectors to other web services. Its Microsoft Office plugin automatically downloads online data to Excel or Access. It also has integration with Make and Zapier for creating automated workflows between Caspio and thousands of other apps. For payment processing, Caspio integrates with PayPal and Stripe.
Users can customize their apps further using HTML, CSS, JavaScript, and SQL. They can extend app functionality with its REST API. The platform can serve non-sensitive files and images at high performance using FileStor CDN. Security features include identity and access management (IAM) directories, SSO, user authentication, record-level permissions, access and usage logs, and IP-based access control. It encrypts all accounts, apps, and data transfer instances, with audit trail to comply with various industry and regulatory requirements such as HIPAA, FERPA, GovCloud, and GDPR, among others.
Caspio Pricing
Caspio pricing is available in several plans with different limits and features. All plans include unlimited app users, app creators, app usage, data transfers, email notifications, database-level formula fields, and app-level calculations. All plans also have access to community forums and free online training.
The Free plan includes up to 5 DataPages that users can deploy in websites, 50,000 data records, and 500MB file storage. It also has the point-and-click app builder and integrated cloud database, as well as SSO, record-level security, and role-based authentication.
The Explore plan at $127.50 per month billed annually (or $150 per month) includes all Free plan features, plus 20 DataPages, 500,000 data records, and 5GB file storage. It also has centralized log collection and storage, white label deployment, IAM service directories, private training, and 24/7 live chat support.
The Build plan at $255 per month billed annually has everything included in the Explore plan, as well as 50 DataPages, 1 million data records, and 10GB storage. It also has email and SMS storage, advanced features like SMS notification, distance search, and pivot tables with drilldown. It includes trigger-based automation, data import/export, 24-hour support ticket response time, and chat and phone support.
The Grow plan at $510 per month billed annually includes all Build plan features, 100 DataPages, 2 million records, and 20GB storage. It has app access log reports, access to REST API, Zapier integration, PDF reports, document generation, and payment integration. It also has advanced security and compliance features and guided onboarding program.
The custom Corporate plan includes all Grow plan features, higher limits, and enterprise-grade capabilities like SSO-SAML, SLA, 24/7 support hotline, and a dedicated customer success manager.

Who Uses Caspio?
Caspio is for individuals, businesses, and organizations that need a low-code, online database application builder. Many of its users belong to the healthcare, government, energy, financial services, consulting, education, media, and non-profits sectors. Customers include Honda, Intel, Northern Coast, Emory Healthcare, Collin College, Tennessee Department of Health, San Diego Zoo Global, Gannett, and Snap Healthcare.
Caspio Supported Languages
Caspio has several built-in languages for its applications, including English (US and UK), Spanish, French, German, Dutch, Chinese, and Russian. Users can add other languages and modify localizations. It also supports non-English characters.
Case Studies
Gene Howell is the CEO of a healthcare facility based in Palm Springs that provides laboratory and screening services for companies and their employees. When the pandemic hit, about 70 percent of its clients closed their accounts. Adjusting to the needs of their existing clients, they needed to build a secure, scalable, and intuitive application that would deliver rapid test results to companies and their employees. Its database should be HIPAA-compliant to ensure privacy while allowing employers to securely manage their employees' health information.
After a project consultation, Howell chose Caspio. Within two months, the Caspio team completed a HIPAA-compliant portal that serves as an all-in-one system to manage COVID-19 response programs. The portal serves employers, employees, healthcare professionals, and lab staff. Howell's clients and patients can receive SMS and email alerts once test results come in. Employees can also access the application to report symptoms or exposures right away.
Frank Zamani, Caspio's CEO, was once a refugee who fled Iran many years ago to escape religious persecution. Since establishing Caspio, it has built offices in many countries including Poland and Ukraine. The Dnipro office in Ukraine has about 70 employees, and when the Russian invasion started, Zamani decided to do something.
Together with Caspio employees in Poland, Zamani has been traveling between places to help Ukrainian Caspio employees and their families find adequate housing, food, and supplies after fleeing their country. Offered free of charge to help Ukrainian citizens, users are building different Caspio apps. One app is for missing person directory to help establish communication between parties. Another app helps match housing and other items or services between those who have and those who need them. Another is a lost-and-found database with the capability to upload photos and videos.
Why Choose Caspio?
Caspio's low-code and customizable platform empower users of all skill levels and roles to build the applications they exactly need with less dependence on technical (IT) resources. As a cloud platform, it is highly accessible yet conforms to strict security and regulatory standards. Built-in automation and integration tools help streamline processes while supporting extensibility as a cost-effective solution.
Company Info
Caspio, Inc., is a privately held software company based in Sunnyvale, California. It was founded in 2000 by Frank Zamani, CEO. A pioneer in cloud computing, Zamani started the company with the idea of enabling non-technical business professionals build their own database applications quickly without having to code. Today, the company serves customers in 150 countries, providing high-quality service, striving to exceed expectations, and innovating to bring better solutions and services.
Featured Partners: Project Management Software
Online databases tools like Caspio offer teams with specific needs a less costly way to build a project management solution than would be possible with a bespoke solution. Bit of your organization's needs less complex, an off-the-shelf project management system might be a better option.