BQE CORE is an all-in-one project management, accounting, and invoicing platform built for teams to increase efficiency and improve profitability through real-time visibility of project progress and budget utilization. The integrated suite of tools provides back-office automation and dashboard reporting for time and expense tracking, scheduling, billing, and invoicing, all of which help companies centralize and streamline business management processes and data.
Table of Contents
BQE CORE : Features and Strengths
Integrated Suite
BQE CORE is a fully integrated suite of tools for firm and project management. Its dashboards let users manage time, to-do lists, and costs from one place to easily connect teams, budgets, and schedules for every project. It has interactive Gantt charts, task allocation, and forecasting features. Users can apply phased billing and reporting into cost as well as schedule by phase. Reporting and analytics tools allow users to view breakdowns of utilization, realization, and billable work for employees and consultants. Teams can get better insights from comprehensive financial and operational data. It also has automated reporting with scheduling and memorization. Other tools are time and expense tracking, pre-populated timesheets, manual and batch or recurring and automated invoicing, and online payment processing.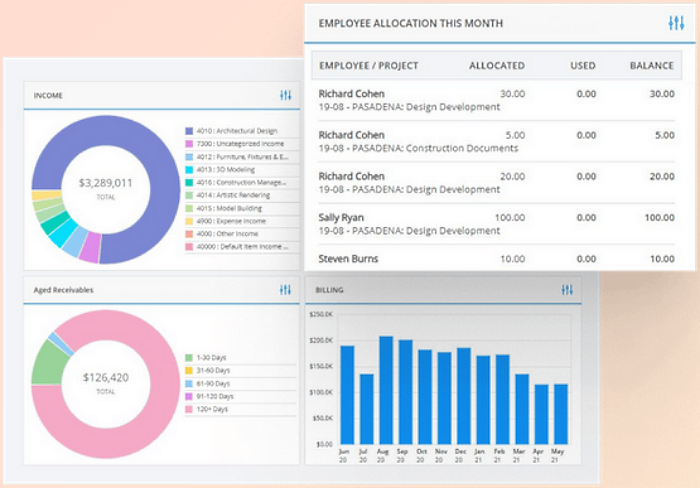 Additional Modules for Accounting, CRM, and HR
Aside from BQE CORE's Foundations modules, users in need of extra functionality can add optional modules. The Accounting module provides automation and integration features for automatic bank and credit card reconciliation. It has integrated deposits and fund transfers, a customizable chart of accounts, multi-level budgeting, and extensive financial reports. The CRM module can help BQE CORE users maximize client engagement with built-in campaign and prospecting tools. It has campaign and budget management, prospect tracking, project proposal builder, win-loss tracking, and sales enablement tools. The HR module provides centralized employee benefits and reviews as well as space for HR forms. It also has employee journal achievement, performance measurement, automated PTO, and salary history tracking.
Professional Services Automation, Mobile Apps, Integrations, and more
BQE CORE includes professional services automation tools for automated time tracking, invoicing, payment processing, and reporting to increase efficiency, accuracy, and cash flow. Native mobile apps for iOS and Android devices are available to help users get reports, stay on schedule, and track time and expenses on the go. Integration tools allow users to connect the software to QuickBooks, Office 365, Dropbox, Google, OneDrive, Xero, and Power BI, among others. Custom APIs enable users to integrate it with other apps. BQE CORE also provides 24x7x365 support, a dedicated account manager, and free live and on-demand training courses.

Back to top
BQE CORE Pricing
BQE CORE pricing varies from customer to customer based on the modules required and the number of users who need to access the software. It has an all-in-one Foundations module as well as optional additional modules for accounting, CRM, and HR. Interested parties can submit a pricing request to receive an exact quote.
Back to top
Who Uses BQE CORE?
BQE CORE is for professional service firms of all sizes. It is ideal for architects, engineers, accountants, attorneys, IT specialists, consultants, and any company that needs specialized firm management software to improve project outcomes. Customers include CornerStone Partners, ASME, ASCE, NCSEA, NSPE, Infinity Engineering Consultants, Winter Holben Architecture, Watts & Browning Engineers, and iT Architecture.
Back to top
BQE CORE Supported Language
BQE CORE currently supports English only.

Back to top
Case Studies
Kim Lennon is the operations manager of an engineering firm in Marietta, GA. Their project management software was presenting numerous difficulties including in locating client reports or uncovering client account balances. Kim's team had to resort to a fallback system of exporting client data to Excel spreadsheets, so the company decided to evaluate candidates for a new system. Positive reviews and a free trial led them to choose BQE CORE. Implementation of the new system was smooth. Now, Kim's team can look up client information or search for a single invoice in just a few minutes. Alexis Webb is the executive administrator of a California-based building and design studio known for its community-oriented architectural approach. On the constant lookout for smarter ways to optimize work, Alexis chose to evaluate BQE CORE with the hopes it would address the company's current pain points. Webb found implementing and learning the system to be easy, and when questions arose, BQE's customer support always provided an answer. Alexis and her team can now track estimates and budgets to get a clear picture of profitability and make quick decisions.
Back to top
Why Choose BQE CORE?
BQE CORE improves how users enter and use information from back-office operations. They gain speedy access to actionable data and insights to make informed decisions. Executives and project managers have a better understanding of the firm's health, can quickly identify issues, and proactively make corrections to achieve better outcomes. Real-time visibility and metrics also enable users to make more accurate estimates, budgets, and schedules for increased efficiency and profitability.
Back to top
Company Info
BQE CORE is the flagship product of BQE Software, Inc., a privately held software company with headquarters in Torrance, CA, and offices around the world. It was founded by Shafat Qazi in 1995 to solve problems in his engineering firm. In 2009, BQE acquired ArchiOffice and EngineerOffice, software solutions created by Steven Burns, FAIA, to solve the unique needs of his architectural firm. Steven joined BQE as Chief Creative Officer. In 2021, Shafat transitioned into an advisory role in the board of directors after being CEO for more than 25 years. BQE Software continues with its goal of helping customers grow their businesses.