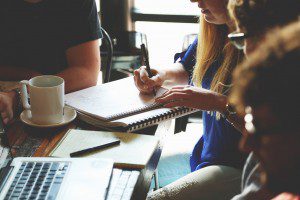 Project management today is a tough area of work 'Äì if a manager is brilliant and able to efficiently conduct individual projects, it doesn't mean that they will also be able to successfully manage the overall picture. This is often where all those common problems with project management begin. Here are 6 of the most daunting project management challenges businesses often have to deal with when conducting multiple projects at the same time.
1. Time lost on project status meetings
Communication is crucial in completing projects, but team members often complain that having to give regular reports and sit through those meetings is just a loss of their time. Similarly, managers cannot be expected to hold onto every single report from each team. Instead of scribbling down what's happening on various projects, they should have time to come up with strategies for development. A good way out of this situation is using a web-based project management tool, where workers can report back on individual tasks and activities. Managers won't have to ask each team member for constant updates 'Äì they will have the status of every section of the project right in front of their eyes.
2. Using the wrong tools
Many companies still rely on desktop applications that don't work in collaborative environments. Constantly updating and sending out one Excel file is an easy way to generating confusion and file chaos. Another problem with desktop applications is that the information is often outdated because it can't be processed in real-time. That's why a web-based solution that can be accessed, edited and shared by several members of the team is always a better idea than a traditional application.
3. Resource conflicts
Most of the time, companies won't have sufficient resources to staff all projects in an efficient manner. Some projects will be understaffed, competing against other projects for resources. An individual might be assigned to several projects simultaneously, which is always tricky for maintaining proper focus and high productivity. Workers who boast rare or special skills will be in high demand, and the inability of managers to properly assign them to projects might cause bottlenecks.
4. Overlapping projects
Overlapping projects are the kind of projects we generally find responsible for the most significant inefficiencies 'Äì wasted budgets, time and other resources. When several projects overlap, they tend to undermine each other's progress and lose out on their potential benefits. Another problem companies suffer from more often than they like to admit are redundant and duplicative projects. They only serve to increase the costs of operation, they don't bring any profits, divert resources from projects that are more deserving and prolong schedules.
5. Dispersed project teams
Projects are based on collaboration, the importance of which is increasingly apparent when team members are dispersed geographically – a very common situation with the current rise of outsourcing and growing popularity of remote work. But even if the project is being managed in one place, companies should make sure that the technologies they implement allow fast communication. This is something that will not only play a role in internal communications – clients also require a high level of transparency and often want to know how the project is progressing. A great collaborative system is a clear competitive advantage.
6. Project delays
Delayed projects generate chaos and themselves delay the time when companies can start benefiting from their operation, impact precise payback period calculations and disrupt the projected long term return on investment. Dealing with these common project management problems is something every manager should be prepared for. With a smart strategy and investment in a set of collaborative tools, you'll make sure that you avoid these mistakes and get the most out of every single project.
Featured Partners: Project Management Software
If you're interested in learning more about top rated project management software, the editors at Project-Management.com actively recommend the following: