A project management software platform for enterprise teams is a software solution that helps large businesses manage projects, track progress, and communicate with team members. By consolidating all of the necessary tools and information in one place, enterprise project management software makes it easier for businesses to stay organized and on track.
While there are a variety of enterprise project management software platforms available on the market, they all share the common goal of helping businesses to streamline their operations and improve their project management abilities. Here are our top picks for 2023.
Our Picks

Jira Software: Best for Enterprise Software Development Teams Using Agile and Scrum
Jira Software is an advanced project management solution from Atlassian that is designed specifically to cater to the extensive needs of large-scale enterprises with tens of thousands of users. Highly scalable, it supports a vast number of users and projects without compromising efficiency. Jira Software enables organizations to customize workflows, track tasks, manage resources, and create robust reports to optimize project delivery.
Its rich feature set includes advanced roadmapping, risk management, real-time reporting, and the capability to integrate with a broad array of other enterprise tools. Robust security measures and dedicated 24/7 premium support further establish Jira Software as a reliable solution for enterprises. Enhanced privacy features, data residency options, and Atlassian Access for organization-wide visibility and control add layers of security that are especially pertinent for organizations dealing with sensitive information.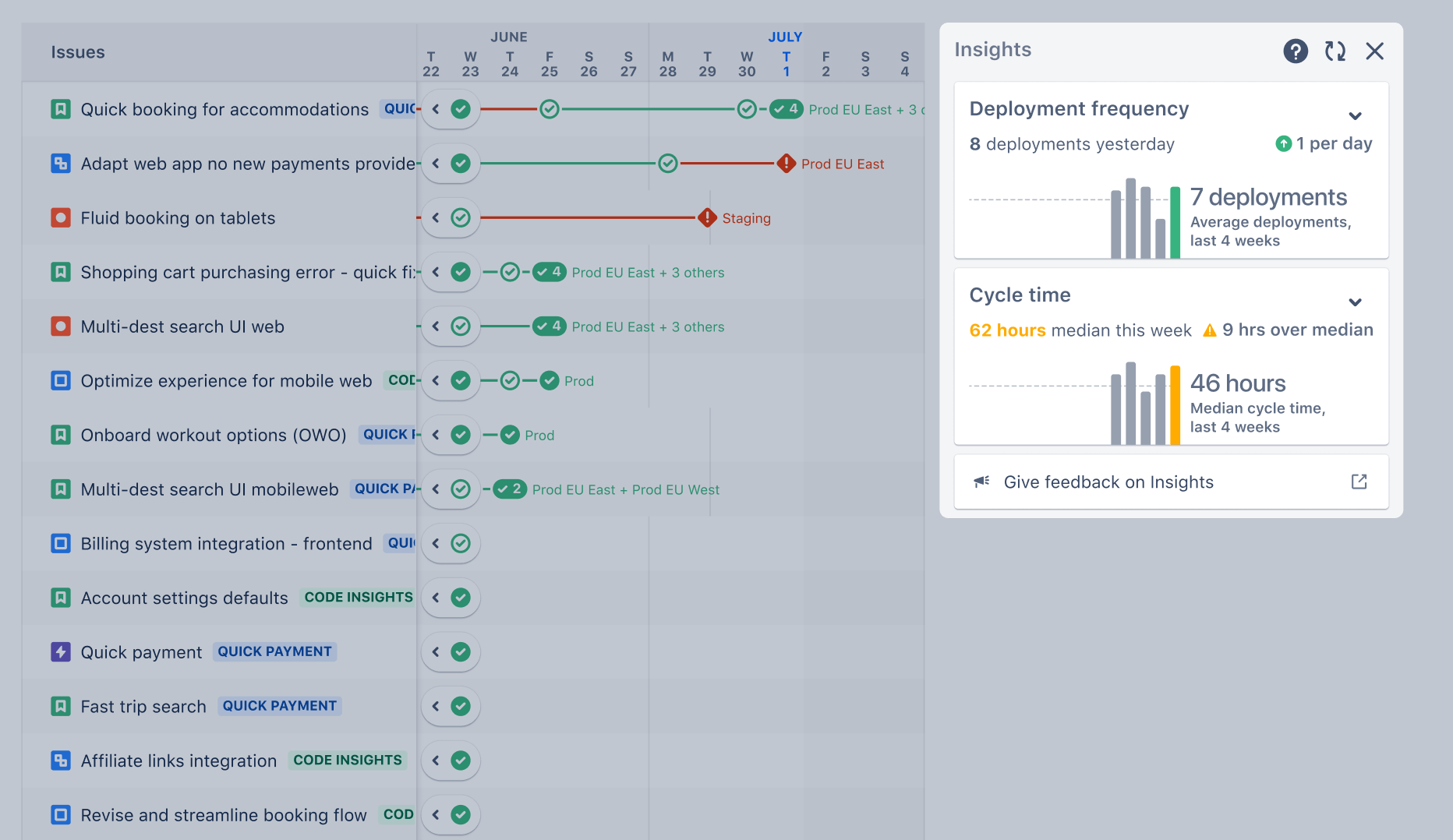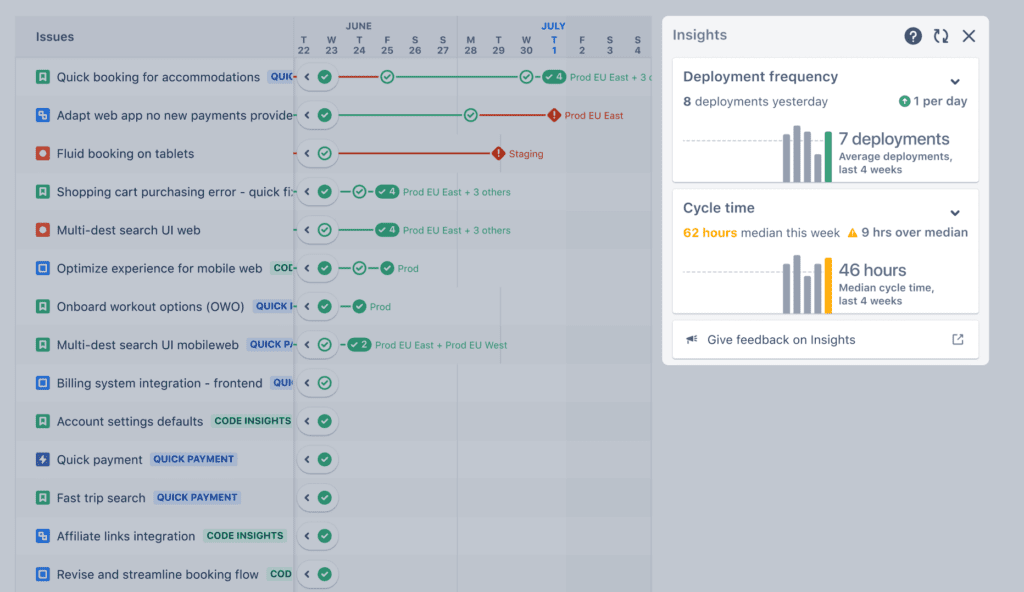 View insights in Jira Software Cloud. Accessed 8/25/2023
Key Features
By bringing together multiple Atlassian solutions, we find Jira Software Cloud to be a great tool for enterprise-scale businesses looking to manage work in one system.
Advanced Roadmaps: It offers advanced roadmaps so enterprises can plan and forecast with accuracy, giving teams the visibility they need to make strategic decisions. The tool facilitates creating a roadmap across multiple teams and projects, visualizing dependencies, and tracking progress in real time.

Scalable and Customizable Workflow Management: Jira Software Cloud allows for highly flexible workflow management that can scale with the needs of the enterprise, supporting a high number of projects and users seamlessly. Teams can create custom workflows that mirror their actual processes for efficient tracking and management of tasks.

Robust Integration Capabilities: Jira Software Cloud integrates easily with a host of other tools used in project management, development, and communication. Whether it's integrating with Git for version control, Confluence for documentation, or Slack for team communication, Jira allows teams to streamline their processes and enhance productivity. Jira's open API also allows for custom integrations to suit specific enterprise needs.
Pros & Cons
Pros
Cons
• Advanced security and controls
• Intuitive analytics for faster decisions
• Customizations for large businesses
• Thousands of app integrations
• Multiple ways to visualize work, including Scrum and kanban boards

• Complexity due to high degree of features
• Frequent interface updates and changes
• Limited reporting
• Performance issues such as slow load times
• Customizations can be time-consuming and require technical expertise
Why We Picked Jira Software
Jira Software is a mature and widely used product that is highly recommended for project managers and scrum masters managing agile project management teams. Jira offers complete project and product management from planning to release. It was a solid top choice for us, as it's a familiar tool part of the Atlassian suite of products that many professionals already use—making it easy to adopt on your team.
Jira's extensive integration capabilities allow it to seamlessly integrate with other popular tools used in the agile ecosystem, enhancing workflow efficiency and data synchronization. The software's scalability and flexibility make it suitable for teams of all sizes, from small startups to large enterprises. Technical and educational resources are abundant, and any issue can be addressed immediately without delaying progress.


monday work management: Best for Scalability
monday work management is a cloud-based enterprise project management solution that promotes collaboration and productivity within teams and across entire organizations. The platform's ability to centralize all work processes and project details in one location allows for better visibility, management, and streamlined workflow. Its flexible pricing structure makes it ideal for businesses of varying sizes, including large-scale enterprises.
monday.com's customizable features make it possible to tailor the platform according to specific business needs, whether it's task management, project planning, or resource allocation. Its ability to integrate seamlessly with other popular tools you may already be using further enhances the collaborative capabilities. Coupled with robust reporting and analytics, it empowers enterprises to make data-driven decisions, thereby accelerating project delivery and improving overall productivity.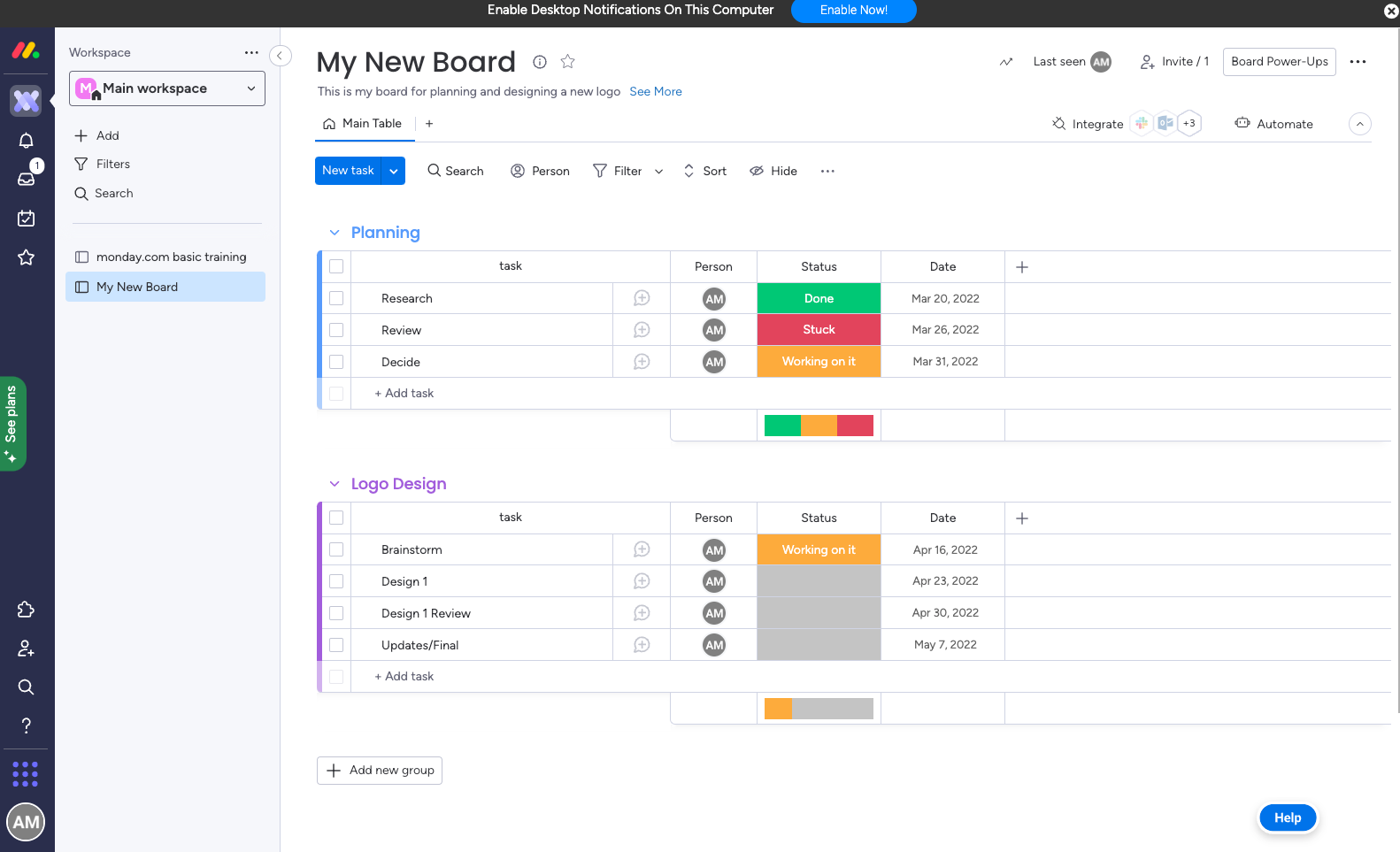 monday work management's project dashboard. Accessed 8/25/23
Key Features
Visual Project Timelines: monday.com provides powerful visual project timelines (such as Gantt charts), enabling project managers to map out project plans, set clear priorities, and monitor progress in real time. This helps in better resource allocation and deadline management.

Customizable Workflows: monday.com offers highly customizable workflows that can be tailored to match the exact needs of your projects and processes. This allows teams to create specific workflows that mirror their real-life processes, from simple task tracking to complex project management.

Integrations and Automations: The platform provides a robust suite of integrations, connecting with many other tools like Slack, Google Drive, Zoom, and Microsoft Teams. This allows for a consolidated view of all project information and facilitates better collaboration. Additionally, monday.com's automation feature streamlines repetitive tasks, reducing the potential for human error and freeing up time for more critical tasks.
Pros & Cons
Pros
Cons
• User-friendly interface
• Visual project timelines
• Scalability
• Collaboration tools
• Reporting and analytics

• Cost can become significant as user count grows.
• Learning curve
• In-app notification can become overwhelming
• Limited native Gantt chart capabilities
• Complex pricing structure

Why We Picked monday work management
monday work management presents a strong project management solution for enterprise businesses; its extensive customization abilities, advanced teamwork features, and automation competencies are noteworthy. It helps enterprise users to manage tasks, facilitate easy communication, and simplify intricate workflows. While it can be a complex platform to navigate, especially for new team members, its intuitive interface ensures a smooth ramp-up and ongoing user experience. User testimonials emphasize its efficiency in promoting team collaboration, boosting productivity, and centralizing project management tasks on a single platform. Comparative studies and practical use cases underscore that monday.com serves as a solid and scalable enterprise project management tool.

ProjectManager: Best for Distributed Workforces
ProjectManager is a comprehensive enterprise project management solution expertly designed to handle the planning, execution, and tracking of various projects from inception to completion. Its extensive suite of features includes task management capabilities for task creation and assignment, priority setting, and progress tracking. Interactive Gantt charts enable teams to visualize project timelines and dependencies, thus facilitating efficient management and adjustment of project schedules. With features like real-time team collaboration, document sharing, and commenting, ProjectManager encourages effective communication and coordination.
Enterprise project managers and teams can use ProjectManager to plan and execute large-scale projects, manage resources and timelines, track timesheets, build extensive project roadmaps, and automate workflows all within a single reliable tool.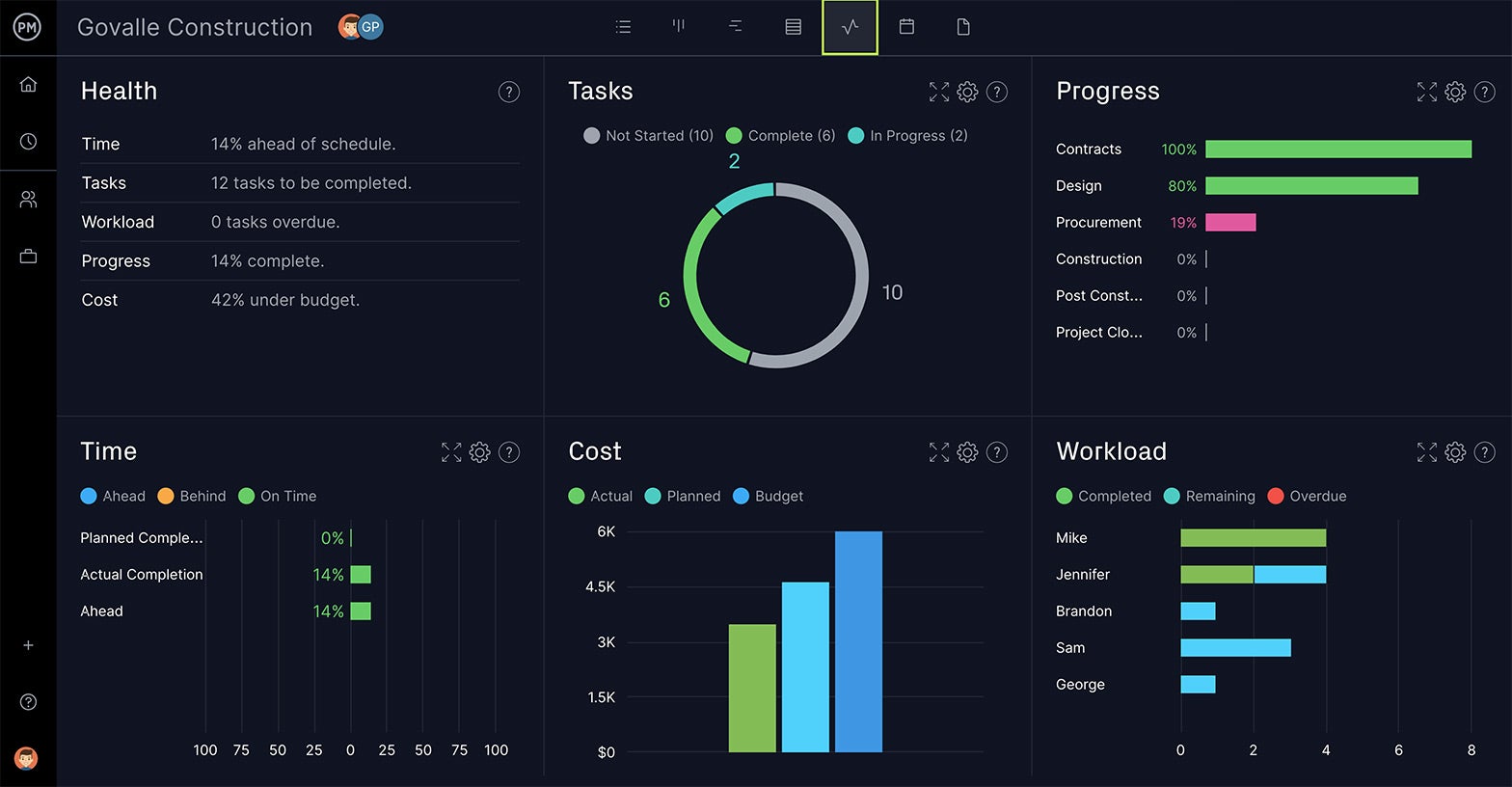 ProjectManager dashboard. Accessed 7/1/23
Key Features
ProjectManager's cloud-hosted project management solution includes crucial features aimed at facilitating planning, streamlining operations, aiding team execution, and providing comprehensive reporting on projects at enterprise scale. Key Some key capabilities include:
Interactive Gantt Charts: ProjectManager offers powerful interactive Gantt charts that allow you to plan and schedule projects, set dependencies, and track progress. This feature stands out for its user-friendly interface and real-time updating functionality, which dynamically adjusts the project timeline as changes occur. This not only provides a high-level view of the project status but also enables real-time response to changes, a critical aspect in managing large enterprise projects that may not be as dynamic in other competing platforms.

Real-Time Dashboards: ProjectManager's real-time dashboards that deliver instantaneous updates on project metrics like task status, team productivity, and budget. This feature offers an edge over competitors as it significantly enhances decision-making and ensures projects stay on track and within budget. Unlike many other tools where reports need to be manually refreshed or regenerated, ProjectManager delivers the most up-to-date information.

Advanced Resource Management: This feature allows for the effective allocation and balancing of resources, helping to prevent burnout and ensure project efficiency. Resource availability and workload charts provide a clear visual understanding of resource distribution. This advanced visualization isa feature that is not as comprehensive in many competing project management tools.
Pros & Cons
Pros
Cons
• Advanced resource management
• Interactive Gantt charts
• Support and training
• Security
• Cloud-based access from anywhere

• Complex interface
• Limited advanced features
• Limited customization options
• Cost
• Performance issues when dealing with a large volume of tasks

Why We Picked ProjectManager
ProjectManager is an intelligent solution for enterprise project managers handling diverse and distributed teams. It equips teams with a comprehensive set of features and an intuitive interface to easily plan, carry out, and monitor their enterprise projects. ProjectManager offers interactive Gantt charts, real-time collaboration, and adjustable reporting, providing a complete perspective of project progression and allowing teams to make decisions based on real data. Our research indicates that ProjectManager is effective at streamlining project management processes, fostering team collaboration, and enhancing project overall results well. This positions ProjectManager as a top choice for enterprise project managers looking for help to streamline and manage their work more closely.

Celoxis: Best for Portfolio Project Management
Celoxis is an all-in-one platform for enterprise project management. It's highly valued for its robust functionality and user-friendly design. Celoxis excels in areas such as task and resource allocation, which can be visualized using Gantt charts and resource load charts, facilitating a clear understanding of project timelines and resource usage.
One notable highlight is its ability to handle complex project portfolios and workflows, so users can manage and control multiple projects simultaneously with ease. Its customizable dashboards and extensive reporting features deliver valuable real-time insights crucial for data-driven decision-making. Integrated time and expense tracking, risk management, and built-in project request tracking are some of its other standout features.
Celoxis' scalability and adaptability to diverse industries make it a compelling choice for both small teams and large enterprises.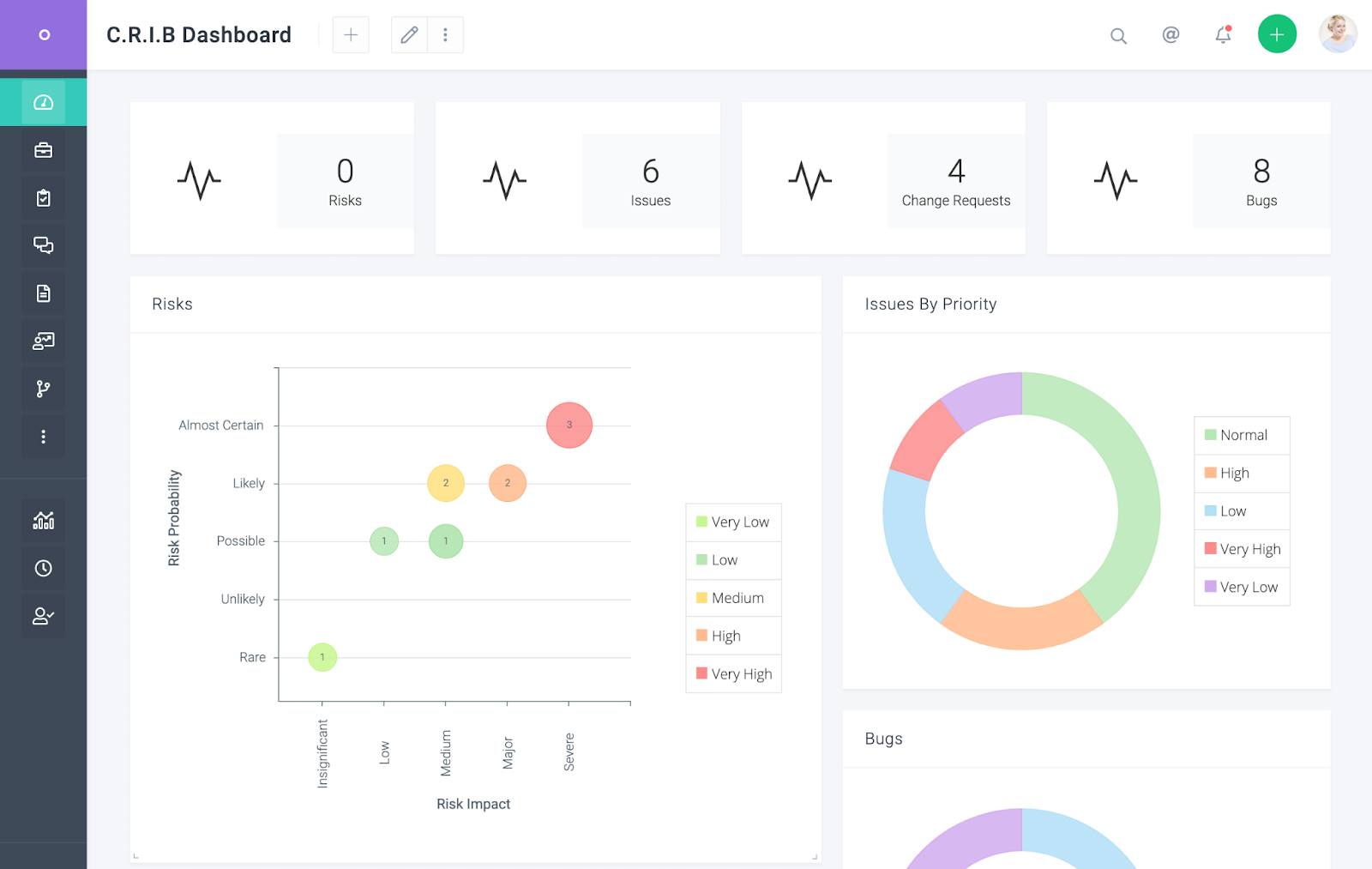 Celoxis dashboard. Accessed 8/26/23
Celoxis Key Features
Celoxis offers a variety of features for enterprise project management, including these top stand-outs.
Advanced Reporting: Celoxis offers extensive reporting features with customizable dashboards and report-building capabilities. This functionality goes beyond the standard reporting of many competitors, providing more granular insights into project metrics and key performance indicators. The ability to customize reports allows businesses to extract and visualize the data that is most relevant to their specific needs, fostering data-driven decision-making.

Project Portfolio Management: Celoxis stands out with its robust Project Portfolio Management (PPM) capabilities. It provides tools for managing multiple projects simultaneously, a crucial feature for large enterprises managing complex project portfolios. Many competitors offer project management tools but fall short in providing comprehensive PPM solutions, making Celoxis' PPM feature particularly valuable for enterprises.

Integrated Time and Expense Tracking: The platform offers integrated time and expense tracking, allowing for precise tracking of project costs and resource allocation. This comprehensive tracking is not standard in all project management tools, and it offers significant advantages for financial forecasting and budgeting. With this feature, companies can maintain control over project finances, optimize resource allocation, and improve overall project efficiency.
Celoxis Pros & Cons
Pros
Cons
• Powerful reporting
• Integrated time and expense tracking
• Project portfolio management
• Collaboration tools
• Scalability

• Customer support
• Mobile experience
• Customization limitations
• Customization limitations
• Learning curve
• Cost

Why We Picked Celoxis
Celoxis is an enterprise project management solution that excels in managing complex project portfolios, which is a distinct advantage for larger organizations juggling multiple projects. Our research finds its robust suite of features not only provides traditional project management capabilities but also offers advanced reporting and customization, placing it a step ahead of many competitors. Its integrated time and expense tracking feature allows for detailed financial forecasting and budget control, a feature not standard in all project management tools.
The platform's scalability makes it an ideal choice for both growing businesses and established enterprises. User feedback also points to the user-friendly interface as a standout, facilitating ease of use despite its broad range of functionalities. Ultimately, Celoxis' ability to streamline project management processes, foster collaboration, and deliver real-time insights makes it a compelling option for enterprise project management.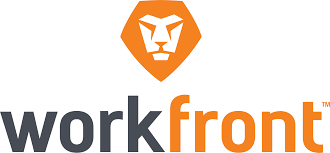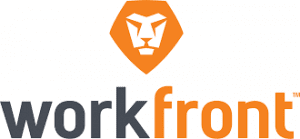 Workfront: Best for Streamlining Processes
Workfront is an enterprise work management solution built for teams to prioritize, assign, and complete projects with speed and at any scale. It has a central dashboard that allows you to quickly launch projects by seeing available resources and using templates and automations to assign tasks. Workfront also has intuitive tools to help users plan and assign work, project templates to launch projects faster, and built-in time tracking and analytics to help teams manage programs and portfolios.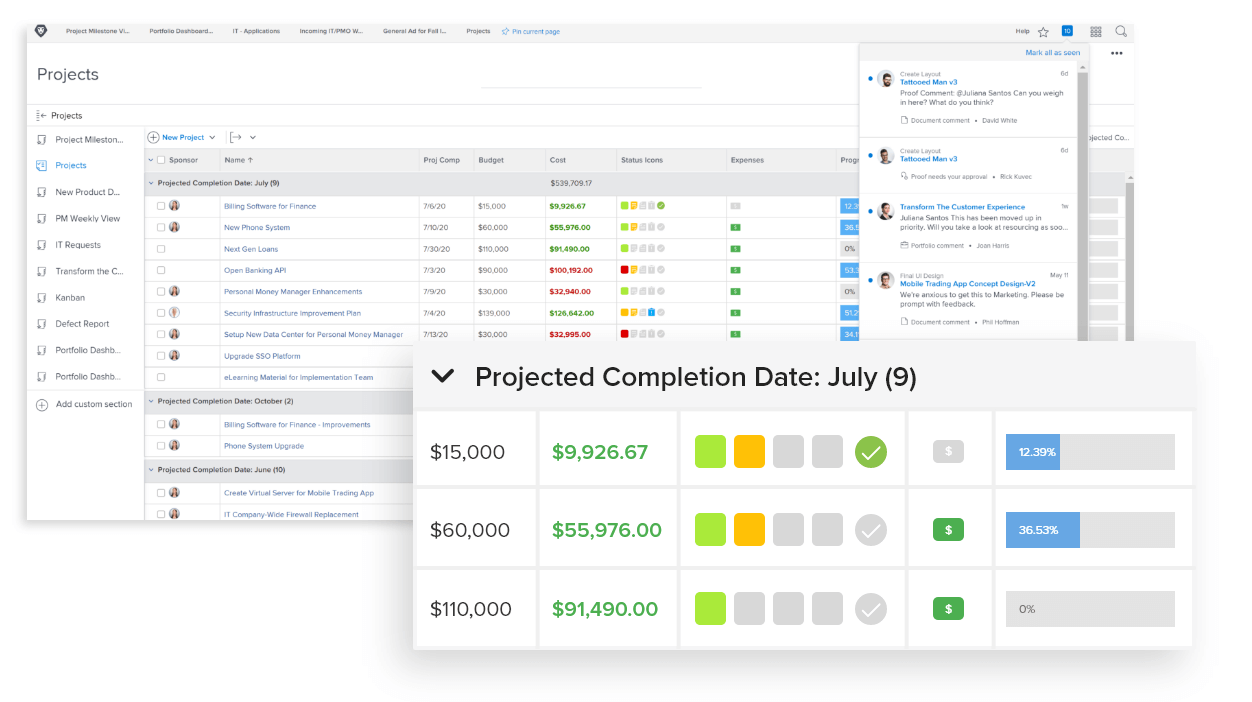 Workfront dashboard view. Accessed 7/1/23
Workfront Key Features
The following key features make Workfront a top choice for enterprise project management:
Robust Workflow Automation: Workfront offers powerful workflow automation capabilities, giving users the ability to streamline and automate complex project processes. This feature is particularly relevant as it helps teams save time and effort by automating repetitive tasks, reducing manual errors, and ensuring consistent project execution. Compared to competitors, Workfront's workflow automation is more comprehensive and customizable, providing users with greater flexibility and control over their project workflows.

Advanced Resource Management: This feature is crucial in maximizing team productivity and ensuring that the right resources are assigned to the right projects at the right time. Workfront's resource management capabilities surpass those of its competitors by offering robust resource planning, real-time visibility into resource availability, and comprehensive reporting, empowering organizations to make data-driven decisions and efficiently manage their resources.

Collaborative Proofing and Review: Workfront includes collaborative proofing and review functionalities, which facilitate seamless collaboration and feedback exchange among team members and stakeholders. These features simplify the review and approval process, reduce feedback loops, and ensure that projects move forward smoothly. By providing a centralized platform for feedback, version control, and real-time commenting, Workfront's collaborative proofing and review features enhance collaboration and faster project iterations and also excel compared to competitors.
Pros & Cons
Pros
Cons
• Enterprise-level work and project management
• Open API
• Customizable dashboards and reports
• Scalability
• Robust task and project tracking

• No integrated chat or timer
• Extensive time needed to customize for an organization
• Learning curve for new users
• Customization challenges
• Cost

Why We Picked Workfront for Enterprise Project Management
Workfront is a compelling option for enterprise project management due to its robust features, user-friendly interface, and scalability. It has garnered industry recognition and numerous awards for its project management capabilities, highlighting its position as a market leader in enterprise project management solutions.
We like this option because it is also a familiar and mature tool that many project and program managers are familiar with already. Customer reviews and feedback consistently demonstrate high satisfaction with Workfront. Users appreciate its ability to centralize project management, improve collaboration, and enhance overall project visibility. Workfront's focus on customer success and support further reinforces its reputation as a trusted project management solution.
\Workfront is designed to meet the needs of enterprise-level project management, making it suitable for organizations of all sizes. It provides the flexibility to handle complex and large-scale projects, enabling seamless growth and scalability as business requirements evolve.
Methodology
FAQs: Key Features & Benefits
Expert Buying Advice: How to Choose the Best Enterprise Project Management Solution
Enterprise project management software plays a crucial role in managing complex projects, optimizing resource utilization, and enhancing collaboration within organizations. It offers a wide range of features and benefits that streamline project processes and improve overall project outcomes.
When researching and deciding upon enterprise project management software, it is important to evaluate specific features such as task and project tracking, resource management, collaboration tools, reporting and analytics, and integration capabilities.
Any organization considering this type of tool can expect the ability to scale their project management processes, adapt to changing project requirements, and enhance overall productivity. These types of systems offer a centralized platform for teams to collaborate, track progress, and effectively allocate resources. When choosing enterprise project management software, it is essential to consider factors such as ease of use, training and support options, pricing, and the software's compatibility with existing systems. By leveraging the right software solution, organizations can gain a competitive edge in today's dynamic business landscape.
By taking these factors into consideration, you'll make an informed decision when shopping for enterprise project management software, making sure that the solution you choose aligns with your organization's needs, is scalable, integrates well with existing systems, provides a positive user experience, and offers sufficient support and training.
---