Coassemble is an online learning management system (LMS) that enables teams and companies to create, organize, and measure training campaigns for their employees. It enables an organization to build, update, and share training courses from various contents and in different ways with ready-to-use screens and templates, customization tools, and personalized feedback to deliver great learning experiences.
Table of Contents
Coassemble : Features and Strengths
Training Campaign Delivery
Coassemble provides users with the tools and features they need to deliver impactful online training campaigns with a learn anywhere, anytime experience. Users can build high-quality training experiences with intuitive content authoring that turns knowledge into interactive courses. They can choose from more than 30 interactive screens including gamified challenge screens and assignments. The software also gives users the power to send customized feedback and end-of-course celebration elements that are typically part of e-learning modules.
Coassemble supports multiple sharing options to facilitate delivery to the audience wherever they may be. They can also share the training through third-party platforms using enrollment links. Information on course availability times and prerequisites allows learners to choose the right training course and learning path.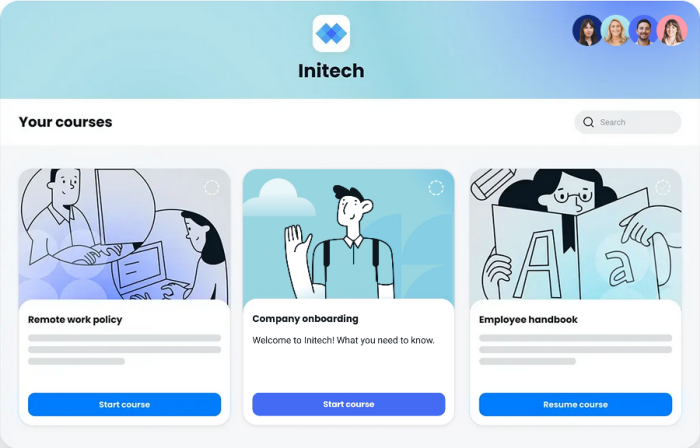 All-in-one Platform
Coassemble empowers companies to structure training to the specific needs of their mission, teams, and employees. Users can organize employees by cohorts with groups and group enrollment. Flexible permission structures ensure that the right people have access to the right training. Course designers can also use of a course library to structure their training content and deliver it consistently to learners.
The LMS includes customization tools that let companies customize the workspace and give learners a branded experience. Users can set custom domain names, theme the learning environment with corporate branding and colors, and deliver emails from the custom domain. Other features include a library of pre-built campaign templates, metrics to measure the different stages of the campaign training, flexible API to connect with other systems, and Zapier integration.
Course Content Services
Coassemble provides a team of experts that can help companies turn their content into interactive online learning. Coassemble's Studio team will deliver content to companies as live courses so the company's training team can make edits and updates as needed. They can convert existing documents into courses, polish existing Coassemble courses, or design new content from scratch.
The Studio services offering is a one-off design consultation where the Studio team works with companies to understand their needs and create training within the Coassemble workspace. Studio service packages are available in blocks of hours and are quoted based on a free discovery. A Studio subscription offering is also available for ongoing design assistance. 

Coassemble Pricing
Coassemble Pricing is available in Pro and Premium plans. Pricing depends on the number of users in a group. Groups are available in 10, 20, 50, 100, 150, 200, 250, and 250+ users.
The lowest plan is the Pro 10 plan. It supports up to 10 users and it start at $50/month. The Pro 20 plan is at $120/month billed annually, while the Premium 20 plan is priced at $160/month billed annually. All plans get free access to all platform updates.

Who Uses Coassemble?
Coassemble is for businesses of any size or industry in need of an online training platform to deliver training campaigns for their employees, customers, or partners. Customers include Typeform, UMKC, Hopper, Los Angeles Zoo, Driftwood Group, Cultivate International, Christian Super, Volt Athletics, and TIG Brands.
Coassemble Supported Languages
Coassemble's trainer dashboard supports English only. However, if a learner's browser language is set to any of the supported in-platform translation languages, the content will be translated. Browser-based translation is supported for English, Spanish, French, German, Dutch, Brazilian Portuguese, Japanese, Korean, or Finnish.
Case Studies
Bo Pearson is the Head of Customer Success for a fitness and training company based in Seattle. As the company grows, Bo wanted to address how to deal with manual processes that result in sharing of repetitive information. The company needed a learning management system that offered easy knowledge capture ability, an engaging user experience, and an improved customer feedback loop. With Coassemble, the company is able to onboard customers faster with positive feedback on the experience of using the platform.
Elliot Begoun is the founder and brand champion of a venture capital company focused on helping emerging natural product brands. After years of successful consulting, the company needed to expand its business model. Using Coassemble, the company began deploying online training programs whose performance could be improved upon by feedback from learners. Now with online training, Elliot and his team can spend more time personally guiding the company's customers.
Why Choose Coassemble?
Coassemble combines learning management system capabilities and content authoring tools into a single, easy-to-use platform. It creates highly visual and engaging content, allows for easy sharing, integrates with other platforms, includes secure permissions, and enables customization by users. This helps ensure that employees can easily access the training materials, trainers can measure the training campaign, and the training outcome will provide the right impact to help achieve business goals.
Company Info
Coassemble Pty Ltd is a private e-learning company based in Newcastle, with offices in Sydney, Australia, and in Denver, Dallas, and Los Angeles, USA. It was co-founded by Ryan MacPherson and Jude Novak. Its mission is to simplify the sharing of knowledge to enable success. The company envisions being the platform that enables organizations to thrive through the sharing of knowledge.